2016 China Tour - Beijing 中国之旅 (北京)
| | |
| --- | --- |
| Date: | 25th February 2016 |
| Time: | 7 PM |
| Venue: | The Georg |
| Price: | RMB 9,800 (limited 10 people) |
日期:2月25日
时间:晚上7时开始
会场:The Georg 歺厅 (北京市东城区地安门东大街东不压桥胡同45号院100009)
门票:每位 人民币 9,800 元正 (含歺,只限10人)
La Romanée - 在勃良地中最小的特级园(0.8542公顷),亦造就了她成为最稀有的珍品(年产量只有3,000至4,000瓶)。被喻为勃良地最好的葡萄田地之一,早在600年前,已在欧洲响负盛名!
La Romanée 和最有名的康帝 (La Romanée-Conti) 接壤。历史记载,他們本是合二为一的,在200年前才分开成为两个田地,可谓本是同根生。
La Romanée 葡萄园由 Liger-Belair 家族所拥有,自2002年开始由第7代传人 Louis-Michel Liger Belair 接手,其后努力地提升品质,把 La Romanée 葡萄酒推致另一个高峰。

La Romanée 位于的沃恩-罗曼尼(Vosne- Romanée)的心脏地段,拥有与众不同及古典的勃良地风格,需要配合时间的洗礼才能把酒体表露无遗。我们精心挑选这些酒款从而让这块宝石得以充分发挥其光芒。
La Romanée 葡萄酒晚宴将品尝这块瑰宝的其中11个年份
勒桦世家酒庄 (Maison Leroy) 在1950年至1962年间出产了这款酒,当晚我们将品尝她1962年的出品(在1945至1999年间最好的年份)。
从1976至2001年间,宝尚父子酒庄 (Bouchard Père et Fils) 买下了这块田的独家生产权,而我们将会品尝其中的6个年份(85, 93, 95, 96, 99和01年)。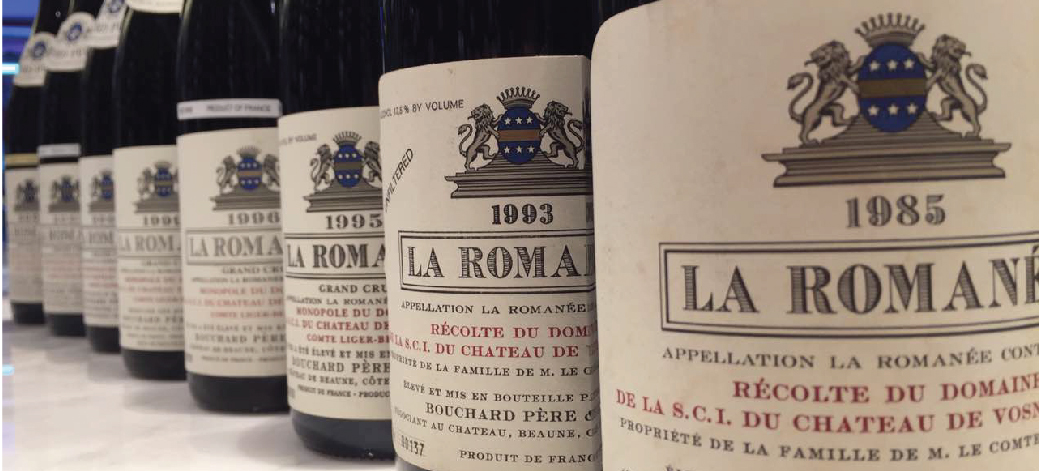 自2002年起,酒是由 Louis-Michel Liger-Belair 所酿制,一半由他自己以Domaine du Vicomte Liger- Belair 的酒标装瓶,而另一半至2005年为止则以宝尚(Bouchard)的酒标装瓶。而这晩我们将品尝Bouchard的02, 03和04年的出品。
最后一点,自2006年起,所有葡萄酒都由在Liger-Belair酒庄内装瓶。晚宴中我们也会品尝其2008年。共11个年份让我们能够更了解这块被全世界高度推崇的田地。
晚宴酒單
1962 Maison Leroy - La Romanee Grand Cru
1985 Bouchard Pere et Fils - La Romanee Grand Cru
1993 Bouchard Pere et Fils - La Romanee Grand Cru
1995 Bouchard Pere et Fils - La Romanee Grand Cru
1996 Bouchard Pere et Fils - La Romanee Grand Cru
1999 Bouchard Pere et Fils - La Romanee Grand Cru
2001 Bouchard Pere et Fils - La Romanee Grand Cru
2002 Bouchard Pere et Fils - La Romanee Grand Cru
2003 Bouchard Pere et Fils - La Romanee Grand Cru
2004 Bouchard Pere et Fils - La Romanee Grand Cru
2008 Comte de Liger Belair - La Romanee Grand Cru
Date:25th FEB
Time:7 PM
Venue:The Georg (No. 45 Dong Bu Ya Qiao Hutong, Di An Men East Avenue, Dongcheng District, Beijing 100009)
Tickets:RMB 9,800 (limited 10 people)
La Romanée is the smallest grand cru vineyard in Burgundy (0.8542ha), making it also the rarest (3000 – 4000 bottles per year only). It is also regarded as one of Burgundy's greatest vineyards – wine from this vineyard has been famous in Europe for over 600 years! It's long fame has been closely connected to the most famous Burgundy vineyard of all – La Romanée-Conti. At various times in history these two vineyards have been combined, so too the wine. But, for the past 200 years the two vineyard – and the two wines – have been separate.

The vineyard is owned by the Liger-Belair family, and has been managed since 2002 by the 7th generation, Louis-Michel Liger-Belair who has worked hard to elevate this wine's status and reputation to its rightful place.

La Romanée, which lies in the heart of Vosne-Romanée, is a distinctive, reserved, classically-styled grand cru that requires long ageing to show its full potential. We have carefully assembled these bottles to demonstrate the quality, and style of this jewel, with a focus on classic mature vintages that allow the wine to show its full expression.

Leroy bought the wines made from 1950 to 1962, and this evening we shall taste the 1962 (the greatest vintage between 1945 and 1999). Between 1976 and 2001 the wines were bought exclusively by Bouchard Père et Fils, and we shall taste 6 vintages from this period ('85, '93, '95, '96, '99, '01). Since 2002 the wines have been made by Louis-Michel Liger-Belair. Half was bottled by him under the Domaine du Vicomte Liger-Belair label, and half with the Bouchard label, until 2005. We shall taste three Bouchard-bottled wines from this period (2002, 2003, 2004). Finally, since 2006, all of the wine has been domaine-bottled. Tonight we shall taste the 2008. Eleven vintages in total to gain a clear picture of one of the most highly-esteemed wines on Earth!

We hope you can join us!
Wines for the dinner
1962 Maison Leroy - La Romanee Grand Cru
1985 Bouchard Pere et Fils - La Romanee Grand Cru
1993 Bouchard Pere et Fils - La Romanee Grand Cru
1995 Bouchard Pere et Fils - La Romanee Grand Cru
1996 Bouchard Pere et Fils - La Romanee Grand Cru
1999 Bouchard Pere et Fils - La Romanee Grand Cru
2001 Bouchard Pere et Fils - La Romanee Grand Cru
2002 Bouchard Pere et Fils - La Romanee Grand Cru
2003 Bouchard Pere et Fils - La Romanee Grand Cru
2004 Bouchard Pere et Fils - La Romanee Grand Cru
2008 Comte de Liger Belair - La Romanee Grand Cru
WINES TASTED
晚宴酒單
1962 Maison Leroy - La Romanee Grand Cru
1985 Bouchard Pere et Fils - La Romanee Grand Cru
1993 Bouchard Pere et Fils - La Romanee Grand Cru
1995 Bouchard Pere et Fils - La Romanee Grand Cru
1996 Bouchard Pere et Fils - La Romanee Grand Cru
1999 Bouchard Pere et Fils - La Romanee Grand Cru
2001 Bouchard Pere et Fils - La Romanee Grand Cru
2002 Bouchard Pere et Fils - La Romanee Grand Cru
2003 Bouchard Pere et Fils - La Romanee Grand Cru
2004 Bouchard Pere et Fils - La Romanee Grand Cru
2008 Comte de Liger Belair - La Romanee Grand Cru