Beaune-Greves back to 1955
| | |
| --- | --- |
| Date: | 14th October 2014 |
| Time: | 7:00 PM |
| Venue: | Amuse Bouche |
DINNER REVIEW © Linden Wilkie
Last night we tasted our way through 15 wines from the Beaune 1er Cru vineyard 'Les Greves'.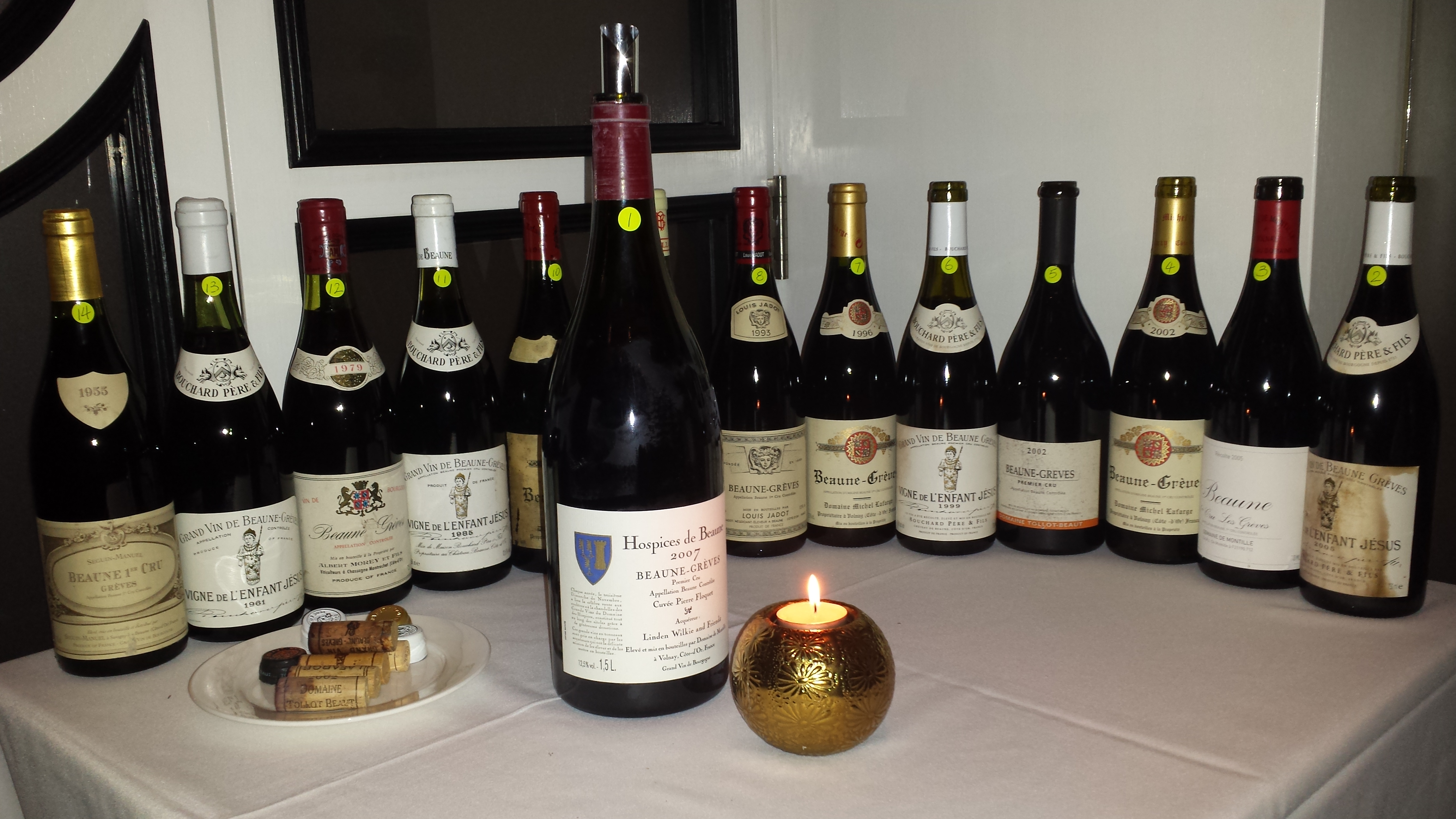 My own story with this vineyard began in 2005 when, invited by Christie's, I tasted a number of old vintages of Burgundy from negocient Seguin-Manuel. Included was a 1955 Beaune-Greves which displayed great freshness, a red fruited quality and a particular earthiness which I liked. A great food wine. Thibault Marion, who had just acquired the estate, sold off the 'crown jewels' from the cellar to help fund the business, and I was able to buy numerous wines back to 1906. Last night we drank the last bottle of the '55 Greves – still fresh, as it was 9 years ago.
It was to be something of a theme as we discussed these wines around the table – that perhaps they need aging even more than some Cote de Nuits wines do. The character is typically quite firm and closed when young, with a sour cherry brightness, and an earthy tone. As we tasted back through 6 decades, it was really only from the mid-1990s back that the wines were really interesting, and showing all their glory. A reminder that we shouldn't equate price to longevity and aging potential.
The first wine of the night was the next stage in my fascination with Beaune-Greves. In 2005 Christie's took over the running of Burgundy's Hospices de Beaune auction. Over the centuries the Hospices has acquired a lot of vineyard land through donations. They are a hospital, a charity, and a Burgundy domain. I have attended the November auction every year since '05 – its a great weekend to be in town. In 2007 I bought my first barrel of the wine in a small consortium of friends. We had the whole lot bottled in halves, magnums, and jeroboams, much to the chagrin of Etienne de Montille, who had kindly taken care of elevage for us. Well, the halves all got drunk by about 2010, a testament to the openly fragrant and soft style of '07s generally. Last night we finished the last magnum (we do have 2 Jeros left available for sale below). Delicious.
If true potential was the measure for wine of the night it would be the 2005 Beaune-Greves from Bouchard. This is a monopole of 10 hectares within the 32 hectare Greves, called "Vigne de l'Enfant Jesus', owned by Bouchard since 1791. It showed great concentration and layered nuance, with perfume emerging slowly from the glass after an hour or so. It is still so closed and youthful, but beneath is a red Burgundy of serious quality. In the cellars of Bouchard remain bottles of the 1865 l'Enfant Jesus, which I haven't (yet!) tasted, but it is reportedly still very good today.
But the surprise of the night was a 1979 Beaune-Greves from Domaine Albert Morey (father of Jean-Marc Morey, who now has this plot). It's something of a so-so (ma-ma-dei) vintage in Burgundy, and having never associated the Morey family of Chassagne with this vineyard, I had no expectations. But ultimately it was voted wine of the night by our group! It goes to show, you don't know until you pull the cork! This was concentrated, deeply perfumed in that Greves earthy way, with some toasty bottle age notes, and full of concentrated sour cherry flavor on the palate.
But if we were to single out one producer for special praise it would be Domaine Lafarge. The wines here always have depth to them, but they can sometimes be a little funky in style, and very often they are surly when they haven't had sufficient bottle age (20+ years for the 1er Crus). The '02 was still a bit tricky, but good, just not showing. The '96 was terrific, and would have been my wine of the night until I tasted the '90 – concentrated, round, and very complex. I usually only think of Lafarge's excellent Volnays, but after last night I will be paying more attention to this vineyard. But… try finding the old wines in the secondary market. They are almost nonexistent.
My final thoughts would be these -
Beaune-Greves is not a wine to sit around with friends and just drink in 'vinous contemplation', in the way that you could with say Musigny. This is not velvet seduction. The wines need food. The food last night – as always at Amuse Bouche – was superb, the equal of better than anything else I've had in Hong Kong. I'll reprint the menu below. All of the savory dishes offered a superb match to the wines. The wines and these dishes were mutually complementary.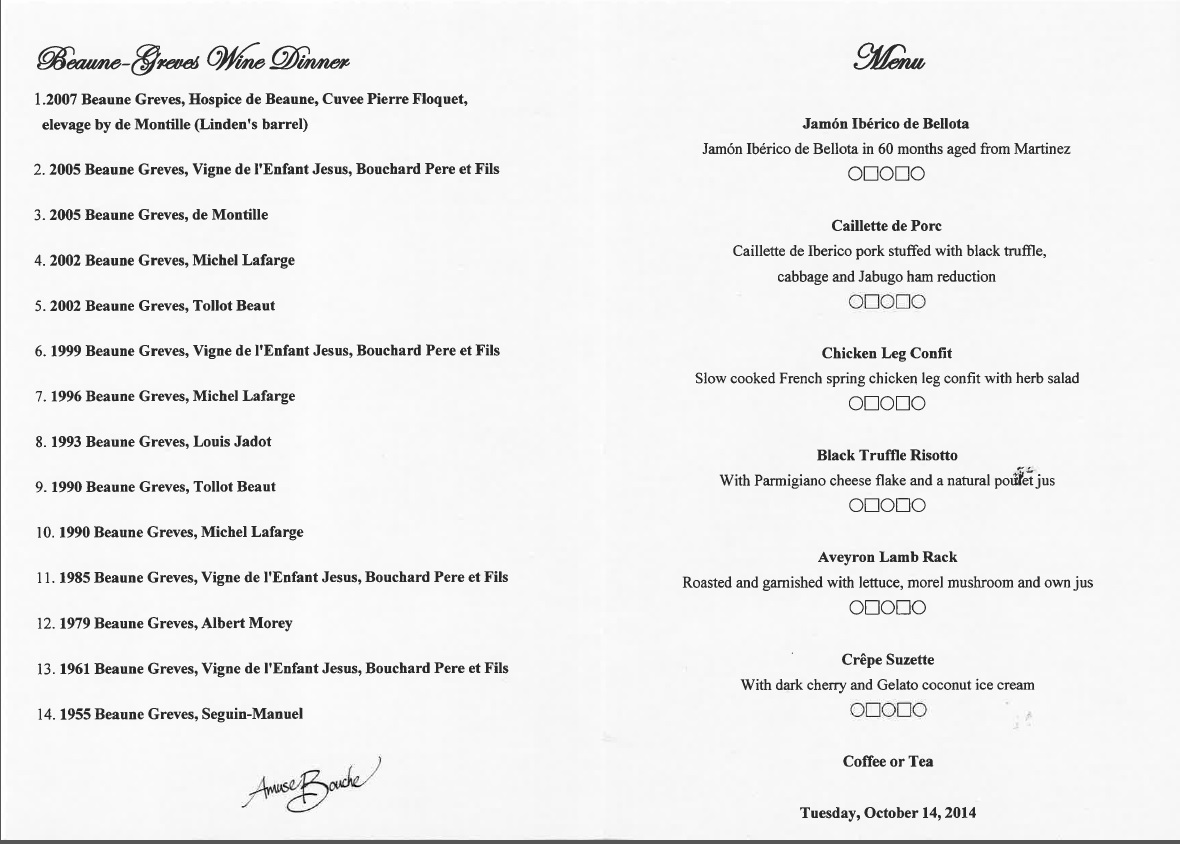 Beaune-Greves on this showing last night was a useful demonstration too that if your eyes are popping out of your head right now at the price of the elite grands crus of the Cotes de Nuits from top producers, don't despair. Cast your net a little wider. Wines like Beaune-Greves have moved little in price over the past few years – at least compared to the stars of the Cote de Nuits.
WINES TASTED
2007 Beaune Greves, Hospice de Beaune, Cuvee Pierre Floquet, elevage by de Montille (Linden's barrel)
2005 Beaune Greves, Vigne de l'Enfant Jesus, Bouchard Pere et Fils
2005 Beaune Greves, de Montille
2002 Beaune Greves, Michel Lafarge
2002 Beaune Greves, Tollot Beaut
1999 Beaune Greves, Vigne de l'Enfant Jesus, Bouchard Pere et Fils
1996 Beaune Greves, Michel Lafarge
1993 Beaune Greves, Louis Jadot
1990 Beaune Greves, Tollot Beaut
1990 Beaune Greves, Michel Lafarge
1985 Beaune Greves, Vigne de l'Enfant Jesus, Bouchard Pere et Fils
1979 Beaune Greves, Albert Morey
1961 Beaune Greves, Vigne de l'Enfant Jesus, Bouchard Pere et Fils
1955 Beaune Greves, Seguin-Manuel