[Burghound Symposium] Masterclass 2: Gevrey Chambertin
| | |
| --- | --- |
| Date: | 18th April 2015 |
| Time: | 16:00-17:45 |
| Venue: | Atrium Room, 39/F Island Shangri-La Hotel, Pacific Place, Supreme Court Road |
| Price: | HKD 3,280 (LIMITED to 100 seats) |
REVIEW © Linden Wilkie
A short afternoon break to turn the room around, and we were back in for the second masterclass of the afternoon. Clearly a subject particularly dear to his heart, it was obvious from his descriptions just how front of mind Gevrey is for him right now.
Tasting notes are mine, while words in italics are my notes on what Allen Meadows was explaining about the terroirs of the various grands crus.
2011 Mazoyères-Chambertin, Domaine de la Vougeraie
Full ruby colour, clear; dark fruits, slightly spicy, slightly leafy, modern, with a touch of nutty oak; bright on the palate, moderate concentration, fine grainy tannins, zingy energy, good flesh, mineral notes. Fairly approachable.
91
Mazoyères can be labeled as Chamres-Chambertin, and vice versa (though in practice no one actually labels their Charmes as Mazoyères).
2007 Charmes-Chambertin, Domaine Bachelet
Fine deep ruby; some maturity showing on the nose, savoury, gently spicy dark-fruited and wild notes; soft and juicy on the palate, dark fruit, with juicy, nice extract-coated tannins, more matter here than many '07s, fragrant finish. Very good and already drinking well.
92
Along with Mazoyères, per the name, the most charming and early drinking grand cru of Gevrey.
2007 Charmes-Chambertin, Domaine Claude Dugat
Fine dark ruby, clear; sweet cherry and nut on the nose, fruity, but also a little bretty; taut, focused, fleshy, quite tannic after the Bachelet, there is an oaky flavor and texture, slightly edgy tannins. But the slight coarseness and crudeness is exacerbated by brettanomyces – a cleaner bottle would, I imagine, emphasize the fruit. Alas.
89. I expect a non-bretty bottle would rate highly.
2007 Latricières-Chambertin, Domaine Simon Bize
Fine, clear, light ruby; light, elegant nose, citrus and florals, red fruits; taut, mineral and juicy on the palate, very racy and sleek, though there is sufficient fruit. Red fruits and mineral austerity, luminous, fragrant and long.
91
Two parts to the vineyard – 93% of it is Latricières proper, and 7% is a piece of Combottes (1er Cru) that got included for political reasons. The vineyard is affected by cool air. It is regal and reserved – not at all like Charmes. It has a pungeant minerality. The closer you are to the Chambertin end of the vineyard, the more powerful the wine is.
2007 Ruchottes-Chambertin (Clos des Ruchottes), Domaine Armand Rousseau
Fine light ruby; lovely nose, wild, spicy, lifted and very detailed; fine, cool, elegant, racy, the stems are in the flavor – pepper and spice – if anything they are too present. Long finish. This has real energy, it stands above '07 standards. Serious Ruchottes.
93
Ruchottes is divided into two parts – Ruchottes du Dessus (upper) and Ruchottes de Bas (lower). The upper part is all about limestone dust which creates relatively austere wines (though not as much as Latricières). This is Gevrey of subtlety. In 1977 Charles Rousseau bought a big piece of Ruchottes, and on his wife's insistence shared the acquisition keeping the best part – a 1.06ha walled vineyard within Ruchottes. It has the lieu dit name Clos des Ruchottes and is a monopole, but not a separate appellation from Ruchottes-Chambertin.
2010 Mazis-Chambertin, Domaine Faiveley
Bright, clear mid-ruby; wild, floral and spicy reserved nose – beginning to shut down; very fine on the palate with superb fruit energy and balance, very coherent flavor, flesh and structure, lovely spicy and floral details, red and black fruit at the core. Long. This is superb. Patience required.
94
Mazis encapsulates the 'sauvage' of Gevrey – it has a wild character. The Hospices de Beaune is the biggest landowner here followed by Faiveley.
2010 Chapelle-Chambertin, Domaine Drouhin-Laroze
Fine, clear, mid-ruby; quite sweet on the nose, strawberry, spicy and game; fine, juicy, well-buffered, creamy mid-palate, quite refined and elegant, approachable and fleshy. Good mineral sapid fine-grained finish.
93
Heterogeneous terroirs means opinion is divided as to what the style of Chapelle-Chambertin is. The 'En la Chapelle' side is elegant, refined and accessible, while the 'Les Gémeaux' side, which is a continuation of Cherbaudes, is harder, more 'butch'. The producers of Chapelle-Chambertin make their wine from one part of the other, and the wines are quite different accordingly. (Drouhin-Laroze's wines are from En la Chapelle).
2008 Griotte-Chambertin, Domaine Fourrier
Fine, clear, light ruby; dark fruit, sweet, reserved nose, spices, lovely; elegant and bright on the palate, with elevated acidity, extra tannin depth and grip. Layered, taut. In a fairly shut-down stage.
93
This is a grand cru quite hard to find as no one makes very much of it, except Domaine de Chezeaux, which 1.7ha. It looks like a meteor hit it. Griotte is a great example of the reputation of a grand cru rising with the reputation of the wines made by the domaines. Today, all the producers who make it do an excellent job, so Griotte is of high quality.
2001 Griotte-Chambertin, Domaine Ponsot
Inconsistent bottles, some showing a strange volatility. This, the best of them, I really enjoyed.
Mature garnet, a touch dull in appearance; spicy and very sweet cherry-scented fruit, open, with some earth, mature notes; sweet, succulent and very fragrant cherry and florals, touch of almond paste / patisserie, fine, succulent tannins. In a good state of evolution. Showing really well.
92 (the other bottles more like mid- to high-80s)
Meaning the 'field of Bertin' this grand cru has been known for centuries. Note that Chambertin Clos de Bèze shares Chambertin's status – being the only one being appended to Chambertin (the other grands crus appending Chambertin – after their name, e.g. Griotte-Chambertin, cf Chambertin Clos de Bèze). A wine made from Bèze may be called simply Chambertin, a blend of Chambertin and Bèze must be called Chambertin, while the wines of Chambertin may not be called Chambertin Clos de Bèze. Simple! In principle though, the wines are different. Charles Rousseau explained to Allen Meadows that he feels Bèze is spicier than Chambertin, drinks earlier and declines earlier, and that Chambertin has a bit more minerality. Chambertin is a little colder due to a combe (vale), meaning Bèze is usually picked a little earlier, and Chambertin must have a lower yield to achieve the same ripeness.
2011 Chambertin, Domaine Rossignol-Trapet
Bright clear fresh mid-depth; open, fresh, sweet and pretty nose, floral; fine, elegant cherry and red fruit, oak/vanilla is there too from the oak. Mouthcoating. This has lovely sap and the fruit really coats the palate. Tannins are super-fine and the overall effect is power without weight. Lovely, if perhaps a touch oaky.
94
2006 Chambertin, Domaine Trapet
Fine mid-light depth of colour, bright and clear; spicy earthy nose, candied red cherry, wild herbs, tea notes; good concentration on the palate, layered, great wild notes in the flavor, slightly chewy rustic trannins, but great flavor at the end. Old fashioned in a good way.
93
2009 Chambertin Clos de Bèze, Bouchard Père et Fils
Fine clear fresh ruby colour; fresh, lively nose, fine fruit and fragrance; fine, quite concentrated, very supple and fine-textured, dark fruit, fine flavor-filled tannins. Clean. Long fine finish
92
2009 Chambertin Clos de Bèze, Domaine Bruno Clair
Fine, clear; discrete nose; lovely dark fruit, spices, really quite shut down, fine structure, but impenetrable today.
93?
1999 Chambertin Clos de Bèze, Domaine Pierre Damoy
Mature tone, garnet, clear; sweet, slightly pruney nose, dried plums and cherries; juicy ripe fruit, fine texture, but there is also a fair bit of oak which masks the flavours overall.
90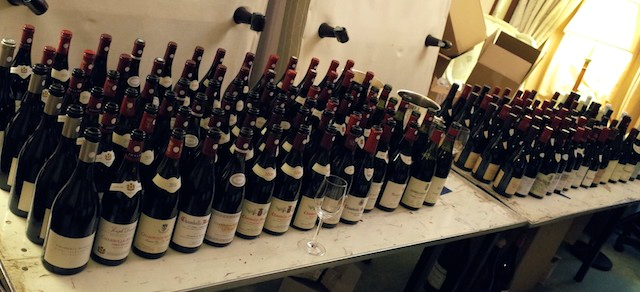 WINES TASTED
2008 Domaine Fourrier Griotte Chambertin
2001 Domaine Ponsot Griotte Chambertin
2007 Domaine Rousseau Ruchtotes Chambertin
2007 Domaine Claude Dugat Charmes Chambertin
2007 Domaine Bachelet Charmes Chambertin
2007 Domaine Simon-Bize Latricieres Chambertin
2010 Domaine Faiveley Mazis Chambertin
2010 Domaine Drouhin Laroze Chapelle Chambertin
2011 Domaine Vougeraie Mazoyeres Chambertin
2006 Domaine Jean-Louis Trapet Chambertin
2011 Domaine Rossignol-Trapet Chambertin
2009 Bouchard Chambertin Clos de Beze
2009 Domaine Bruno Clair Chambertin Clos de Beze
1999 Domaine Pierre Damoy Chambertin Clos de Beze