Chablis Tasting
| | |
| --- | --- |
| Date: | 5th September 2015 |
| Time: | 2pm - 3:30pm |
| Venue: | Our shop, 85 Queen's Road West, Sheung Wan |
| Price: | $550 per person (fully rebatable upon purchase of HKD 3,500+ of Chablis wines) |
We continue to be amazed at the tremendous value that Chablis offers, relative to the Burgundy market at large. Just look at the sorts of high scores below from Allen Meadows, look at the price, and tell me which other village offers anything close to as good a deal. Now that we have our little shop with its custom made tasting table, we thought it was a good time to be sharing our passion for Chablis in a casual tasting with you. We've made a selection from the 4 best Chablis growers (Raveneau, Dauvissat, Fevre, Billaud Simon) that will enable us to discuss domaine styles, vineyard expressions, and vintage characters.
The modest tasting fee of HK$550 is fully rebatable on the day for orders of HK$3500 or more of Chablis wines purchased — and we have an extensive range of Chablis on offer.
The only difficult part will be securing a seat — we keep these events small scale, two bottles, one table, one conversation.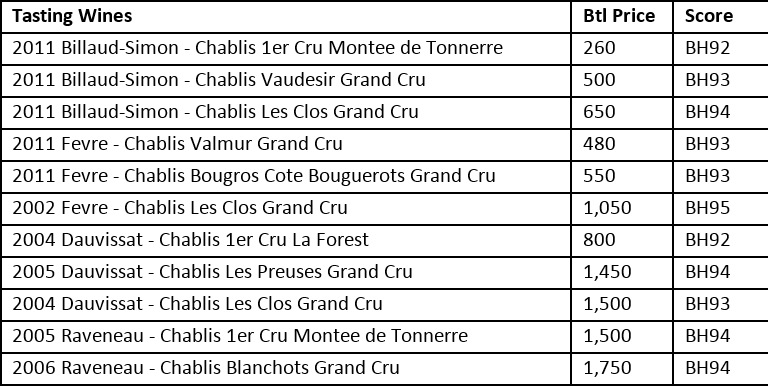 A Quick Word on Estates…
Raveneau
I think of this as the Krug of Chablis. This is many Chablis enthusiasts' pick as the top estate. I think they offer the best example of mineral spine and snap with a rich layered texture. It's a small estate, and the wines are scarce. Buy these if you want Chablis to rival the quality of anything in Burgundy.
Dauvissat
I think of this as the Dom Perignon of Chablis. This is my personal favourite Chablis estate. They style leans more toward the mineral and elegant, combined with astonishing purity of expression. I love these wines. They really reward cellaring too.
William Fevre
I think of this as the Cristal of Chablis. Quality here shot up over the past 15 years or so, and often rivals Raveneau and Dauvissat. The wines a super crisp, clean and modern in style, and are often the most intensely powerful too.
Billaud-Simon
I think of this as the Gosset of Chablis. Quality is just a notch behind the other three, and I find the style a little more forward and approachable. Fruit expression here is usually very pleasing. The wines are amongst the greatest deals in all of Burgundy. If I see these on a restaurant wine list I very often select them.