Chateau Latour back to 1920 with Frédéric Engerer
| | |
| --- | --- |
| Date: | 1st December 2014 |
| Time: | 7:00 PM |
| Venue: | Grand Hyatt, Hong Kong |
DINNER REVIEW © Linden Wilkie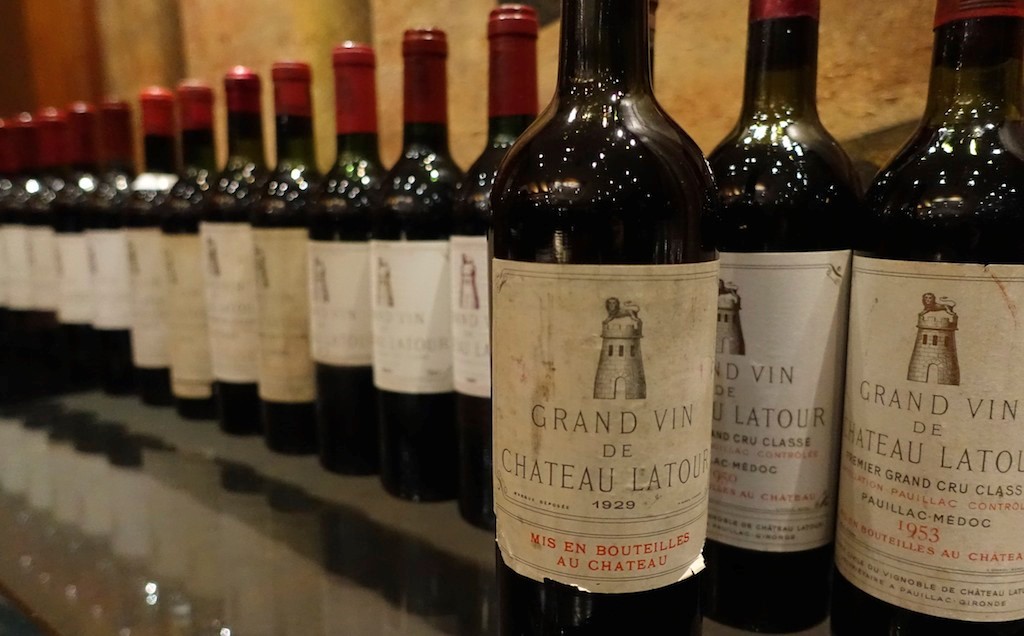 Even now after many years of doing this I get a little blown away at the realization that some 90 years' of wine sits in a bank of glasses in front of me. Vintages spanning 2009 to 1920 gently evaporating from some 280 or so wide-bottomed Zalto Bordeaux glasses, offering up to the room the scent of Chateau Latour. Four full generations of effort, I thought out loud, from one plot of land, as we sipped, buoyed up with enthusiasm. At our one round table sat Florence Rogers-Pinault representing the family owners, Frédéric Engerer, the estate president, local Hong Kong friends, and those who have travelled from around Asia, and as far as Europe, especially for the event.
Events like this take careful sourcing. Most of these bottles were purchased by me in London several years ago, and air-freighted to Hong Kong in the winter of 2010. Young vintages have been carefully sourced in the trade. The 2009 came directly from Latour. Even so, as the old saying goes, there are no great old wines, only great old bottles. So I could feel a bead of sweat on my brow as Mr Engerer began his comments by saying this was the first time the chateau had involved itself in an event at which the bottles had not come directly from Latour's cellars, and that this was therefore something done 'on faith' and reputation. Gulp.
Bacchus was smiling however, and our wine careers were spared one more night. I knew we had sourced well. But I think the wines' showing spoke also for the tremendous staying power of Latour.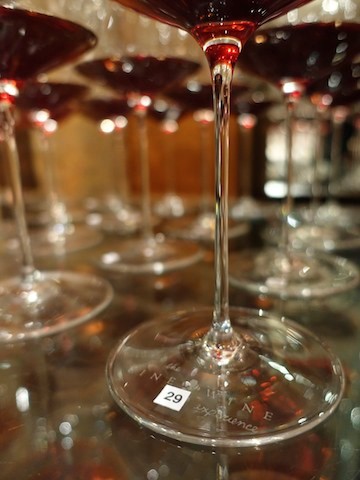 How to define that 'Latour-ness'? Mr Engerer spoke about a certain saltiness that separates Latour from its first growth peers. He said it is often more elegant than people ascribe, but that its defining special character, he thought, was that even in weaker vintages there is a sweetness of fruit that covers the tannins. For me, I would say it is a particular kind of 'winegummy' (to borrow from Serena Sutcliffe) blackcurranty fruit, combined with a slightly salty edge, mintiness (less overt than Mouton's sometimes 'eucalyptus'), and a particular earthiness. Sometimes violets (but much less often than Margaux), sometimes leafiness (but less often than Lafite, and seldom Lafite's red fruit notes). That of course, is a vain attempt to take Latour as a whole. Could I be fooled blind? Every single time. What I would say is, that if I needed a Pauillac from a lesser old vintage, Latour would be my pick – in the last 100 years, it has been a lot less up and down. Though in the last 20 years, despite superb management at Latour, all the firsts have performed to an exceptional standard so the point has become moot.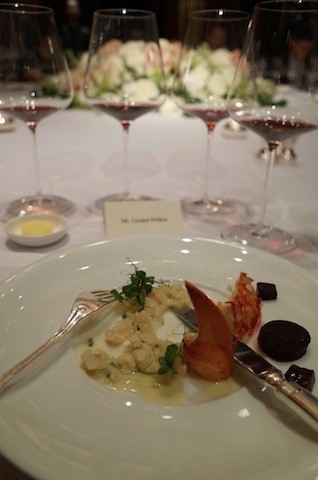 In my tasting notes below you will see a rather idiosyncratic serving order. This is the order we tasted, put into flights around the flavor and intensity progression of the food courses, with the last course offering an intensity parallel to the first course (ie lower), and the bold dishes in the middle – so too the wines. More or less! I'm not in the 'science' camp here.
I should add, that as with so many of our top tier events, we entrusted the food, service, decanting and wine service to the exemplary team at the Grand Hyatt. Save Amuse Bouche, the team is really hard to beat. The menu was devised just for us, in consultation with the sommelier and the chef, and even though it was only for our single table, they did a cook and taste through together beforehand to double check. Bravo!
Flight One –
Served with Oven-roasted Boston lobster, celeriac cooked like risotto, walnuts, beetroot.
1953 Château Latour
A stunning vintage in the Médoc amongst the first growths, and Mouton, and Latour trails behind. But don't be fooled by that, by any measure this can be a superb bottle, and tonight's was no exception. Pale, bricked and limpid in the glass; immediately radiantly perfumed in the glass – sweet berry fresh nose, nutty and a touch floral, with some volatile acidity accentuating the fragrant lift from the glass – a wine you could happily get engrossed in just nosing; but it doesn't disappoint on the palate, where it is elegant in expression, with lovely crisp red fruit and mint on the attack, then dark winegummy flavor, light tannin and a fragtant finish. Lacks the extra dimension of its peers in '53, but simply a very lovely wine. A Latour for lovers of well-aged Burgundy. Usually very fairly priced if you can find it… but beware, as given the delicacy of '53, pristine bottles of impeccable provenance are essential.
One vote for wine of the night.
Fréderic Engerer shared with us the anecdote that Latour only began making a profit in 1955. Amazing.
1985 Château Latour
Mid clear garnet, still plenty of colour, but less depth than even some of the older wines; earthy and sweet and savoury on the nose. Inviting. 'Gourmet', I wrote. Just the sort of claret aroma to put you in mind to eat!; elegant, refined, cool and crisp, lacks a touch of concentration, feels a little 'big crop', lacks a bit of Latour authority, and there is just a hint of leafy greenness in the light tannin finish. But for all that, I really liked it. It played especially well with the beetroot component of the Boston lobster dish paired with it. I would sooner scoff than scoff.
One vote for wine of the night.
1995 Château Latour
Fine clear garnet-ruby, still a fresh fairly deep colour; a potent ripe sweet nose, still youthful, the blackcurranty freshness to the fore; fleshy and mouthfilling on the palate. Typical '95 firmness to the tannins, fine structure over all, but this is a Latour for the long haul. Evolving nicely. Opened up just a little more in the 3 hours it sat in my glass. (If you are going to drink this now, decant ahead of time).
1982 Château Latour
Fine, bricked colour of mid-depth; this bottle was initially subdued, showing sweetly, with a touch of iodine on the nose; sweet, a bit surly at first, with a hint of brett, and iodine age, but also showing ample sweet mouthfilling fruit, and a velvety ease on the palate. It opened more sweetly on the nose, but at the same time the tannins began to grip a little more. A good bottle of Latour, but not up to the standard of the best 1982 Latours I have had.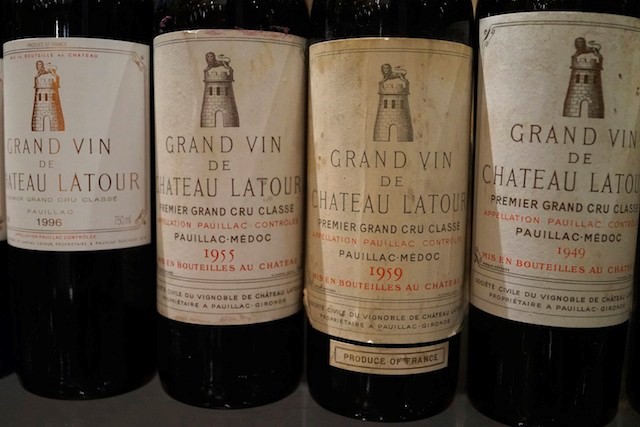 Flight Two –
Served with Oven-roasted pigeon breast, pan-fried foie gras, parsnip mousseline, black lentils, thyme pigeon jus.
1949 Château Latour
Clear, bright, mid- to light colour; some VA providing lift on the nose (Engerer noting that other bottles can show more VA), sweet red and black fruit and earth; I was surprised on the palate by the relative elegance and lightness in the expression of the otherwise delicious fruit. A little VA prickle on the tongue. I had bought two bottles of very good UK provenance, and had sold one, only for that bottle to be served to me blind at a dinner. I guessed top notch Pauillac, and thought 1945 – that bottle showed powerful fruit and tannin. Tonight's bottle showed a different side to the same personality – lighter, more refined. It goes to show too, bottles out of the same cellar of the same wine, can show differently – especially after 65 years!
Three votes for wine of the night.
1959 Château Latour
Sometimes I can imagine the '49 and '59 being close in expression, but tonight they couldn't have been more different. This showed richly and broodingly. The colour is still fairly deep for its age, garnet-centred with a bricked rim; sweet on the nose, with a hint of prune; fleshy and rich on the palate. With more air it picked up signature blackcurranty sweetness of fruit. Potent and grand. Statuesque, but not a perfect rendition of '59 Latour at its best.
1996 Château Latour
One of my personal favourite Latours. Fine, clear, deep ruby with a touch of development at the rim; the nose is lovely, but takes a little time to come out to play – very lovely fruit, and a coolness that is typical of '96, lovely leafy fragrance, a little biscuity sweetness too, all well integrated; concentrated fruit, but decidedly elegant an composed, the fine acidity contributes to the structure and length more than the leafy but ripe tannins. Shows Latour's capacity for effortless refinement. Drinking well – very happy with the pigeon breast – but to my palate, needs longer still.
One vote for wine of the night.
2000 Château Latour
I was really taken with this bottle, and it was one of my two wines of the night. It's been a few years since I've tasted it. On tonight's showing, it seems to be one of the greatest of Latours in my view. A fine semi-opaque ruby still; the nose really struck and enthralled me – sweet, fresh, beautifully floral, inviting and fragrant. What stood out was the sense of precision and fine details. Here we have the full canvass, the full gamut of the terroir on display; plush on the palate, beautiful fruit, finely detailed, fresh, violetty, 'pretty' actually. Long detailed finish. Simply superb.
Two votes for wine of the night
Flight three –
Served with 12 hours-braised Wagyu beef cheeks, sautéed winter mushrooms, pomme chateau, baby root vegetables, crispy pancetta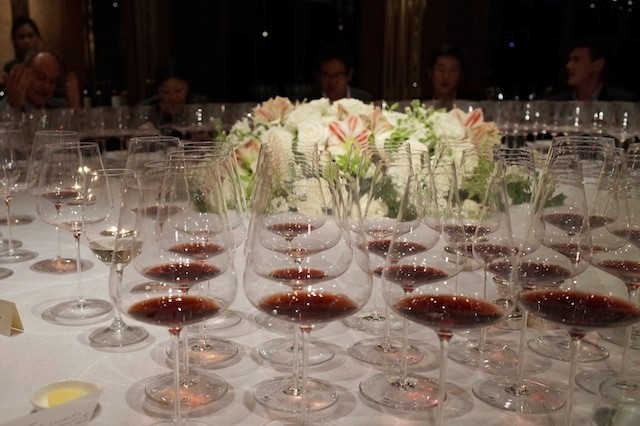 1990 Château Latour
Clear garnet, bricked rim; a sweet nose, very ripe with a biscuit, earthy tone; sweet, rounded, very clear expression which is decadent but composed, and very long. Some glycerin driving the palate texture. Hard to disagree with a wine like this!
2003 Château Latour
I was intrigued to retaste this after so long. If ever there was a vintage to showcase the special advantage of Latour's terroir, here it is. The onslaught of heat – day and night – severely stressed vines in Bordeaux, many shutting down. Resulting wines are often phenolically awkard – displaying both cooked flavours and greenness, and have aged very quickly. But not Latour. Here we seem to see the best of both worlds – the fleshy ripeness and exuberance of a very ripe vintage, combined with the healthiness of fruit from vines that found moisture. The richness and plushness belies the fact that this is clearly well structured, and critically, shows freshness and sufficient acidity to bring harmony. A great Latour, if an idiosyncratic one.
As Fréderic Engerer noted about this flight '90, '03, '09, '61 – they are all of clear Latour DNA, but these four are the 'accidents', made in years of extraordinary conditions. At Latour that seems to work.
Three votes for wine of the night.
2009 Château Latour
Deep coloured still of course, and very youthful. Well balanced, but in a different timbre to the others. This is powerful in a way that combines the sheer intensity of '61, but in a far more plump, padded way. Some of that is youth, but the alcohol level is higher in '09, and in that respect it is closer in expression to the elite Cabernet blends of Napa Valley, than Latours of the past. You like that or you don't. In and of itself, it certainly works in this '09, which has a seamless structure and expression.
1961 Château Latour
Still deep in colour, showing its age only in the colour tone, and the bricking in the narrow rim; even with decanting well in advance this took its time stretching its legs in the glass. This bottle was a touch awkward on the nose at first showing richness but not all the details; superb on the palate, showing great fruit concentration and expression, black fruit, earth and saltiness – there is great tension between dark berry voluptuousness and an umami counterweight. The fruit intensity allows this much older wine to sit very happily in this flight with younger 'accidents'.
Five votes for wine of the night – the second top choice of the table overall.
Flight Four –
Served with slow-roasted pheasant, savoy cabbage, speck, black winter truffle jus.
1964 Château Latour
There was quite some discussion about this wine. Famously (at the time) Latour picked just before rains that ruined things for many neighbours. It is remembered much more as a Right Bank vintage than a Left Bank one partly for that. But '64 was also the year English company Pearson Group became owners of Latour, and introduced stainless steel vats there. The sale was initially blocked by President Charles de Gaulle, who objected to selling it to "the English". Too exotic perhaps. The English are perhaps still more exotic than the Chinese in France today. ;-)
A good fresh bottle in any case, still showing good colour and freshness. A note of chicory on the nose along with very clear, well-defined fresh fruit. Firm, and with a slight pinch of acidity in the tannins, but there is sufficient richness here. A very clear, direct expression. I like it, but feel it lacks some nuance. Good, solid, fine, but lacks either prettiness on the one hand or exuberance on the other. A bit solid.
One vote for wine of the night.
1955 Château Latour
I much preferred this. Clear garnet; sweet, minty nose, showing attractive freshness; sweet, fresh, full of fruit, but also showing some elegance. Classic Latour.
1929 Château Latour
A good colour, bricked, but healthy; sweet, round, minty, very good fruit, effortlessly sweet, rounded, with a hint of spice and extra nuance and dimension. Shows its age, but not marked by any damage in the cellar. This got an overwhelming acclamation at our table.
Twelve votes for wine of the night.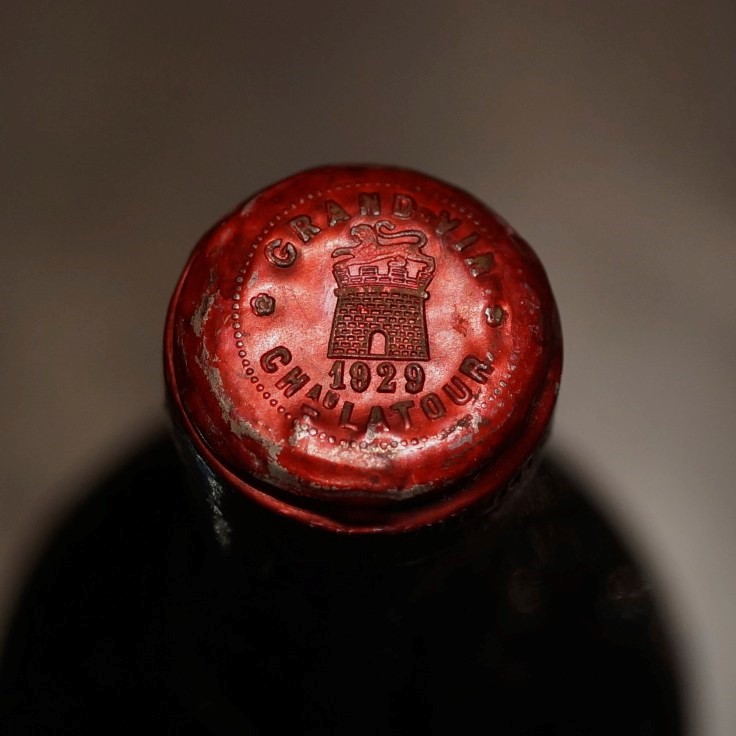 1920 Château Latour
A mid depth of colour, and the bottle not 100% settled – a very fine vapor of super-fine sediment (despite careful standing and decanting). Classic on the nose and palate, showing both a very good depth of fruit, fine acidity, and slight 'mulch' leafy note. A touch of a VA prickle. Biscuity sweet finish. A bottle from a very good middling to near-top vintage showing how easily a well-stored bottle of Latour can keep. Not tasted this vintage of Latour before – reminded me of vintages like '08, '62, '55… I really liked it. Indeed, it was one of my two choices for favourite wine of the night.
Four votes for wine of the night.
To finish –
Lightly stewed black figs with muscato sbayon and almond milk ice cream
WINES TASTED
Chateau Latour 2003, 2000, 1996, 1995, 1990, 1985, 1982, 1964, 1961, 1959, 1955, 1953, 1950, 1949, 1929, 1920