Domaine Huet Event 1945 to 1997
| | |
| --- | --- |
| Date: | 15th September 2014 |
| Time: | 7:00 PM |
| Venue: | Zhe Jiang Heen |
DINNER REVIEW © Linden Wilkie
Tasting back through six decades of Domaine Huet in an evening is to taste a time capsule of wines that speak more of vintage style than of linear age. It is not that they do not evolve the complexity only age can bring – they do, it is that they do not glimpse it for a mere decade or two and then slide into decrepitude. Every wine this evening showed the nuance of the vintage and vineyard of its origin, more than it did its years in the cellar.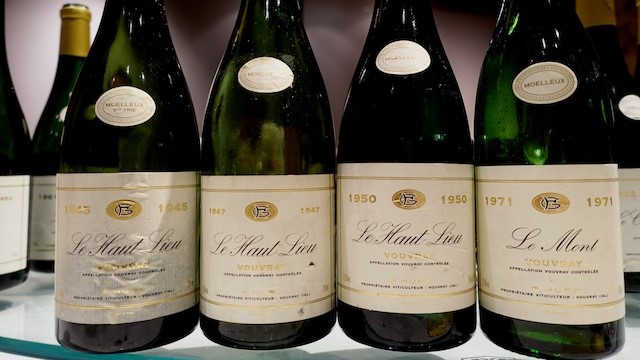 Of course age-worthiness is nothing more than a gimmick if it is a wine's only real virtue "wow, so old, and still so fresh (and deadly boring)". But that was not the case here either. All the wines we tasted showed good if not great balance, flavor, and character. These are fine wines the equal of the best of any region.
The region here is Vouvray on the Loire River, east of Tours. Here two tributary rivers – Cisse and Brenne provide excellent conditions for botrytis. The grape variety is the naturally tangy, aromatic Chenin Blanc, that does make superb sweet wines, especially botrytised ones. But I would say Vouvray has more in common with top German Riesling regions than it does with Sauternes. The glory of Huet's Vouvrays spans styles from bone dry ('sec'), through off-dry ('demi-sec'), to luscious but crisp ('moelleux'), to Huet's great speciality, very luscious sweet and tangy wines made from the first of the season's selection of bortrytised grapes ('moelleux 1er Trie'). The range is decided (or at least was under this regime) by what the vintage chose to give – lots of fine-boned, mineral-driven 'sec' wines in a cool vintage, plenty of 'moelleux' and 'moelleux 1er Trie' in big botrytis vintages. The result is wines that work effortlessly with what nature gives, rather than wines decided in the marketing department lon before the first grapes have ripened. The added bonus is that, in collecting wines from different vintages, we can enjoy fine Chenin in a range of styles and range of purposes. Wine for an aperitif? Wine for cheese or quiet contemplation?
Gaston Huet was something of a hero to his region. His father Victor founded the domaine in 1928 – in the 'Old World' replete with ancient domains that makes this something of the modern day story. He spent WWII in a German prisoner of war camp, and is featured in Donald and Petie Kladstrup's excellent book Wine and War for his conduct there. After the war he was mayor of Vouvray, and built his domain from its original vineyard 'Le Haut Lieu' (supple wines from deep clay/limestone), to make his trinity with 'Le Mont' in 1957 (more feminine, elegant wines from pebbly soil over clay), and 'Clos de Bourg' in 1963 (famed since 1953 – structured wines from thin soil over limestone.)
Gaston, who passed away in 2002 was joined by his son-in-law Noel Pingeut in 1971, and Pingeut took over winemaking in 1976, until he left in 2012. The Hwang family stepped in as investors in 2002 shortly before Huet's death, and since Pingeut left in 2012 there are no Huets at the domaine any longer. Pinguet's departure has not been rumored to have been a happy one, but rather something of a dispute over the future approach to the wines. I have no view on that, having never met any Hwangs, not tasted any young wines, but the Huet/Pinguet era is at an end, and so perhaps, our tasting this evening could be viewed as the CV, the legacy of two of the region's greatest men.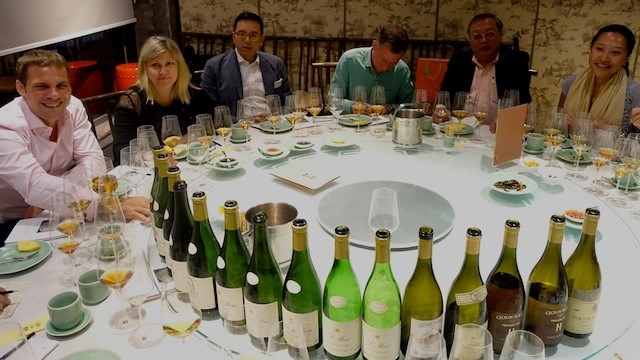 And what a treat we got. We arranged the wines into flights of increasing sweetness rather than ascending age. They dealt with Zhe Jiang Heen's Shanghai menu with aplomb. Much like Riesling, the wines take rich dishes, dishes with stronger flavors with ease.
1989 Domaine Huet Vouvray 'Le Haut Lieu' Sec
A hot summer, and then concentration and ripeness more from 'parsillerage', or wine-drying and concentrating, rather than botrytis.
Pale colour; aromatic and fresh aromas, smoky citrus, Chinese dried mandarin peel with an earthy aged complexity; intense, but low key in expression, red grapefruit, dried peel, classic Chenin 'wet wool' varietal note, taut and mineral, but full flavoured Sec. Drinking well. 90.
1964 Domaine Huet Vouvray 'Le Haut Lieu' Sec
A very good, classic vintage.
Old gold in colour; a creamy stony nose; more exuberantly fruity than the '89, candied fruit, very fine structure and expression, healthy, not overly marked by age. Quite elegant. Very good. Worked very well with the sweet soy grilled fish. 92
1953 Domaine Huet Vouvray 'Le Mont' Demi-Sec
A very good vintage
Old gold; a very good wine fought through some cork taint/TCA. This is very fleshy. A great pity about the corkiness – it showed greatness lurking beneath.
1973 Domaine Huet Vouvray 'Le Mont' Moelleux
From a weak vintage
One of the most interesting wines of the evening because it came from a weaker, cooler, wetter vintage, yet it showed great freshness, balance, and food-friendly style.
Fresh, gently herbal nose, like fennel, but subtly so; crisp on the palate, slightly green, a little simple in expression, crunchy fruit, leaner than might be expected for moelleux – the impression has dried to demi-sec. Nice, fresh, elegant Huet. 89
1971 Domaine Huet Vouvray 'Le Mont' Moelleux
It's surprising how many great sweet winemakers got their start in this great vintage – Noel Pinguet included. Superlative in Vouvray, low yield, and marked by botrytis.
Bright, limpid old gold colour; candied marmalade nose, smoky, complex and enticing; gently honyed on the palate, orange and red grapefruit marmalade, turning an elegant off dry on the long persistent finish. Super elegance and finesse. 94
5 votes (13 participants got two unweighted votes each for their wine of the night)
1961 Domaine Huet Vouvray 'Le Mont' Moelleux
A good vintage marked by passerillage.
Old gold; a decadent, slightly toffeed nose; mellow, rich, citrus and toffee on the palate, good but not prominent acidity and a sense of the sugars on the finish. Lacks a little in elegance – there is some heft to this, finish is very good, but not as drivingly persistent as the best. Very good flavor. 91
1962 Domaine Huet Vouvray 'Clos du Bourg' Moelleux
A very fine, classic vintage
Yellow gold; fresh mineral nose; this is delightfully pure on the palate, fresh peach fruit with a citrus twist, mineral and pure in expression. Long finish. Really very lovely. 93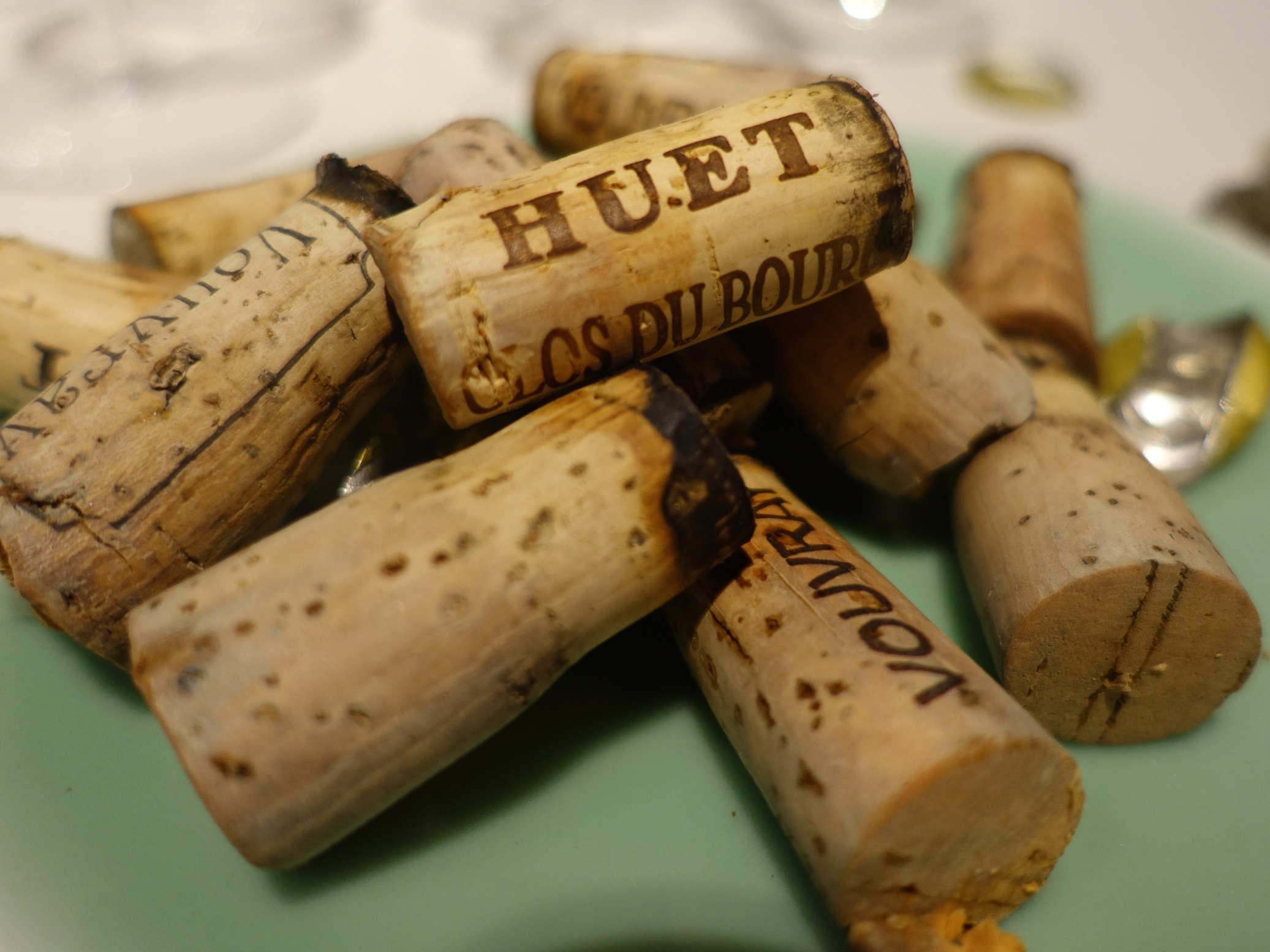 1950 Domaine Huet 'Le Haut Lieu' Moelleux
A good year, almost totally forgotten, yet the last time I had this wine it bowled the room over. It pretty much did the same this evening too.
Light yellow gold; very fine expression on the nose, this is detailed, delicate and fresh in expression; orange citrus with a touch of fresh passionfruit, super fresh and luminous, vibrant and fresh. Harmonious and effortless. Very mineral. A superb, understated but super assured moelleux. I love this. 95
5 votes (13 participants got two unweighted votes each for their wine of the night)
1947 Domaine Huet 'Le Haut Lieu' Moelleux
A great vintage and a famous wine. Gaston thought this the best vintage of his career, and Decanter magazine voted it one of their top 100 wines of all time in 2005. Such accolades always make a wine tricky to approach, as they render the taster so pregnant with expectation.
Full bronze gold; intense honey-toffee nose loaded with candied citrus fruit, smoke and lanolin; intense on the palate, packed with vibrant candied exuberant citrus, bortrytis and very tangy acidity keeping the whole thing electric and super long. It has a honey-coated decadence while staying tangy and refreshing. Continues to live up to the hype. 96
6 votes (13 participants got two unweighted votes each for their wine of the night)
1990 Domaine Huet Vouvray 'Le Haut Lieu' Moelleux 1er Trie
From a big, hot, botrytis-laden vintage. Sadly, badly corked.
1959 Domaine Huet Vouvray 'Clos du Bourg' Moelleux 1er Trie
A big passerillage vintage.
Old gold; a mature nose – showing its age, but in a positive, evolved way, complex and spicy; honeyed, with a more baritone expression of dried pear and stone fruit, soft acidity, mineral finish. Lovely. 94
1945 Domaine Huet Vouvray 'Le Haut Lieu' Moelleux 1er Trie
Frost ensured a small crop, great hot summer. One of the greatest vintages.
Old gold – a shade deeper than '47 or '59; a fantastic aroma combining toffee, medicinal spices and herbs, dried citrus rind and smoke; very fine on the palate, effortlessly composed, very intense, but this is rounder than the '47 – truer to the idea of 'moelleux' (marrowy and melting), fantastic extract, less prickly acidity than the '47 – no VA, and so all that more assured and alluring. Just extraordinary. Up there with the best sweet wines of my life. 99
8 votes (13 participants got two unweighted votes each for their wine of the night)
1997 Domaine Huet Vouvray 'Cuvée Constance'
A very fine vintage with good acidity. A bortrytis selection cuvee made from across the domain's three vineyards. Named in honour of Gaston Huet's mother.
Mid-glinting gold; toffeapples and patisserie nose; very nice bright apple and spice on the palate, its fine acidity gives it loft and length and offers refreshment. Undoubtedly intense. A modern echo of the '47, but still just stretching its legs. A bit adolescent after the last flight. 95
1989 Domaine Huet Vouvray 'Cuvée Constance'
The inaugural Constance vintage – a year in which they made, and extended, the full catalogue of styles. It was felt at the time to have been the successor to 1947. It's good, but in my view not up to that level.
Bronze gold; very intense nose and palate, intense concentration and botrytis matched by super tangy acidity, the impression is more collision than harmony – a sort of 'sweet n sour'. Laden with flavor however, this is a dramatic, perhaps melodramatic Huet. Very good, and probably immortal, but my thoughts were still stuck – as they are now – on that effortlessly assured '45. 92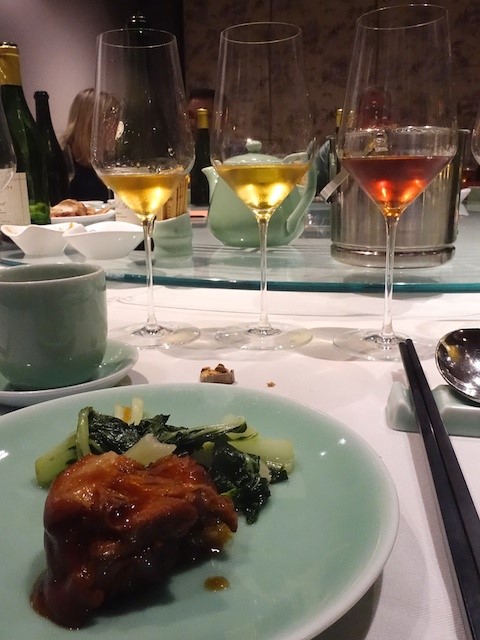 I think what struck most, in conclusion, is what a great array of styles this domain has offered, the sheer quality and age-ability of the wines, and the confident way in which they pair with dishes than might otherwise proved tricky or dominant when serving wine. The old bottles are now deservedly expensive – though even the most iconic examples are still to be found in pristine condition for hundreds of US dollars rather than low thousands (as equivalent white Burgundies from top domains in similarly heralded vintages now command). Do look out for the Secs and Demi-Secs from the 2000s, such as 2008. These cost very little indeed in fine wine currency, and they give a lot.
We have it on good authority that the very last stocks from the treasure trove that once lay sleeping at the domain have been sold to two merchants – one in the UK (Berry Bros. & Rudd), and one in Germany. I count myself very lucky to have had the chance to drink these old bottles fairly extensively over the past ten years or so, but it must now sadly be recognized that that era is drawing rapidly to a close. Cheers to Noel and Gaston – what beautiful wines they made!
WINES TASTED
1989 'Le Haut Lieu' Sec
1964 'Le Haut Lieu' Sec
1953 'Le Mont' Demi-Sec
1973 'Le Mont' Moelleux
1971 'Le Mont' Moelleux
1961 'Le Mont' Moelleux
1962 'Clos du Bourg' Moelleux
1950 'Le Haut Lieu' Moelleux
1947 'Le Haut Lieu' Moelleux
1990 'Le Haut Lieu' Moelleux 1er Trie
1959 'Clos du Bourg' Moelleux 1er Trie
1945 'Le Haut Lieu' Moelleux 1er Trie
1997 'Cuvée Constance'
1989 'Cuvée Constance'