Giant Steps Dinner with Steve Flamsteed
| | |
| --- | --- |
| Date: | 11th June 2014 |
| Time: | 7:00pm - 10:00pm |
| Venue: | Zhe Jiang Heen |
DINNER REVIEW © Linden Wilkie
Do you think you can tell Meursault from Puligny? How about Volnay from Gevrey? How about…. Australian chardonnay and pinot noir from Burgundy?
Sometimes we can and sometimes we can't. I don't actually think it matters. It misses the point. The point is to find wines you like, wines that resonate with you, and to keep your mind wide open and your glass full!
I think it's great that Hong Kong – which has long had a small base of highly knowledgeable enthusiasts for this – has embraced more broadly the Burgundy zeitgeist. Indeed Hong Kong, and China, are now the engine room of this trend. I especially like that what comes with that is an appreciation of wines with more elegant fragrance, texture and weight. I love this type of wine.
I found it in Chablis and Meursault, I found it in Volnay and Chambolle, and in 2012 I found it in the Yarra Valley in Victoria, Australia at a wine estate called Giant Steps.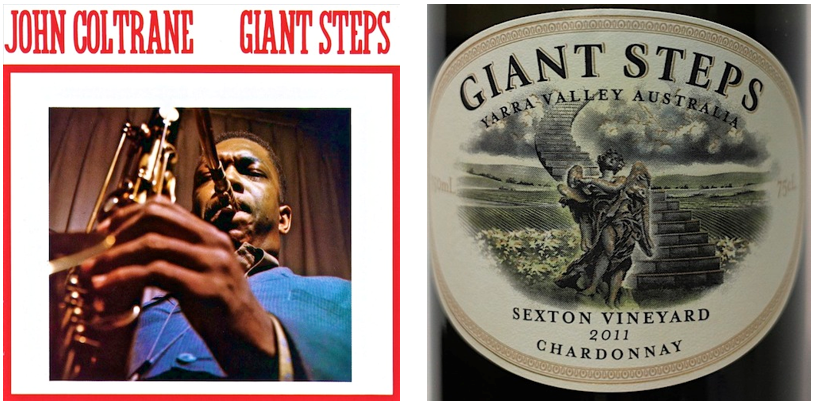 Here a space age winery – coffee roastery – pizzeria – cheese room – cellar door, sits (like an alien spaceship landing) at the end of the traditional verandah strip of a sleepy Australian town. I tasted the range and was super impressed. Here was Chardonnay and Pinot Noir with a ripe, but cool expression, emphasizing freshness, delicacy, nuance, elegance, and individual vineyards. In Melbourne they know it and get it, but in a wine world cluttered with so many wine regions, we tend to lump our impressions together and simplify. Australia, we tend to think, makes big, bold high-octane Shiraz and Cabernet, and big bold (blowsy) Chardonnay. Cliché. Tick. Certain little sweet spots (parts of Western Australia and Victoria in particular) also make these wonderfully elegant yet still sun-kissed ripe examples of Burgundy grape varieties.
Mike Wu and I were meeting a customer for dinner at Bitronomique in Kennedy Town, Hong Kong. We had a bottle of pretty smart white Burgundy. Premoxed! What to do? We grabbed the rather short winelist, and I spotted a Giant Steps Chardonnay, a 2008 Tarraford. We were both blown away – this was serious, flinty, nutty, mealy, citrusy chardonnay with lots of energy, a taut structure, and elegant style.
We started to buy the wine! We wanted to share it with others.
On Wednesday we opened up a number of Giant Steps wines with winemaker Steve Flmasteed at Zhe Jiang Heen, a Shanghainese restaurant in Wanchai. We served some of the wines blind alongside illustrious examples from Burgundy. We weren't looking to prove that any one wine was better than any other. We wanted to see, objectively, what the differences were between them – how did these vineyards in Victoria express chardonnay and pinot noir differently from vineyards in Burgundy? Could we tell the difference, tasting blind? Sometimes we could, and sometimes we couldn't. It didn't matter. It wasn't the point.
The point is this: if you like white Burgundy and if you like red Burgundy, then you like chardonnay and you like pinot noir – at least in some range of expression. If you like Chablis Les Clos and Montrachet, and if you like Musigny and Clos de Bèze, then you like these grapes in quite different expressions of aroma and texture and taste. If that is the case, how many chardonnays and pinots are you exploring from outside Burgundy?
We thought Giant Steps was a good place to start our exploration in Hong Kong.
Giant Steps – named after the 1960 landmark jazz album from John Coltrane – came to fruition from the combined interests an passions of two men. Phil Sexton has one of those quick entrepreneurial minds, something of a visionary in marketing too, he had successfully created some of the great Western Australian boutique breweries, as well as the highly regarded Devil's Lair winery. Moving to the Yarra Valley (a whole continent away), he sought to make fine Victoria wine. While brewing is a process of taking exceptional ingredients and then honing and refining an exact and replicable process, winemaking is very different. The style is driven by the attributes of the site, the variety and the micro-climate – what the French call terroir. Every season is different, so every response in the winery must be too. Enter stage left – Steve Flamsteed, an Australian who worked first as a chef (including under Pierre Gagnaire in St-Etienne, France), he took a sequitous route from there to cheesemaking and then wine via a stage picking grapes in France. A Roseworthy wine science grad he honed his winemaking skills at such illustrious estates as Leeuwin in Western Australia.
Phil Sexton planted his eponymous vineyard in the late '90s, and other vineyards, including some with older vines, were added to a collection. The idea from the start was to express the characteristics of these sites individually – not to blend them.
For wine enthusiasts like you and me, at first confronted by the enormous diversity of wines styles, and wine regions, we so often begin with the broadest brushstroke generalizations: the Médoc makes firm, structured cabernet/merlot wines, while Napa makes big, bold, super-fruited Cabernets. Burgundy makes delicate, fragrant floral-scented pinots and crisp, tautly-concentrated chardonnays. New Zealand makes zingy, pungent sauvignon blancs and Australia makes big, soft, super-fruity shiraz. But as you will know, as soon as you take an interest in a region, as soon as you start to drill down into individual domaines and sites, the sheer complexity of it opens up. Is Château Pavie the same sort of wine as Vieux Chateau Certan? Is a Clos des Lambrays like a Fourrier Griotte-Chambertin? Is a Coche like a Lafon? Same village.
I've always thought that finding producers I like to be the most reliable way to buy wines I like – more reliable than simply "I like Pauillac, I like Chambolle, and I like Barolo", I would hone in to say "I like Château Pichon Baron, I like Domaine Ghislaine-Barthod and I like Bruno Giacosa – what else would satisfy me?"
To put it bluntly, if we like pinot from certain growers in Burgundy, and we are not at least trying some, even one from Martinborough, Yarra Valley, Willamette, Central Otago, Tasmania, or Graubunden, how do we know what we are depriving ourselves of?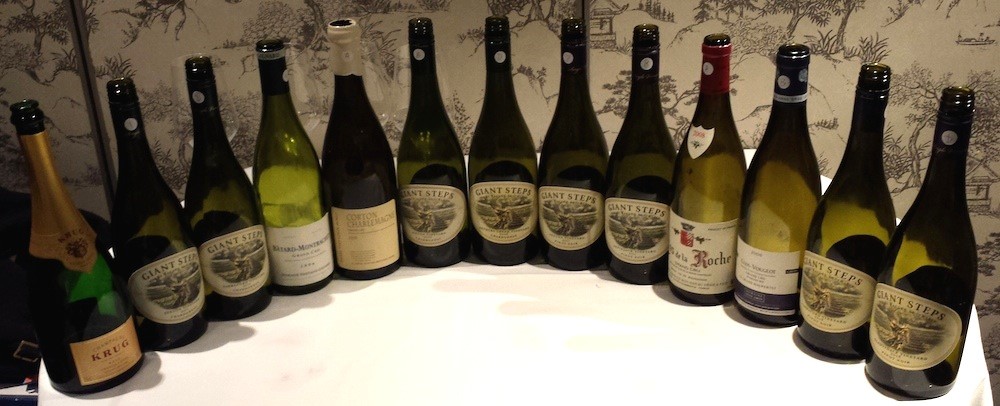 2011 Giant Steps Sexton Vineyard Chardonnay (sighted)
Pale gold; a low key fresh nose of fresh pineapple, mealy cereal notes, and flint; fresh, zippy and vibrant on the palate, there is a fleshy middle of fresh pineapple and pear, a touch of peach, with a touch of crème anglais, but the overall impression is coolness and elegance, and this is emphasized by a taut line of lemon citrus acidity, with a refreshing note of pithy bittersweetness that pulls the whole package tight. This came alive particularly with the food.
2011 was a very cool vintage.
2010 Giant Steps Tarraford Vineyard Chardonnay (sighted)
Light gold; Satsuma fruit nose, fresh pineapple again; this is elegant still, but bigger, and bolder than the '11 Sexton, fine, mouth-filling and harmonious, with rounder, more integrated acidity, lush but controlled, peachy middle and a fresh finish with just a slight note of alcohol pricking the end.
2009 Domaine Pierre-Yves Colin Morey Corton-Charlemagne (blind)
Pale gold; bright fresh citrus and stone fruit, a hint of white flowers, fine vanilla-edged nutty oak. Still youthful and shy. Rounded and concentrated on the palate with citrus and a note of pinapple, fine oak. Modern, crisp, concentrated and young. Superb quality.
I thought this was Giant Steps.
2006 Giant Steps Sexton Vineyard Chardonnay (blind)
Light gold; fine, low key nose, a touch of oak, mealy tone; fine on the palate, velvety and creamy middle, stone fruit expression with some exuberance, an intense mineral note (old vines?).
I thought this was Pierre-Yves Colin-Morey
2006 Domaine Fontaine-Gagnard Bâtard-Montrachet (blind)
This has a touch of colour; really floral and vibrant nose, nutty, showing some maturity; concentrated, rounded with citrus – Satsuma, and also a very particular note of herb-infused sausage that I associate with Chassagne. Drinking very well.
I correctly picked this – it was the most distinct wine in the flight
2008 Giant Steps Arthur's Creek Chardonnay (blind)
Pale yellow; fine, flinty, somewhat reduced nose; fine, taut, citrus fresh palate. Delicious, but needs some air.
I thought this was Giant Steps.
Stylistically I would say Giant Steps and Pierre-Yves Colin-Morey are closer than Pierre-Yves Colin-Morey and Fontaine Gagnard, despite the two Burgundy producers being in Chassagne-Montrachet – at least that's my impression based on this tasting. On another day in a another flight, perhaps a different impression might be given. Perhaps not. If I could draw a point from the experience, it would be the one I already made – taste widely.
2011 Giant Steps Sexton Vineyard Pinot Noir (sighted)
Fairly pale ruby red; lovely floral and fresh strawberry/raspeberry nose, while the oak comes through as a mocha note; red fruit palate, elegant in weight, supple, quite pretty and floral in style. Delicious now, seems destined for short to medium term drinking.
2011 Giant Steps Applejack Vineyard Pinot Noir (sighted)
Super pale and diffuse colour; lovely nose, fresh red fruit and also a distinctly savoury underbrush nose; fresh red fruit, a touch of tamarillo, and a really morish savoury tone. Elegant, light. Went so well with the tea-smoke duck dish.
2008 Domaine Armand Rousseau Clos de la Roche (blind)
Bright fresh colour, mid-depth; quite a cool nose, raspberry and a touch of bell pepper and leaf; fine, aromatic pinot, cool and peppery expression with a little astringency in the cool tannin. A bit closed right now. Good.
I thought this was a Giant Steps.
2006 Domaine Anne Gros Clos Vougeot 'Le Grand Maupertui' (blind)
The deepest colour here; oak dominates the nose a little, aromas are muted but ripe; good intensity of flavor on the palate, quite grippy robust tannin both from the fruit and the oak. A bit blunt, but well stuffed. Nowhere near ready.
I picked this to be the Anne Gros – the easiest one in the flight to identify due to the deepness of colour, density of tannin, and the oak element.
2008 Giant Steps Tarraford Vineyard Pinot Noir (blind)
Quite a mature colour, pale in depth; sweet and savoury nose, raspberry and mocha; sweet raspberry fruit, confit tomato, mocha, and a morish savouriness. Drinking well.
I picked this as Giant Steps
2008 Giant Steps Gladysdale Vineyard Pinot Noir (blind)
Light, fine colour; this is all about perfume – a very beguiling pinot floral and musk-edged perfume both on the nose, and the gentle, elegant palate. Delicious right now.
I really thought this was the Clos de la Roche
As you can deduce from my brief notes on the wines, these are generally light coloured pinots emphasizing floral notes, and elegance, and often including savoury, very food friendly elements.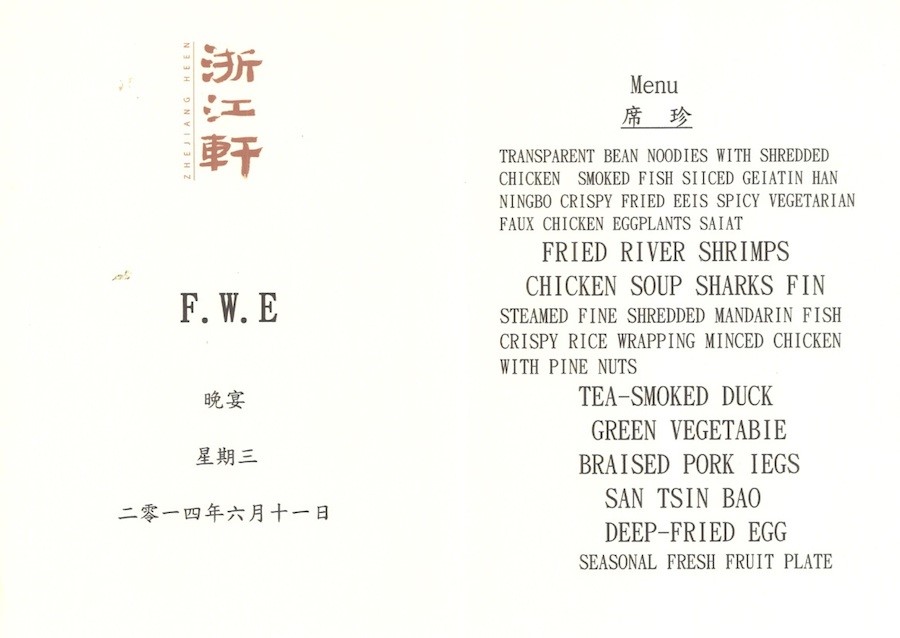 I had a lot of fun with Steve, and the small group of Burgundy enthusiasts gathered round our lazy susan. It was interesting to see these wines sit quite happily with the Shanghainese menu, though we did avoid the heavily dark-sauced dishes, and those with vinegar. Zhe Jiang Heen is worth a look.
It left me with the conclusion too, I like the Giant Steps wines, and look forward to serving them to friends. It was a reminder too, that I need to keep on exploring – the next fine wine experience might be from a slope untried.
WINES TASTED
2011 Giant Steps Sexton Vineyard Chardonnay
2010 Giant Steps Tarraford Vineyard Chardonnay
2008 Giant Steps Arthur's Creek Chardonnay
2006 Giant Steps Sexton Vineyard Chardonnay
2009 Pierre-Yves Colin Morey Corton-Charlemagne
2006 Fontaine-Gagnard Batard-Montrachet
2011 Giant Steps Sexton Vineyard Pinot Noir
2011 Giant Steps Applejack Vineyard Pinot Noir
2008 Giant Steps Gladysdale Vineyard Pinot Noir
2008 Giant Steps Tarraford Vineyard Pinot Noir
2008 Armand Rousseau Clos de la Roche
2006 Anne Gros Clos Vougeot