In-Store tasting: Château de la Maltroye
| | |
| --- | --- |
| Date: | 15th March 2016 |
| Time: | 6:30PM - 8PM |
| Venue: | The Fine Wine Experience Store |
| Price: | HKD 400 per seat, the price is fully redeemable upon purchase of HKD 2,000 on Château de la Maltroye wines on the date of event. |
One of the most impressive visits for us lately in Burgundy has been at Château de la Maltroye in Chassagne-Montrachet.

In the Côte de Beaune this village straddles the divide between great whites and great reds. Sharing Le Montrachet and Bâtard-Montrachet with the neighbouring Puligny-Montrachet adds to the prestige and fame of the village.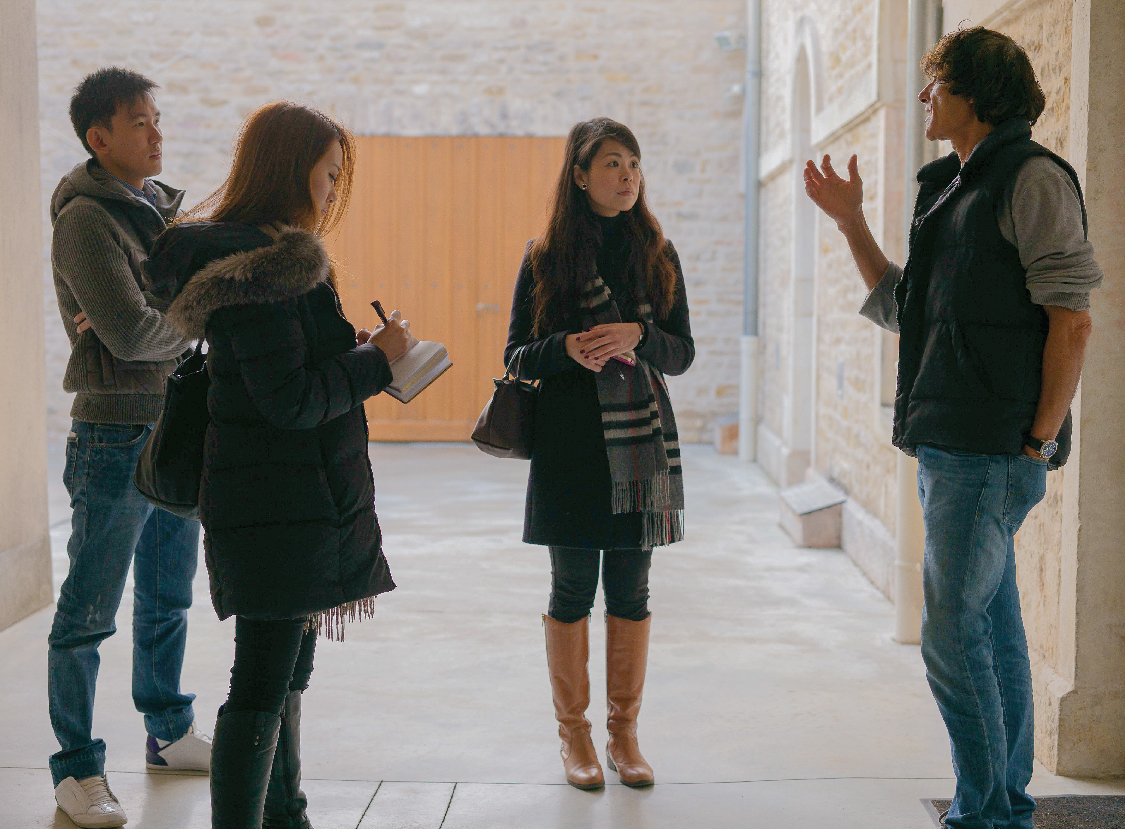 Jean-Pierre Cornut (first on the right), explaining his wines to The Fine Wine Experience Team.
Indeed, the whites made here by Jean-Pierre Cournut are vibrant, intense, and can be thrilling. Chassagne naturally lends power and richness to chardonnay, but Cornut is expert in retaining and extracting great tangy acidity and mineral depth to match.

But a clear sign of his seriousness in village in which he lives and works, he is also one of Chassange-Montrachet's leading producer of reds. Pinot Noir was once the dominant variety in Chassagne but has today — due to whites commanding higher prices than reds — retreated to just the core of the most suitable terroir for the grape. Prices — for the quality – are modest.
We think his monopole Chassagne-Montrachet 1er Cru 'Clos du Chateau' is one of the village's best reds, and one of the best quality-for-price reds in Burgundy. Well, why not come in and try these for yourself in our store?
Wine List
2007 Chassagne-Montrachet 1er Cru Rouge 'Clos du Chateau' Monopole
(HKD 450 per btl)
2013 Chassagne-Montrachet 1er Cru Rouge 'Clos du Chateau' Monopole
(HKD 420 per btl)

2009 Chassagne-Montrachet 1er Cru Blanc 'Clos du Chateau' Monopole
(HKD 550 per btl)
2013 Chassagne-Montrachet 1er Cru Blanc 'Clos du Chateau' Monopole
(HKD 500 per btl)
2013 Chassagne-Montrachet 1er Cru 'La Romanee' (HKD 850 per btl)
2014 Chassagne-Montrachet 1er Cru 'Dent de Chien' (HKD 1,400 per btl)
1993 Bâtard-Montrachet Grand Cru (HKD 2,200 per btl)