In-Store tasting: Maximin Grünhäus
| | |
| --- | --- |
| Date: | 16th February 2016 |
| Time: | 6:30 PM - 8 PM |
| Venue: | The Fine Wine Experience Store |
| Price: | HKD 500 per seat |
We are delighted to invite you to join us for a tasting in The Fine Wine Experience Store, with the wines wines from Carl von Schubert at the Maximin Grünhaus estate in the Mosel (Ruwer), Germany, shipped by us direct from their cellars.
This estate is right at the front rank of fine German Riesling – one of the leading estates for the last century, and the vineyards here well known back to the Middle Ages.
This is a great opportunity to taste through 7 of Maximin Grünhaus estate wines, including a 1993 Eiswein from their library (which Carl von Schubert is famous for this style), in our casual, cosy 14-seater long tasting table.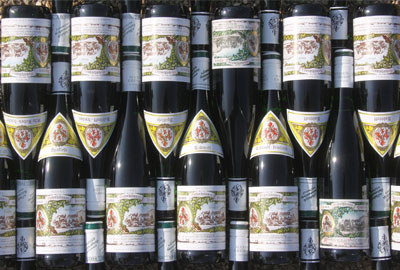 The Fine Wine Experience team visited the winery last year and tasted the wines, click here to read about Linden's reviews.

Wine List
2012 Maximin Grünhäuser Spätburgunder
2014 Maximin Grünhäuser Herrenberg Riesling Qualitätswein 'Superior'
2014 Maximin Grünhäuser Herrenberg Riesling Kabinett
1990 Maximin Grünhäuser Abtsberg Riesling Kabinett
2014 Maximin Grünhäuser Abtsberg Riesling Spätlese
2011 Maximin Grünhäuser Herrenberg Riesling Auslese Nr. 15
2011 Maximin Grünhäuser Abtsberg Riesling Auslese
1993 Maximin Grünhäuser Herrenberg Riesling Eiswein