J-L CHAVE Hermitage Rouge & Blanc Dinner
| | |
| --- | --- |
| Date: | 7th July 2015 |
| Time: | 7:30 PM |
| Venue: | 2/F, Chater Room III, Happy Valley Clubhouse, The Hong Kong Jockey Club, Shan Kwong Road |
REVIEW © Linden Wilkie
The estate name J-L Chave, and the name of that most famous of hills – Hermitage – have been in communion for six centuries. Oh, for the chance to travel back in time to taste that combined expression from the past, but such a chance is fairy dust.
But I have tasted almost every vintage of their red Hermitage back to the middle of the 1960s, and most of the whites back to the beginning of the 1980s, and I have not met a wine I didn't like. Some, like the 1977, were made in exceedingly difficult conditions, resulting a wine described by John Livingstone-Learmonth at our 30-vintage retrospective in 2007 as being 'of limited horizons'. But there is always a purity to the wines – a real terroir-driven expression: finesse – but not too much. This is granite and syrah; granite and marsanne and rousanne after all. There is wildness and energy, fine flowing extract and intensity, but seldom too much weight, rather, in grand years, the wines are potent, virile.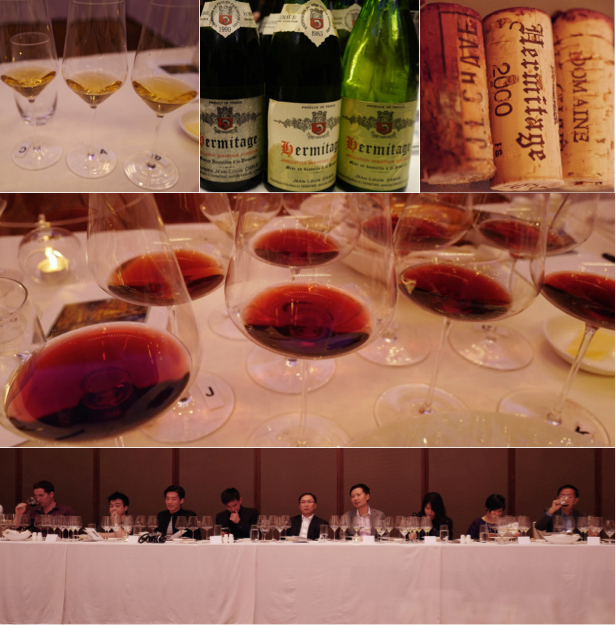 J-L Chave Hermitage – wine of the night at the last supper.
The whites! How often do we think of Chave, or of Hermitage and think of the whites? Yet, I think the whites are just as interesting – and just as great – as the reds. Perhaps, dare I say it, even a fraction more so at times?
I came to understand the whites through the man whom I regard as the leading expert – John Livingstone-Learmonth – in person, and in his great book on the subject – The Wines of the Northern Rhône (2005: California).
" 'Glycerol' is the most important word for white Hermitage." States Jean-Louis Chave; "acidity we don't even look at that. Alcohol without glycerol would be too fiery and hot." The four Chave white-vine sites are therefore precise in the choice of their spoil for their vines – so they can ripen well and help to emphasize the oily aspects of this naturally rich, very long-lived, and often misunderstood wine. – p261.
We opted to serve ours with a refined seared scallop dish, with caviar, celeriac mousse and baby cress, and then a light, fragrant Boston lobster salad with char grilled white and green asparagus. Both were nice, emphasizing that modern preference for clear, uncluttered flavours, freshness and lightness. The key ingredients were right – especially the lobster. But white Hermitage harks back, yearning for what is now fairly un-PC food, laden with salt and butter and cream! White Hermitage is nostalgia for Escoffier, or even Carême. In my mind the most perfect conceivable match would be a simple plate of sweatbreads dusted in salt and flour and fried in high quality butter. Heaven!
While we are on the subject of ideas not currently in fashion, the Chave family sit firmly in another tradition I admire – blending. The fashion for Burgundy and its attendant ethos of multiple bottling of Pinot Noir or Chardonnay by vineyard, may have existed elsewhere too since the ancients (think Loire, Mosel for example), but this idea spread further in the 1960s (e.g. Gaja's Sorí San Lorenzo since 1967; Guigal's La Mouline since 1966). Hermitage gained its share too, most notably Chapoutier's multiple single vineyard bottlings of red and white Hermitage. The key to understanding Chave's Hermitages however, is that they are blends. For the white, this is both for grape variety (80% Marsanne, 20% Rousanne), but also a blend of sites, of terroirs. Borrowing again from John L-L - Rocoules (50%) – finesse, flavor nuance, Péléat (25%) – rich middle, L'Hermite (20%) – richness, butteriness, grip from marsanne; tension and delineation from Rousanne, and Maison Blanche (5%) – for vivacity.
The single vineyard Hermitage wines on the market offer delightful soloist expression of that hill, but for me both the white blended Hermitage and the red blended Hermitage of J-L Chave are the hill's top symphonies.
The whites, as we see below, did not disappoint. They have an enormous capacity to age well. I've yet to try one 'too old'.
1999 Domaine J-L Chave Hermitage Blanc
Gold; honeyed nose, with a fennel-herbal note; rich, round, honeyed, good acidity, weighty, ready. After several minutes in the glass, cream and pears on the nose, a touch of hazelnut; the mid-palate shows a hint of 'sherry', but this doesn't follow through to the finish. Lovely glycerin weight, Round and rich.
93
1997 Domaine J-L Chave Hermitage Blanc
Gold; subdued, toasty nose; lovely stone fruit on nose and palate, great minerality, well balanced, creamy and delicious, with a very long finish. With several minutes in the glass, more stone fruit and cream on the nose; on the palate the nutty oak component is more obvious than in any other vintage, but this is 'swallowed whole' by the richness and intensity of the extract. This shows a 'Batard-Montrachet'-like ample weight and boldness, but it is well anchored. This is drinking so superbly well right now. No rush. Delicious.
95
1995 Domaine J-L Chave Hermitage Blanc
Gold; subdued on the nose with a touch of marzipan, nut, mineral; there is a 'toasty' maturity on the palate, a touch more acidity than the '99 or '97, this is focused, well-delineated, creamy, complex and long. As it opened up in the glass, cream and tangerine emerged on the nose, and on the palate a tangerine/citrus peel aromatic note fills the mouth. This is less exuberantly rich in style than the '97, but more detailed and more complex, and is in its prime drinking right now.
95
1994 Domaine J-L Chave Hermitage Blanc
Gold; subdued nose; this is all about texture on the palate, rich with real phenolic grip, touch of peach skins scent. With lots of air a subdued peach and cream aroma emerged, and quite a lot of minerality. The palate is ample, creamy, melting in weight and texture, there is a hint of coolness too in the aromatics, fennel. The Chave white Hermitage glycerin feel is there, but it is more low key, and in its way completely the archetype. Classic.
93
1990 Domaine J-L Chave Hermitage Blanc
This stands out so clearly as a level just above the rest. Gold; slightly herbal, fresh, sweet nose. Mineral notes too. Lovely focus, minerality, intensity and length. A very long finish. As the air opened this up the nose became astonishing – flowers – violets now, a touch of mint, sage, stone fruit; and on the palate ample, creamy, very concentrated, but also layered, there is precision here in the expression, a mineral definition to such an exuberant and ample white Chave. This is superlative.
97
1983 Domaine J-L Chave Hermitage Blanc
Gold; a touch herbal on the nose, toasty bottle age notes reveal its 32 years, but this is still fresh, lively; very complex on the palate, subdued, mineral, a herbal note – nettles, marjoram – great nose; plenty of phenolic texture on the palate, great intensity and depth, so much energy still. Not quite the exuberance and cuddliness of the '90, but perhaps a cross between the '90 and the '95 in style. Lots of sweet green herbal notes give it is a refreshing quality. Long finish. This had the concentration to stand up even to the slow cooked Wagyu beef cheek.
95
The reds can be rich with dark fruits, sometimes a little white pepper, and often with a fine fragrant floral/herbal note, like lavender. To my mind though a real hallmark of the Chave approach to the reds is in the fantastic preserved acidity that pushes the already long finish, and helps cut the richness of the food with which they pair so well. Think hearty casserole type cooking, roast meats, and gamey fowl like pheasant, partridge or grouse. This signature – which can really single Chave out in blind tastings – is true of the son, Jean-Louis' wines, but is especially true of the father Gérard's wines. I'm not sure why exactly – it is perhaps merely a product of climate change. It's subtle, but perceptible in some verticals I've organised. But do not read too much into the transition from Gérard to Jean-Louis (which beganin the '90s), it is mere evolution. The DNA remains strong.
Reflecting on our menu tonight, I thought the spinach and ricotta tertellini with roasted ox tongue, root vegetables and black truffle was an okay match with the older wines. Ragu-filled pasta might have worked better. On the other hand the almost black glossy slow cooked Wagyu beef cheek in red wine pea puree, cabbage and glazed baby carrots worked well with the younger reds – especially the 2000 and 1997, but was a touch too potent for the older, more nuanced reds. It did however still work with the little bit of '90 and '83 white Hermitage I held back.
The 1999 seems to combine all that I love in Chave's red Hermitage – plenty of intensity, though not too much muscle, lots of natural fragrance, a the highest sense of finesse I have encountered in any Chave red. The 1994 would be my pick for current drinking. The 1990 remains the most visceral Chave red experience. It will outlive anyone reading this report in 2015, but is beginning to really strut its stuff.
1997 Domaine J-L Chave Hermitage Rouge, magnum
Bright, fresh colour still, some maturity on the rim; smoky, meaty and bright nose – a piquant mix of sweet and savoury that instantly gets the mouth watering; bright, juicy and meaty on the palate, big broad fleshy attack and then it tapers to a focused finish. Ready to drink now. This is such good drinking right now, fully resolved, aged complexity and expression, but still a flush of youthful fruitiness. Delicious.
94
1995 Domaine J-L Chave Hermitage Rouge
Bright and fresh appearance – more youthful than the '97 for example; peppery cool nose, rich, potent aroma, dark fruit, iodine and game blood – a classic Hermitage nose; intense on the palate, grippy, focused, still tannic, brooding, the attack is intensely flavoured, fine acidity, real depth all the way through. This is on such a slow evolutionary curve – it is not yet fully ready. As it opened up some brettanomyces reared its head. To my palate there is a touch of phenolic immaturity in the tannins, and I think the '95 will always be somewhat held back by that element of its structure as it ages. That said, there is greta depth, complexity and flavor here.
92
1994 Domaine J-L Chave Hermitage Rouge
Mature but bright appearance; bright, lifted nose, complex, there is a 'whole bunch'-like coolness and stemminess in the aromatic mix, but it doesn't dominate, and with air the aromas become brilliantly complex, bay leaves and white pepper, and a generous sweetness emerges; on the palate this is a moderate weight Chave red, velvet in texture, raspberry and blackberry fruit, game, resolved and velvety, transparent, with lots of inner-mouth fragrant expression. This is a Chave I really love to drink.
95
1983 Domaine J-L Chave Hermitage Rouge
Bright and clear with a now fairly light depth of colour and tawny tone; savoury, mushroomy nose, mature and gamey; sweet attack, pronounced piquant acidity, lovely resolved sweet texture, almost sour-drop like acidity. Some sweaty sock like grubbiness in the mix. Old school. Held up well in the glass.
90
2000 Domaine J-L Chave Hermitage Rouge
Still a fairly deep colour; bright, fresh, fruity and spicy open aroma; this has an open and expressive, fairly rich, well-buffered feel on the palate, lots of sweet fruit, good acidity, fully ripe, attractive flavor, though there is a little brettanomyces here too. Very good wine in the start of its drinking window.
92
1999 Domaine J-L Chave Hermitage Rouge
Fine bright colour, a touch less depth than the '00 and '98 in appearance; lovely nose – gently sweet, fragrant, refined, savoury – very fine, more delicately expressed aromatics; classic on the palate, very pure in expression, effortless, fine bright acidity, lovely flowing texture, reminds me of fine Bonnes Mares, sapid raspberry, but with Hermitage's distinctly meaty savouriness. A particularly beautiful Chave. Less weight than the '98 or '00, but finer, more nuanced.
95
1998 Domaine J-L Chave Hermitage Rouge
Still some depth of colour, bright; some sweet fruit, but on both bottles this was overtaken by VA, and even some acetone; the palate is intense, deep, brooding, packed with dark fruit, there is density here with elevated tannins that are a touch dry. There is an abundance of extract and energy – this is still so youthful – but the acetone element really detracts from the overall picture. Both bottles suffered it. It's been a long time since I last had the '98. I don't recall the problem. Let's see next time.
88? – because of the acetone. Everything else points much higher, though this is still so youthful and backward otherwise.
1990 Domaine J-L Chave Hermitage Rouge
Still some depth of colour at the core, though the rim now showing age; sweet, meaty open nose, sage, rich, gamey and sweet, with notes of leather; sweet, abundant sweet extract and real depth to this, intense, still tannic, but it is now quite aromatic. There is such grip, but the tannins are fine. Everything feels in balance. Still so young at 25. Was not as profound as I have tasted in the past, but still very special.
95
WINES TASTED
Domaine J-L Chave Hermitage Blanc – 1983, 1990, 1994, 1995, 1997, 1999
Domaine J-L Chave Hermitage Rouge – 1983, 1990, 1992, 1994, 1995, 1997, 1998, 1999