Joh. Jos. Prum Finest and Rarest Dinner with Katharina Prum
| | |
| --- | --- |
| Date: | 30th January 2015 |
| Time: | 19:45 |
| Venue: | Grand Hyatt |
DINNER REVIEW © Linden Wilkie
It's been some years since I have had the privilege to taste such an array of rare Prüm wines, and my first chance to taste one from the 1930s. In some respects there is a sense of tasting wines that are 'older' or 'younger', but tasting blind I'm not sure how close I would get. Being out by decades in a guess would be easily possible even for an experienced taster. The wines evolve, and reward cellaring, yes, but the majority never seem to fade in the way that wines from other regions do. We are never quite left with just the furniture and no upholstery in the way we are elsewhere. The perception of residual sugar declines with bottle age (such that a kabinett or spätlese might taste only off-dry), yet the wines retain their natural balance.
Balance is key here as it is anywhere, but the factors that limit have been for decades the opposite factors to those experienced in warmer climates. As we discussed 2003 and 1976 – different but both hot summers, Katharina Prüm offered her father's maxim: "you will never have too little acidity in the Mosel". That faith gets tested in vintages like 1959, 1976 and 2003, yet these are three great Prüm years, despite heatwaves. So long as phenolic ripeness is achieved, (as it was in all the wines we tasted tonight) longevity is assured through an elegant sort of intensity and great balance between fruitiness and acidity.
To my taste, the less successful wines this evening were the Eisweins. The Mosel was cooler in the '60s and '70s, and the '61 and '62 didn't seem to offer anything extra through the risk and effort of picking the grape frozen in winter – they showed less coherence and balance, despite still being enjoyable. They are rare and expensive, and so I would always be on the look out for an older 'feine' or 'feinste' Auslese and put my money there rather than these older Eisweins. The same is not true today. Prüm's current Eiswein offering – a 2002 Graacher Himmelreich Eiswein – is textbook balance and intensity, and delivers what Eiswein delivers best, razor sharp precision and purity.
Where cellaring really seems to reward patience the most is in the auslese category where, in the absence of the bortrytis and dried fruit intensity of the higher prädikats like Beerenauslese and TBA, the wines need time to mellow and show their true level of nuance (much like Bordeaux or Burgundy). Great BA and TBA wines usually show rewardingly when young, and then hold (in my view) for decades, the great ones offering even more with age, but not always so.
The general rule of thumb is that kabinett and spätlese, being the lighter, less rich categories, are approachable and enjoyable younger. That is generally true, but with two important caveats. First: don't be afraid to age these wines too. The '82 and '81 we began this dinner with had a lot to offer, it's just that they would have reached this current plateau a long time ago, so the wait was not necessary (except of course so we could see!). Second: over the few days the Prüms were in Hong Kong we drank rather a lot of young – even current release – auslese and auslese goldkap with food, and it was great. The snappy, more direct fruitiness of youth is a great foil for rich, flavorsome foods.
If you think some of my notes below are a little enthusiastic, well, they are, but I mean them sincerely. I've chased these wines for years and so I was not surprised by the brilliant showing of the likes of '83, '76, '75, '71, '59 and '49. But I really had no idea about the '38, a wine with a high reputation. But that bottle proved truly immortal. One of the best bottles of any wine I've ever had. These wines are, and always have been made in miniscule quantities. That is true at any Mosel estate, but particularly so here, and in contrast to the Egon Müller Scharzhofberg estate where botrytis-laden wines (of undoubted brilliance) are a goal each harvest. At Prüm, the aims are driven more by a reaction to what the season brings. The higher-prädikat wines are made or they are not. So TBA at Prüm is very rare, seldom available at commercial release. Out of hundreds and hundreds of Prüm bottles drunk over the years, this was perhaps the 6th or 7th time I had tasted a Prüm TBA of any vintage, let alone the second vintage of TBA they ever made – '38 (which followed '37, a famous vintage). Quantities will usually amount to a few dozen bottles, maybe 100 litres in a great year, maybe not. The Prüms don't say.
All the wines below were paired with – successfully I would say – a fine Cantonese menu at the Grand Hyatt. The exceptions were the last two wines, which we sat – in awe – and savoured on their own.
Participants at the dinner were asked to pick their two favourite wines. Votes are recorded below my tasting notes.
2002 Weingut Joh. Jos. Prüm Wehlener Sonnenuhr Kabinett
Fine, mineral grapefruit nose; great elegance here, well buffered by fruit and extract, long red grapefruit finish. Lovely wine, drinking well. 91.
No votes
1982 Weingut Joh. Jos. Prüm Wehlener Sonnenuhr Kabinett
Still pale and bright; the nose is earthy with lime and talc notes; elegant and light on the palate, now expressing itself as dry. Lacks a bit of drive and length, but charming. Crisp. Long finish of Rose's Lime Cordial. 88.
No votes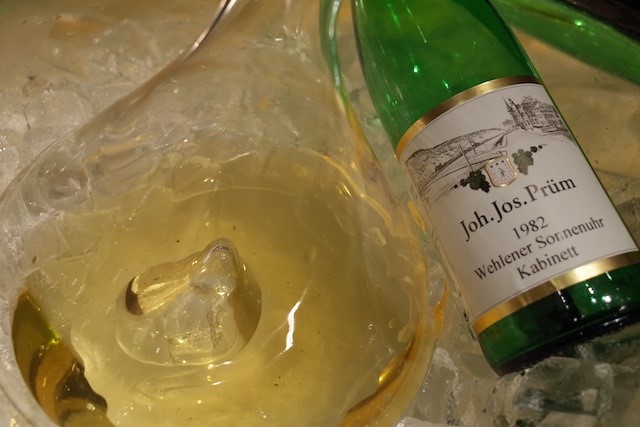 1981 Weingut Joh. Jos. Prüm Wehlener Sonnenuhr Spätlese
A touch more colour than the '82; an earthy, slightly mushroomy mature nose, still positive; a touch more weight on the palate, an earthy and very mineral-driven palate expression, cooler vintage feel, with the just-ripe tanginess of lemongrass and kaffir lime leaf. Cool and refreshing expression. 89.
No votes
1966 Weingut Joh. Jos. Prüm Wehlener Sonnenuhr feine Auslese
(from a pre-1971 label convention: "feine auslese" denoting one step up the classification from "auslese"). Mid gold, light and limpid colour; earthy, zesty mineral nose; elegant and light expression, spätlese feel (in today's money), this is very pure and refined, and 'straight' (no botrytis expression). Mosel elegance defined. 94.
No votes
1959 Weingut Joh. Jos. Prüm Zeltinger Sonnenuhr feine Auslese
Pale gold, very fresh appearance; nougat and zest, sun-kissed and somewhat exotic nose, not too dissimilar to the 2003s at this prädikat level; on the palate slightly honeyed, though not weighed done by the exotic notes, this stays airy and ethereal, ageless in taste and mouthfeel. Vanilla cream at the finish. Really lovely. 96.
1 Vote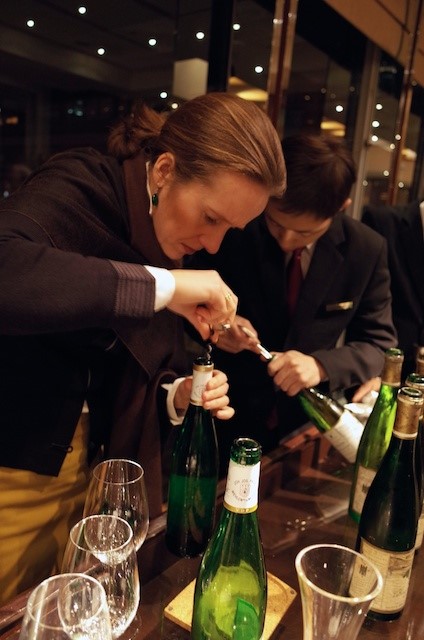 1949 Weingut Joh. Jos. Prüm Wehlener Sonnenuhr feinste Auslese
("feinste auslese" being one level up from "feine auslese", similar to Auslese Goldkap today). Bright bronzy old gold in colour; toffeed, honeyed and dried fruits / apricots nose, rich, ripe, and botrytis infused on the nose; honeyed nougat, ripe, candied apple, smoky from botrytis and long bottle age, still some impression of residual sugar, lovely balance and energy still. Long, long finish. Terrific. 97.
1 Vote
1949 Weingut Joh. Jos. Prüm Wehlener Zeltinger Sonnuhr feinste Auslese
(prior to 1971, grapes from the Wehlener Sonnenuhr vineyard and the Zeltinger Sonnenuhr vineyard were sometimes blended to make the "Wehlener Zeltinger Sonnuhr" label). Slightly cloudy in appearance next to the other '49 – a rich looking bright bronze gold, with a very yellow, Chinese gold rim; ripe, sweet nose, with notes of porcini and champignon mushrooms, notes of marzipan and spice; bold, round and layered on the palate, which shows more authority and layering than the nose, minty botrytis notes are prominent, intense concentration and flavor (feels like the level of long goldcapsule, of auction goldcapsule), yet still with Mosel elegance, flow and energy. The only let down here seems to be the cork which has allowed a cheesy (brie) and mushroom note to creep in to the wine. (This is not TCA, explained Katharina Prüm, but a cork issue nonetheless, which she has experienced from time to time with older wines). But the palate is singing. I imagine an unaffected bottle would blow our socks off. 91.
1 Vote
1964 Weingut Joh. Jos. Prüm Wehlener Sonnenuhr feinste Auslese
Mid-gold yellow; mineral, fresh but also smoky, zingy expression; fine, but a more broad-textured ripe feel, fine marmalade taste and feel, airy enough, but the acidity here is lower, so it lacks snap. Flavours are lovely. Good. 88.
No Votes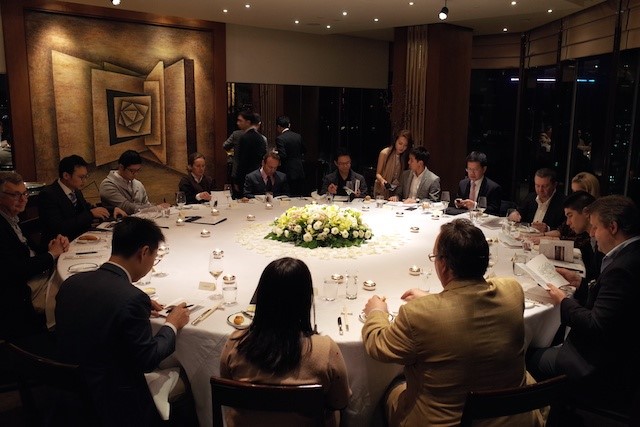 1983 Weingut Joh. Jos. Prüm Wehlener Sonnenuhr Auslese Goldkapsel
Bright pale gold; intense marmalade and apricot, spice, very clean, fresh, youthful and precise in expression; zingy, juicy on the palate with focused extract, fresh, very persistent and energetic long, but light, airy finish. Flat out terrific. Drinking well now, but on a many decades-long plateau, and will still evolve positively with further cellaring. A landmark Prüm at this prädikat level. 97.
2 Votes
1971 Weingut Joh. Jos. Prüm Wehlener Sonnenuhr Auslese Goldkapsel
Full gold; ripe, botrytis and mint nose, mature; juicy beautifully refreshing style, honeyed touch of decadence in the mid-palate, botrytis and mineral on the long very complex aromatic finish. Everything is here in balance. This is in another league. Exceptional. I've been spoiled enough to have had this over a dozen times, and it usually leaves me quite floored like this bottle did tonight – one of the absolute greatest wines. 98.
3 Votes
1961 Weingut Joh. Jos. Prüm Wehlener Sonnenuhr Eiswein Auslese
(Until the 1980s when Eiswein was made only from frozen berries picked at Beerenauslese level, it was possible to make auslese at any prädikat level, so long as the grapes were sufficiently frozen. In other words, today, there would be no such thing as a kabinett, spätlese, auslese, feine auslese or feinste auslese Eiswein, but such bottles from the '70s and '60s exist. They are now very rare.) Fine yellow gold, solid colour; yellow plum aroma, very fresh and expressive, lanolin and white flowers, and a touch of nougat; the weight balance is quite forward on the palate, where the fruit flavor is intense, acidity carries through to the finish, but the flavours trail off a little disappointingly. Acidity remains fresh and citric (rather than "sweet and sour" and volatile). Nice, but a bit incomplete and showing its age. 86.
No Votes
1962 Weingut Joh. Jos. Prüm Wehlener Zeltinger Sonnuhr Eiswein feine Auslese
Full bronze gold; smoky, exuberant, mature nose, toffee and dried fruits, good but not complex in expression; ripe, fleshy, broad-textured (like the '64), but very juicy and intense – higher in acidity. Longer finish than the '61 Eiswein just tasted. This is coherent and balanced, with the Eiswein effect giving the acid a little volatile prickle. It's good, but overall, the trade off for the intensity is less grace and elegance than the non-Eiswein wines here. 87.
No Votes
1975 Weingut Joh. Jos. Prüm Wehlener Sonnenuhr Auslese long Goldpkapsel
Fresh old gold; very fresh candied peach, quince nose, a beautifully nuanced and decadent aroma; intense, very fresh, quite mineral, slightly smoky, then the minty botrytis coming through clearly on the finish that builds and builds. There is a great mineral-acid tension throughout and everything is well defined. Fantastic! 98.
4 Votes (overall third most popular)
1971 Weingut Joh. Jos. Prüm Graacher Himmelreich Eiswein Auslese Goldkapsel
Deep amber with a narrow yellow rim – very old in appearance; intense raisin and prune nose, but also a malty quite oxidative aroma which mutes any nuance – it is simply a rich, tangy nose; very concentrated on the palate, easily Beerenauslese level in spite of the label, liqueur-rich, with a creamy moelleux mouthfeel, intense sweet & sour acidity driving the whole very intense effect along to to a long, toffeed, burnt sugar finish, with intense dried apricot ringing on the finish. Decadent, bold and delicious, but any nuance that was once here has been muted a bit by oxygen. 90.
No Votes
1976 Weingut Joh. Jos. Prüm Wehlener Sonnenuhr Beerenauslese
Orange gold; tobacco and mint botrytis, with candied Turkish apricot on the totally "wow!" nose. Fresh and ringing like a bell in vibrant expression; apricots in cream on the palate, fresh, refreshing even (only a Mosel Beerenauslese can pull of this trick at this level of richness), with an apricot skinsy phenolically intense flavor and texture, and a bitter-sweet refreshing finish. After another half an hour of so of aeration, a Satsuma orange note came through – fresh but lightly poached. The overall effect here is aromatic intensity, precision, nuance and airiness – qualities only the greatest wines can ever deliver. Knock out BA. 97.
7 Votes (overall second most popular)
1938 Weingut Joh. Jos. Prüm Wehlener Zeltinger Sonnuhr Trockenbeerenauslese
Lovely limpid coper gold colour with a yellow gold rim, brilliant clarity and brightness in the glass; we popped and poured this but it took just ten minutes or so for this to awake from its 77 year slumber. Initially volatile acidity occupied the aromatics, while the palate immediately showed this wine's superb concentration, brightness, clarity, detail and definition, with a zingy, lively, pure finish. But over the next few minutes more and more complexity was revealed – a smoky, almost Lapsang Suchong tea like note came through in the aroma, and nougat and coffee-cream on the palate. The acidity freshened and tightened, the volatility having blown off, and more nuance was revealed. The balance is absolutely perfect. It actually tastes and feels elegant despite its still-sweet intensity. Everything is so clear, exquisitely expressed and endlessly long, with bortrytis tobacco, mint, fruit, coffee and tea intermingling. One of the very greatest wines I have ever tasted. 100.
9 Votes (overall most popular).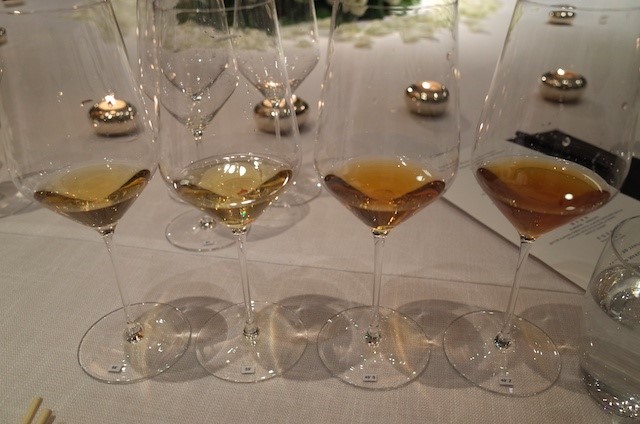 Full disclosure: The Fine Wine Experience is now Hong Kong agent for retail and private client sales for Prüm wines, and I am a director of The Fine Wine Experience. The notes above are my personal opinions of the wines tasted this evening. –Linden Wilkie.
WINES TASTED
1983 Wehlener Sonnenuhr Auslese Goldkapsel
1976 Wehlener Sonnenuhr Beerenauslese
1975 Wehlener Sonnenuhr Auslese lange Goldkapsel
1971 Wehlener Sonnenuhr Auslese Goldkapsel
1971 Graacher Himmelreich Eiswein Auslese Goldkapsel
1966 Wehlener Sonnenuhr feine Auslese
1964 Wehlener Sonnenuhr feinste Auslese
1962 Wehlener Zeltinger Sonnuhr Eiswein feine Auslese
1961 Wehlener Sonnenuhr Eiswein Auslese
1959 Zeltinger Sonnenuhr feine Auslese
1949 Wehlener Zeltinger Sonnuhr feinste Auslese
1949 Wehlener Sonnenuhr feinste Auslese
1938 Wehlener Zeltinger Sonnuhr Trockenbeerenauslese