Master of Wine tutored Italian tasting, 12th September
| | |
| --- | --- |
| Date: | 12th September 2015 |
| Time: | 1pm to 2.30pm |
| Venue: | The Fine Wine Experience, 85 Queens Road West, Sheung Wan |
| Price: | $500 per person |
Join us on Saturday 12th September for an in-store for a Master of Wine tutored tasting of Italian wines.
Michael Palij MW is a Canadian-born UK-based specialist in Italian wines. On literally hundreds of trips to all the Italian wines regions over the past twenty years he has sought out and imported the top wines from across Italy. I attended one of his masterclasses around ten years ago and was deeply impressed by his vast knowledge on this subject. Frankly speaking, when I look at the WSET maps and descriptions covering the sheer complexity of Italian wines (so many regions, so many grape varieties, so many rules, so many rules broken!!) two things happen – 1. My eyes roll into the back of my head a bit, and 2. I really want a glass of wine!
Well, we shall solve both these problems today! We shall taste 12 wines. Not too many to get our heads around, and all these are specially 'edited' selection from Michael for us. Michael's other specialist area is wine and food matching, so we shall be getting some tips there too.
To add to the fun, we will be offering these wines for sale in two mixed 6-packs, each of which is designed to provide wines for a dinner party, with notes from Michael on the wines and some suggested food matches. Ideal for a fun way to entertain.
Here are the wines we shall learn more about today – we shall taste all 12 wines, which are then available for purchase in two mixed 6-packs as follows —
PACK ONE – SPECIAL PRICE HKD 3,000 for the pack of 6-bottles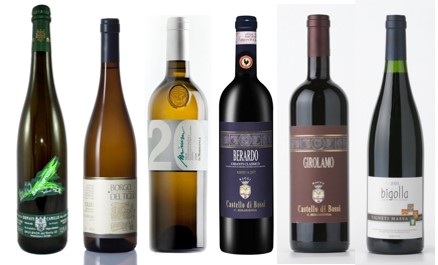 2014 Camillo Donati Sauvignon Blanc Emilia IGP
2013 Borgo del Tiglio Collio Chardonnay DOC
2008 La Monacesca Verdicchio di Metalica Riserva 'Mirum 20th Anniversary' DOC
1997 Castello di Bossi Chianti Classico Riserva 'Berado' DOCG
2001 Castello di Bossi Giralamo IGT Tuscany
2001 Vigneti Massa Colli Tortonesi Barbera 'Bigolla' DOC
PACK TWO – SPECIAL PRICE of HKD 2,600 for the pack of 6-bottles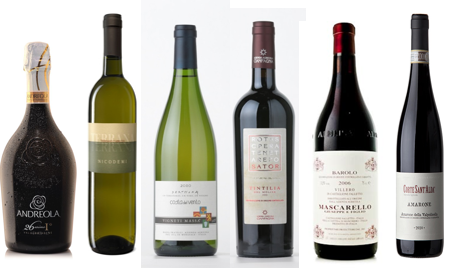 NV Andreola Prosecco Superiore Valdobbiadene '26esimo' DOCG
2013 Fattoria Nicodemi Trebbiano d'Abruzzo 'Terrana' DOC
2012 Vigneti Massa Timorasso 'Costa del Vento' Single Vineyard
2010 Cianfagna Tintilia del Molise 'Sartor' DOC
2006 G. Mascarello Barolo 'Villero' DOCG
2010 Corte Sant'Alda Amarone della Valpolicella DOC
Don't miss this opportunity to learn from an MW in our cozy 14-seater tasting table and taste some of the best wines Italy has to offer!