Shop Tasting: A Decade's Worth of Diamond Creek 'Volcanic Hill'
| | |
| --- | --- |
| Date: | 29th October 2016 |
| Time: | 2-3.30 PM |
| Venue: | The Fine Wine Experience Shop (Shop D, 85 Queen's Road West, Sheung Wan, HK) |
| Price: | HKD 980 per seat. Limited to 12 guests |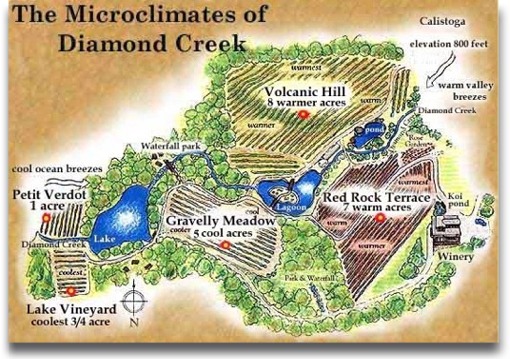 One of the great pioneering estate of Napa Valley, Al and Boots Brounstein began producing top quality Cabernet Sauvignon here in 1972. Distinctly different from "valley floor" fruit, so-called "mountain" fruit (in this case Diamond Mountain) produced wines with great intensity but also more austerity, and in greater need of lengthy cellar ageing. The Brounsteins were early exponents of the single vineyard concept, bottling separate Cabernets from each of Gravelly Meadow, Red Rock Terrace, Volcanic Hill, and Lake — names equally evocative of that masculine wine style, I've always thought.
About ten years ago I acquired a pristine vertical, 1990-1999 of the Volcanic Hill wine, and this evening we shall open them all and see what we have. I think you should come join and find out. If you don't know them, the Diamond Creek wines can be something of a Napa epiphany, especially if you like a classically structured style. The extra decade in the cellar should have taken care of that by now, and the 1990s was a superb decade for good vintages. This should be very interesting. Are you curious too?
Vintages will be served:
1999, 1998, 1997, 1996, 1995, 1994, 1993, 1992, 1991, 1990.