Special Evening w/ Richard Geoffroy -Chef de Cave of Dom Perignon
| | |
| --- | --- |
| Date: | 19th May 2014 |
| Time: | 7:00pm - 10:00pm |
| Venue: | Chief Executive Suite II and III, The Grand Hyatt Hotel |
DINNER REVIEW © Linden Wilkie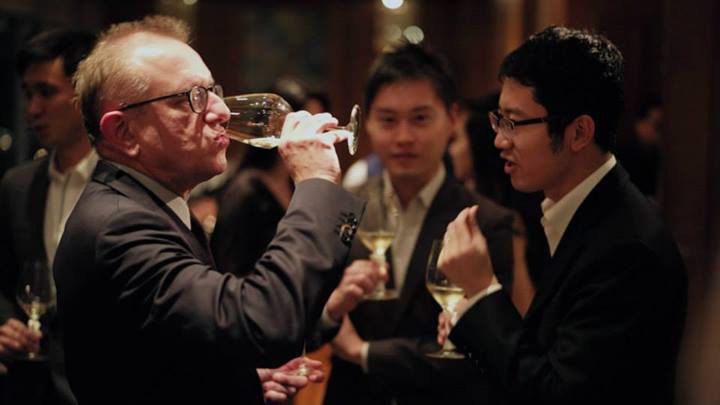 Last night we enjoyed a pretty amazing dinner at the Grand Hyatt. They sure know how to cook. Our special guest, Richard Geoffroy, chef de cave at Dom Perignon exclaimed in delight that the pigeon course was "3 star! 3 star!". I didn't disagree, but felt their diver scallop sashimi with Oscietra was even better. It was a wow! Dinner, and what less could you demand when the theme of the night was Dom Perignon Rosé.

It was a great topic to get to understand better (though I felt I needed to gulp copious amounts of it to be sure the points he made were properly reinforced experientially. It's all for research, and all for you, you understand!). Here is what I learned -
Perhaps even a shade more than the 'regular' Dom Perignon, the Rosé reflects vintage expression at its best. The 2000 offered the most bottle age complexity for a more cerebral experience – refined, and a real success. The 2002 is simply outstanding. This is one of the best young* rosés I've ever tasted. It is still in its first flush of youth, and combines great structure, roundness, ripeness, but also that ethereal floral-tinged lift of pinot noir at its finest and freshest. It is a superstar, and likely to go down as one of the DPR greats. If you don't have this in the your cellar, you need to. The 2003 was a triumph of freshness and vivacity over summer heat. Geoffroy picked this judiciously early, so the structure and freshness are there, but so too is a great exuberance of fruit. It was the darkest – most coloured of the three rosés in the glass. It rounded fruit generosity and great freshness make it great to drink now, though Geoffroy thinks this will continue to develop for decades.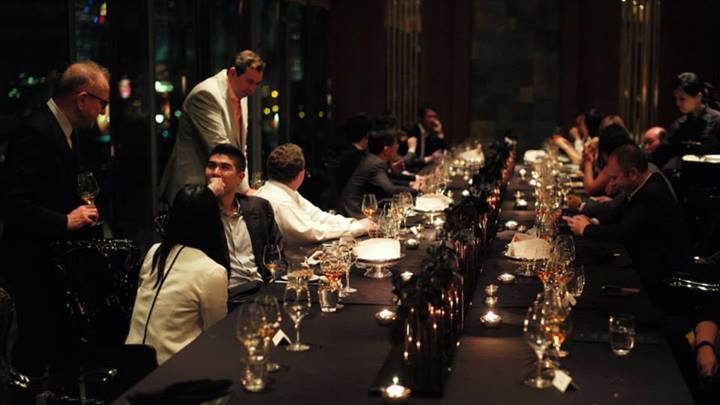 Richard Geoffroy feels Dom Perignon has a century in it. (A pity we don't often have a century in us!). But it is hard to dispute the claim. The first vintage was 1921, and I recall when some of this got sold from the superb Doris Duke cellar at auction in the 2000s, reports supported that this was a Champagne still in its prime. Dom Perignon now has a programme in place to release its two wines in three "plenitudes" - the first after 7 years on lees (the regular release, like the current 2004 and 2003 Rosé), the second, "P2" after 11 years and up to 20 years (we had the superb 1998 as aperitif), and the third "P3" over 20 years (my second favourite wine last night – after the 2002 Rosé – the 1982 Dom Perignon P3). You can read more on plenitudes here http://www.creatingdomperignon.com/tag/plenitude/. The l'Oenotheque (library release) idea has been dropped in favour of the 3 P's.

And what of the Dom Perignon Rosé style? Geoffroy doesn't like the word style. I didn't jot a direct quote, but something like 'recognisable individuality of Dom Perignon' is closer to the mark. So what is the "RI" of "DPR"? Well, it has shifted, beginning with the 2000 vintage. Geoffroy quoted Antonio Galloni's Wine Advocate note for the 2000 - "no guts, no glory". Most rosés have around 5% or so still red wine (Champagne pinot noir or pinot meunier) in the blend to drive its distinctive colour, aroma and flavour. For DPR, it's at least 20%, and was 25% in 2000. He wants serious Dom Perignon Rosé, with the capacity to age as well as Dom Perignon and retain its distinct character. Very few other rosés are made with this in mind, or have the capacity.

Finally, a note from Geoffroy on serving. Don't decant your Dom Perignon, but don't "strangle" it either in a Champagne flute. Rather, serve it in a larger, rounder shaped glass. (Our Zalto white wine glass, or universal glass would come closest to what he serves his wines in). And don't serve it too cold (certainly not ice bucket or fridge cold) - around 11 or 12°C.
WINES TASTED
Dom Perignon Rosé Vintage 1998
Dom Perignon Rosé Vintage 2000
Dom Perignon Rosé Vintage 2002
Dom Perignon Rosé Vintage 2003
Dom Perignon Vintage 2004
Dom Perignon l'Oenotheque 1982