2015 Burgundy En Primeur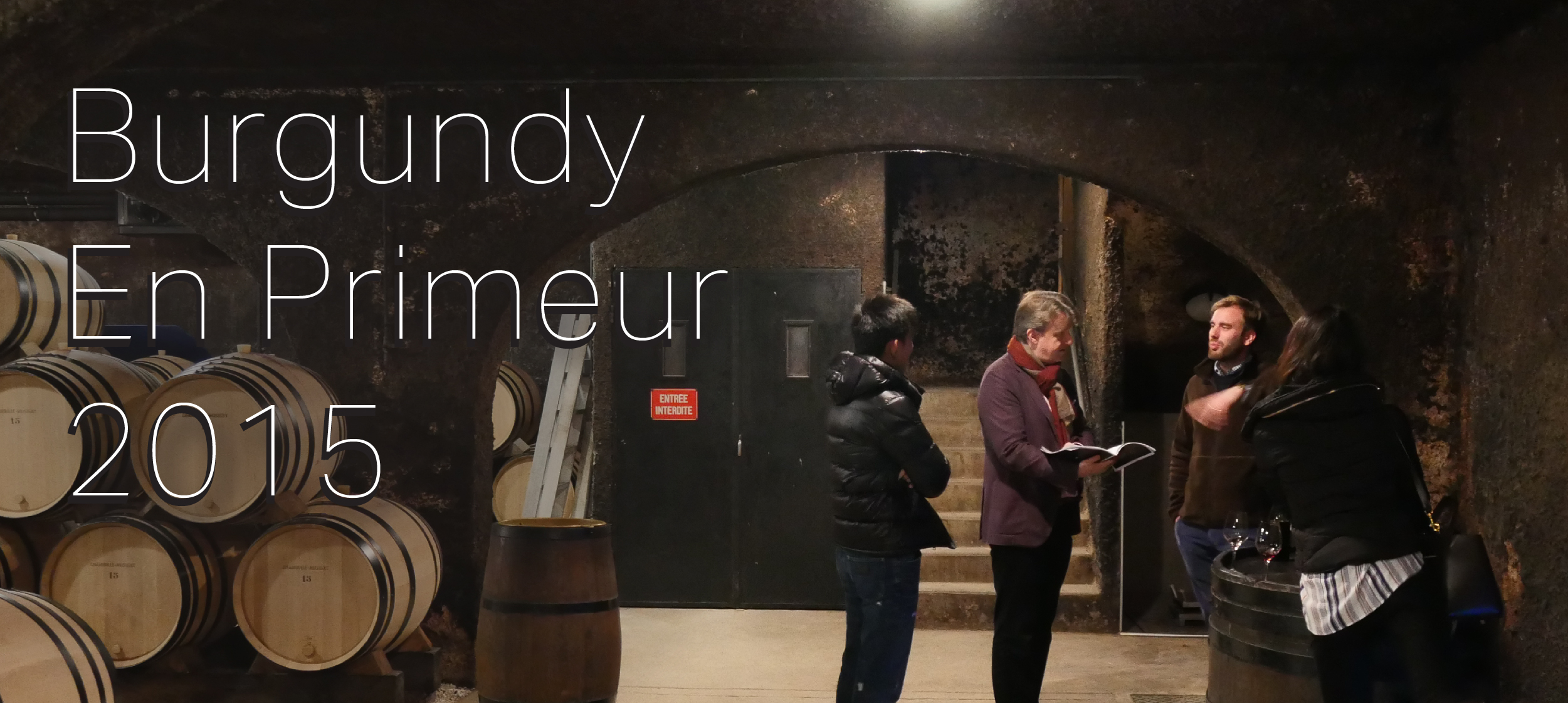 We are delighted to present The Fine Wine Experience 2015 Burgundy offer. To read our 2015 EN PRIMEUR Price List, click here.
2015 was something of a textbook vintage for the reds. Tasting in Burgundy cellars in June and November 2016, the '15s were a real pleasure, often difficult to spit out, they offer so much pleasure. Stylistically I would say they are somewhere between the opulence of 2009, and the minerality, precision and freshness of the 2010. They are rather grand, fruit-laden wines, but their opulence has not tipped them over into simplicity. Their complexity – tasting in barrel – is generally open and fragrant. The reds will have broad appeal, to hardcore Burgundy enthusiasts and casual drinkers alike. This is a must year for laying down serious top level wines, but it is also a year to in which to stock up on lower level wines for everyday drinking.
For the 2015 whites I think it will be more a matter of personal taste. The wines seem to offer very round generous fruit, mid-palate weight and citrus through to stone fruit flavours. I think they will offer a lot of appeal for early to mid-term drinking. If you are looking for something more classically styled and for longer term cellaring, you should look now at acquiring what remains of the 2014 stocks, as this was a truly outstanding year for whites in the classical style.
Many full vintage reports have already been published that offer an excellent detailed explanation of the vintage as it unfolded. I won't repeat all the details here, lest to say the key feature was a hot dry season broken by a little welcome rain in August that helped retain freshness. Pretty much everyone we met making reds in the Cote de Nuits was somewhere between happy and thrilled with the quality. The producers of whites in the Cote de Beaune faced a bigger challenge in choosing when to harvest, balancing phenolic development and rising sugars at the end of August.
Wines are offered on an allocation basis. Your order will be acknowledged on receipt, with allocations being communicated to customers one week from now.
Wines from the following domaines on offer:
Charles van Canneyt
Château de la Maltroye
Domaine Audiffred
Domaine Coquard- Loison-Fleurot
Domaine Duroché
Domaine Emmanuel Rouget
Domaine Fourrier / Jean-marie Fourrier
Domaine François Carillon
Domaine Harmand Geoffroy
Domaine Hubert Lignier
Domaine Hudelot- Noëllat
Domaine Jean Grivot
Domaine Lamarche
Domaine Perrot- Minot
Domaine Sylvain Cathiard
| Wine | Vintage | Format | Unit of Sale | Qty of Unit | Qty of Btl | Unit Price (HKD) | Btl Price (HKD) | Score | Location | |
| --- | --- | --- | --- | --- | --- | --- | --- | --- | --- | --- |
| Charles Van Canneyt - Chambertin Clos de Beze Grand Cru | 2015 | 3.000 | OWC1 | 2 | 2 | 12,800.00 | 12,800.00 | - | En Primeur | |
| Charles Van Canneyt - Chambertin Clos de Beze Grand Cru | 2015 | 0.750 | BOTTLE | 1 | 1 | 2,400.00 | 2,400.00 | - | En Primeur | |
| Charles Van Canneyt - Chambertin Grand Cru | 2015 | 3.000 | OWC1 | 2 | 2 | 12,800.00 | 12,800.00 | - | En Primeur | |
| Charles Van Canneyt - Chambertin Grand Cru | 2015 | 0.750 | BOTTLE | 2 | 2 | 2,400.00 | 2,400.00 | - | En Primeur | |
| Charles Van Canneyt - Charmes Chambertin Grand Cru | 2015 | 0.750 | BOTTLE | 21 | 21 | 1,500.00 | 1,500.00 | - | En Primeur | |
| Charles Van Canneyt - Clos St Denis Grand Cru | 2015 | 0.750 | BOTTLE | 6 | 6 | 1,650.00 | 1,650.00 | - | En Primeur | |
| Chateau de la Maltroye - Chassagne Montrachet 1er Cru Rouge 'Clos du Chateau' Monopole | 2015 | 0.750 | BOTTLE | 204 | 204 | 450.00 | 450.00 | | En Primeur | |
| Domaine Audiffred - Gevrey Chambertin 'Les Marchais' | 2015 | 0.750 | BOTTLE | 32 | 32 | 650.00 | 650.00 | - | En Primeur | |
| Domaine Audiffred - Pommard 'En Mareau' | 2015 | 0.750 | BOTTLE | 36 | 36 | 650.00 | 650.00 | - | En Primeur | |
| Domaine Audiffred - Vosne Romanee | 2015 | 0.750 | BOTTLE | 108 | 108 | 600.00 | 600.00 | - | En Primeur | |
| Domaine Audiffred - Vosne Romanee 'Aux Chalandins' | 2015 | 0.750 | BOTTLE | 86 | 86 | 700.00 | 700.00 | - | En Primeur | |
| Domaine Audiffred - Vosne Romanee 'Aux Champs de Perdrix' | 2015 | 0.750 | BOTTLE | 200 | 200 | 750.00 | 750.00 | - | En Primeur | |
| Domaine Audiffred - Vosne Romanee 1er Cru 'Reignots' | 2015 | 0.750 | BOTTLE | 12 | 12 | 1,600.00 | 1,600.00 | - | En Primeur | |
| Domaine Coquard-Loison-Fleurot - Chambolle Musigny | 2015 | 0.750 | OC6 | 7 | 42 | 1,650.00 | 275.00 | - | En Primeur | |
| Domaine Coquard-Loison-Fleurot - Clos Vougeot Grand Cru | 2015 | 0.750 | BOTTLE | 18 | 18 | 750.00 | 750.00 | - | En Primeur | |
| Domaine Coquard-Loison-Fleurot - Echezeaux Grand Cru | 2015 | 0.750 | OC6 | 1 | 6 | 4,800.00 | 800.00 | - | En Primeur | |
| Domaine Coquard-Loison-Fleurot - Morey St Denis | 2015 | 0.750 | OC6 | 7 | 42 | 1,650.00 | 275.00 | - | En Primeur | |
| Domaine Coquard-Loison-Fleurot - Vosne Romanee | 2015 | 0.750 | OC6 | 6 | 36 | 1,920.00 | 320.00 | - | En Primeur | |
| Domaine Duroche - Charmes Chambertin Grand Cru | 2015 | 0.750 | BOTTLE | 8 | 8 | 1,200.00 | 1,200.00 | - | En Primeur | |
| Domaine Duroche - Gevrey Chambertin 'Aux Etelois' | 2015 | 0.750 | BOTTLE | 6 | 6 | 400.00 | 400.00 | BH87-89 | En Primeur | |
| Domaine Duroche - Gevrey Chambertin 'Champ' | 2015 | 0.750 | BOTTLE | 27 | 27 | 320.00 | 320.00 | BH87-90 | En Primeur | |
| Domaine Duroche - Gevrey Chambertin 'Le Clos' | 2015 | 0.750 | BOTTLE | 9 | 9 | 320.00 | 320.00 | BH87-90 | En Primeur | |
| Domaine Duroche - Gevrey Chambertin 'Les Jeunes Rois' | 2015 | 0.750 | BOTTLE | 12 | 12 | 320.00 | 320.00 | BH88-91 | En Primeur | |
| Domaine Duroche - Gevrey Chambertin 1er Cru 'Cazetiers' | 2015 | 0.750 | OC6 | 2 | 12 | 4,200.00 | 700.00 | BH89-92 | En Primeur | |
| Domaine Duroche - Gevrey Chambertin 1er Cru 'Lavaux St Jacques' Vieilles Vignes | 2015 | 3.000 | BOTTLE | 2 | 2 | 5,000.00 | 5,000.00 | BH90-93 | En Primeur | |
| Domaine Duroche - Gevrey Chambertin 1er Cru 'Lavaux St Jacques' Vieilles Vignes | 2015 | 0.750 | BOTTLE | 3 | 3 | 950.00 | 950.00 | BH90-93 | En Primeur | |
| Domaine Duroche - Latricieres Chambertin Grand Cru | 2015 | 3.000 | BOTTLE | 1 | 1 | 7,800.00 | 7,800.00 | - | En Primeur | |
| Domaine Francois Carillon - Pugliny Montrachet 1er Cru 'Champ Gain' | 2015 | 0.750 | BOTTLE | 6 | 6 | 450.00 | 450.00 | - | En Primeur | |
| Domaine Francois Carillon - Puligny Montrachet | 2015 | 0.750 | OC12 | 3 | 36 | 3,120.00 | 260.00 | - | En Primeur | |
| Domaine Francois Carillon - Puligny Montrachet 1er Cru 'Les Perrieres' | 2015 | 0.750 | BOTTLE | 6 | 6 | 575.00 | 575.00 | - | En Primeur | |
| Domaine Harmand-Geoffroy - Gevrey Chambertin | 2015 | 0.750 | BOTTLE | 174 | 174 | 350.00 | 350.00 | BH87-90 | En Primeur | |
| Domaine Harmand-Geoffroy - Gevrey Chambertin 'Vieilles Vignes' | 2015 | 0.750 | BOTTLE | 6 | 6 | 450.00 | 450.00 | BH89-92 | En Primeur | |
| Domaine Harmand-Geoffroy - Gevrey Chambertin 1er Cru 'La Perriere' | 2015 | 0.750 | BOTTLE | 36 | 36 | 600.00 | 600.00 | BH90-92 | En Primeur | |
| Domaine Harmand-Geoffroy - Gevrey Chambertin 1er Cru 'Lavaux St Jacques' | 2015 | 0.750 | BOTTLE | 17 | 17 | 620.00 | 620.00 | BH91-93 | En Primeur | |
| Domaine Hubert Lignier - Chambolle Musigny Vieilles Vignes | 2015 | 0.750 | BOTTLE | 18 | 18 | 360.00 | 360.00 | BH86-89 | En Primeur | |
| Domaine Hubert Lignier - Gevrey Chambertin | 2015 | 0.750 | OC12 | 1 | 12 | 3,840.00 | 320.00 | BH88-91 | En Primeur | |
| Domaine Hubert Lignier - Morey St Denis | 2015 | 0.750 | OC12 | 2 | 24 | 3,840.00 | 320.00 | - | En Primeur | |
| Domaine Hubert Lignier - Nuits St Georges 1er Cru 'Les St Georges' | 2015 | 0.750 | OC6 | 1 | 6 | 4,500.00 | 750.00 | - | En Primeur | |
| Domaine Hudelot-Noellat - Clos Vougeot Grand Cru | 2015 | 0.750 | OC6 | 1 | 6 | 7,200.00 | 1,200.00 | BH93-95 | En Primeur | |
| Domaine Hudelot-Noellat - Nuits St Georges 1er Cru 'Aux Murgers' | 2015 | 0.750 | OC12 | 1 | 12 | 7,200.00 | 600.00 | BH90-93 | En Primeur | |
| Domaine Hudelot-Noellat - Vosne Romanee | 2015 | 0.750 | BOTTLE | 18 | 18 | 350.00 | 350.00 | BH89-91 | En Primeur | |
| Domaine Hudelot-Noellat - Vougeot 1er Cru 'Les Petits Vougeots' | 2015 | 0.750 | BOTTLE | 18 | 18 | 580.00 | 580.00 | BH90-92 | En Primeur | |
| Domaine Jean Grivot - Vosne Romanee | 2015 | 0.750 | BOTTLE | 18 | 18 | 420.00 | 420.00 | BH88-91 | En Primeur | |
| Domaine Perrot-Minot - Chambolle Musigny | 2015 | 0.750 | BOTTLE | 18 | 18 | 600.00 | 600.00 | BH89-92 | En Primeur | |
| Domaine Perrot-Minot - Morey St Denis 'En la Rue de Vergy' | 2015 | 0.750 | BOTTLE | 12 | 12 | 550.00 | 550.00 | BH89-91 | En Primeur | |
| Domaine Perrot-Minot - Nuits St Georges | 2015 | 0.750 | BOTTLE | 12 | 12 | 520.00 | 520.00 | BH90-92 | En Primeur | |
| Domaine Perrot-Minot - Vosne Romanee | 2015 | 0.750 | BOTTLE | 6 | 6 | 600.00 | 600.00 | - | En Primeur | |
| Domaine Perrot-Minot - Vosne Romanee 'Les Champs Perdrix' | 2015 | 0.750 | BOTTLE | 12 | 12 | 800.00 | 800.00 | BH89-91 | En Primeur | |
| Hospices de Beaune / Etienne de Montille - Volnay Santenots 1er Cru Cuvee Gauvain | 2015 | 0.750 | 1/4 BARREL | 2 | 2 | 61,200.00 | 61,200.00 | - | En Primeur | |
| Jean-Marie Fourrier - Latricieres Chambertin Grand Cru | 2015 | 0.750 | OC6 | 1 | 6 | 10,500.00 | 1,750.00 | BH91-94 | En Primeur | |