Written by Sora Chan, Senior Wine Specialist
There are only two grand crus in the village of Chambolle-Musigny: Musigny and Bonnes-Mares. Many people focus on the queen of Chambolle-Musigny, Musigny, as this grand cru shows the elegant style which is most associated with this village. But today, I want to discuss Bonnes-Mares as for me, this grand cru is the one to buy.
Last fall we hosted a wine dinner in Beijing featuring a near vertical of Bonnes-Mares from Domaine Georges Roumier spanning twelve vintages from 1983 through to 2009. This dinner was an incredible learning experience. I learned that Roumier has four different plots of the Bonnes-Mares Grand Cru vineyard with three of the plots containing terres blanches soils and one plot containing terres rouges soils. Christophe Roumier blends all four plots together to give the best expression of Bonnes-Mares for the vintage.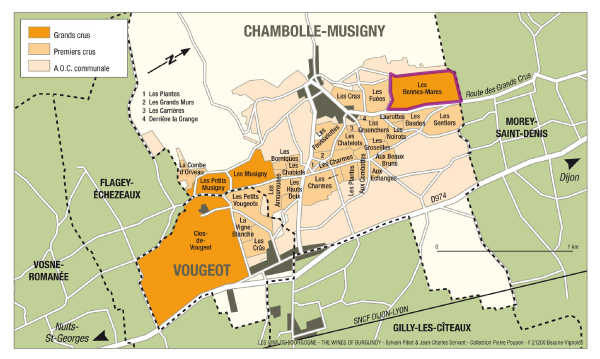 Les Bonnes-Mares Grand Cru is located at the northern end of Chambolle-Musigny
To me, Bonnes-Mares is very special. Firstly, it's location makes it unique. This Grand Cru is located at the northern end of the village of Chambolle-Musigny and connects to the Clos de Tart Grand Cru vineyard from Morey St. Denis. In fact, up until 1965, part of the vineyard within the wall of Clos de Tart used to be considered Bonnes-Mares. Secondly, it's two soils - terres blanches and terres rouges make the vineyard special. There is a small road todivide the vineyard into its separate soil types. In the part of the vineyard that's closest to Chambolle, the soil is lighter in colour and texture. There are fossilized oysters which is terres blanches. On the Morey end, the soil is heavier and contains more clay; it's called terres rouges.
I have attached two maps so you can see exactly where the Bonnes-Mares Grand Cru vineyard is located and which producer owns which section. My absolute favourite producers of Bonnes-Mares are Domaine d'Auvenay and Domaine Georges Roumier. I also like the Bonnes-Mares from Domaine Dujac. Their section also contains the terres blanches and terres rouges soils. The Bonnes-Mares from Dujac is well balanced, has good structure and contains vibrant notes of red currant that I enjoy. Domaine Comte Georges de Vogüé is another one to buy. This domaine has the largest holdings of Bonnes-Mares, and their wines possess great purity of fruit. I frequently find the Bonnes-Mares drinking much better than their Musigny in its youth.
Bonnes-Mares is definitely a high quality wine that ages well. But, sadly it gets overshadowed by Musigny since they are the sole grand crus in the village of Chambolle-Musigny. For now, this reality is beneficial for wine lovers as you can still find good value when you buy Bonnes-Mares. But, one day this dark horse will be discovered and the story will change. Take a look at our list of Bonnes- Mares below and add some to your cellar before the word gets out on this dark horse.