Written by Alex Cubbage, Senior Wine Specialist and Business Development Manager
Napa Valley is where I started learning about wine. I used to go visit wineries on my weekends and during the summer while I was in law school in San Francisco. At that time, I never dreamed I'd be working in wine. I fell in love with Cabernet Sauvignon from those visits. Since then my palate has changed a bit. I used to crave power and ripe, dark berry fruit in a wine. Now, I want elegance, restraint, acidity balancing the fruit, and usually a wine with age to it. For me, the strength of a wine shows through in its ability to age; that's usually how I determine if I like a specific domaine or winemaker.
On our list, we have some of the finest examples of the longevity of Napa Valley wines with Beaulieu Vineyards BV Georges de Latour Private Reserve Cabernet (1979, 1985 and 1987), Robert Mondavi Winery (1987-in magnum, 1991-in magnum, 1992-1994, 1994-in magnum and 1995-in magnum), and Dominus (1990, 1992, 1995, 1996 and 2005).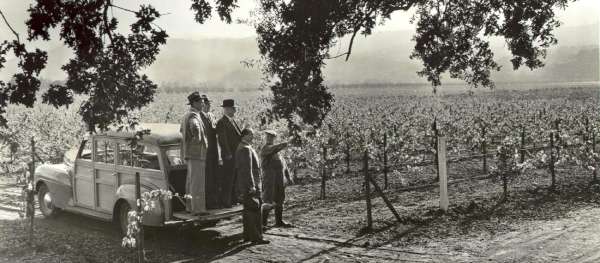 Georges de Latour and André Tchelistcheff looking over the Rutherfold vineyards © bvwines.com
Likely few have done more to shape the winemaking history of California than Beaulieu Vineyards ('BV'). In 1900, Georges de Latour's wife, Fernande, gave this vineyard its name, "beau lieu" or "beautiful place". Soon after Georges de Latour purchased the four-acre piece of land in Rutherford with the goal of making top level wines to rival those of his native France. In 1938, he travelled to France and met famed winemaker and viticulturalist, André Tchelistcheff, and convinced him to come and make the wines at BV. When Tchelistcheff tasted the 'Private Reserve' from the 1936 vintage, he declared that this wine be the flagship wine. In 1940, BV released the first vintage and called it Georges de Latour Private Reserve Cabernet Sauvignon. I've had several of these wines over the years mainly from the 70s and 80s and nothing older than the 1960s, and I've always found them to be well made wines that are alive and tell the story of their place. Many people tell me that I like these older California wines just because they taste like Bordeaux. And while I do taste a similarity and have mistaken them at times when tasted blind, I feel there is a terroir character shown in these wines and a fruit quality too that's distinctly California. These old bottles don't come around that often here in Hong Kong, so do try some.
While BV represents the initial days of Napa winemaking, Robert Mondavi brought a whole new way of promoting the region's wines. In 1966, Bob bought a 12-acre piece of the historic To Kalon vineyard from the Stelling Family and set up the Robert Mondavi Winery. The new winery that Bob constructed was the first new winemaking facility built in Napa since the repeal of prohibition and the most technologically advanced. In addition, the building he constructed was intended not only as a winery but as a hospitality centre. Bob Mondavi believed and promoted wine as part of a lifestyle and cultured way of life. The Robert Mondavi Winery was often referred to as "The University of Mondavi," as it was the first to use stainless steel fermentation tanks in California, used the best French oak early on, tried most of the new innovations over the years and can be credited with being the training ground for those who would go on to become the wine industry's leaders. The 1969 vintage is the one that put this winery on the map. Next to the 1969, the 1987 and 1994 are my next favourite vintages of this wine. It's not so often that we find these wines in magnum, and we only have one of each. Be sure to get your order in!
Then, in the 1980s, Dominus took shape continuing the strong roots placed in Napa by BV and Robert Mondavi, yet creating its own expression of the terroir. The Dominus Estate began in 1982 as a partnership between Christian Moueix of Château Petrus and Robin Lail and Marcia Smith, the daughters of John Daniels, Jr., and it was called the John Daniel Society. This vineyard was initially planted by George Yount in 1838, and in 1946, John Daniel, Jr. extended his holdings of Inglenook by purchasing this vineyard. It has had a long history of winemaking. John Daniel, Jr. gave the vineyard its name, 'Napanook,' and the fruit from this vineyard was a key part of the outstanding Inglenook wines of the 1940s, 50s, and early 60s. The vineyard contains Cabernet Sauvignon, Cabernet Franc, Merlot and Petit Verdot. In the hands of Christian Moueix and his team the quality of the wine from this special vineyard site and its allure in older vintages has continued.
My message as you review this list below is buy up the standouts you've been searching for, but also buy some of these old Napa Valley wines to enjoy over dinner. If you find yourself with questions, would like advice on which wines to choose, or would like photos, be sure to reach out. Discover old Cali today!