As 2019 draws to a close it is time to reflect on the year just gone, and to look forward not only to a new year, but a new decade ahead.
All here at The Fine Wine Experience are grateful to you for your continued support, and so we thought we would share a few of the highlights from the year just gone.
The biggest change for us in Hong Kong was the move from our 700 sq ft store to our new 7,000 sq ft store in Sai Ying Pun. This is a fine wine experience central, with large, beautiful retail spaces, a dining room supported by full commercial kitchen, a lounge and bar for relaxing, and karaoke rooms (!). We moved in at the end of January, and celebrated with you at our opening party in March. Since then Chef Peter Teo, Chef Patrick Verhoeven, Chef Ferran Tadeo, and Chef Gianni Caprioli have cooked here for us and for you, many wines have been opened, stories shared and Cantopop songs belted out!
The retail and dining space, with moveable wine islands also means the space is quite flexible. No sooner were we open than Allen Meadows was giving 55 of us a masterclass on the influence of stems on red Burgundy as part of The Fine Wine Experience Burghound Symposium 2019. In its 6th year the programme brought fine Burgundy events to Beijing, Shanghai and Hong Kong.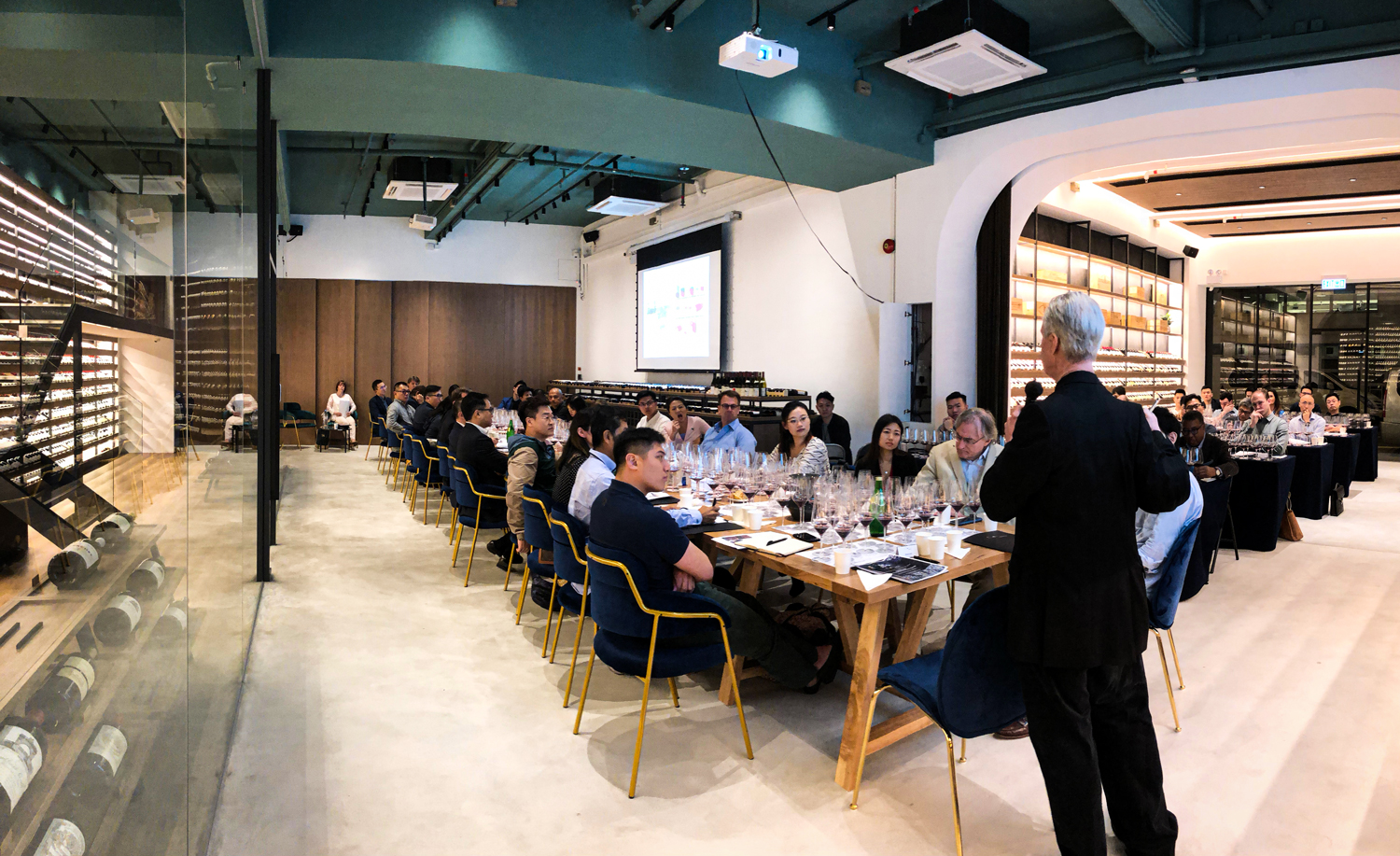 Alex loved our new space for Vintage Pairs events, which you can read about here, as well as exploring wine and cheese matching, thick-skinned grapes, sake and wine pairing, and grower Champagnes amongst others. Meanwhile Linden found much to like in Bordeaux's 2018 vintage, 1989 Bordeaux, 1994 Napa, and his blossoming love for Barolo amongst others. We hosted 125 events in Beijing, Shanghai and Hong Kong in 2019. Do come join us when you can.
As far as wine accessories are concerned our policy is simple – we sell what we love to use ourselves. Some pretty special wine-specific airline-friendly wine luggage joined our selection this year and got Francois pretty excited, as this video shows.
Burgundy, as you will appreciate, is a pretty complicated yet highly rewarding subject to get to grips with. That's why we brought The Fine Wine Experience team to visit the region in September during harvest, and in November during the Hospices de Beaune auction week. There is a no better teacher than firsthand experience. We look forward to bringing you more content from the 37 producers we work with in 2020.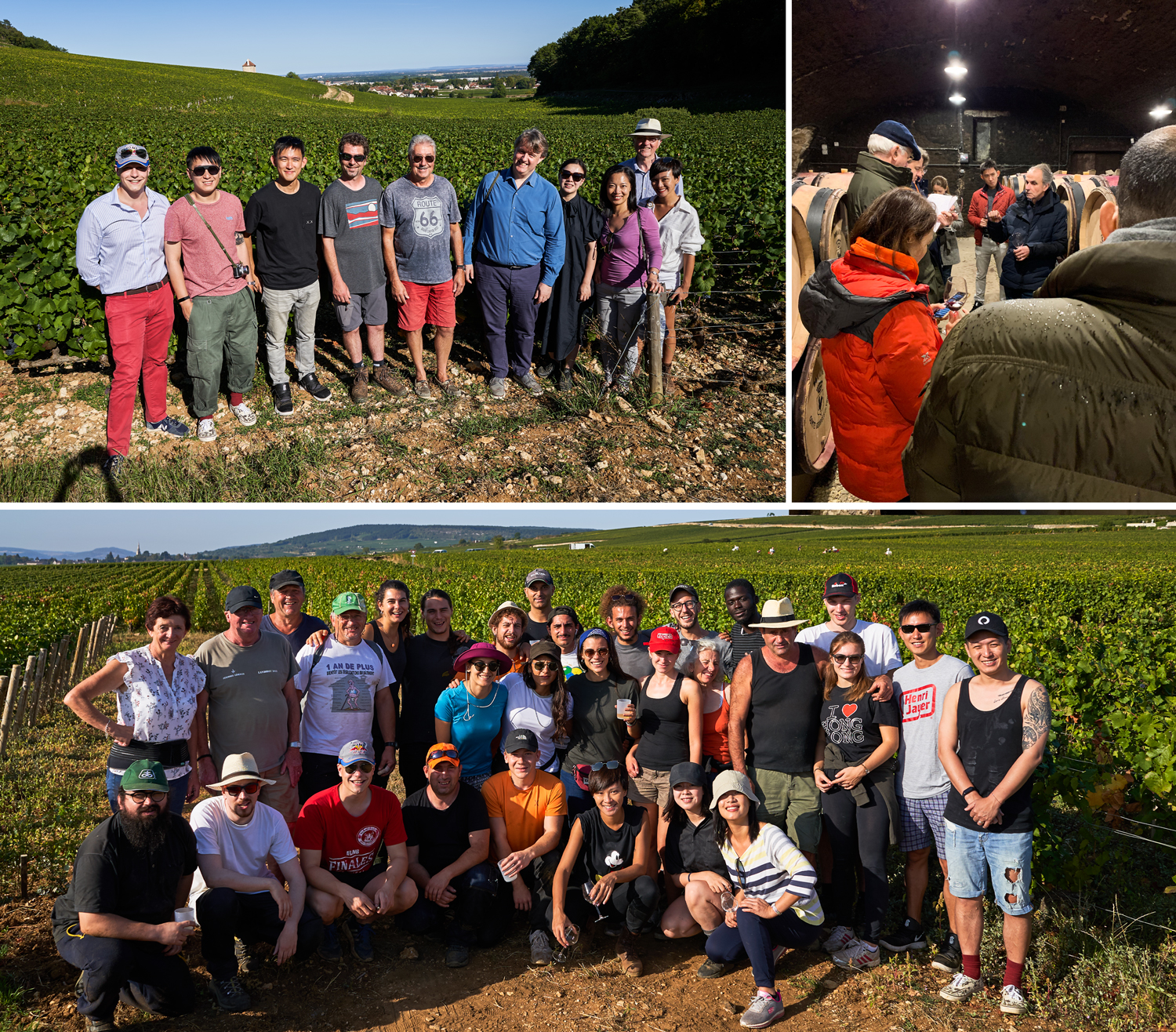 As our final wine tip for the year we asked The Fine Wine Experience team to look back on 2019 and recommend their best wine of the year – perhaps something rare, something old, something exceptional, or something great value for money, something that delivered time and again, or something that marked a special occasion in just the right way. Here are our 22 picks for you from 2019 - and why - from the team.
---
LINDEN WILKIE
Managing Director
2016 Domaine Denis Bachelet Côte de Nuits-Villages
Côte de Nuits-Villages does not a Charmes-Chambertin Grand Cru make, but I get so much satisfaction from a wine like this, full of fruit, vibrancy and tension. The quality is there in every sip, a reminder that with a great domaine you needn't always pick the headline wine(s).
MIKE WU
Managing Director
1959 Domaine de la Romanée Conti La Tâche
Tasted at a dinner in Burgundy celebrating friends born in '59. It was a perfect-condition 'bottle' of '59 La Tache (because at this age it's not about the wine but rather individual bottles), shared with the right people at the right moment.
ALEXANDRIA RAE CUBBAGE
Senior Wine Specialist & Business Development Manager
1994 Bryant Family Cabernet Sauvignon
My best wine of 2019 was 1994 Bryant Family Cabernet Sauvignon. It was a wine I recommended to dear friends who came to celebrate the grand opening of our new shop on 5th of March. Such a special night for us here at TFWE and that wine shined – my friends loved it. The wine experience for me is also about the occasions and those we share it with.
KAT LEE
Senior Wine Specialist
1996 Domaine Jacques-Frédéric Mugnier - Musigny Grand Cru
Needless to say, the wine speaks for itself. The wine is so intense with flavours of dark cherry, fragrant spices, violets and fine tannin. This beauty shows perfect balance between its expressive aromatic profile and fine structure. Delicious and stunning! A must item at Xmas parties.
SORA CHAN
Senior Wine Specialist
2013 Domaine Coche Dury - Meursault 'Rougeots'
Recently, I opened a bottle each of 2013 Meursault and Meursault 'Rougeots'. The Meursault was good, but the Rougeots was fantastic. Not double the price, but double the satisfaction.
TINA XIE
Fine Wine Specialist
1994 Weingut Le Gallais (Egon Müller) - Braune Kupp Auslese Auktion
I visited Mosel five times this year from early summer till harvest. It could not be a more wonderful experience than to follow through a vintage in order to learn more about Riesling, producers and their personalities – I love and respect German's humility, hardwork and efficiency. For the special festive seasons, it's nice to enjoy a matured auction bottle, showing the best of a producer for that specific vintage.
FRANÇOIS TRAN
Fine Wine Specialist
2004 Domaine Dujac Clos de la Roche Grand Cru
This wine has all the qualities to make it memorable, as well as being value for money. A seductive range of aromas of ripe red fruits and spices emerge in the glass. There is a good balance between tannins and fruit, with salinity, volume, and an amazingly long finish. It outshined some other great domaine wines that night!
FLORIAN ROSSIGNOL
Agency Brand Manager
2009 Domaine Perrot-Minot Chambertin-Clos de Bèze Grand Cru Vieilles Vignes
The 2019's Best Wine Award goes to…….. 2009 Perrot-Minot Clos-de-Bèze – Having the chance to taste few wines from Perrot-Minot, I was really impressed by the quality of many of them, but this Clos-de-Bèze was just perfect! So perfumed, floral with juicy red fruits, the purity and elegance are set at the highest level possible.
SUNNY WONG
Fine Wine Specialist
2007 Domaine de la Romanée Conti Montrachet
If you ask me what the most memorable wine was for me this year, without even having to think, it's 2007 DRC Montrachet. Beautiful aromas of walnut, hazelnut and lime, with balanced acidity. This wine is rare and is one not to be missed by any wine lover.
HUGO SETO
Wine Lounge Manager
2014 Rhys Vineyards - Horseshoe Vineyard Pinot Noir
U.S. Pinot Noir may not be perfect for everyone. But this Pinot inspires me so much - lots of fruit, sweet spices and silky tannins. This wine is one I like to drink with my family's traditional dishes: Chiu Chow Brined Goose and Peking Duck. Good memories!
REGINA LEE
Wine Specialist
2016 Hospices de Beaune / Joseph Drouhin - Beaune 1er Cru Cuvée Maurice Drouhin
I've always been a fan of the wines of Joseph Drouhin, and their Hospices wines are equally enjoyable to drink. Silky tannins with pure fruit on the palate. After some aeration in the glass, the floral notes start blossoming; it's incredibly balanced with a concentrated raspberry note on the palate.
LOUIS TSANG
Wine Specialist
2005 Domaine René Rostaing - Côte-Rôtie La Landonne
It's hard to not pick something from Burgundy, but this particular wine is just as memorable as those fabulous grands crus. An iron fist in a velvet glove, elegant without losing the essence of Rhône wine.
JACKY LAM
Sales Assistant
2000 Champagne Krug - Krug 'Clos du Mesnil'
Powerful and unforgettable! The brand's iconic smoky sensation was lingering throughout, from start till finish, and finely integrated with its ripe fruits, toasty aromas and almond notes. Having this bottle back in March (at our new shop after the Burghound Gala dinner) has marked one of my most blissful memories of 2019.
KATHY CHEUK
Sales Assistant
2017 Domaine Georges Vernay - Condrieu 'Les Chaillées de l'Enfer'
I'm not a huge fan of Viognier, but I'll choose Georges Vernay anytime. The Granitic soil and saline character make Vernay's Condrieu out of the ordinary. This wine offers the depth of a Viognier with fresh peach fruit, floral notes and complex minerality. The structure of the wine keeps the level of elegance elevated.
ASTRID LAU
Head of Wine Opearions
1988 Champagne Salon - Champagne Salon Le Mesnil
1988 is one of my favourite Champagne vintages. Salon makes an exceptionally rich yet balanced example with an ultra-long finish. A beautiful wine offering compelling aromas of gingernut biscuits, hazelnut, honey, smoke, mineral and lime.
CARINE TO
Marketing Specialist
1955 Biondi-Santi Brunello di Montalcino Riserva
A true legend. This wine was served at a friend's dinner, and after thirty minutes of allowing this wine time to breath, it was still very vibrant and full of life. A truly enjoyable and memorable moment this year, or even, in a decade.
PAULINE LI
Logistics Manager
2016 Domaine Sérol - Côte Roannaise Perdrizière
This wine was my surprise find in 2019. A fresh, fruity and floral red which is perfect for drinking under the autumn sun. It's an easy drinking wine at an affordable price.
JENNIFER HO
Events Assistant
2016 Burn Cottage Pinot Noir
Burn Cottage Pinot Noir became my all time favourite wine when I tried it at the dinner with Andy Crozier in August. It is bright with an elegant nose of violets and red fruit notes of cherries, raspberries and plums. Most importantly for me, it is very food friendly. It even goes well with pizza! You can simply enjoy it at any occasion.
RICKY WONG
Marketing Assistant
2008 Domaine Comte de Vogüé - Chambolle Musigny 1er Cru 'Les Amoureuses' (Ex Domaine)
An ethereal beauty with purity. Subtle and transparent with concentration. Juicy and vibrant red fruit – intense, airy and long. Just incredible!
MEI CHAN
Logistics Assistant
2017 Tortochot - Gevrey Chambertin 1er Cru 'Lavaux St.-Jacques'
Domaine Tortochot Chambertin is one of the best kept secrets in Burgundy. Complex aromatics of pure red fruit and sweet and oak spices. It's a great choice for a modern day red Burgundy.
JING SONG
Marketing Manager (Beijing Office)
1953 Domaine Huet Vouvray Le Haut Lieu Sec
How wonderful is this dry white wine! A brilliant golden hue, a precise smell with sandalwood and honey, yet it's had such a long time of aging. Surprisingly, it's very fresh and lively on the palate with green apples combined with preserved fruits and cookie flavours. Full energy Chenin Blanc with lovely acidity and fine elegance that's perfectly balanced. An unforgettable bottle!
AMOR LING
Operations Manager (Beijing Office)
2016 Domaine Michel Bouzereau - Meursault 1er Cru 'Genevrières'
Domaine Michel Bouzereau is one of the new additions to The Fine Wine Experience Beijing list. I am so proud we can represent this domaine and introduce such energetic and elegant wine to our clients in Mainland China.