© Linden Wilkie, 3rd July 2020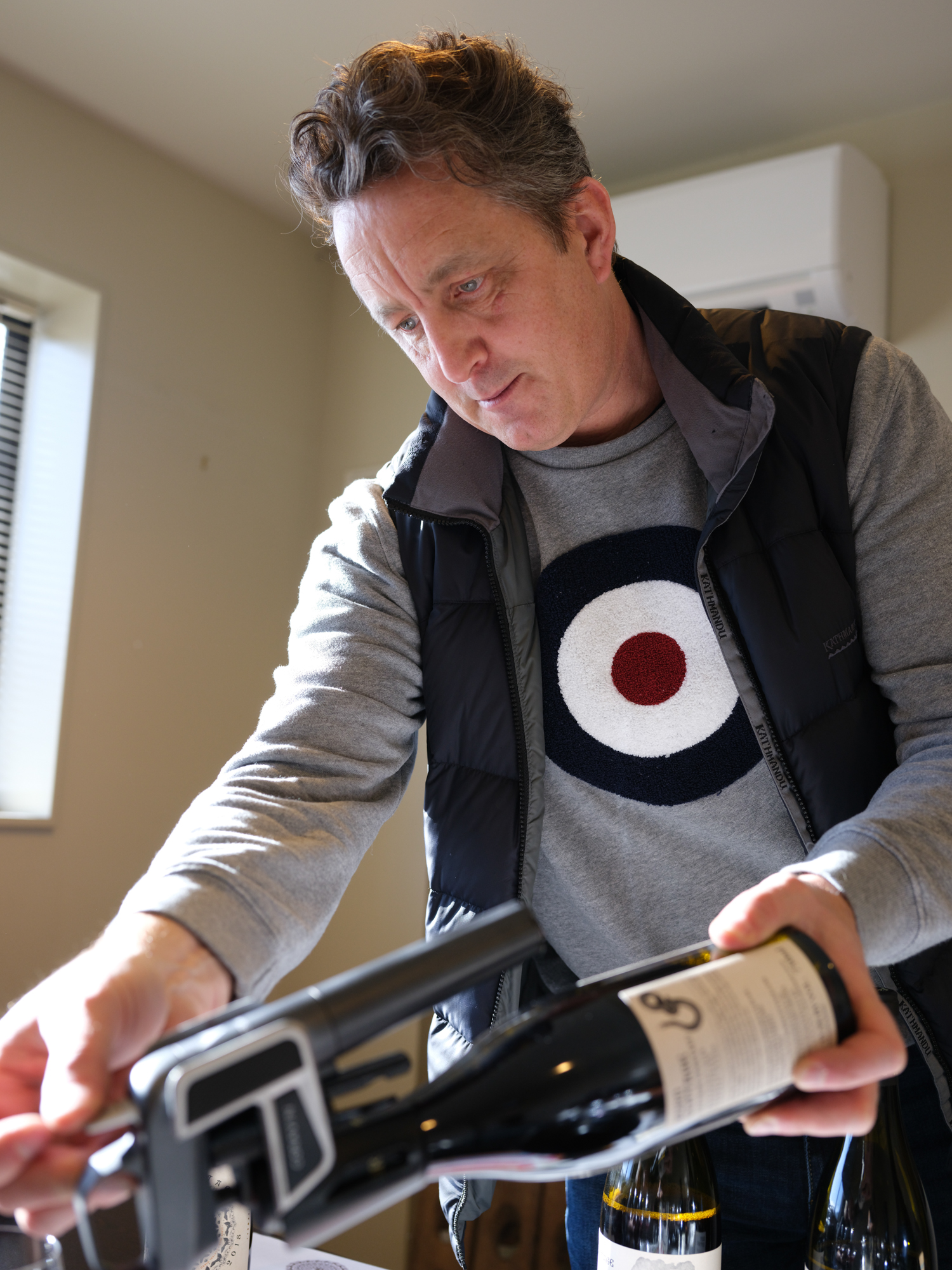 This week I had the pleasure to catch up with Andy Crozier at Burn Cottage in Cromwell, taste some wines and walk the vineyards. It was a beautiful, still, crisp mid-winter blue-skied day, and the views from the amphitheatre-like slopes of the Burn Cottage Vineyard were spectacular – with Lake Dunstan and the snow-capped Dunstan Mountains in the background.
It is of course mid-winter here. 2020's autumn harvest ran through into April and took place during the pandemic's lockdown conditions. (That has all finished, and everyone is free to move around). As we reached the top of the Burn Cottage Vineyard, we saw workers busy pruning and tying the vines to the wires in readiness for spring. The temperatures hovered around freezing point, but the views on such a fog-free day are unrivalled here.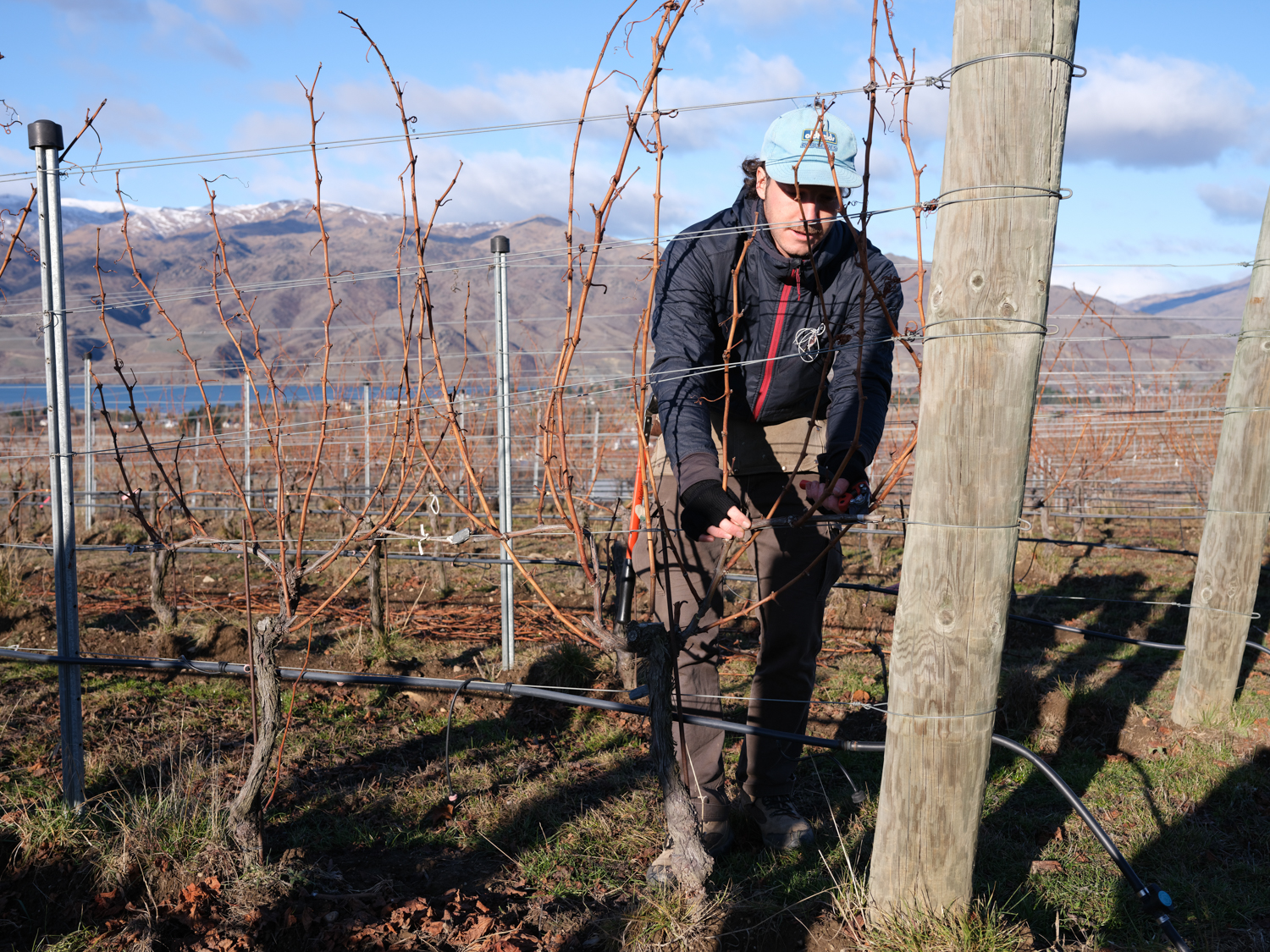 One of the really nice things about the Central Otago wine region is the cooperative spirit here. It's a small region – with just 2% of New Zealand's production – but that cooperative spirit has meant that "Central Otago" does mean something in the world's fine wine markets. Winemakers regularly taste and appraise one another's wines, share things they've learned, sometimes share equipment, and help each other out. They also sometimes swap some fruit here and there so that they can gain experience making wine from different locations. I got to taste one of these bottlings, made from some of Grant Taylor's Pinot Noir from his Valli Vineyards estate in Gibbston Valley.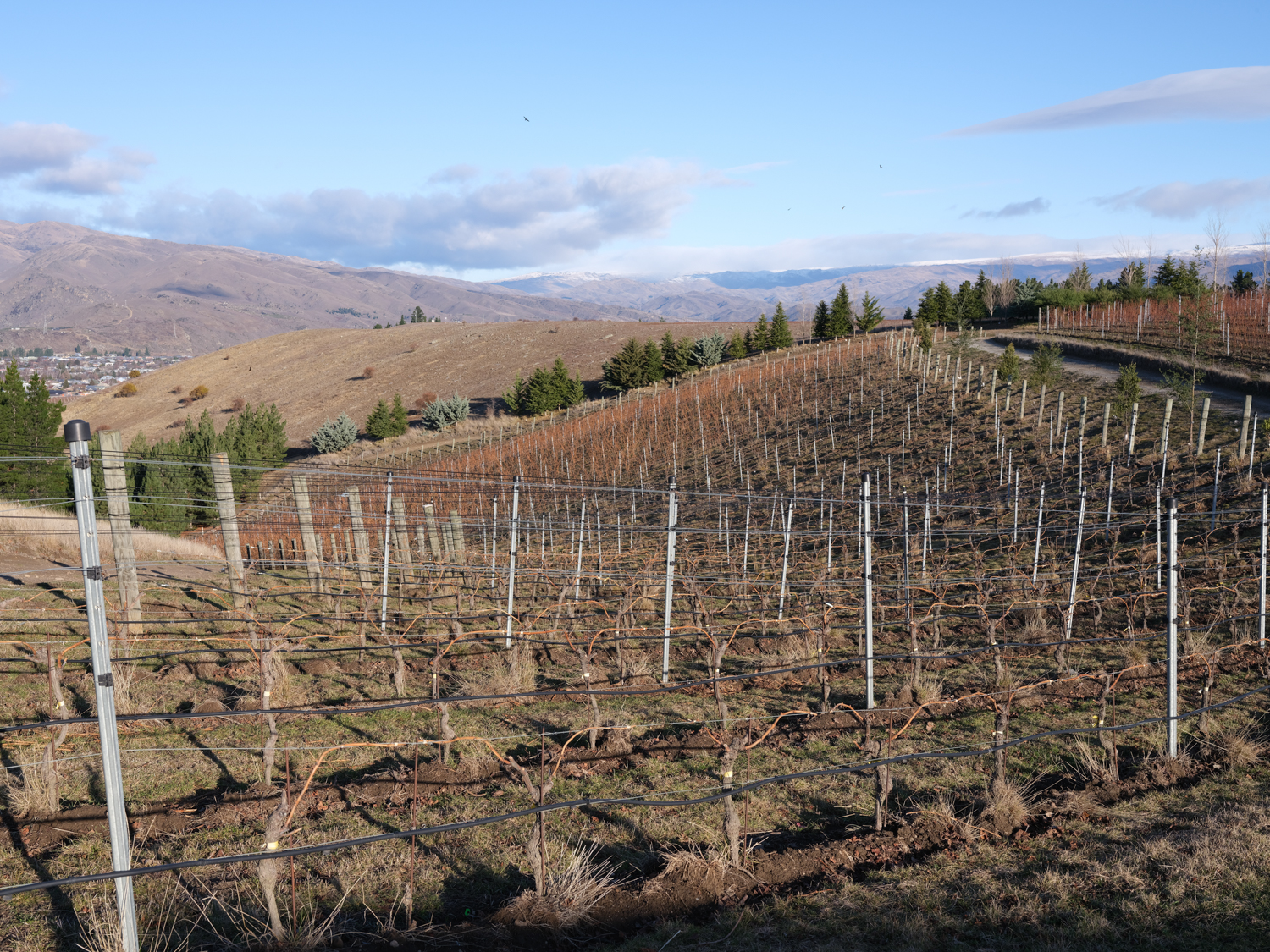 Burn Cottage continues to move forward. Owner Marquis Sauvage managed to purchase a great vineyard in Bannockburn next to some of Felton Road's prime blocks. Conversion to full organic and biodynamic practices began immediately in line with the approach taken at Burn Cottage since the beginning. From the 2018 vintage we will see two Burn Cottage estate Pinot Noirs – the Burn Cottage Vineyard (the one we know and love, from Cromwell basin), and 'Sauvage Vineyard' (from Bannockburn). I tasted these yet-to-be-released 2018s side by side, and they offer as interesting a contrast as you might find in the Côte de Nuits from sites ten or so kilometres apart. The Sauvage Vineyard has more dark cherry fruit, just a hint of cola / brown spice, good breadth and fleshiness and nice lift. It's broader shouldered. The Burn Cottage Vineyard is more floral, more red fruit, tauter, with subtle complexity. I can't wait to show them to you in a few months' time.
In the meantime, I'm really loving how the 2017s are showing. There is so much fragrance and freshness to these. I think the 2017 Burn Cottage Vineyard Pinot Noir is the best release to date (though 2016 is also great).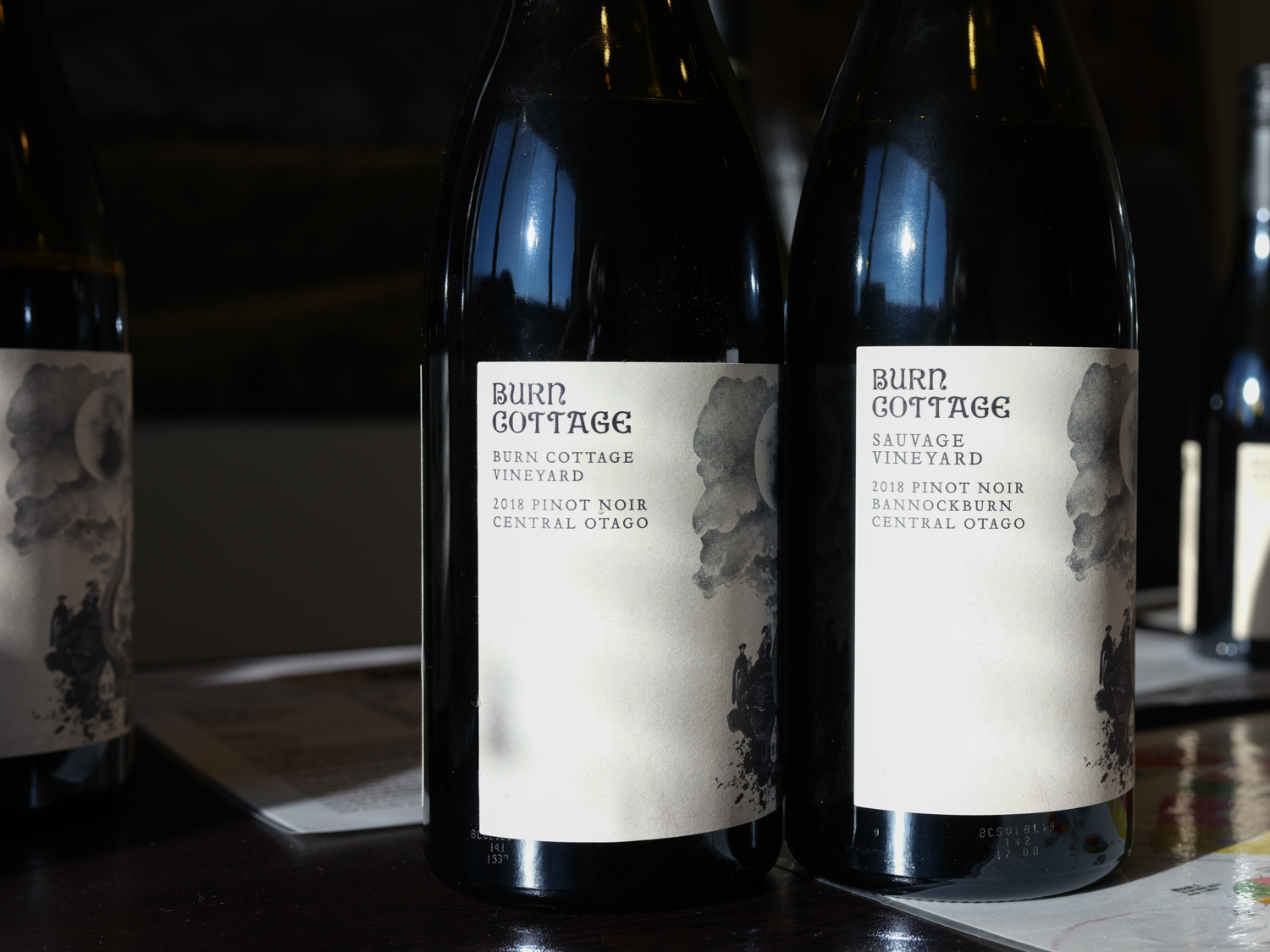 2017 Burn Cottage Vineyard Pinot Noir
13% whole bunch, 25% new oak. A fine nose that seemed to me Vosne-like with its red fruit expression and complex spice and subtle musk expression, very detailed and precise; bright and sapid on the palate, detailed taste with great tension and simply superb balance, this is moderate in weight, elegant, very fine. It will be interesting to see how this evolves in the next 2-5 years, but it is so well poised that it is all pleasure already today.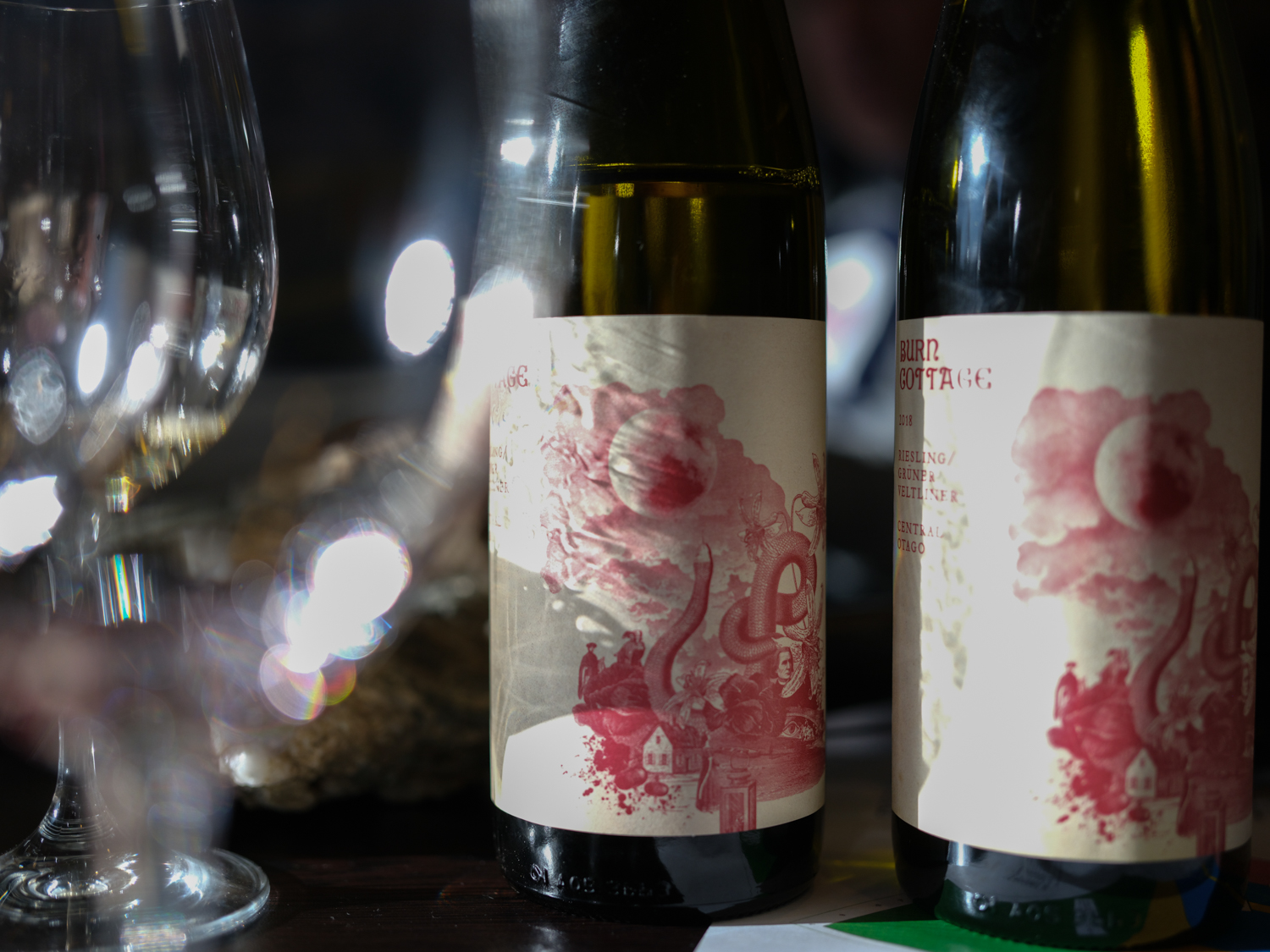 2017 Burn Cottage Riesling / Grüner Veltliner
Bright green-gold; sweet fruit with a citrus expression, more at the lime end of the scale, a little cream cheese / cheesecake in the mix; good texture on the palate, some phenolic grip from the skin contact, citrus, a touch of Rose's lime marmalade, a hint of cheesecake, some fresh herb notes and a clean, dry, fresh finish (the 10g/l residual sugar is not really perceptible).
The 2018 Burn Cottage Riesling / Grüner Veltliner shows the flexibility in approach with this blend – there is just 2g/l of residual sugar in it because it comes from a warmer vintage, with a little more glycerin and weight, and a more floral, fresh cut pear, quince and citrus flavour, it is still a bit tight in texture on the finish, but the balance here is also impressive – another few months in bottle for the 2018 and it should really impress. And even in the warmer year and with less RS, the alcohol is still only 13.5% (so no alcohol 'burn' here at all on the finish). The 2017's alcohol level is a refreshing 12.5%.
Do stock up on some of these wines, both the 2017 Burn Cottage Riesling / Grüner Veltliner white and the 2017 Burn Cottage Vineyard Pinot Noir red. They offer quality any fine wine enthusiast can appreciate, at a very reasonable price.