When you look closely at the quality, longevity, and reputation of Château La Mission Haut-Brion, vintage by vintage over the past several decades, it is clear that it sits in a rather exalted position. Consider, for example, the number that have been anointed by Robert Parker with the perfect 100/100 score — we include 6 such vintages in this dinner alone.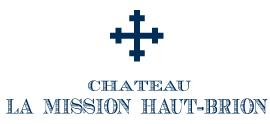 The style of this pinnacle of red Bordeaux? In my own view I would say, a rich, powerful, age worthy and compellingly complex wine, offering sweet dark fruit, intense minerality, and a distinctly 'Graves' extra dimension of spicy cigar tobacco, and wet stony earth. Others describe it variously — 'the more mineral, the more austere, the more apparently tannic, the more Medocain [of the two]' (Coates); 'one of the most consistent of all Bordeaux growths. The wine is distinctly different in style from its neighbour, Haut-Brion, whether one compares it with the old style or the new. Always deep in colour, the wine is rich and concentrated in flavour, and although it never seems to be too tannic, it undeniably requires more time to show of its best today than does Haut-Brion. (Peppercorn); and '…a record of virtually unmatched brilliance that covers much of the 20th century… La Mission Haut-Brion's style of wine has always been one of intense richness, full body, great colour and extract, and plenty of tannin… It has always been a much richer and more powerful wine than that of its archrival Haut-Brion.' (Parker).
Along with a remarkable consistency in description, it is also clear that there is a remarkable consensus worldwide about the status, and quality of the wine. It is universally admired.
Set in rather dreary Bordeaux suburbia, Châteaux Haut-Brion and La Mission Haut-Brion sit as the last jewels, the remains of an almost empty box of treasure that was the once rich, rural Talence-Pessac wine land. Few wine regions can survive the residential and commercial property developer's cheque book. And so it was here. As you head out southwest through thick city traffic from downtown Bordeaux, through set after set of traffic lights, passing a row of shops here and perfunctory post-war industrial buildings there, the Avenue Jean Jaures offers no clue that it is about to take you back - momentarily – centuries as it reveals Château Haut-Brion on the right and La Mission Haut-Brion on the left. Their survival through so many unprofitable 20th century decades is testimony in part to the superiority of their terroir, but also the capacity of the families that became their custodians: the Woltner family (1919-1983) brought La Mission Haut-Brion to greatness. The story at Château Haut-Brion is one of great partnership between the Clarence Dillon family (owners since 1935) and the Delmas family (present since 1921). This team took the reins at Château La Mission Haut-Brion in 1983.
This evening we have the great honour to be able to host this Château La Mission Haut-Brion dinner with present day Deputy Managing Director Jean-Philippe Delmas. Moreover, all of this evening's bottles are of unbeatable "ex-château" provenance, and cover an extraordinary array of highlights spanning seven decades. And what a list! -
Note that this is an intimate, single table, single bottle dinner. Interest is sure to outstrip the limited places available, so do be quick to secure your seat(s).