The video starts at 2:30
On 2nd April (the day after April Fools' Day, but we weren't clowning – well only a little bit), Florian and I hosted our first online live wine tasting session. We talked about six different villages in Burgundy and what to expect in the glass. The point of this tasting was to offer you at home the opportunity to join in a wine tasting virtually. We offered for purchase the 6-pack of wines we were using in the tasting and included in the tasting pack four tasting booklets. In addition, we also offered a discounted price on Coravin Model One and Model Two for those who didn't want to open all six bottles of wine. Then, to join the tasting you tuned in via Facebook live(just go to our Facebook page a few minutes beforehand and click on the link) and could interact with us by writing in comments and questions. Check out our question and answer box from this session located at the end to see what participants had to say.
Our next session will happen again on a Thursday, 16th April, at 4:30 p.m. and will be all about white Burgundy. It will also feature a lucky draw! These tasting sessions are something we will continue regularly with you every other Thursday. During these challenging times, we want to stay connected with our wine loving community here in Hong Kong.
The focus of this first session was reds, so the wines are all made from Pinot Noir. And our discussion was centred on villages in the Côte d'Or. We started in the north in the Côte de Nuits and described and tasted through wines from four villages there – Gevrey-Chambertin, Chambolle-Musigny, Vosne-Romanée, and Nuits-St.-Georges. Then, we moved into the section of Burgundy best known for its whites – the Côte de Beaune – and we discovered Pommard and Chassagne-Montrachet Rouge. Here were the villages and wines we focused on as well as our tasting impressions with our question and answer box below detailing the discussion from participants throughout the tasting.
Click the links below and jump to our Tasting impressions for each wine:
2017 Gevrey-Chambertin, Domaine Harmand-Geoffroy
2017 Chambolle-Musigny, Domaine Amiot-Servelle
2017 Vosne-Romanée, Domaine Hudelot-Noëllat
2017 Nuits-St.-Georges 'Aux Lavières', Domaine Jean Grivot
2017 Pommard 'En Mareau', Domaine Audiffred
2016 Chassagne-Montrachet 1er Cru Rouge 'Clos du Château' Monopole, Château de la Maltroye
---
Côte de Nuits
Gevrey-Chambertin:
Clive Coates MW describes the wines of Gevrey-Chambertin as follows, 'a full and sturdy wine, rich and masculine, but with a touch of the fleshy and exotic.' The Wines of Burgundy, p. 82. In terms of the identifying characteristics of Gevrey-Chambertin, for me and Florian the wines are the most masculine of the villages in Burgundy with dark fruit notes, intensity, concentration, firm tannins, earthy qualities of forest floor and mushroom; they tend to be muscular wines and are wines of longevity. Florian describes this village as the entry point into Burgundy for the Bordeaux drinker.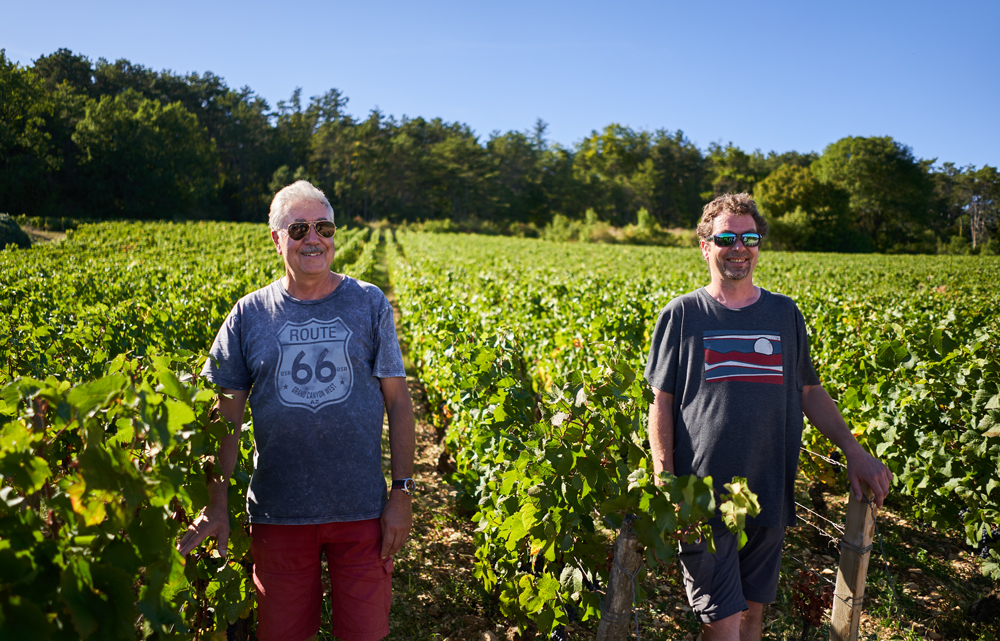 Domaine Harmand Geoffroy is located in the village of Gevrey-Chambertin and comprises 9 hectares. It's a traditional family owned estate where father, Gerard, has slowly given over the reins to his son, Philippe, for the viticulture and winemaking. In the vineyards, they don't use any pesticides, herbicides or chemical fertilizers. Philippe keeps the leaves on the vines to keep freshness in his grapes whereas the common practice in Gevrey-Chambertin is to de-leaf because of concern for grape rot.
The winemaking is traditional as well with all the grapes 100% de-stemmed. After fermentation, the wine goes into barrel for ageing for sixteen months. A portion of the oak is new, but it's not meant to be heavy handed. When we asked Philippe about the use of stems during our visit in November, he said he doesn't use them because he's afraid they will create vegetal aromas in his wines. The 2005 vintage is where this domaine started to really shine. If you are a fan of classically made Gevrey-Chambertin then this wine is a good one to try.
Tasting impressions: 2017 Gevrey-Chambertin, Domaine Harmand-Geoffroy
Florian described this wine as having a red fruit aroma on the nose with darker fruit on the palate. I noticed earthy aromas first in the glass – dried leaves, damp earth – combined with dark raspberry and blackberry fruit notes. We felt concentration and intensity in the wine. The tannins were present and firm but rounded by the fruit. It seemed the oak was well integrated and provided roundness to tannins that can be powerful in Gevrey-Chambertin. This wine was my favourite of the tasting because I liked its earthy notes, the concentration and the intensity I found.
Chambolle-Musigny:
One of the early authorities on Burgundy, Dr. Lavalle, in 1855 described the wines of Chambolle-Musigny as 'the most delicate wines of the Côtes de Nuits.' And our Senior Wine Consultant, Anthony Hanson MW describes them as "subtle nobility". Clive Coates MW, The Wines of Burgundy, p. 116. In the wines from Chambolle-Musigny, Florian and I tend to find more red berry and red cherry notes, floral perfumed aromas, silkier texture and a more feminine, elegant expression overall.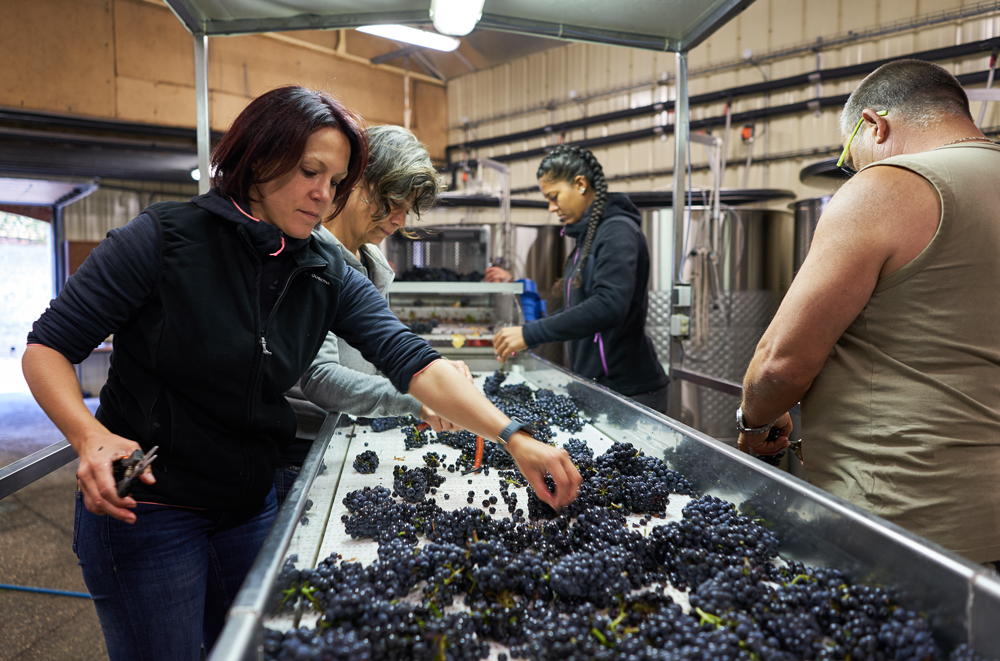 Domaine Amiot-Servelle got its name in 1990 through the merging of two Burgundy families. The Domaine comprises 8 hectares including six premiers crus in Chambolle-Musigny. Since 2008, the domaine has been certified organic. Prune, the daughter of Christian and Elisabeth, is the winemaker. She interned at Domaine Henri Gouges and Domaine de la Vougeraie and also made wine for the négociant Jaffelin, prior to joining her father in making the wine at Domaine Amiot-Servelle in 2011. The vintage of 2017 is the first year she was really on her own. With 2020 Prune and her brother Antoine are managing the domaine.
Since 2005, they have used stainless steel vats with temperature control to ferment the wines in order to control the extraction of the grapes and to keep more sanitary conditions during the process. They do five days of cold maceration after the grapes are harvested to develop fresh aromas in the berries, and they use natural yeast. The work is done the same way for each vat. For their oak regimen, they use 10% new oak for the Bourgogne Rouge, 20% new oak for the village level wines, 40% new oak for Les Fuées and Les Charmes, and 50-70% new oak for Derrière-la-Grange and Les Amoureuses. For the 2017 Chambolle-Musigny, Prune used 10% whole bunch and 25-30% new oak. There is no fining of these wines, and they only do filtration if the vintage warrants it. In terms of the use of stems, Prune will use them if she believes it will benefit the wine. However, she is very careful about using stems because she notes they are a magnet for botrytis and can leave off flavours and aromas in your fermenters. Prune is very much focused on making sure the grapes are fully ripened and that's what she looks for in judging the quality of the vintage.
Tasting impressions: 2017 Chambolle-Musigny, Domaine Amiot-Servelle
Florian's first words about this wine were, "it's very sexy". He really liked it! In fact it was his favourite wine of the tasting too. I enjoyed this glass as well. We found floral perfumed notes that reminded us of roses. Flavours of sweet strawberry, red raspberry and other red berry fruit carried through the nose and onto the palate; it was giving, fruit forward and conveyed a silky texture on the palate. It is a charming wine.
Vosne-Romanée:
The village of Vosne-Romanée is most famous for its grands crus such as La Romanée-Conti, La Tâche and Richebourg. Our good friend, Allen Meadows refers to it as, 'The Pearl of the Côte', and has written a comprehensive book focused solely on this village. For the wines of Vosne-Romanée, Clive Coates MW describes as follows: 'The Vosne-Romanée style is for wines which are rich, austere, sensual, masculine and aristocratic.' The Wines of Burgundy, p. 131. When Florian and I drink wine from Vosne-Romanée, the qualities that stand out are dark fruit aromas and flavours, a spice character that might be liquorice or Chinese 5-spice(blend of cinnamon, clove, fennel, star anise, Sichuan peppercorn) and usually a minerally spice note, and fleshy tannins. The wines tend to show more lushness, fruit character and spice than the wines of Gevrey-Chambertin. They are wines that combine the best attributes of Gevrey-Chambertin and Chambolle-Musigny in the glass. Florian said they are wines that often leave him 'speechless'.
Charles Van Canneyt took over from his grandfather Alain Hudelot-Noëllat in 2008. This domaine dates back to 1962 and comprises 10 hectares spread throughout four villages including Vosne-Romanée, Nuits-St.-Georges, Chambolle-Musigny and Vougeot. It's one of only three domaines that produces both Richebourg and Romanée-St.-Vivant with the other two being Domaine Leroy and Domaine de la Romanée-Conti. Thus, Domaine Hudelot-Noëllat stands proudly among the top ranks of Burgundy producers and is especially well regarded for its wines from Vosne-Romanée. Charles' farming practices are lutte raisonnée. For the winemaking, the majority of the grapes are de-stemmed, and he uses indigenous yeast. Oak is used judiciously with approximately 20% new oak for the village wines and 50-60% for the grands crus. The wines of Domaine Hudelot-Noëllat are best known for their alluring perfume aromas. For the Vosne-Romanée, the wine was 80% de-stemmed, and it was aged for sixteen months in barrel.
Tasting impressions: 2017 Vosne-Romanée, Domaine Hudelot-Noëllat
In this glass, Florian and I found aromas of dried roses, tea leaves and red and dark cherry fruit. I also found a note of liquorice, and we both found the aromatics here to be pretty and quite entrancing. On the palate, the fruit was juicy and lush with fleshy tannins and a long finish; we were impressed. Florian needed a second sip of this one he liked it so much. But, I had to keep us moving along through the tasting.
Nuits-St.-Georges:
The village of Nuits-St.-Georges represents the end of the Côte de Nuits as you travel from Dijon through the Côte d'Or and enter into the Côte de Beaune; it has no grands crus but many outstanding premiers crus. The wines tend to display savoury herbal aromas and an earthy, rustic quality similar to what's found in the wines of Gevrey-Chambertin but lack the depth and concentration. These are wines that aren't polished and aren't made to please. In The Wines of Burgundy, Coates describes the wines of Nuits-St.-Georges as follows: 'there is always a certain minerally, gamey hint of the rustic (country rather than sophisticated charm, to borrow Anthony Hanson's description of the wines of a grower in Fixin, equally applicable here) and a certain leaden footedness that detracts from the real class, definition and flair.' p. 151. For me, these wines offer a relatively more affordable expression of red Burgundy that is similar to what I like in the wines of Gevrey-Chambertin.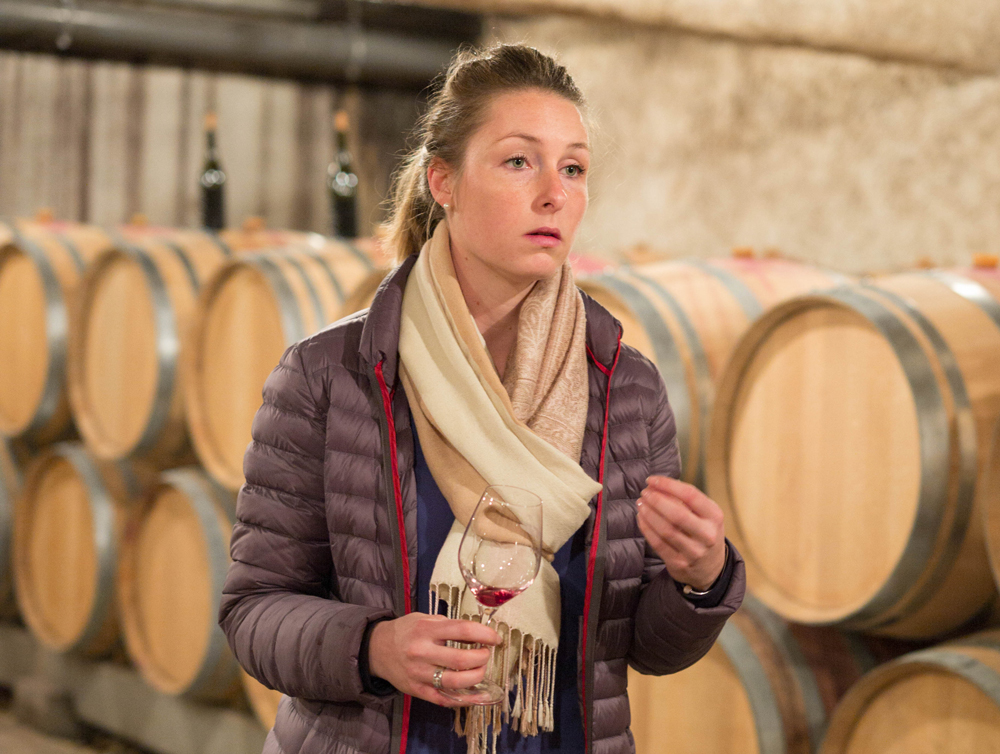 Domaine Jean Grivot is based in Vosne-Romanée and is made up of 15.5 hectares spanning across Vosne-Romanée, Chambolle-Musigny, Vougeot and Nuits-St.-Georges. This domaine has a long winemaking history and in the 1930s was one of the first wineries in Burgundy to bottle their own wine as opposed to the common practice at the time which was selling through négociants. Étienne Grivot took over from his father around the mid-1980s, and since 2017 has passed the reins on to his daughter, Mathilde. They take care of the vineyards using organic farming practices. Harvest is done by hand, and the grapes are sorted on the sorting tables to keep the very best. Bunches are usually close to 100% destemmed, depending on the vintage. Their aim at Domaine Jean Grivot is to produce low yield, balanced and vibrant wines that express the terroir. For the oak regimen, depending on the vintage, they use 25% new oak for the village wines, 30-40% new oak for the premiers crus and 40-45% new oak for the grands crus. The vineyard of 'Aux Lavières' is a lieu-dit in Burgundy, and Domaine Jean Grivot owns 0.62 hectares with the vineyards planted in 1974. This vineyard is on the border with Vosne-Romanée and thus shares similar soils.
Tasting impressions: 2017 Nuits-St.-Georges 'Aux Lavières', Domaine Jean Grivot
Here, we found aromas of sage and thyme and dark cherry fruit that was tart and crunchy. The tannins were present and a bit rustic. The fruit was a secondary note here and discreet. However, we found the fruit to be delicate and pure consistent with the style we find Mathilde tries to cultivate in her wines. The fruit wasn't as ripe or noticeable as the prior three wines; we felt that this wine might improve with more time.
Côte de Beaune
Pommard:
For me, Pommard is always one of those wines that needs lots of time. I find the tannins to be firm with a rustic, earthy minerally quality in the wines and usually dark fruit aromas. The soil is what is key to what we experience in a glass of Pommard. Specifically, '[t]he percentage of active limestone in Pommard is high, and it is the reaction between this and the clays . . . which produces the typical fullness and sturdiness which is the Pommard character.' Clive Coates MW, The Wines of Burgundy, p. 216.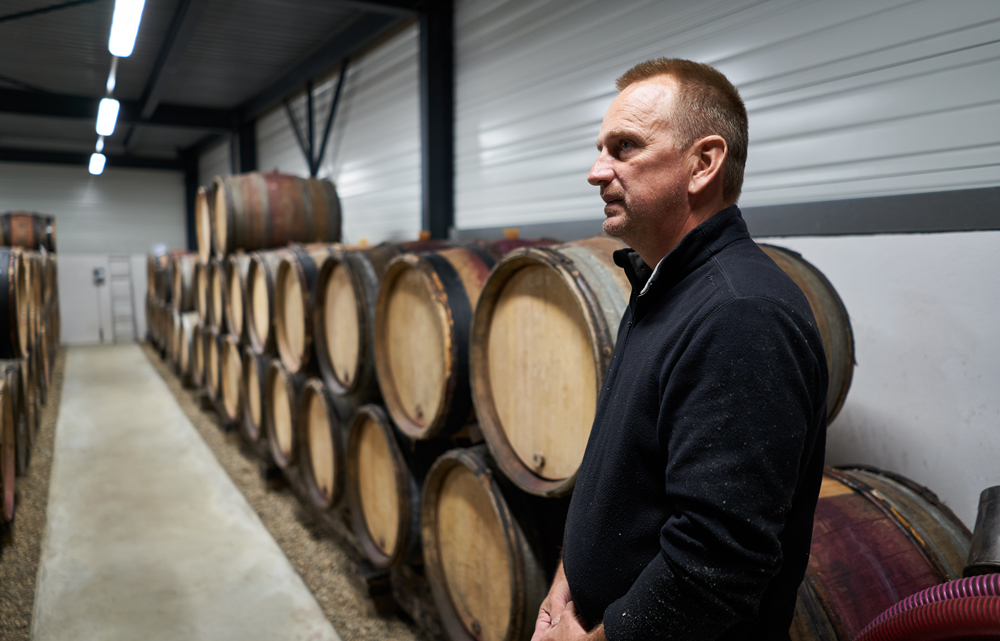 Domaine Audiffred is based in Vosne-Romanée and comprises 5 hectares that includes vineyards in Beaune, Gevrey-Chambertin and Pommard. Henri Audiffred began this estate in 2003 and started working here full time in 2007. For the winemaking, he does 100% destemming, fermentation with natural yeasts following a brief cold soak, and then only uses used barrels for the élevage. The lieu-dit 'En Mareau' is located up in the hills in Pommard and is north/northwest facing, so it's a vineyard where it's difficult for the grapes to ripen. Florian described this area which he remembers well from riding his bike there growing up. In this wine you can find more pronounced acidity and coolness to the fruit character.
Tasting impressions: 2017 Pommard 'En Mareau', Domaine Audiffred
For this wine, Florian and I wanted food. We felt a game dish might be nice, and for me I wanted something like roast pigeon or duck, even Peking duck came to mind(as our good friend Icy recommended during our live tasting). Florian wanted a stinky cheese or wild boar – specifically, a preparation he has fond memories of eating from growing up in Volnay. With this wine, similar to the Nuits-St.-Georges, we found the fruit aromas in the background with gamey aromas, savoury herbs and a meaty quality dominating. Then, notes of raspberry fruit came through, and the tannins were rustic. We definitely felt them on the palate. The old school style of winemaking came through here with no new oak or winemaking makeup being used to soften the textures or add flavours.
Chassagne-Montrachet Rouge: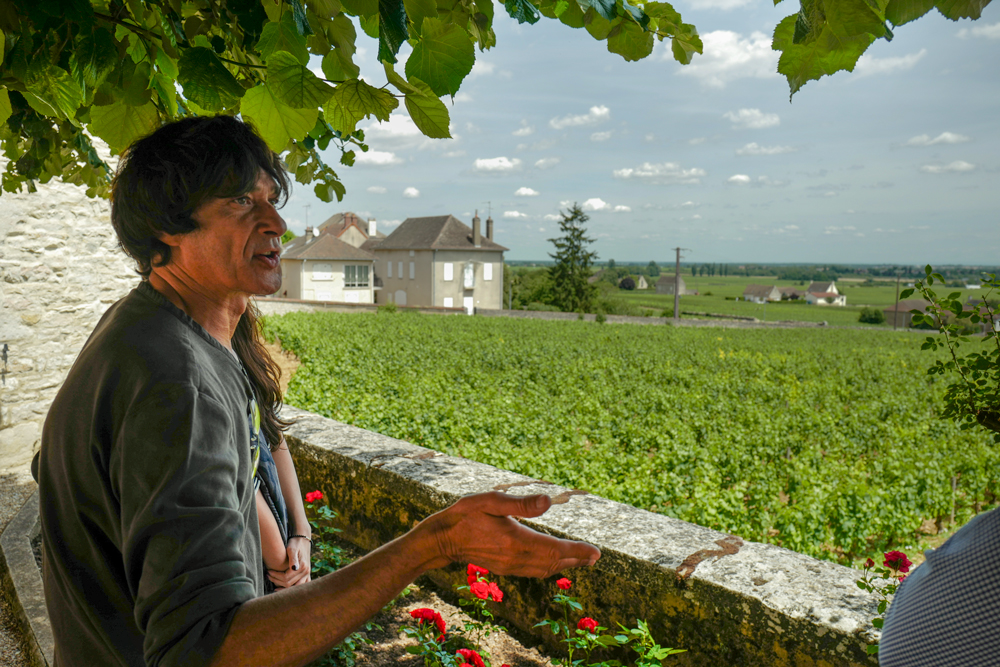 To me, the reds of Chassagne-Montrachet are either a bit light but with vibrant acidity and minerality but lacking in concentration or they can be firmly structured with the tannins dominating and masculine qualities prevailing. There are exceptions with the wine we are tasting today being one of those. Florian described these two categories of wines found in Chassagne-Montrachet a bit more simply as lively wines and boring wines. For a description of the reds from Chassagne-Montrachet, Coates explains the following: 'The reds are full-bodied, stalwart, workhorse examples of Pinot Noir, somewhat burly, occasionally rustic – similar in a way to those of Pommard or even the less distinctive examples of the Côte de Nuits. The Wines of Burgundy, p. 271. 'Jullien (Topographie de tous les Vins Connus, 1816) cites the red wines of Chassagne among those of his third class and notes that the wines of "Morjot," Maltroie and Clos-Saint-Jean are among his first class, alongside lesser grands crus such as Clos-de-Tart and Clos-de-la-Roche in Morey and the climats of Musigny and Les Amoureuses in Chambolle.' Clive Coates, The Wines of Burgundy, p. 271. Jasper Morris MW notes that the soils of Chassagne are more suited in certain areas to Pinot Noir especially in the premier cru vineyards of Clos St.-Jean, Clos de la Boudriotte and parts of Morgeot. Inside Burgundy, pgs. 439-440.
Florian and I visited Château de la Maltroye with Mike, Linden and a few other members of our team this past November, and Jean-Pierre Cournut was very excited to share his 2018s with us. This estate is located in Chassagne-Montrachet which is now most famous for its whites, but in years gone by the area was known for its red Burgundy. Jean-Pierre explained that there are three faults as well as different soils in Chassagne-Montrachet (he has some vineyards with limestone, some containing clay and some with rock) which create the different expressions found in its vineyards. Jean-Pierre took over from his father, André in 1995 and has really improved the quality of the wines. This estate is situated in the village of Chassagne-Montrachet and comprises approximately 14.5 hectares including some vineyards in Santenay. The production is 60% white and 40% red. His farming practices are lutte raisonnée, and he keeps his yields low. For the winemaking, the grapes are 100% de-stemmed and begin fermentation in horizontal tank with automatic punching down. The wine is aged in oak barrel with 30% being new. The vineyard of 'Clos du Château' is a walled vineyard located right beside the Château.
Tasting impressions: 2016 Chassagne-Montrachet 1er Cru Rouge 'Clos du Château' Monopole, Château de la Maltroye
Here, Florian and I found aromas of raspberry coulis or raspberry sauce, a note that reminded of Campari, and an herbal aroma of tarragon. On the palate the fruit was vibrant and lively with tension running through and leading to an expression that was lighter than the five previous wines. When we visited Jean-Pierre Cournut in November, he explained that this wine is nice for drinking now and that he likes to drink his wines when they are released to experience the vintage. However, Florian and I both felt that this wine could be aged for another 5-10 years at least.
Thank you to everyone who tuned into our first online live streaming wine tasting and especially to those of you who purchased the wines and tasted along with us. And a big thank you to all the winemakers from Burgundy who joined us – Alvina Pernot, Antoine Amiot-Servelle and Nicolas Bachelet - as well as our good friend from Beaujolais – Edouard Parinet from Château du Moulin-à-Vent.
Here are some of the questions you posed and our answers:
How long does the wine last after using the Coravin device?
They have done blind tastings using Coravin with sommeliers tasting at one point in time and then a year later and the wine tasted exactly the same. So, your wine should last for at least a year in the cellar after using the Coravin

I find the first two wines taste very similar, why?
Yes, you might find them to taste quite similar because they are both made from the same grape Pinot Noir. The differences are subtle and that's the charm of Burgundy; these differences are small and that's what makes Burgundy very interesting. The wines convey the nuances of each of the villages where they are from.

What is full phenolic ripeness?
The ripeness of the skin, seed and the bunch. All these three being ripe is full phenolic ripeness.

I find the wines to be quite acidic is that normal?
It is one of the characteristics of Pinot Noir. A nice glass of Pinot Noir is a balance of complexity with the acidity and fruit coming through. The unique climate and soils of Burgundy also influence the acidity that we find in Pinot Noir from this wine region. It's a cool climate area that gets snow sometimes and quite a bit of rainfall, so these climatic conditions combined with the minerality of the soils also influence the acidity found in red wines from Burgundy.

What food would you pair with these Burgundy wines?
For Pommard, I said I want game food - dishes like roast pigeon, duck or even maybe Cantonese chicken stew with mushrooms. Florian said he likes these wines with wild boar or roast suckling pig from Seventh Son. He also likes Pommard with cheeses like Camembert or stinky creamy cheeses like Époisses. Our friend Icy chimed in that she recommends Peking duck.

What's the difference between the 2016 and 2017 vintages?
The 2016 vintage was very challenging in Burgundy with frost being the major problem. Many appellations such as Chassagne-Montrachet couldn't make wine. Mildew was another problem for growers. Thus, yields across Burgundy were way down for 2016. However, the berries that were produced were small with concentration of flavour and good tannin structure as well as liveliness and vibrant fruit character. These are wines that are more reserved and may not be so expressive right now; they will likely need more time to come around and should age well. By contrast, 2017 was a very sunny vintage where yields were back up and wine was more plentiful. It was a

relief for the growers. The wines are juicy and charming but lack the structure and acidity of 2016. However, the 2017s are lovely for drinking now; they are easy drinking. Florian is going to keep drinking all of them. They may not age as long as the 2016s

What does the farming practice lutte raisonnée describe?
It refers to the grower thinking before acting with his or her use of chemicals in the vineyards. In the late 1990s and early 2000s, the growers would act with chemicals, fertilizers, herbicides, and then think about what they had done. Now, with the farming practice of lutte raisonnée you think more about the effect on nature and whether these substances are really needed and alternative solutions to combatting disease and other problems in the vineyards that don't involve the use of chemical treatments.

What does 'monopole' mean?
So, you can think about this term 'monopole' by comparing two grand cru vineyards. For example, Clos Vougeot is a large grand cru appellation covering many hectares with several different owners. Then, we have the grand cru appellation of La Romanée-Conti which has just one owner, and that is a monopole.

Should we be decanting these wines?
These are red Burgundies, so they tend to be more fragile wines in comparison to wines from other wine regions. Thus, we wouldn't decant them. There is a lot of subtlety and nuance that red Burgundy can express, and decanting is a violent activity for wine that may disrupt the ability to discover these delicate notes. If you are working with older red Burgundy and want to ensure that no sediment gets in the glass, then perhaps decant just to remove the sediment. Maybe for red Burgundies like 2017s open them up one to two hours (or even three hours ahead for 2016s) before you are going to drink them. Then, pour small amounts in the glass and allow the wine to open up there.

Are grands crus always better than premiers crus and village level wines?
Not necessarily, other factors like the producer and vintage come into play. A village wine may be better because of the producer. On paper, yes, the grand cru should be better, but the producer matters and can influence the choice of whether you choose the village wine, premier cru or grand cru. We find producer matters more than classification.
These wines seem surprisingly open for being so young. How long do you think they can last?
They should be able to last another 10+ years. In these wines, you find fruit, tannin and acidity which are the factors you look to in order to assess how long a wine will last. These wines all have that, so it seems they will age a while longer.

What are some of your favourite lesser known villages?
Florian would go for Pernand-Vergelesses because of its whites. It's located just over the Corton hill, and they produce fantastic whites there, And I said I like wines from Santenay for its reds. This appellation is located south of Chassagne-Montrachet.

Edouard Parinet from Château du Moulin-à-Vent asked which wine has the longest ageing potential of the wines tasted in the session?
Florian believes the Gevrey-Chambertin, Vosne-Romanée and Pommard can all age at least 15 years. I believe that the Gevrey-Chambertin in particular will age the longest of these.

What was our favourite wine of the tasting?
Florian said the Chambolle-Musigny was his favourite wine because it reminds him of his home town of Volnay and its wines. My favourite was the Domaine Harmand Geoffroy Gevrey-Chambertin because of its concentration and the earthy notes on the nose. I liked how all the elements were coming together in the wine.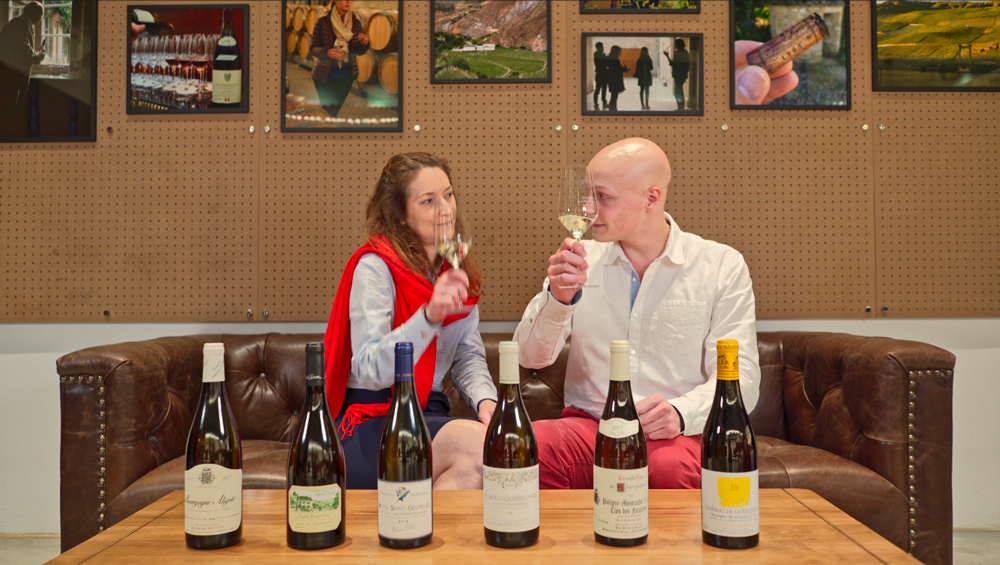 Our next live streaming wine tasting will happen on 16th April. Sign up now and get your tasting pack delivered directly to your door! In this session, we will cover white Burgundy and talk about Aligoté, Chardonnay, and Chardonnay blended with Pinot Blanc in a white from Nuits-St.-Georges, different villages where whites are made, and different styles you can find. Tune in via Facebook live on 16th April at 4:30 p.m. And if you can't join us then, don't worry, we will be recording it, so you will still be able to watch and make comments and ask questions.
For this next tasting, we will also have a lucky draw! That's right, for anyone who purchases the 6-pack of wines for our next session, you will automatically be entered in our lucky draw to win a Piccolo from VinGardeValise, our preferred wine luggage provider. This petite size wine luggage will carry 5 wine bottles safely to wherever you want to go to enjoy wine, ensuring that you have the best in your glass at any destination. And, for the lucky winner, we will have the wine luggage delivered directly to your door.
Another special feature of the 6-pack of wines for our next session is that we are also offering a special price on Zalto glasses. We realized that some of you may be joining us from your office or just do not have wine glasses at home. You likely noticed in our online live wine tasting that Florian and I were using Zalto glasses. These are our preferred glass to taste with, so we want to offer you the opportunity to taste with the same high-quality glass. Take advantage of this opportunity to stock up on these glasses which really do improve your ability to taste the wine and experience all it has to offer. Florian and I can't wait to see you on the 16th!