By Linden Wilkie, 11 Dec, 2020
Eighteen years ago a good friend of mine and I were the lucky guests of Jasper Morris MW in Burgundy. The subject of sushi came up, as Jasper had recently been in Japan, and told us of a sushi chef who loved Burgundy. "He felt that his cellar of white and red Burgundies offered the best accompaniment to sushi." (Already a departure from the tradition of matching with sake, but it's the next point that made this story stick in my mind all these years.) "But, the key is to know what you are matching with. You have the rice, seasoned with sweetened rice wine vinegar. You have different types of fish. The soy sauce adds a mo re savoury note. Wasabi adds another dimension. As does the ginger condiment…" What you order, and where you want to focus, might lead to different wine suggestions, just as it does for any cuisine.
I was reminded of this conversation recently, when a group of five of us assembled for lunch at a good sushi restaurant, each of us with a bottle in hand – the day's theme: sushi and Champagne. In some ways I think this goes one better with sushi.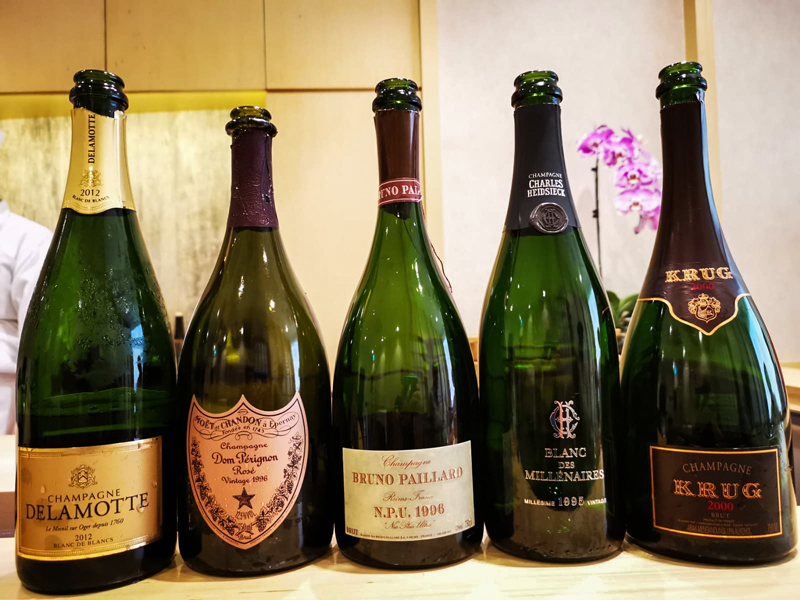 One of the Champagne region's greatest successes has been to create an acceptable product from unripe – or let's be generous, underripe – grapes, and make it not only passable, but pleasantly palatable too. Name any other region that's managed that. Few. The combination of tart fruit, a certain amount of added sweetness ('dosage' as they poetically put it), and very cold serving temperature make everyday Champagne the perfect pick me up, reception wine, apéritif…
But we are not talking about that sort of Champagne today. We are talking about that next step up and beyond it. The styles that compete with the best in other fine wine regions, that don't need that dosage to compensate for what's lacking, and which are capable of expressing complexity, balance, and length of flavour. Gastronomic Champagne, if you will.
The five Champagnes we downed in the name of science offer good variety for discussion here, but I'll try to be both brief and practical here.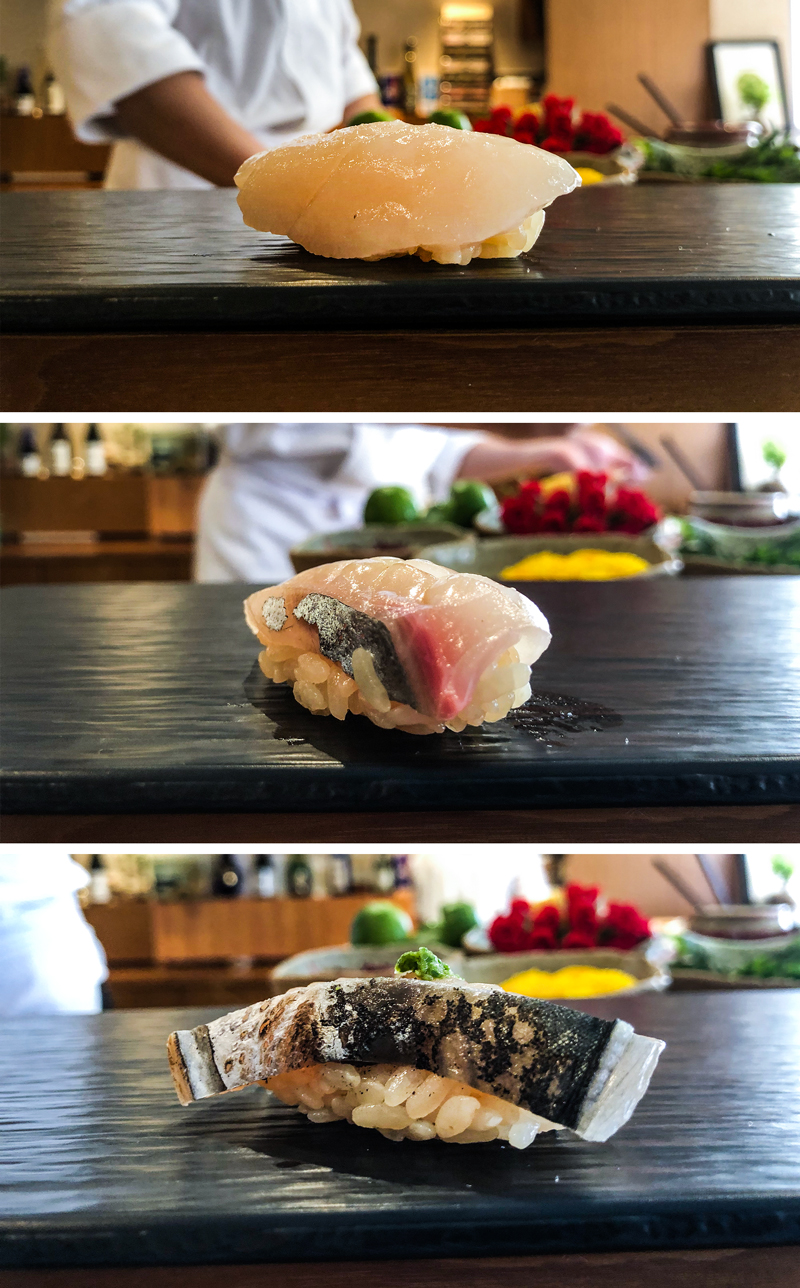 Delicate White Fish & Shellfish
At the more delicate taste, low-fat end of the scale, be careful, as a gastronomic Champagne may overpower in flavour in a way that good sake would not. I'm talking about the likes of tai (sea bream), hokkigai (surf clam), ika (squid), for example. Generally here I'm looking for young(ish), fresh, vibrant Champagne. We had a superb 2012 Delamotte Blanc de Blancs that did the trick nicely, with its delicate crisp lemony taste. Our 2016 Georges Laval 'Les Chênes' Cumières 1er Cru Brut Nature, a zero dosage 100% Chardonnay Champagne would be brilliant here.
Oilier White Fish
For those fish where the oiliness and flavour of the skin and fat just beneath play a bigger role, I want a more complex taste in the Champagne. Fish examples include here kohada (gizzard shad), sanma (Pacific saury), iwashi (sardine), and sawara (Spanish mackerel). One of the highlights of our lunch was the 1995 Charles Heidsieck Blanc des Millénaires, a wine I have known and loved for some years now. In recent years it has been something of a Peter Pan – surprisingly youthful still and fresh. But the bottle at this lunch showed a positive new dimension of aged complexity and nuance, without losing the fresh citrusy vibrancy. There was a note of yuzu too. It was acclaimed by the group wine of the lunch. If you haven't tried this one recently, I suggest you do. If you have none in your cellar, you'll kick yourself if you miss the last of this late-released stock, as Charles Heidsieck have moved on to later vintages. (You can read more about this one at my colleague Alexandria Cubbage's write up of the 1995 Champagne horizontal she recently hosted).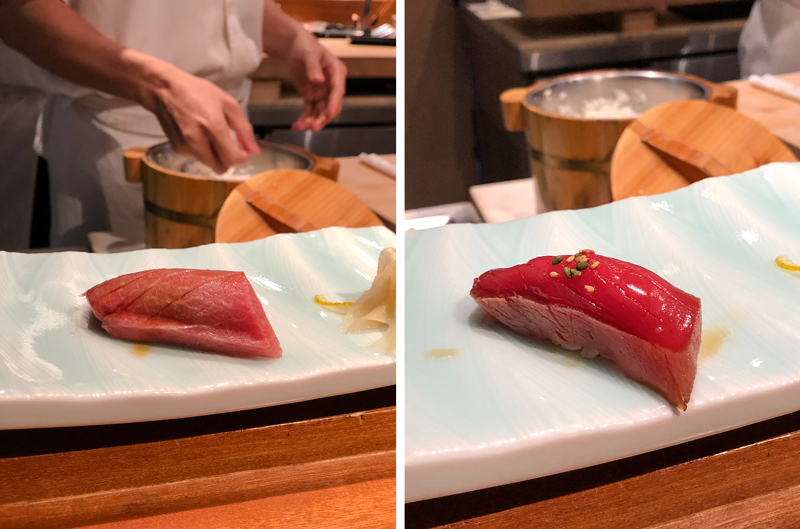 Richer, fuller-flavoured fish
I just love kampachi (yellowtail) for its firm flesh and creamy texture. Likewise that fattier tuna, chu-toro. Here I want a more symphonic Champagne, and we had just the one – 2000 Krug Vintage Brut. There really is for me something about the 20-year mark with vintage Krug. I would go for the 1998 Krug Vintage Brut. It's a little firmer and a little toastier than the 2000, but displays that immense depth that is inimitably Krug.
A special case for Maguro and O-toro
Most sushi lovers, and I'm no exception, love raw tuna. Lean tuna, maguro, gives a clean, sea-fresh, iodine/blood-tinged taste. It's quite meaty. O-toro, the choicest fatty part from the front of the tuna's belly gives the maximum in sensual creamy texture and richness, but also retains that meatier flavour. Here, I think the best choice is mature rosé Champagne, and we had just the one – 1996 Dom Pérignon Vintage Rosé. Recently retired chef de cave Richard Geoffroy changed the direction of the rosé in the 2000s, increasing the proportion of pinot noir added, giving it a more 'winery' colour, taste and fruity intensity. I like what he did, but there are occasions when I want the more old school, more understated version. The 1996 falls into that camp, now a paler coppery-salmon colour, it is earthy, with lovely elegant fruit, and just a faint hint of phenolic-texture on the finish. The 1996 vintage also delivers fine, slightly nervy acidity, a good foil to the richness of the tuna belly.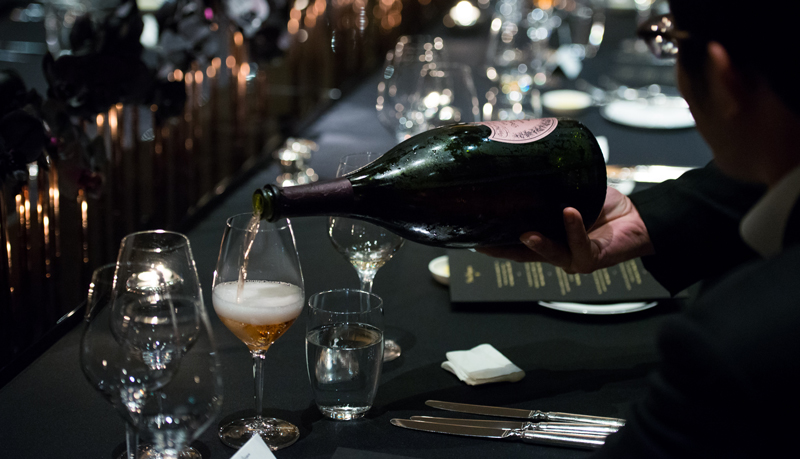 The Fine Wine Experience Dom Perignon Dinner 2014
An All-rounder?
One Champagne to rule them all? I want something with good definition, but also good fruit, some maturity and complexity, but also plenty of vibrancy. We drank an interesting Bruno Paillard 'N.P.U." prestige cuvée at our lunch. It's a house I remember I like when I see it, but then don't remember to buy some otherwise! We happen to have the perfect vintage on the list – 2002 Bruno Paillard, a low dosage Champagne blending equal amounts of Chardonnay and Pinot Noir, with a little Pinot Meunier. Classic.
When you find your perfect sushi and Champagne match, drop us a line and let us know. Meantime, here is my suggested list to get you started.