By Linden Wilkie, 28 October 2022
I spent last week in Piemonte, visiting producers in Barolo and Barbaresco. I spent an afternoon walking the vineyards with Claudia Cigluiti and tasting the latest wines.
The estate is perched on the ridgeline of the cru Serraboella, with stunning views either side, made all the more dramatic by the autumn fog. This gives the vista a moody 'watercolour' rather than 'acrylic' feel.
The smell of these beautifully scented wines, and autumn hanging in the damp air brings on appetite, which is just as well as the hospitable people of these Langhe hills know how to eat.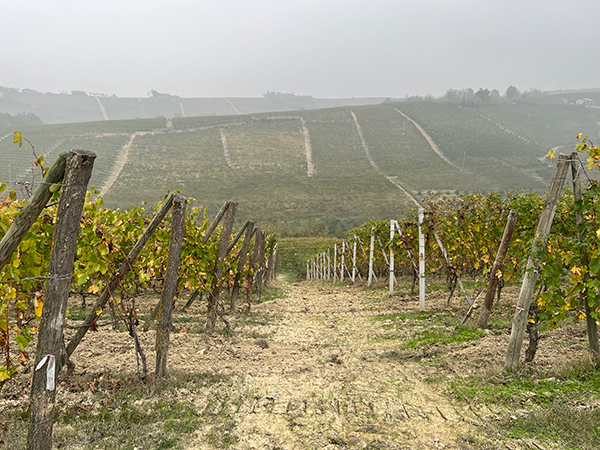 Serraboella whiter soils
We met later for dinner in the ancient village of Neive at her brother-in-law's Max's new place – Umano. Here local classics are elevated – uova and porcini mushrooms as salads, egg-yolk rich Tajarin noodles, stuffed ravioli del Plin, finely chopped raw veal with olive oil and hazelnuts so tender it's like Japanese negitoro mashed tuna, and of course…. the beef! Umano is the kind of place with enormous slabs of aged beef in a cabinet to point at, discuss and choose.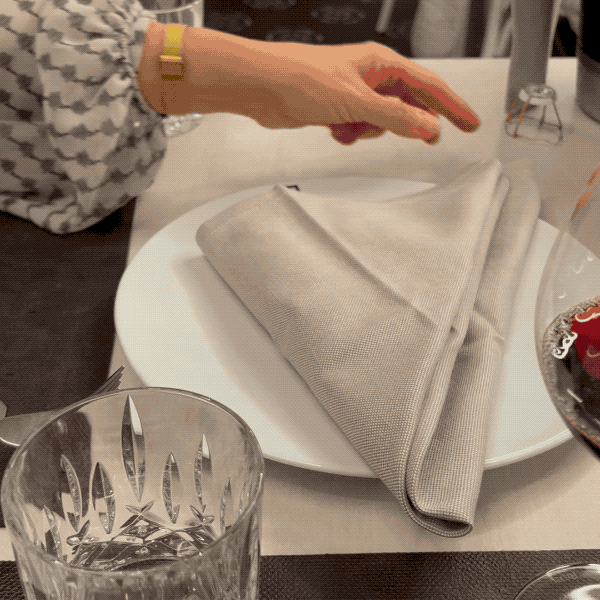 Ravioli del Plin
Claudia and my foil this evening was a magnum she brought and served blind. A classic I thought – Barbaresco Serraboella, in a great, 'straight' classic vintage like 2010, 2008, 2004, or 2001 I thought. I settled on 2004, but it was 2001. Amazing – it was so fresh, expressive, ready yet still with its youthful shape. I wrote –
Still a full colour, ruby-red with a russet element only at the rim; the aroma soars from the glass, vibrantly fresh and in its full prime – gently cooked pure strawberry and small red cherries, a touch of confit rhubarb, and sweet cigar tobacco, with an underlying touch of earth, it's an inviting aroma; the palate is rich, full, yet transparent and lively, with those aromas echoed as flavours, a juicy spine of acidity cuts the glycerin-edged fruit, and fine, granular tannins remind us this is Nebbiolo, as refined as it is, with plenty of fruit sap coating them along the way. It's elegant, structured, fruit-laden, deeply complex and satisfying wine.
95/100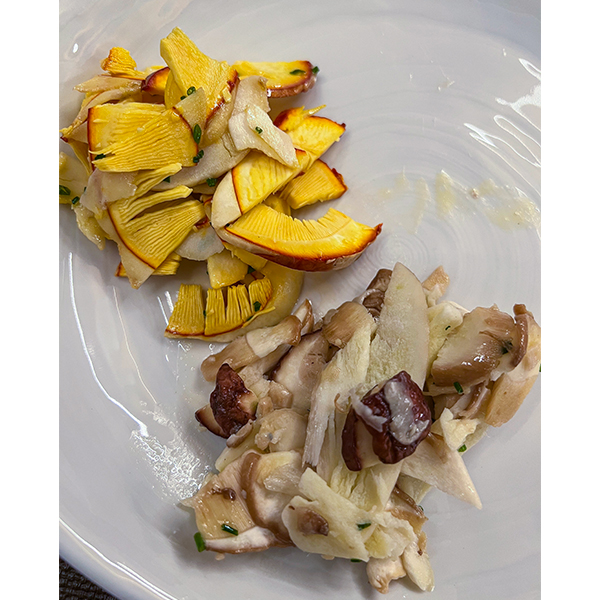 Uovolo and porcini mushrooms
With an embarrassingly small amount of help from Max, and a neighbouring table, we finished the magnum, though I promise only so I could make this tasting note.
There was a reason I really should have guessed 2001, but was too astonished by the freshness to do so. While tasting the newly released 2019 Cigluiti Barbarescos earlier in the afternoon, I remarked how good, how classic and fresh they were, I asked her which year they reminded her of…. 2001.
As Antonio Galloni has already tipped us off, 2019 is 'an extremely promising vintage'. Here's my advice: buy and lay down the 2019 Cigliuti Barbaresco 'Serraboella' and the 2019 Serraboella Barbaresco 'Vie Erte'. These are lovely classics, and in a few years' time you'll be glad you laid some down, and astonished how little you paid 'back in '22'.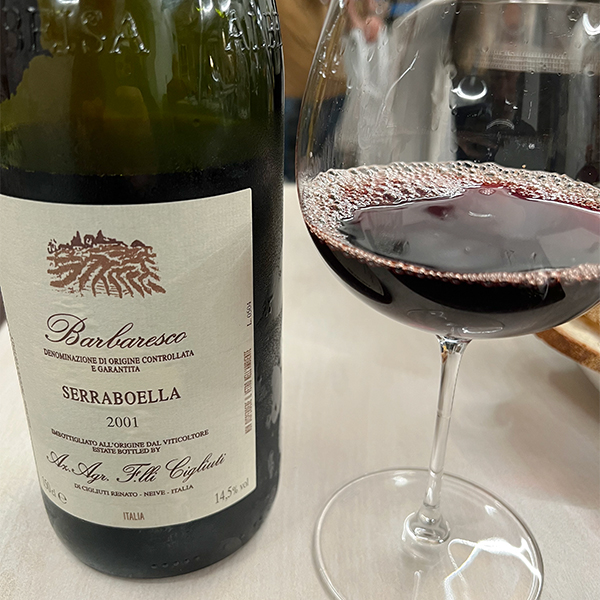 My notes on the pair, tasted last week –
2019 Cigliuti Barbaresco 'Vie Erte'
From a very steep part of the Bricco di Neive cru – the next hill over from Serraboella, 'Vie Erte' is a proprietary name. From a 20-22 year old vineyard, this see stainless steel fermentation, cuvaison of 15~20 days, and then 24-26 months in large Slavonian oak botti.
Fine bright ruby; fragrant, spicy, peppery fresh, wild strawberries, a touch of cooked rhubarb, spices – a complex nose; bright an almost peppery-fresh, firm for now, this is structured, elegant in weight, a touch of sweet pipe tobacco on the subtly scented finish. 93/100
2019 Cigliuti Barbaresco 'Serraboella'
From both sides of the crest with limestone, clay and a small amount of sand, the soil varies plot by plot from light grey to mid-brown. Made the same way as Vie Erte, but 80% of it aged in botti, and 20% in tonneau.
Fine bright ruby; a deeper, spicier, more -tobacco-laden nose, lovely fruit, spice, a cool freshness and juicy ripeness, nice tension between the elements expressed on the nose; taut, fine-structured, mid-weight, the limestone element is clear here compared to Vie Erte, the tannins are fine, well-covered by sap and fruit. A very fresh expression of Serraboella, fragrant, expressive, but needs some cellaring to resolve the tense fine structure. Very good.
95/100
The 2019s are on their way to Hong Kong, but available 'pre-arrival' now. The previous super classic vintage was 2016, and before that, 2010. Those are the three vintages you must have in the cellar. We have the '16, and because of a recent library release from the estate we have a little '10 too.
2017 is a hotter, drier year, and it has a gourmand, rich feel. Personally I prefer the 2015s – we have five bottles left of the Serraboella. This is the place to start if you'd like to taste to see the style. Give it an hour or two in the decanter first. And, though still young and compact, the 2016s are worth trying, just to see the quality – give this one three hours!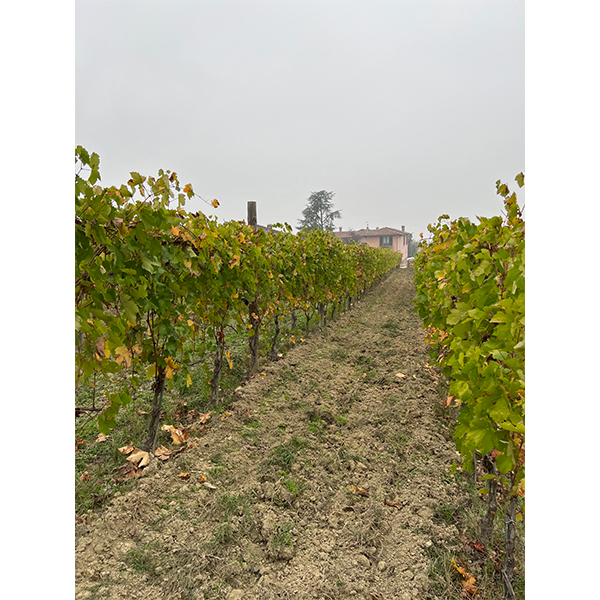 Serraboella browner soils
I'm convinced more than ever that despite the challenges of global warming the Langhe region is reaching its greatest moment today. People like Elio Altare in Barolo's La Morra, and Claudia's father Renato Cigliuti made radical changes to springboard Barbaresco and Barolo to attention. This century everyone has benefitted from advances in winemaking, and viticulture, and the income that has come with global recognition. Though some estates have seen prices rise dramatically in the past few years, there is still enormous value… like here, at Cigliuti. I'm putting a lot of these wines away myself.