Written by Alexandria Rae Cubbage, Senior Wine Specialist and Business Development Manager
Ever since I first entered the wine trade back in October of 2006 and started studying about Burgundy and drinking the wines, I've always wanted to attend a tasting with Aubert de Villaine. And on 29 June, I got my wish. Mike, Linden and I joined other wine lovers from around the world in Beaune for an in-depth tasting of the 2015 vintage guided by de Villaine. The reverence of the room matched perfectly with my image as everyone sat intensely focused on de Villaine's comments about 2015. He exclaimed that 2015 will remain a great vintage, and the wines measured up to his excitement for this year.
As we began the tasting, de Villaine described the weather conditions during 2015. It was a mild winter with lots of rain. Then came a beautiful spring with good conditions during flowering which took place at the end of May and into early June. De Villaine explained that the North wind helped to protect against millerandage which is a frequent concern. Then, July brought some hot days, but storms came in which provided much needed water to cool down the vines. August followed with cold weather, but it wasn't too cool. Then warm weather returned in September along with a big rain on 12 September. However, the harvest took place without any issues and the grapes and vines were in good shape. The harvest at DRC began with the Montrachet vineyard which was harvested on 4 September; it's unusual to begin the harvest with this vineyard, but it's what the 2015 vintage called for. Then, on 5 September Corton was harvested and on 6 September the vineyards in Vosne-Romanée – La Tâche, Romanée-Conti, Richebourg, Grands Echézeaux and Echézeaux – were harvested. De Villaine said he's never seen vineyards behave so well throughout a vintage. In terms of weather conditions, de Villaine noted that 2015 might be like 1999 or 1966 (his first vintage in Burgundy), but he didn't analogize the wines to any other vintage.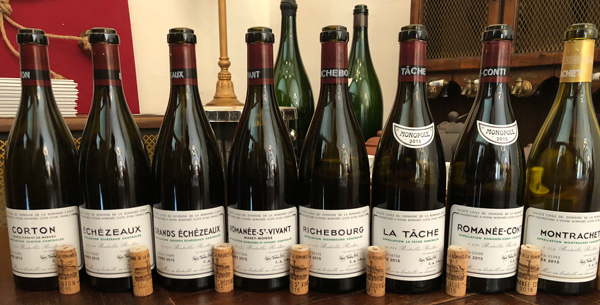 The first flight of our 2015 DRC tasting was Corton, Echézeaux, and Grands Echézeaux. The Corton seemed to divide the room as some felt the wine was reductive or a little weird on the nose while others found it quite expressive and more open than the other wines in the flight. I found the nose a bit confusing on this wine, but on the palate the sweetness of fruit produced in the 2015 vintage came through. The flavours conveyed on the palate were dark cherry and raspberry combined with earthy notes of dried leaves and forest floor with medium tannins that were nicely rounded out by the concentrated fruit.
The Echézeaux displayed more lift and structure. On the nose, both red and dark fruit aromas came through interlaced with floral notes. The palate was again very concentrated with more crisp vibrancy to the fruit and firmer tannins as well as greater intensity to the weight of the wine.
But, my pick of this flight was the Grands-Echézeaux. It wasn't nearly as expressive on the nose as its counterparts in the flight, but there was more on the palate. This wine displayed lots of depth and was well structured with intense dark berry fruit combined with minerality. The Grands-Echézeaux needs time, but that's the nature of this wine, and I look forward to seeing the complex layers that will reveal with time.
De Villaine explained that tasting the Echézeaux and Grands-Echézeaux side by side is a good lesson in the terroir of Burgundy and how its wines reflect their place. Specifically, he described the soils of Echézeaux as shallow and rocky with those of Grands-Echézeaux being deeper and made up of clay. While these two Grand Crus are separated by very little, their terroirs are distinctly different which plays out in the wines.

The second flight was Romanée-Saint-Vivant, Richebourg, La Tâche and Romanée-Conti. RSV conveyed purity and elegance. The nose was floral with red berry and more cherry notes continuing through to a concentrated palate. The tannins were present but they weren't harsh or aggressive like we frequently find in young wines; these tannins were encapsulated by the fruit concentration giving them silkiness.
Then, came Richebourg which was the favourite of most at the tasting. Opulent flavour and intensity are the best descriptors for this wine. It yielded toasty notes combined with sweet baking spices of cinnamon, nutmeg and clove with a touch of vanilla and violet floral aromas. The predominant fruit on the nose and palate were plum and cassis with other sweet dark fruits blended through as well as minerality. It was a deeply concentrated wine with a lasting finish and quite the crowd pleaser.
My favourite wine of the day was La Tâche. I wanted to keep smelling the nose as I loved the combination of Chinese 5-spice, floral red rose and red and dark cherry aromas. It was an incredibly complex mix of flavour here that lead into a concentrated and pleasing palate where the spice flavours seemed to complement the sweet fruit in just the right way. The wine felt balanced and harmonious with a finish that went on and on.
The other star and likely standout of the day was Romanée-Conti. There were spice notes to this wine as well, but they were more delicate with scents of cinnamon and cardamom and these aromas combined with earl grey tea and floral notes. The fruit was quite pure in expression primarily with dark cherry and cassis aromas with a hint of sweetness to the fruit on the palate. There were tart cranberry and red cherry notes mixed in that interplayed well with the minerality and provided vibrancy. The wine is structured with a long length and deep concentration and intensity. It's clear that this wine is one that needs time to fully come alive.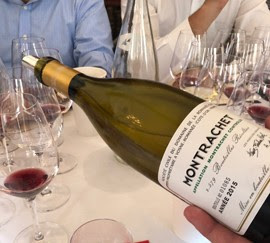 Last, but certainly not least, was Montrachet. This white was exploding with flavour and intensity. It displayed toasty aromas combined with vanilla and sweet baking spices including clove, cinnamon and nutmeg. The fruit notes included ripe golden delicious apple and pear as well as exotic fruits with an underpinning of lemon curd and lemon citrus. This 2015 Montrachet was concentrated and full-bodied with nothing shy about it.
When asked about the ideal drinking window for these 2015s, de Villaine explained that he doesn't think it's a crime to open these wines now. He felt the Echézeaux and Corton were the most open and recommends keeping the Romanée-Conti for a long time before drinking it. As for the others, he said you should enjoy them as you like. The takeaway from this incredible tasting is that the 2015s from DRC are quite special and something worth purchasing for your cellar. While you'll need to wait a bit longer for us to have some 2015s to offer, we have other very special DRCs on our list that's attached above (or read it online here). Some suggestions below to get you started are the following: 1999 DRC Assortment, 1999 Richebourg, 2010 Romanée-Saint-Vivant, 2010 Romanée-Conti, 2001 La Tâche, and 2001 and 2004 Montrachet. If you find yourself with questions, would like photos or advice on which wines to choose feel free to reach out. My gratitude to you Monsieur de Villaine for your time and for sharing your insights on the magic of Burgundy as expressed through your words and the wines of DRC.