By Linden Wilkie, 20 Oct 2020
Recently, The Fine Wine Experience hosted a white Burgundy masterclass lunch with Allen Meadows aka Burghound. It was a very 2020 sort of event. Participants were seated 4 to a table spaced out in our large dining and tasting room, while Alexandria co-hosted in the room, I co-hosted via Zoom from Singapore, and Allen presented via Zoom from Los Angeles. Last year we might have marvelled at this, but not anymore. Still, while those in the room tasted their way through 12 top 1er cru examples of Chassagne-Montrachet, Puligny-Montrachet and Meursault, Allen sipped tea and I made do with water – and we didn't get the Bâtard lunch either. So, I think there are still improvements to be made in this format!
A lack of wine to taste in Los Angeles and Singapore meant Allen was in full 90-minute flow comparing these villages and wines, and I had time to scribble plenty of notes as he spoke. So, what you get here is a few key takeaways on what Allen had to say, from me, and tasting notes on the wines presented, from Alex.
(Note – these are my notes from what Allen was saying, so apologies in advance if any errors in fact or interpretation have crept in).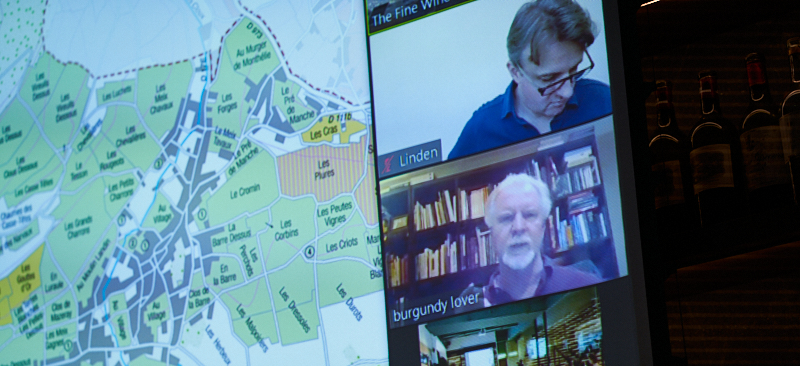 Climats and Lieux-Dits
This was perhaps the biggest nugget of the 90 minutes, and Allen spent quite some time on this, and what the differences are. Allen in fact divulged that this is the subject of his next book. The key point is that if all of a given wine in an appellation comes from just one lieu-dit ('named-place' plot), then the wine can use the lieu-dit. At 'villages' level, think for example Domaine Roulot Meursault 'Les Vireuils'. We know this wine isn't a 1er cru because it doesn't have Meursault 1er Cru on the label. And we know that all of the fruit came from Les Vireuils only because any blending of other villages-level plots would lose him the right to use that name on the label. At 1er cru level things get interesting. In our tasting for example, one of the wines from Château de la Maltroye comes from the 1er Cru climat of 'La Grande Montagne', but because it is 100% from the 'La Romanée' lieu-dit within that, it can be labelled Chassagne-Montrachet 1er Cru 'La Romanée'. A climat can have multiple lieux-dits, and if all of the wine bottled comes from one of those lieux-dits, then that lieu-dit may appear on the label.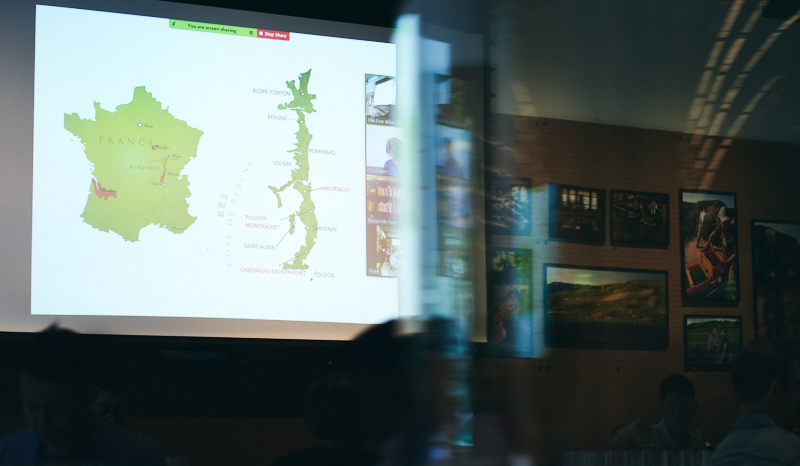 Puligny-Montrachet
The smallest of the three villages we looked at today, and the easiest to understand according to Allen. At village level there are 25 lieux-dits, with three of them being within Blagny. Aside from the Blagny ones, Puligny's village-level vines are below the village itself. With the exception of 'Les Enseignères', the best of the villages lieux-dits come from the north side of the appellation.
On the 1ers Crus we began with 'Les Chalumaux', which Allen says drinks well early on but actually ages pretty well, has good minerality, but is also pretty rich – like a golden retriever it is always in a good mood. 'Champ Canet Clos de la Jaquelotte' gives us some of the technical nuance of climat v lieu-dit. Clos de la Jaquelotte is a lieu-dit in Champ Canet. Domaine Carillon has some, but blends it with plots elsewhere in Champ Canet, so calls it 'Champ Canet'. That leaves Domaine Paul Pernot as not the sole owner, but the sole-labeller of 'Champ Canet de la Jaquelotte'. (Phew!). Allen argues that while Champ Canet proper is typically rich, the Jaquelotte portion is more mineral in style, approachable young, but ages well. The Paul Pernot style is forward, approachable young in any case. Pernot typically bottles within 10-11 months of harvest – i.e. before the next harvest takes place. 'Les Folatières' is the largest 1er cru at 17ha, so there is a lot of nuance within it. It is a precocious vineyard, the first to be picked. It's warm because it is protected from north winds by a stand of trees. Judging the picking date is critical here as the window for optimal ripeness can be short. Done right it ages well and is the iconic Puligny 1er cru. 'Les Pucelles', has two lieux-dits and Leflaive has vines in both – 60% in 'Les Pucelles' (oh yes, did I mention that a lieu-dit can have the same name as the climat?), and 40% in 'Clos des Meix'. The latter has more soil, holds more water, and therefore one has to watch yields. Allen says that Pucelles, Cailleret and Combettes are contenders for best Puligny 1er cru, and after years of tasting he has come round to the view that Pucelles is best. Made right it has a honeysuckle note, and it is always a wine of class. It's appealing early, but ages deceptively well because it is naturally rich. 30 years is not out of the question.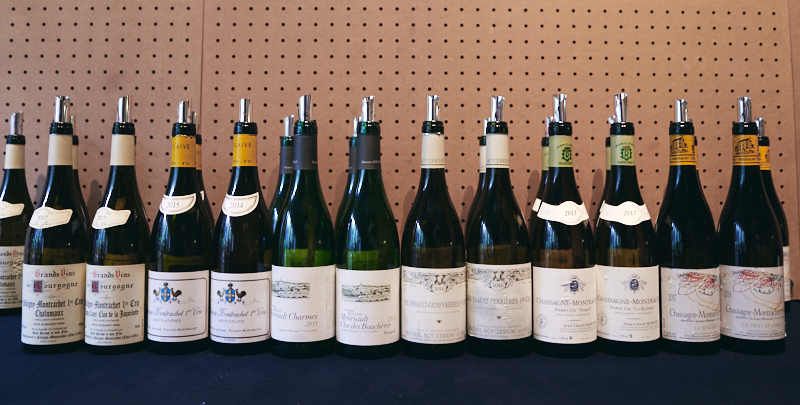 A participant asked Allen if he could express the difference between Puligny-Montrachet, Chassagne-Montrachet and Meursault. Allen replied that Puligny has class, very good acidity and linearity, and that no place else in the world can quite do this. Meursault is too big and heterogenous to give such a summation of style, but generally up-slope can give the linearity, minerality of Puligny (but perhaps not the same class), and down-slope the wines are richer. Chassagne-Montrachet is the most distinctive. The wines tend to be more rustic. In the 19th century 90% of its vines were for red, not white. The style today is what-you-see-is-what-you-get. But the wines here can age, and they do transform.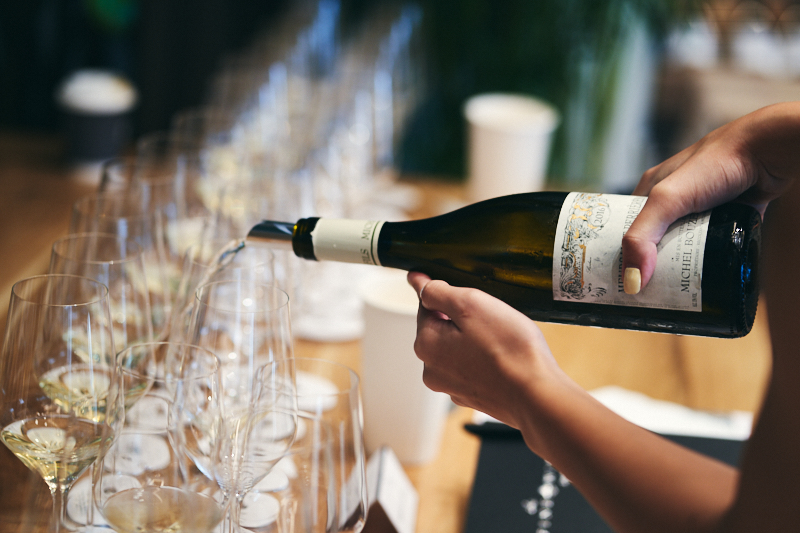 Meursault
An immense commune, village-level wines is where Meursault shines. Village-level 'Tessons', 'Vireuils', 'Narvaux', they are not as classy as the 1ers crus, but they are very good, and elsewhere would be good enough for 1er cru status. Global warming is also helping them (they are up-slope). The down-slope wines are plump and rich, not mineral. Up-slope wines have finesse and are mineral. Meursault, says Allen, is a complex subject, but well worth your time, especially the up-slope part.
1er cru 'Les Charmes' is a very large climat of 31ha, so its variability is not unlike that of Echézeaux. There are two lieux-dits here – 'Les Charmes-Dessus' and 'Les Charmes-Dessous' (i.e. upper and lower). Dessus is superior, while Dessous has cuvettes which hold water and can lead to over-production and rot issues. The key to making good Charmes is to manage yields. Dessus can rival 1er Cru 'Les Perrières', and can age exceptionally well, and with a generosity you don't get with 'Perrières'. Allen likes Charmes a lot. Given it is a large vineyard many producers make it, so it is not as prestigious as (the smaller) Perrières. 'Clos des Bouchères' is a lieu-dit within the 1er cru climat of 'Les Bouchères' (near the break in the line of the border with 'Le Porusot'). Allen thinks Bouchères has had a bad reputation because it hasn't been made right by many. Until the 1950s much was sold under the name of neighbouring 1er cru 'Les Gouttes d'Or', and in that style, Bouchères was consequently picked too late, making uninteresting wine. Fortunately today, in the hands of Jean-Marc Roulot, it is picked on the early side, and with that we now see its potential for real finesse. Indeed, Allen argues, Bouchères, picked early, is Meursault's finest 1er cru in the sense of the word that is finesse. Picked late Bouchères is the least interesting of Meursault's 1ers crus. Fortunately, the key to Roulot's wines is to pick early and retain acidity and minerality. Jean-Baptiste Bouzereau's style is much like Roulot's in Allen's view – he is looking for that acidity. It's not the same level quite as Roulot, but if you like Roulot Allen thinks you will like Bouzereau, as there is a stylistic resemblance and Bouzereau has very good vineyard holdings. 'Genevrières' is, declares Allen, his favourite wine in Meursault. It may not be the best (Perrières is top contender), but Allen loves the special exotic spice or tea-like expression found in Genevrières, and this 1er cru's balance between minerality and richness – like, says Allen, a theoretical blend of 2/3 Perrières and 1/3 Charmes, but with that special aromatic signature of its own. It is a very very classy wine. There are two lieux-dits here – 'Les Genevrières Dessus' and 'Les Genevrières Dessous', with up-slope being superior, but with a difference between the two not as great as we find in Charmes. 'Perrières', Allen contends is almost too much of a good thing. Here it is the lower portion that is best, and the up-slope portions suffer sometimes too much coolness as well as hydric stress. Perrières is arguably Meursault's greatest 1er cru, offering minerality, and incredible longevity.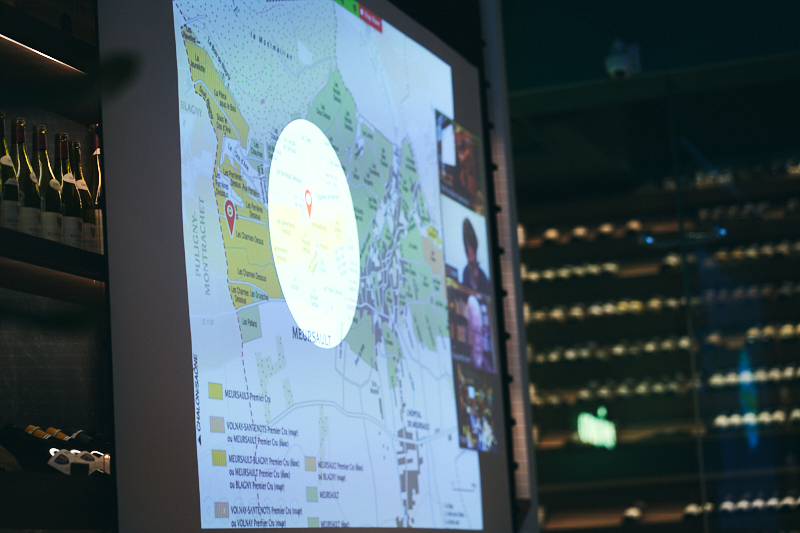 The section on Meursault finished with a participant question – when we look at the mid-slope 1ers crus, why do they stop at 'Les Goutte d'Or'? Allen replied that when we look at the continuation of that line – 'En Luraule', 'Les Grands Charrons', etc, these are not even the best of the Meursault villages level lieux-dits, and in the lieux-dits further up-slope from these, where today arguably the best of the villages-level Meursault wines are sourced, at the time the AOC was put together these didn't reliably ripen. (Global warming has meant that today they do).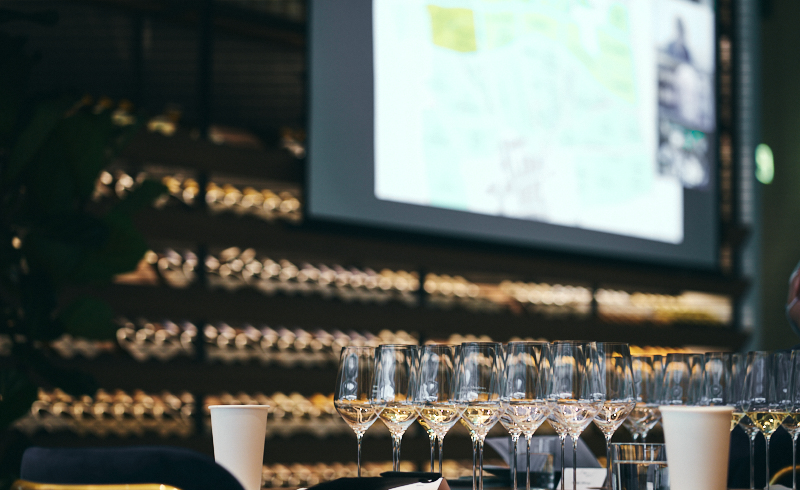 Chassagne-Montrachet
All the villages-level vineyards are below the village (with just a couple at the top). When the AOC was created, Chassagne was relatively generous in giving out the 1ers crus to vineyards. Also, the commercialising strategy was to group together smaller names into larger ones. For example, 1er cru 'Morgeot' is 63ha in size and contains 22 lieux-dits. So, you don't really know where a bottle of Morgeot is really from within that unless you know the domaine's holding. In the case of Domaine Jean-Claude Ramonet it is in 'Abbaye de Morgeot' at the southern upper slope of Morgeot. Today we are seeing some growers include the lieu-dit name to their Morgeot. You have to consider that Morgeot is bigger than Clos Vougeot! So, you need to know where your Morgeot is coming from. Morgeot is rarely a distinguished wine, but Ramonet's is good.
Pinot Noir is declining in proportion every year in Chassagne-Montrachet. The reason is money. Chardonnay is easier to grow, and easier to sell. Per hectare under vine you can grow 50% more Chardonnay than Pinot Noir. The trend here is known as le blanchissement de Chassagne-Montrachet – the whitening or bleaching of Chassagne. If you buy Chassagne-Montrachet land that is planted to red, the price will be worked out as if it was planted to white, less the cost of grafting over to Chardonnay, because it is presumed that you will.
'Les Ruchottes' is a completely different wine. It is up-slope, and it is mineral in style. The climat of 'La Grande Montagne' has four lieux-dits, and 'Les Ruchottes' is one of them. But in practice growers with 'Les Ruchottes' will make wine from this lieu-dit and market it by this name.
Ramonet wines are very distinctive. The wines never seem to get old, and they all have this particular mintiness to them. "I've asked why, but they won't say", said Allen.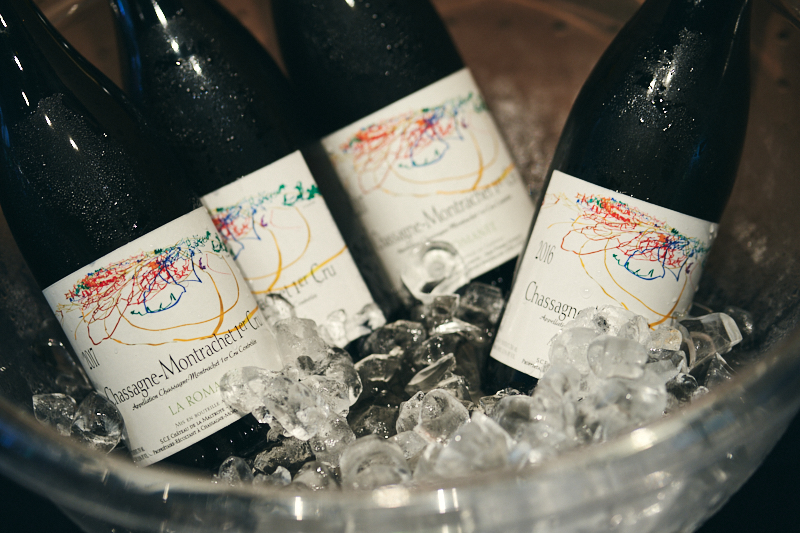 Château de la Maltroye – vigneron Jean-Pierre Cournut is very interesting. He is exacting. The wines can sometimes be woody when young, but they have the density to take this, and his vineyards are very good. 'La Romanée', is believed by some to be the best 1er cru in Chassagne-Montrachet. For Allen, the contenders are 'Ruchottes', 'Romanée', 'Cailleret' and 'Blanchot Dessus'. 'Dent de Chien' would be a contender, but it is so rare. 'La Romanée' is 'solair' – it is a warm site, and as such has exotic characters to it. Note – this is also a lieu-dit of the 1er cru 'La Grande Montagne', but the name 'La Romanée' is more prestigious). The wine is exotic but also mineral, and it is much more interesting a wine at 10-12 years of age than when it is young. 'Dent de Chien' – Château de la Maltroye does not have much of this. The vineyard itself is only half a hectare. Part of Dent de Chien was included in Le Montrachet in 1921. You get different descriptions of Dent de Chien. Allen finds it more Chevalier-Montrachet-like than Montrachet-like. It is rich but it is also mineral. It's a magnificent wine. If they had annexed this into Le Montrachet as well in 1921 no one would have minded. Maltroye has just 22 or 23 ares of it (0.22ha), so there's just very little of it.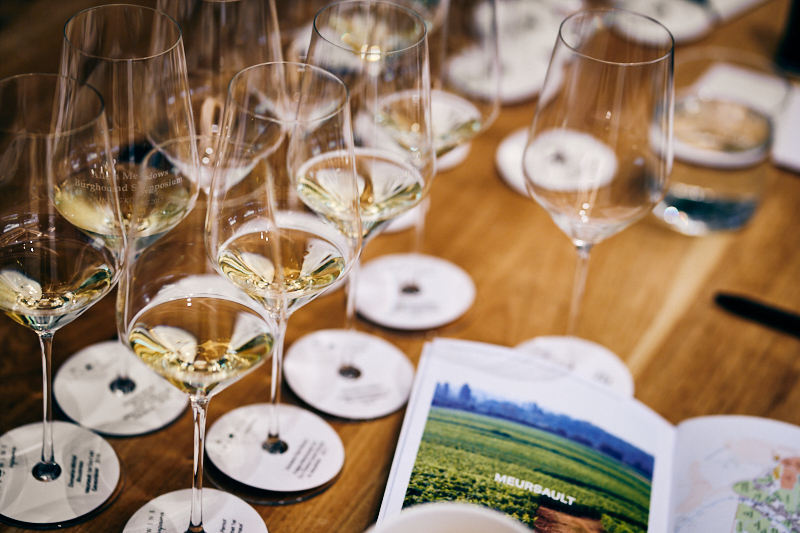 This was a super informative presentation from Allen Meadows. I learned a lot from this, and I hope these notes are useful. As always, I find when learning about Burgundy, when you peel back another layer of complexity and think you are getting closer to understanding it, what is revealed is yet another layer, and more questions to ask!
Perhaps all this is better tackled with a fine bottle in front of you. So, with that I turn this report over to my colleague Alexandria Cubbage, who tasted the wines at the luncheon masterclass. So, these are her notes below.
And many thanks to Allen for this presentation. We hope that conditions allow us to resume The Fine Wine Experience Burghound Symposium in 2021. Fingers crossed.
Santé, Linden.
Tasting Notes From Our Masterclass Luncheon:
Understanding Meursault, Puligny-Montrachet & Chassagne-Montrachet with Special Guest Allen Meadows,
by Alexandria Cubbage
1) 2017 Domaine Paul Pernot - Puligny Montrachet 1er Cru 'Les Chalumaux'
Toasty aromas with clove spice and nutmeg, golden delicious apple and pear with lemony acidity. Lots of bold and rich flavours in the glass.
2) 2017 Domaine Paul Pernot - Puligny Montrachet 1er Cru 'Champ Canet Clos de la Jaquelotte'
This wine still shows some sweet baking spice aromas, but they are softer with notes of vanilla mixed in. The fruit character is still orchard fruit with flavours of apple and pear, but the flavours are more refined and the texture is creamier.
3) 2015 Domaine Leflaive - Puligny-Montrachet 1er Cru 'Les Folatières'
The riper fruits stood out in this glass with golden delicious apple and sweet pear flavours. Aromas of vanilla and sweet herbs also showed through on the nose with a lemon curd acidity on the palate. This wine was concentrated and packed with flavour, less acidity here.
4) 2014 Domaine Leflaive - Puligny Montrachet 1er Cru 'Les Pucelles'
This wine displayed aromas of white flowers, white peach and lime citrus with a minerally spice note. It conveyed purity, tension and elegance on the palate – a very pretty and balanced wine now with many years ahead.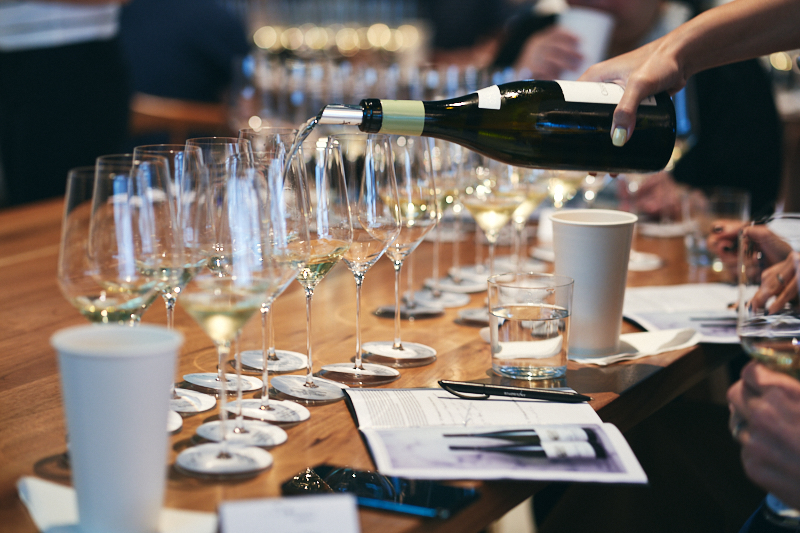 5) 2011 Domaine Roulot - Meursault 1er Cru 'Charmes'
Expressive aromatics of orange blossom, yellow peaches, and other ripe stone fruits with grapefruit and lime citrus. Concentrated through the palate with a bit of roundness while also having a minerally tension and conveying a lasting finish.
6) 2013 Domaine Roulot - Meursault 1er Cru 'Clos des Bouchères'
Honeysuckle, hint of mint and tarragon, white peaches and melon combined with lime citrus and minerality showed through in this glass. This wine was precise and elegant on the palate. The flavours became richer and more intense as the wine warmed up in the glass.
7) 2016 Domaine Michel Bouzereau - Meursault 1er Cru 'Les Genevrières'
Yellow peaches and star fruit combined with ginger and cardamom on the nose with these flavours persisting through the palate along with lime citrus. The finish is precise and lingering.
8) 2016 Domaine Michel Bouzereau - Meursault 1er Cru 'Les Perrières'
'Les Perrières' showed aromas of green apple, lime citrus, white peach, unripe nectarines and was mineral driven with tension through the palate and a medium plus body. It's a refined Meursault with mineral and citrus notes dominating its character.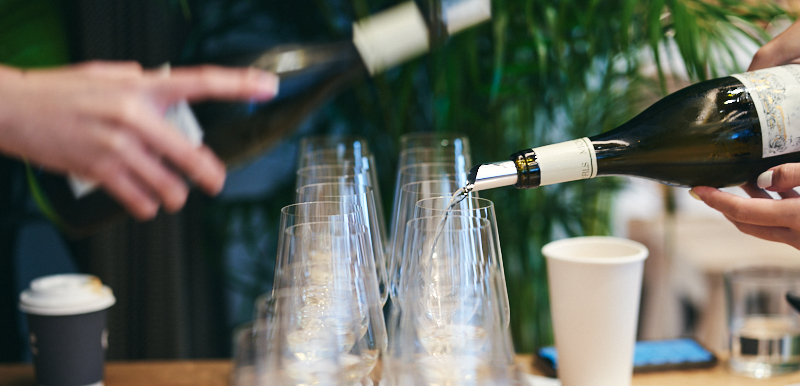 9) 2017 Domaine Ramonet - Chassagne-Montrachet 1er Cru 'Morgeot'
Aromas of tarragon, white flowers and yellow peaches on the nose with lively lemon citrus on the palate. It was quite balanced and juicy lacking the heaviness I normally associate with this wine; it wasn't as robust and full-bodied in expression as I expected.
10) 2017 Domaine Ramonet - Chassagne-Montrachet 1er Cru 'Les Ruchottes'
More aromatic intensity and concentration in this glass with aromas of golden delicious apple, Bosc pear and yellow peaches combined with a bit of mint, almond nuttiness and vanilla notes along with an underpinning of lemony acidity. The texture here was more mouthcoating and rich.
11) 2017 Château de la Maltroye - Chassagne-Montrachet 1er Cru 'La Romanée'
Intense aromas of vanilla, exotic spices including saffron combined with rich toasty notes and ripe orchard fruits. The flavours were long and ripe with lemon citrus on the palate and a rounded creamy texture.
12) 2016 Château de la Maltroye - Chassagne-Montrachet 1er Cru 'Dent de Chien'
This tasting was my first time trying Chassagne-Montrachet 1er Cru 'Dent de Chien'. I've always heard it referred to as 'a baby Montrachet' because of the history of the vineyard once being part of the Montrachet Grand Cru, but I agreed with Allen's description that he finds the flavours in this wine more reminiscent of Chevalier-Montrachet. The fruit was orchard fruit but more crisp and lively in character than 'La Romanée' with flavours of white peaches and lemon and lime citrus with a minerally tension on the palate. It was youthful in expression and very refined.