© Linden Wilkie, 28th February 2020
It was not entirely by design, but these two verticals that I hosted last year in Hong Kong, spanning some 34 years of Napa history, were touching, but not overlapping in the mid-1980s. In hindsight that is perhaps appropriate as in my view of the wines in the glass, the best of the Heitz vintages were the earliest we tasted, and the best of the Shafer wines were the youngest, give or take.
Both family-run estates are top-class, reference wines for Napa Valley, and in certain vintages each has produced some of the most sought-after bottles by enthusiasts. Each has developed something unique in what the wine is capable of expressing.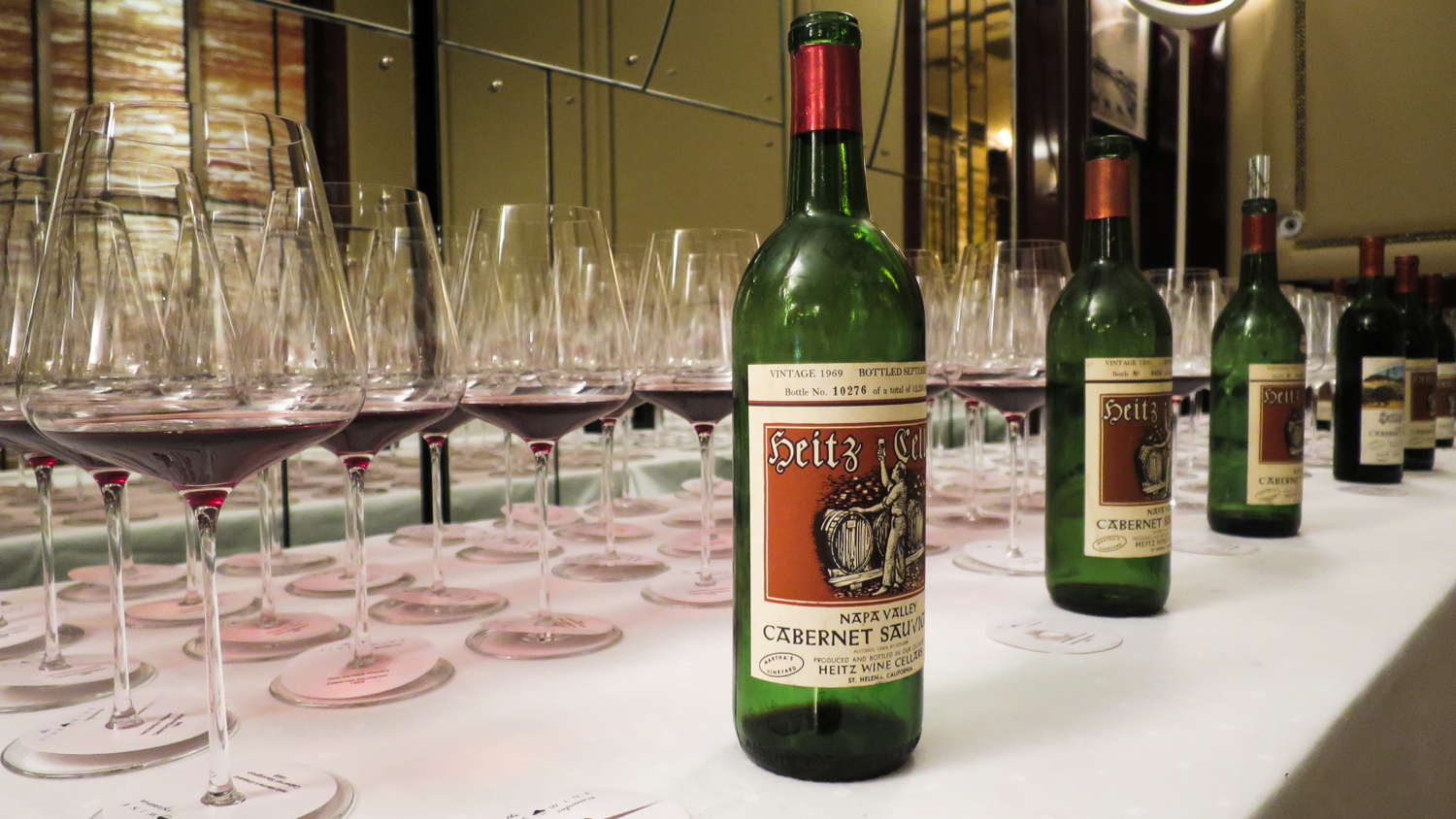 Joe and Alice Heitz began in 1961, and in 1965 began buying grapes from Tom and Martha May, from their St. Helena estate. In 1966 the wine seemed too good to Joe to blend into his regular Cab, and Heitz 'Martha's Vineyard' was born (a little joke referencing the Massachusetts island of that name). The string of first vintages catapulted Heitz' reputation to the first rank in Napa. The style was bold, for its time – the vineyard willingly giving enormous fruit concentration, and a distinctive sometimes minty, sometimes eucalyptus tone, and good complexity, and a rich texture. Long ageing (42 months – though not that unusual at the time) in French and American oak barrels, retained the power and helped polish the edges. Through the '70s, '80s and '90s the reputation held, as the baton was passed from Joe, to son David at the end of the '70s. In 1989 critic James Laube wrote of the wine in his California's Great Cabernets reference book
'Through two decades of vintages, the Martha's Vineyard character comes across as strong and definitive, placing it almost always at or near the top among California's Cabernets. In 1966, 1967, 1968, 1969, 1970 and 1974 it is the highest-ranking Cabernet of the vintage in this book. In 1973, 1975, 1979, 1984 and 1985, the Martha's places within the top three wines of each vintage. No other Cabernet can rival that track record.'

The 1974 vintage was named by James Suckling, at the time Laube's colleague at Wine Spectator, as one of the twelve greatest wines of the 20th century in 1999.
However, the vineyard had to be replanted in 1992, no 'Martha's Vineyard' was produced in 1993-1995, and only a little in 1997. While quality seems to have remained high, fashions had changed, and the sheer number of estates fully committed to the highest quality possible had grown in number exponentially.
Amongst those on the rise at this time was John Shafer and his son Doug in nearby Stag's Leap District. John planted Cabernet there at the beginning of the 1970s, and by the 1983 vintage the top label – 'Hillside Select' was born, from grapes grown on volcanic, elevated sites at Sunspot and John's Upper Seven, and later a combination of up to 14 vineyard blocks. Like the Martha's, it's always been a 100% Cabernet Sauvignon varietal wine, something that has been possible in Napa given the extra degree of ripeness possible (though note in 21st century vintages the incline in the percentage of Cabernet amongst the top Médoc producers' grand vin blends).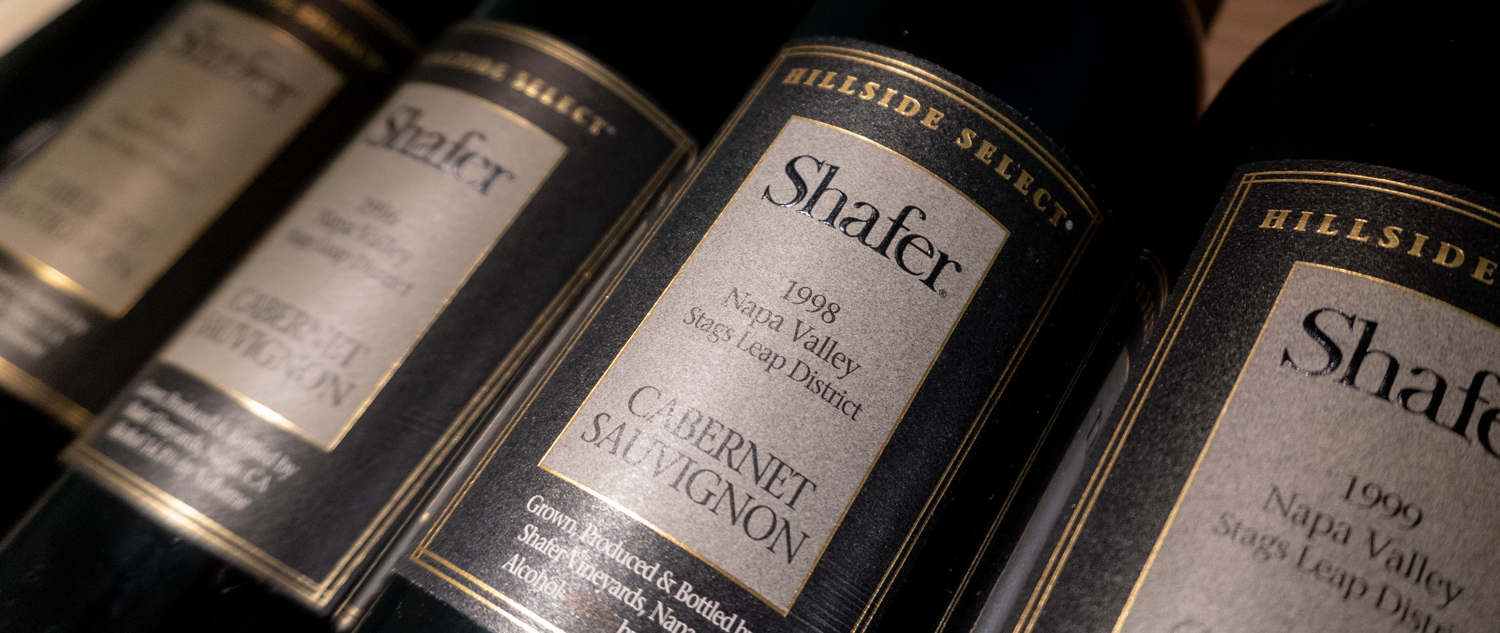 Considering our two dinner events together for this report, it is interesting to see the consistency in the Martha's wines seemingly defined from the outset – certainly by the '69 and '70 (the fourth and fifth vintages made), right through the 1986, the youngest wine we showed. By that time – the mid-1980s, the richness and boldness of the style was no longer unusual. Indeed, today, we might view these wines as elegant – as I noted more than once in my tasting notes. In contrast – and this is something that surprised me – the Hillside Select wines in the '80s and early '90s today seem a touch lighter than the bar set by Martha's. But that changed, dramatically, with the 1997 – a large and very ripe crop in the valley, that naturally produced distinctly opulent wines. For Hillside Select however, this marked the beginning of a much riper, larger-scaled style in general. It's my view that many, chasing higher critic ratings, pushed hard for this style, and produced bold but unbalanced wines for which cellaring has not been kind. Not so for Hillside Select, however. I found at our tasting a clear qualitative step up from the 1997 vintage, the Shafer's being the masters of this style at its best. It's left me tempted to taste the vintages made next – after the 2003 that ended our line-up – to see if they held the high-wire act balance achieved by 1997, 1999 and 2002, wines that offer so much fun, such a thrill.
My own favourites overall were the 2002 Shafer 'Hillside Select', and the 1970 Heitz 'Martha's Vineyard', two very different wines that show the potential of Napa Valley at its best – that is to say, the equal of anything.
In any case, I think mature bottles from both labels are wines worthy of your exploration if you haven't already ventured here. Tastes vary, but both labels have stood to test of time in the cellar (the youngest wine being 16 when tasted). My tasting notes follow.
At each event I asked participants to vote for their two favourite wines of the night, and the results of that are also noted below.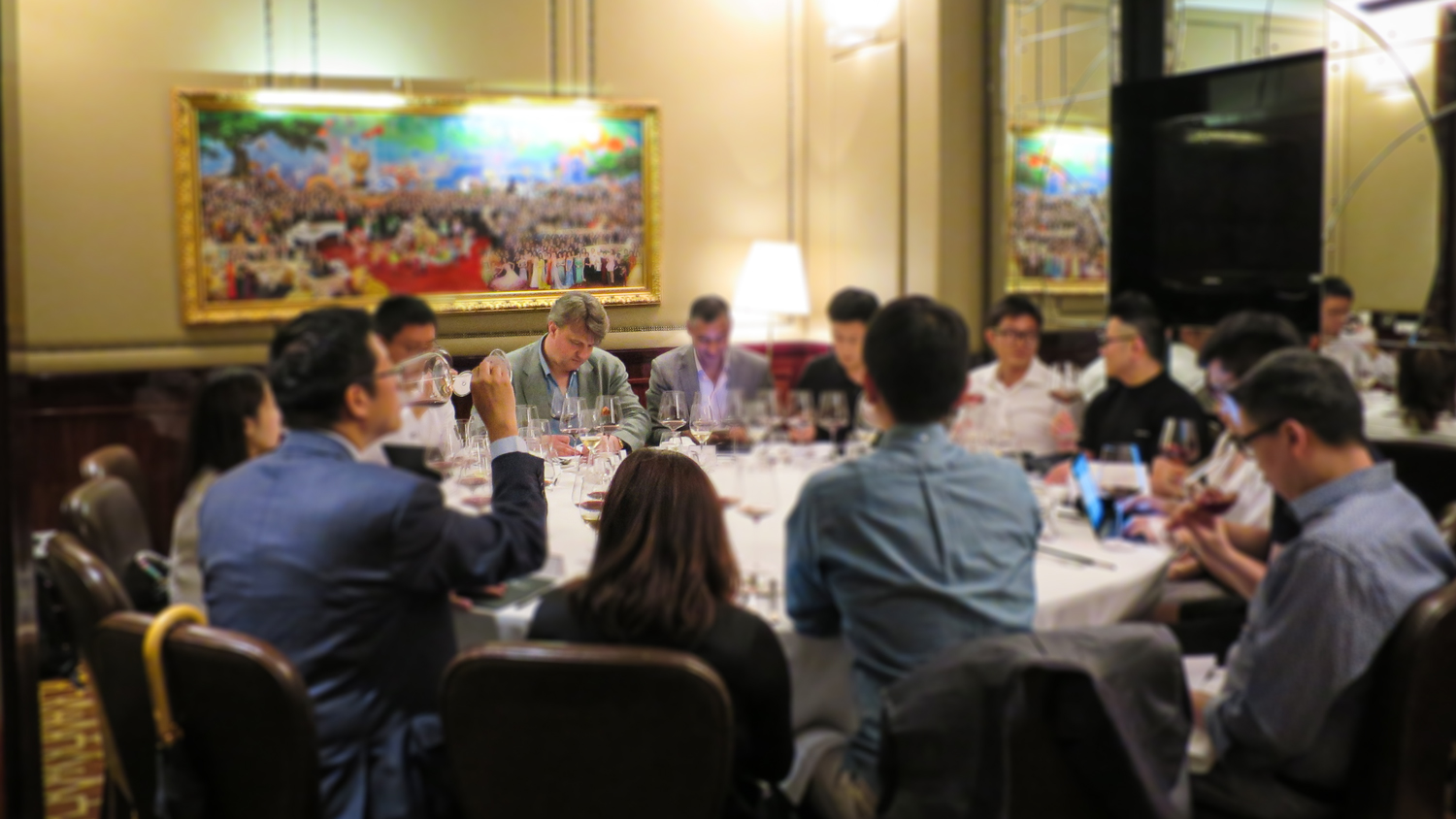 Fifteen vintages of Heitz Cellar 'Martha's Vineyard' Cabernet Sauvignon, opened and served at The Fine Wine Experience vertical, Chiu Tang restaurant, Hong Kong, 2nd July 2019.
1969 Heitz Martha's Vineyard Cabernet Sauvignon 95
Fine garnet with a broad orange rim – good appearance for age; a sweet nose, candied cherries, eucalyptus and mint, a touch of chocolate – this has a lovely fragrance; sweet attack, packed with flavour, this is juicy and fresh, vibrant, with cherry and mint, and a long lingering finish. It has seemingly lost some power, and there is a touch of dryness on the finish, but this leads to a long aftertaste. Just lovely. So beautiful, elegant and pristine in condition. It also turned out to be the most minty-scented of the Martha's.
Seven votes for wine of the night – 2nd place
1970 Heitz Martha's Vineyard Cabernet Sauvignon 97
A slightly fuller colour than the '69, clear and bright; a rich nose, dark, minty and vibrant aroma, medicinal; sweeter and fuller than the '69, juicy, but also really creamy, vibrant and long. Complex. So confident and vital, ageless. Amazing. Elegance aligned to so much intensity of flavour and layering. A benchmark old Californian Cabernet for me.
Eight votes for wine of the night – 1st place
1973 Heitz Martha's Vineyard Cabernet Sauvignon 91
Fine, clear garnet, orange rim; a more earthy and decrepit nose brings us back down to earth after the glorious '70, a bit mushroomy, but also sweet; quite lush textured on the palate, not 100% clean in taste, but lush and fruity nonetheless. Improved a bit in the glass – this is in fact good, with lovely fruit, and earthiness, and a medicinal tone to the flavour. If this sounds like damning with faint praise, it's not – it's delicious. But this wine is not in the league of the '69 or '70 tonight. After a bit more time, a coffee-toned note appeared. In decline. At best tonight,
Two votes for wine of the night
1974 Heitz Martha's Vineyard Cabernet Sauvignon 94
Not 100% bright, but a full garnet colour; rich nose, that sunny wine-gummy intensity to the fruit, sweet, this is wild and fragrant, though not as pristine as the '69 and '70. Super rich on the palate, yet still with an elegant weight, sweet melting and wild in taste, like the '70 but with more puppy fat still – melting and oozing. A touch of liquorice on the finish. After some more time in the glass, a bit underwhelming. I suspect a truly great bottle of this is capable of something special given the intensity and ripeness (and indeed it has long-held such a reputation).
No votes for wine of the night
1975 Heitz Martha's Vineyard Cabernet Sauvignon 93
Bright, fine garnet with a narrow, fine fire-coloured rim; pristine nose, cedary and sweet, cooler in expression after the '74, more Médocain in tone, with notes of earth and a hint of garden peas; lush, pristine and bright on the palate, though the finish hits a speed bump of dryness along the way. Not the length or dimension of the very best, but the attack and mid-palate are really good. In the glass this turned smokier and meltier, with a sweet cream-caramel note in the mix. Very good.
Three votes for wine of the night
1976 Heitz Martha's Vineyard Cabernet Sauvignon 90
Bright garnet with a broad fire rim; fragrant, there is a touch of rubber, leathery, spicy; fleshy attack and good concentration, there is extract here, well-managed, there is more tannin though and a dryish finish. Drink up.
No votes for wine of the night
1977 Heitz Martha's Vineyard Cabernet Sauvignon 93
Light garnet; sweet, leafy, earthy, minty on the nose; sweet though relatively light on the palate, caressing in its gentle texture, the finish is long with a coffee-cream note in the taste. This is a lighter-weight Heitz Martha's, but it is balanced and charming.
No votes for wine of the night
1978 Heitz Martha's Vineyard Cabernet Sauvignon 95
A very bright garnet with a fine, narrow browning edge; a wonderfully lifted minty sweet, great nose; wow! This is so lush, fleshy, and delicious on the palate, so satisfying, minty and fine on the end. A touch of spearmint. After some more time in glass, there was just a little dryness at the end, but the wine is lovely right now – gorgeous really, with a touch of chocolate cream at the end.
Two votes for wine of the night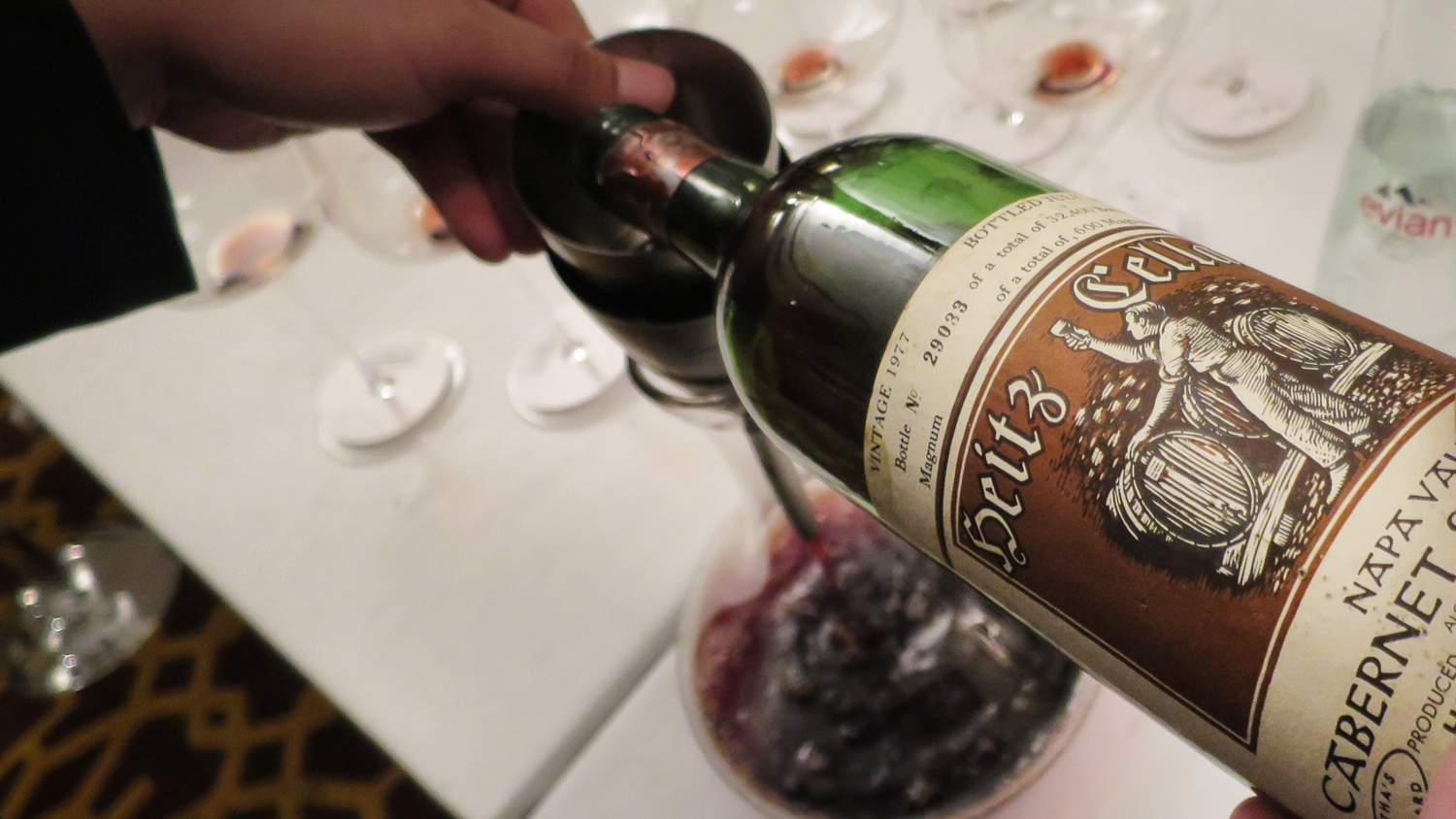 1979 Heitz Martha's Vineyard Cabernet Sauvignon 90
A deeper colour, clear and bright with a narrow rim; fine, fragrant and really minty-sweet nose showing lovely fruit; lush but more compact in feel, more tannic than the '78, and the finish shows both dryness and a little bitterness, and a touch of rubber. Overall, impressive concentration, this is a bolder style, but it is straight in nature, showing less nuance and complexity than some others, sweet fruit at the end but with a note of smoke and rubber, and a little dustiness. Overall, good.
No votes for wine of the night
1980 Heitz Martha's Vineyard Cabernet Sauvignon 95
Garnet with a ruddy rim; sweet, smoky, minty, mature nose; fleshy, sweet, lush, lovely, a touch warmer in style, but elegant. The finish is especially satisfying, sweet and expressive. This has a hint of sesame sweetness the best of old Bordeaux can also show. A really lovely wine.
No votes for wine of the night
1981 Heitz Martha's Vineyard Cabernet Sauvignon 88
Fine garnet with an aged rim; sweet but with a porcini-like oldness; on the palate, sweet, milky, malty, mature. In the end ok, but for me this is beginning to fall apart at the seams.
88 at its best tonight.
Three votes for wine of the night
1982 Heitz Martha's Vineyard Cabernet Sauvignon 92
Full colour, deep garnet with a narrow rim; sweet, bold, solid, with lovely fruit, a succulence, juiciness, good concentration, elegance, and vivacity. Quite an appealing wine, minty and lovely. Just a hint of dryness after an hour in the glass.
No votes for wine of the night
1984 Heitz Martha's Vineyard Cabernet Sauvignon 91
Deeper garnet showing a hint of age; sweet and smoky on the nose, with a touch of mushroom/age/decay, but good fruit; fleshy and lush on the palate, minty, a hint of dryness, but with good upholstery. Nice. After an hour it began to hollow out just slightly, but still very good. Drink up.
No votes for wine of the night
1985 Heitz Martha's Vineyard Cabernet Sauvignon 90
Full deep garnet with a narrow aged rim; a touch mushroomy, the nose is sweet and spicy; fleshy on the palate, sweet and curranty. The texture here is divine, but there is also a sort of rot-like decline in the taste at the core in this bottle. It's a frustration because the texture points to greatness.
90 – this bottle, but can show better.
No votes for wine of the night
1986 Heitz Martha's Vineyard Cabernet Sauvignon 94
Deep garnet, a full colour; lovely nose, floral and minty – a very fine nose; lush, melting, concentrated, with gorgeous fruit on the palate, a touch of spice, mint, this is lush and long, elegant yet fleshy, odalisque. Quite Château Margaux-like in its fruit, with a violet-trimmed aroma. (Would be interesting to try this blind next to the Margaux '86).
One vote for wine of the night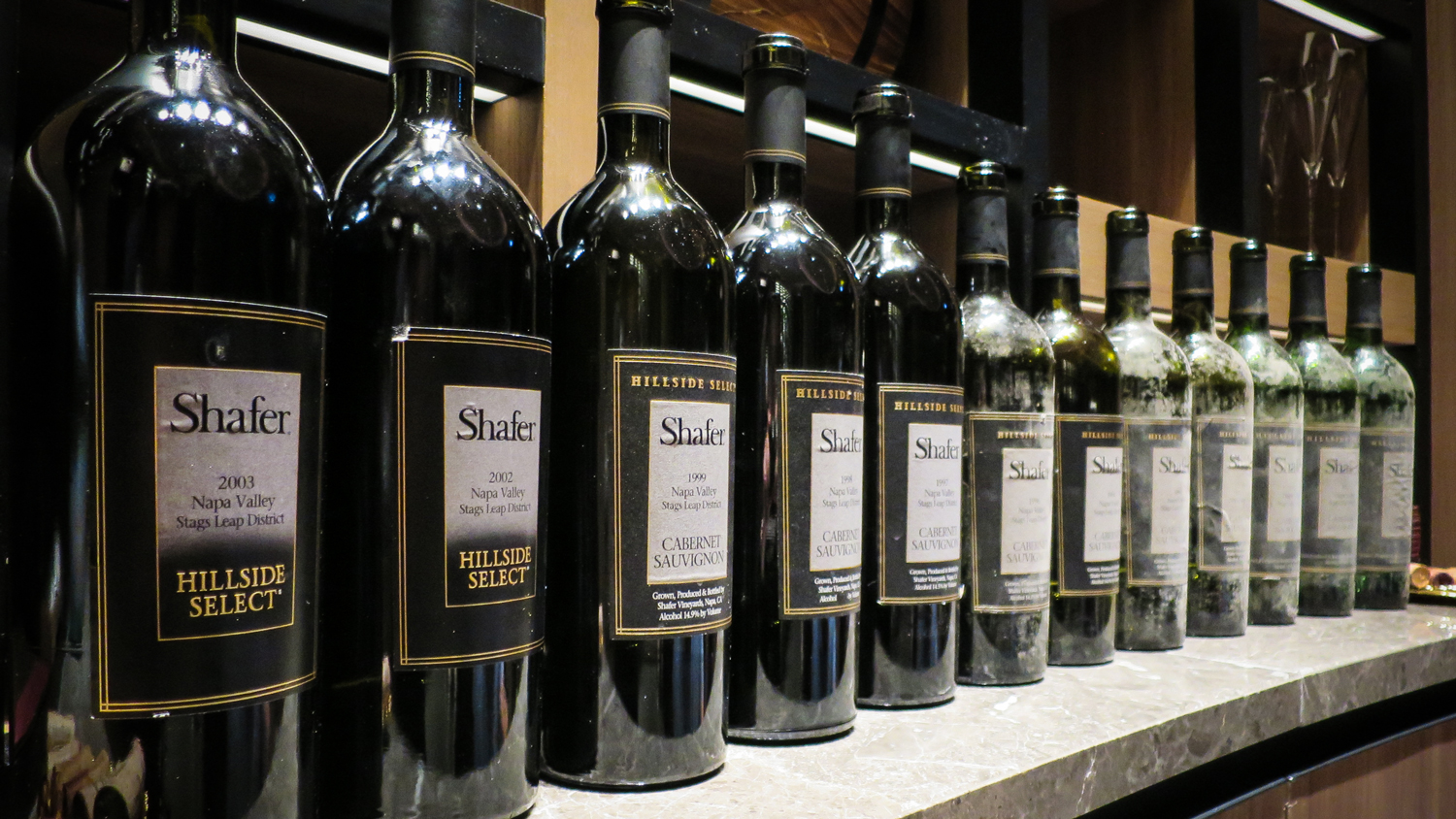 Twelve vintages of Shafer 'Hillside Select' Cabernet Sauvignon, opened and served at The Fine Wine Experience vertical, Prohibition Grill House, Hong Kong, 25th June 2019.
1987 Shafer Hillside Select Cabernet Sauvignon 90
Full garnet; sweet, spicy, somewhat overripe raisined fruit on the nose, also some cool, leafy herbal notes, a touch stewed. The bottle seems clean and fresh, however. On the palate this is fleshy, minty-cool, composed, of moderate weight – elegant actually. It dries out just a touch on the finish. Nice wine, in gentle decline.
One vote for wine of the night
1989 Shafer Hillside Select Cabernet Sauvignon 91
A cool, dusty-cedary nose, a touch chocolaty, a touch of mint; fine on the palate, more balance and depth than the 1989, but a touch pinched in acidity. Minty. Nice, elegant food wine.
No votes for wine of the night
1990 Shafer Hillside Select Cabernet Sauvignon 90
Fine, ripe nose, some opulence, also some brett – quite like a 1990 Château Montrose actually on the nose; fleshy, but drying a bit, moderate weight, fleshier than the '89 or '87, but there is also a hint of mushroom, the wine seems a little fragile, low acid. However, with a further 45 minutes in the glass it improved. Good wine, though perhaps there are also better bottles.
One vote for wine of the night
1992 Shafer Hillside Select Cabernet Sauvignon 92
Fine cedary and slightly chocolaty nose, sweet, fresh and open in expression; sweet, fine on the palate, well-balanced with good acidity – though there is an element in the acidity that makes me wonder if all of it came from the grapes, or perhaps some was added – there is a note of hard jarring acidity in the mix. That caveat expressed here, overall there is lovely, sweet, compact concentrated and generous Napa-tasting fruit on offer here. Lots of appeal.
Two votes for wine of the night
1993 Shafer Hillside Select Cabernet Sauvignon 91
Fine, reserved aroma, quite detailed, cherries in the fruit profile on the nose; fine, gentle, fleshy expression, sweeter fruit, a touch of tobacco, still some primary expression to the fruit. Very good.
No votes for wine of the night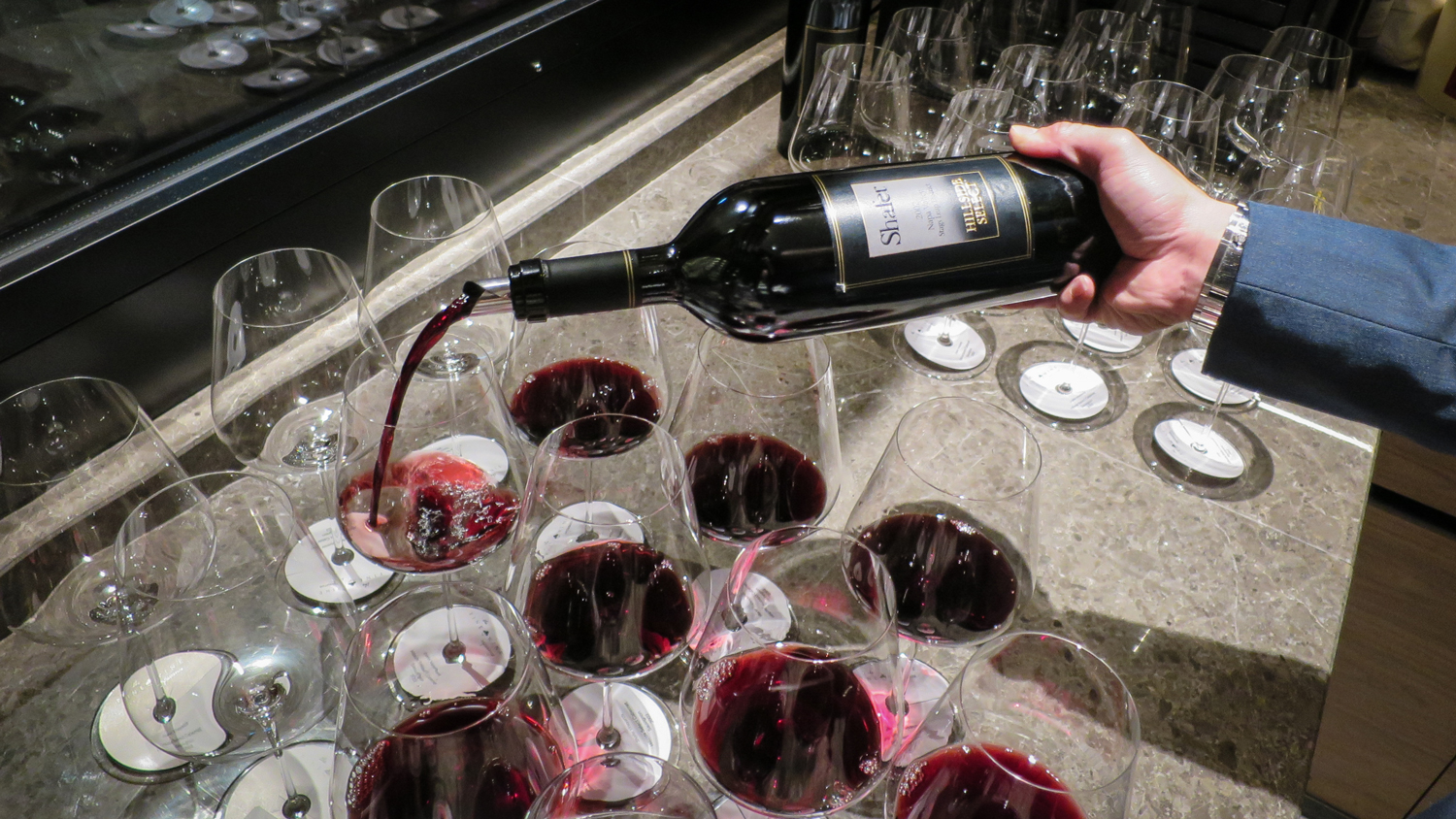 1994 Shafer Hilldside Select Cabernet Sauvignon 94
Fine, cedary, cool yet ripe nose, very inviting, with complex appeal; more opulent on the palate, succulent yet fleshy, well-defined, good fruit, some fine grip with a floral edge*. Very fine. (Symonne noted jasmine scent. I agree).
One vote for wine of the night
1996 Shafer Hillside Select Cabernet Sauvignon 93
Full colour; sweet, perfumed, immaculate nose, low key but a sexy scent; sweet, very fine on the palate, concentrated and compact in style, finely shaped, sweet finish. More tannin here.
One vote for wine of the night
1997 Shafer Hillside Select Cabernet Sauvignon 95
Fine, mid+ depth of colour; sweet nose with a chocolate edge, complex perfume, sexy nose, lovely, candied violets note; fleshy, softer and plusher in feel, yet still well-defined and well-balanced. This wine is lots of fun. So much here.
Eight votes for wine of the night – 1st equal place
1998 Shafer Hillside Select Cabernet Sauvignon 93
A touch of VA in the aroma here; the palate is just great however, lush, minty, succulent, there is a touch of dryness suggesting that this is for drinking sooner rather than later – a slight scratchy edge to the tannins, but there is really good flesh. I found this surprisingly good (difficult vintage), a real pleasure, and a credit to the quality of work being done at this time.
No votes for wine of the night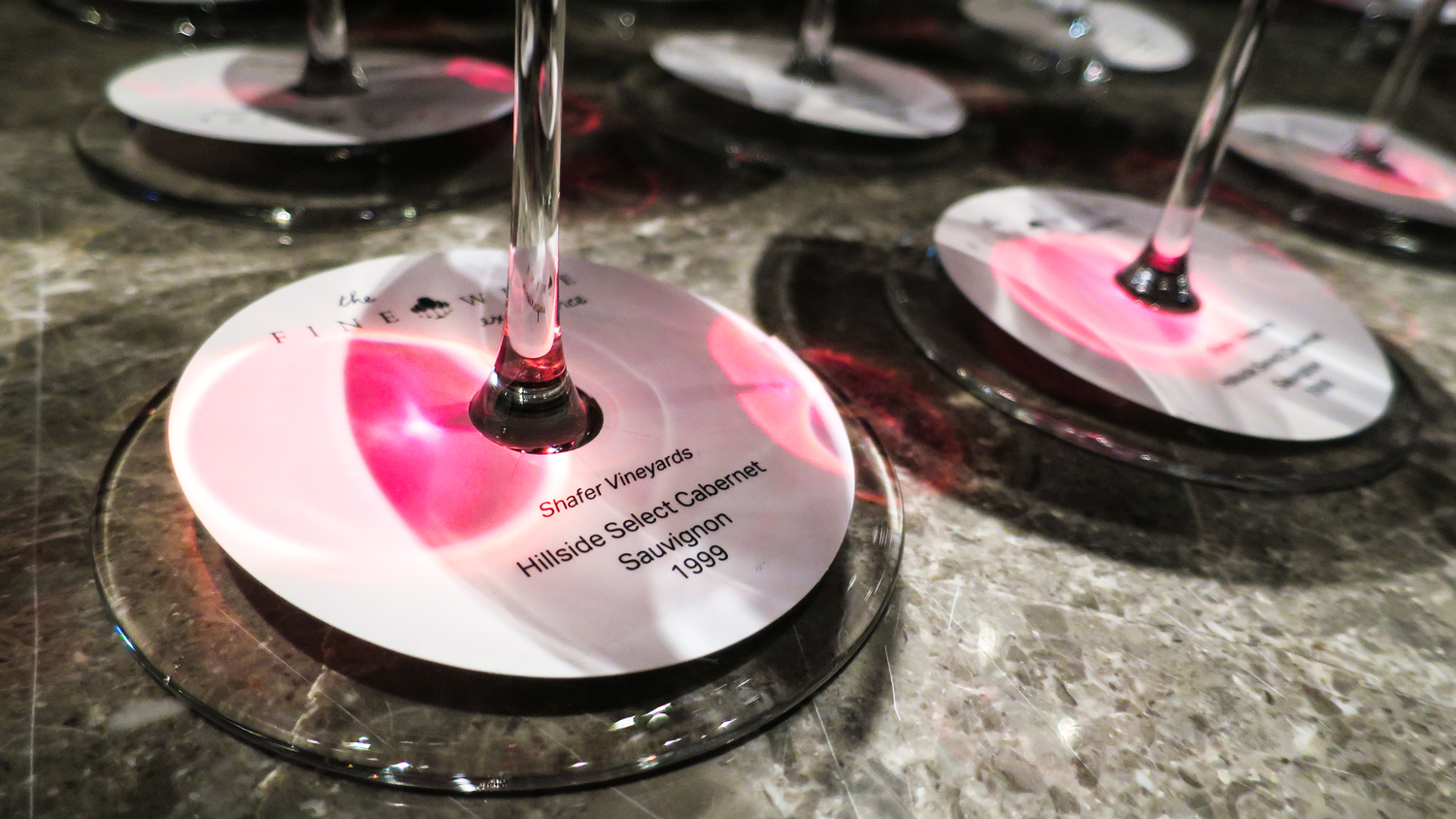 1999 Shafer Hillside Select Cabernet Sauvignon 96
Full colour; lovely cassis, plum and violet nose, with a candied edge – lovely ripe fruit expression; modern, seamless, crystalline on the palate, pure and precise, and simply gorgeous. This is great wine.
Five votes for wine of the night
2002 Shafer Hillside Select Cabernet Sauvignon 98
This has such a great nose – fragrant, complex, and truffly-edged, a note of dark, very fine chocolate, ripe fruit, fresh, pure and fine nose; lush on the palate, ripe fruit with an extra dimension, melting, but slow melting, there's depth here. A little tingle, a thrill, which very few wines can deliver. There is a touch of alcohol evident on the finish, but overall this has superb balance. Great wine.
Eight votes for wine of the night – 1st equal place
2003 Shafer Hillside Select Cabernet Sauvignon 92
Sweet, a slightly smoky nose; lush, full, sweet, a bit more alcohol, and a little drier too, this HSS is much more "big Napa Cab" in style. Good in its way but lacking that extra dimension. That said… yummy!
No votes for wine of the night