The 173ha rectangle of Chambolle-Musigny has a special reputation within the wines of Burgundy's Côte de Nuits for perfume, allure, beauty.
These qualities reach their peak in the village's namesake grand cru vineyard – Musigny, 10.85ha of Oolitic and Comblanchien limestone covered by a thing layer of pebble-laden clay-rich soil. Here in the words of Domaine Comte Georges de Vogüé's winemaker of 35 vintages François Millet, "is the lake, cool, deep, calm, mysterious". As we found at our de Vogüé dinner last week, it is a wine of natural equilibrium, a natural succulence, and concentration of fruit and perfume, and a fine tannic structure that seems to travel across the palate bound to the fruit, to a long, nuanced, perfumed finish. It is slow to age. It is ranked by many – Jasper Morris MW, the late Clive Coates MW, and other Burgundy experts – as right at the top of the quality tree, alongside Chambertin, and the Vosne-Romanée monopole grand crus.
There is only one other grand cru in Chambolle-Musigny – Bonnes-Mares, which sits at the opposite end of the village, bordered by Morey-St-Denis. 1.52ha of it sits across the border in Morey itself (and indeed, in the sort of quirk only possible in Burgundy, a small part of it sits inside the walls of the monopole grand cru Clos de Tart. So long as the owners – now Groupe Artémis – only ever bottle it as Clos de Tart, all is well).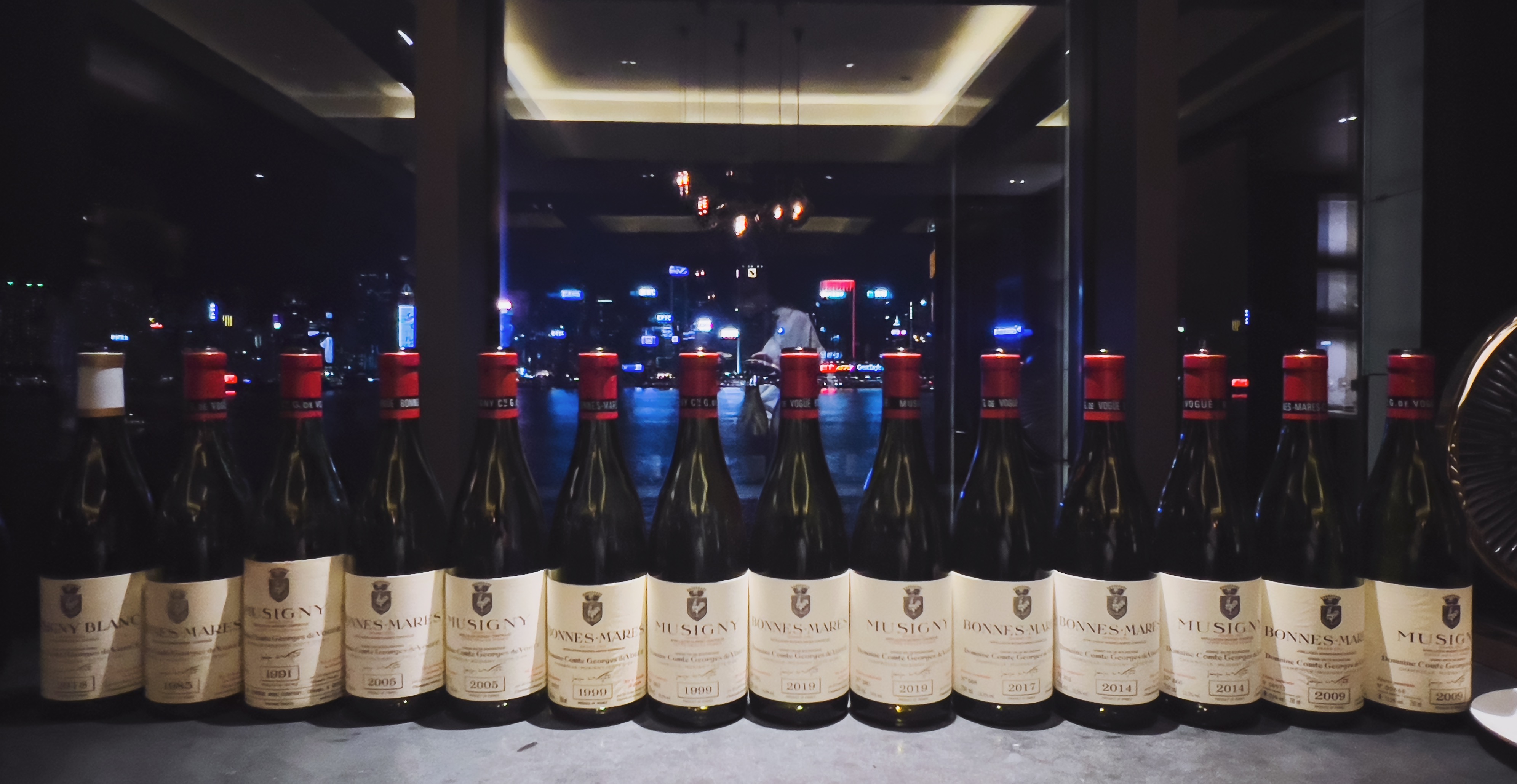 There is something more exuberant, wild and ample about Bonnes-Mares. Millet described it to me as the one who comes up to speak to you when you arrive at the party. Here, to my palate, de Vogüé's Bonnes-Mares tannins sit more like a foundation, while the generous fruit and more melting fleshy middle sit on top of that. Though different from Musigny to begin with, the difference is emphasized at de Vogüé because the largest part of their holdings here are on the "terres rouges" part of Bonnes-Mares, which emphasizes fruit, and that wilder side, while the "terres blanches" with its white clay and fossilised oyster shells, is the part that lends more of the minerality and elegance of Bonnes-Mares.
The story of the small village of Chambolle-Musigny and Domaine Comte Georges de Vogüé are intertwined, and you feel it as you driver under the stone entranceway and into the domaine's courtyard, surrounded by ancient structures. Jean Moisson founded the domaine here in 1450, and it has passed through his descendants to the present day. The de Vogüé name arrived in 1766, and Comte Georges de Vogüé in 1925. His granddaughters, the Comtesse de Caussans and Marie de Vogüé are the owners today.
For three generations de Vogüé was managed by a Roumier, the last, Alain Roumier, retiring as regisseur in 1986. He passed the winemaking baton to Millet, who retired last year, replaced by Jean Lupatelli (previously of Domaine Decelle, Nuits-St-Georges), whose first vintage at de Vogüé was 2021. Jean-Luc Pepin arrived in 1988 to take up commercial duties, and Eric Bourgogne joined in 1996 as viticulturalist.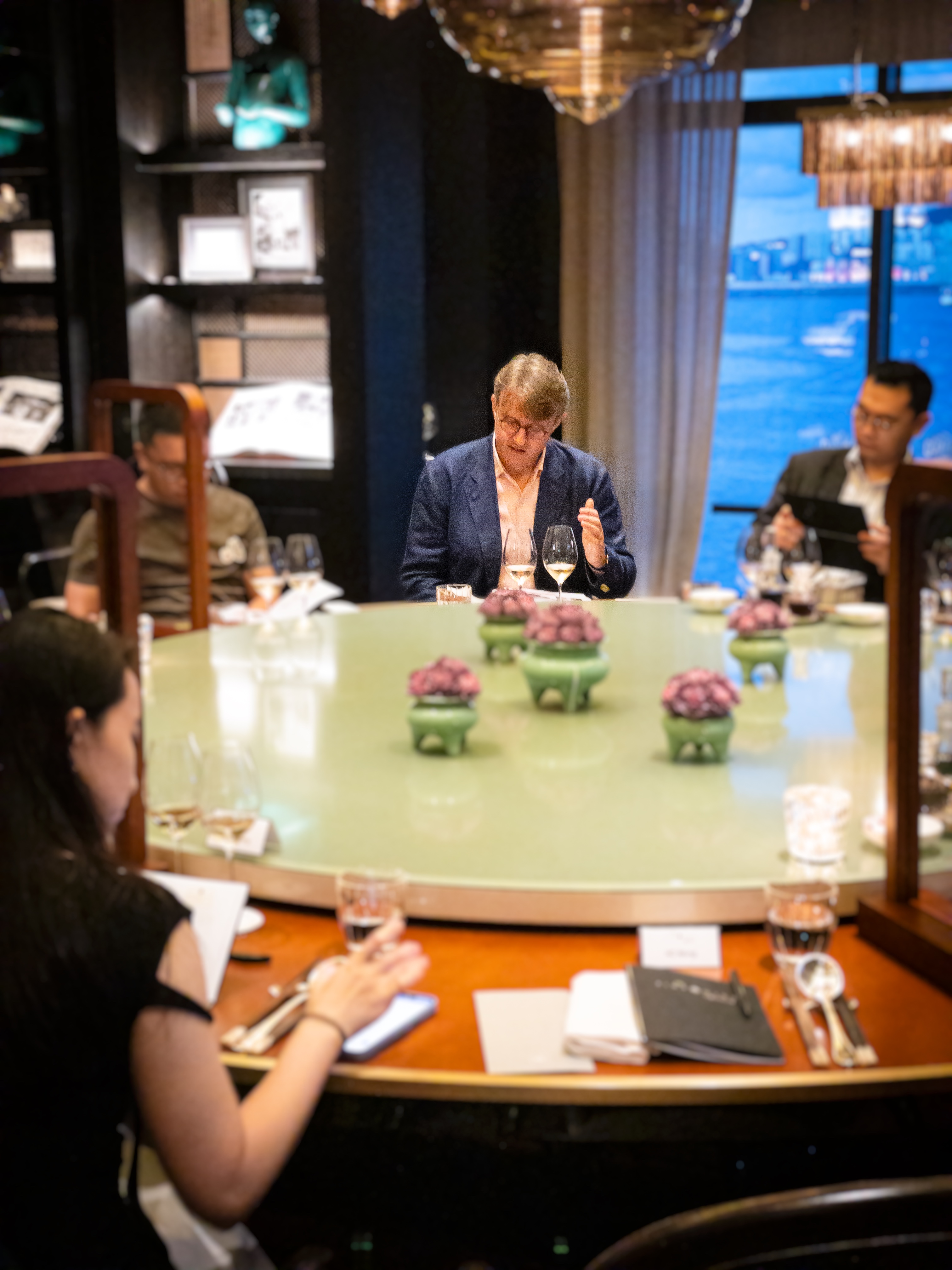 To understand the relationship between the land, the wine and twenty generations of this family we turn our attention to Musigny. The grand cru is comprised of three climats. 'Les Petits Musigny', 4.19ha, sits just above the Château de Clos Vougeot, and de Vogüé owns all of it. To the north, this continues as 'Les Musigny', of which de Vogüé is the largest owner. "Is there a difference between the two?" I asked Eric Bourgogne. "Not really". In the third climat, it is easier to see the difference. The slope drops down to a small valley at the southern border by Echezeaux, that valley giving its name to the climat – "La Combe d'Orveau". Most of this climat is village-level AOC, but as we follow the valley down, we reach Chambolle-Musigny 1er Cru 'La Combe d'Orveau', and when we reach the same slope level as Les Petits Musigny, La Combe d'Orveau becomes the third climat within Musigny Grand Cru, added in 1929 and 1989. The Musigny of Jacques Prieur is here.
Domaine Comte Georges de Vogüé makes three wines from Musigny. From Pinot Noir vines over 25 years of age, the Musigny Grand Cru 'Vieilles Vignes' is made. From vines under 25 years of age, the domaine elects to declassify the wine made from it one step, to Chambolle-Musigny 1er Cru. They make no song or dance from this step, it is not an AOC requirement, it is simply a conservative choice, one not widely known. To be clear, even though the domaine owns 1er Cru level plots – at 'Les Baudes' and 'Les Fuées' – there is no 1er Cru fruit in their Chambolle-Musigny 1er Cru wine – it is 100% from the Musigny vineyard. (The 1er Crus Baudes and Fuées they own are blended into the domaine's village-level wine). The third wine de Vogüé makes from Musigny, is a white, from Chardonnay – the Musigny Blanc. Again, a clue to the sense for tradition here – it has been a feature here for generations, so they keep it today. When the domaine needed to extensively replant it in the 1980s and 1990s, and it was therefore no longer made from 'old vines', the same modesty came into the labelling. A young vine Musigny Blanc could not – in their view – be 'Musigny'. But because the Musigny Blanc AOC had enshrined their own tradition, there was no step immediately below it to declassify to – no Chambolle-Musigny 1er Cru or even village-level white had been made and so there was no AOC for it. So, between vintages 1994 through 2014 Domaine Comte Georges de Vogüé declassified Musigny Blanc to…. Bourgogne Blanc. Granted, this was expensive Bourgogne Blanc! But it was still offered at a steep discount until it was decided the vines had matured sufficiently to transmit Musigny quality and the 'Musigny Blanc' designation was restored with the 2015 vintage.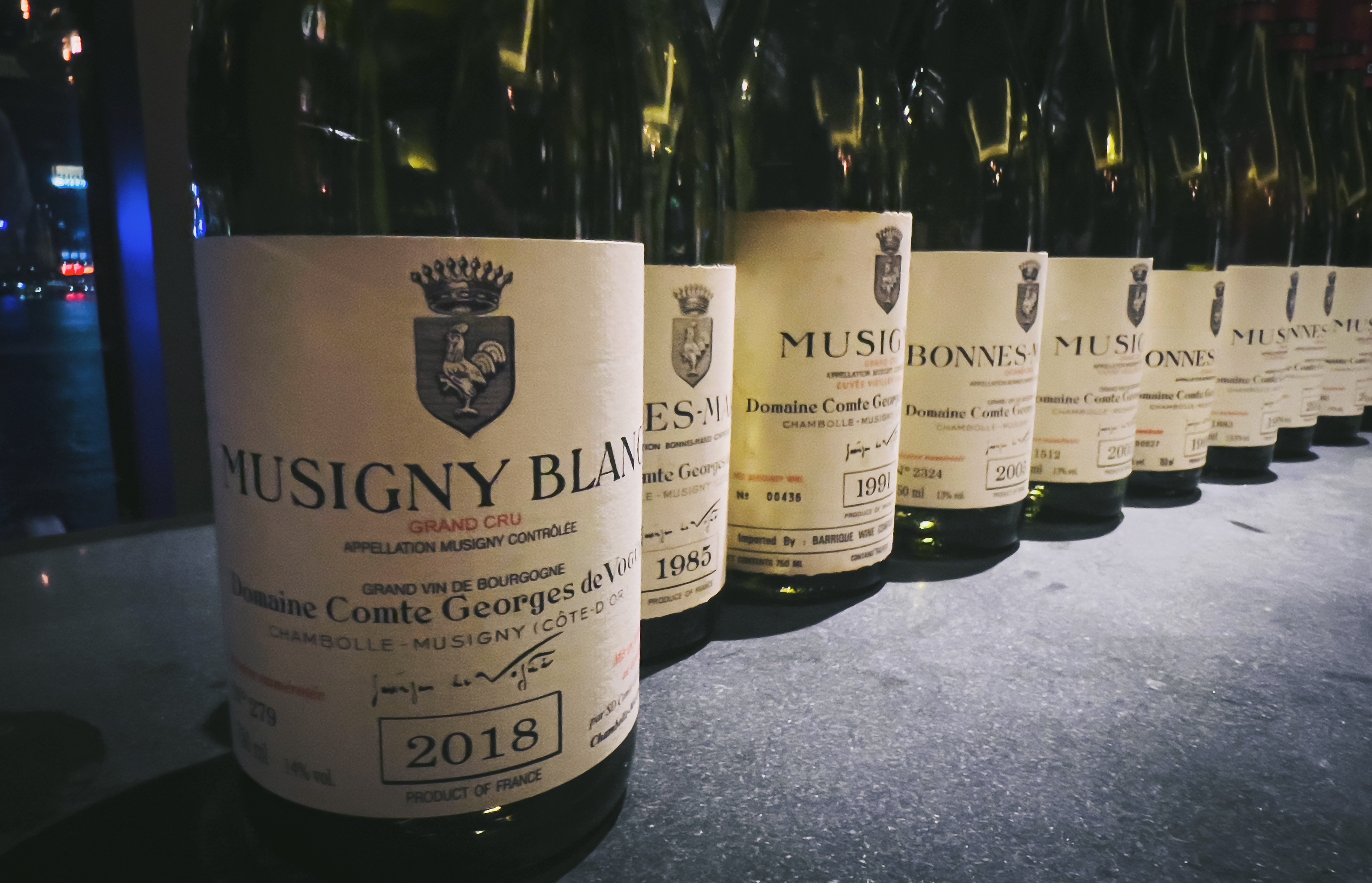 Immediately below the small service road that runs along the bottom of Musigny lies the domaine's 0.56ha section of Chambolle-Musigny 1er Cru 'Les Amoureuses'. Tasting in the de Vogüé cellar it is clear to see the close family relationship between Musigny (which feels deeper, rounder, more complete), and Amoureuses (which is Musigny-like in character, with particular delicacy to the perfume, and a more tensile or mineral style structure). After that a village-level Chambolle-Musigny is made (from 'Les Purlottes', with 1er Cru 'Les Baudes' and 'Les Fuées' blended in), but it represents only 15% or so of the production. Domaine de Vogüe represents an inverse of the typical domaine holdings we see in Burgundy, where a grand cru is usually the crown jewel, or none is owned at all. After all the grand crus represent only around 1% of Burgundy production. For de Vogüé it is the majority.
Eric Bourgogne works along organic principles, and favours low yields. Winemaking has not been formulaic, with Millet aiming to transmit the terroir as best he feels each vintage. The use of new oak kept low with that in mind (about one third from the grand crus, down to 15% for village), and after de-stemming, he has favoured gentle pumping over during fermentation rather than punching down. In some recent warm years there have been wines that have received no punching down. Traditionally though these are wines that benefit from the fuller end of typical cellaring curve. That's a matter of taste of course, but these wines are keepers.
They also like a lot of air, as we found at our dinner last week. I took the decision – in line with Burgundy tradition – not to decant, or even open these wines in advance. With plenty of space at the table, and one glass each per wine, I invited our group to take their time with the wines in the glass, and to return to each one, minutes, and even an hour or two later, to revisit and see what was going on. All of the wines benefited from this patience. It's one of the great fine wine pleasures to give a glass a whole evening and see new things in the wine on each visit.
The evening comprised 'vintage pairs' of Musigny Vieilles Vignes and Bonnes-Mares – 2005, 1999, 2019, 2014, and 2009 (sequenced that way to flow with the meal and to allow the backward '99s and '05s in particular the fullness of time to open up), and with 1985 Bonnes-Mares and 1991 Musigny Vieilles Vignes to commence. Did it become easier to see the differences between these vineyards? We added 2017 Bonnes-Mares and served it blind to see, and most could find that vineyard. When we went back through our glasses I suggested that we taste all of the Bonnes-Mares and then all of the Musigny. Reading through my tasting notes from the evening, the themes of these two grand crus are there to see.
But first, that Musigny Blanc…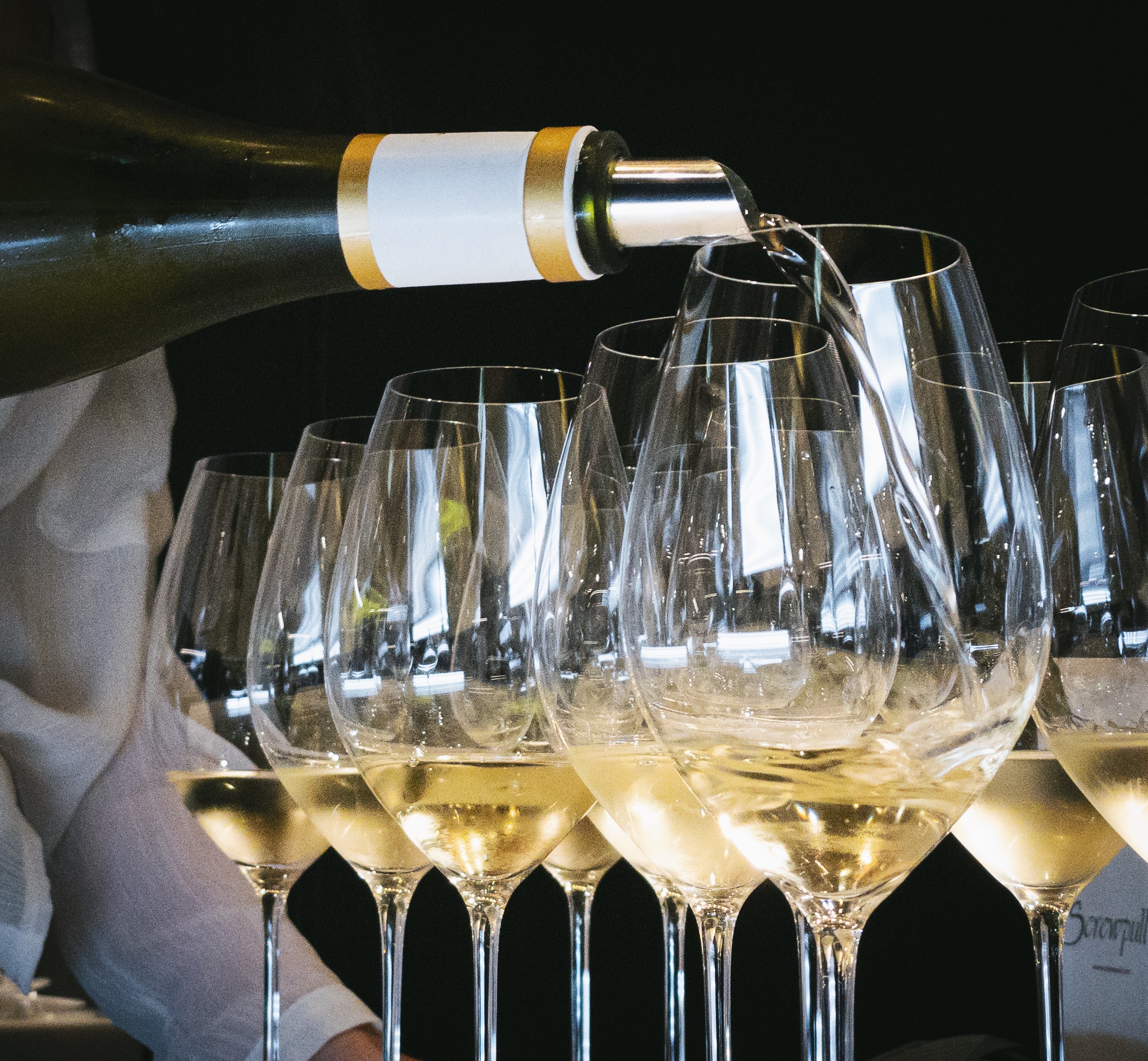 2018 Musigny Blanc, Domaine Comte Georges de Vogüé
Clear bright pale yellow; ripe and rich on the nose with notes of crème patisserie, apple compote and pastry; the palate is full, unctuous, already expressive and open in style. With an hour in the glass there is freshness, but the opulence of 2018 is quite evident, it is lush, vanilla-toned, luxuriantly sweet and ripe on the palate, though not heavy. It is quite soft-textured, right at the moment the generosity of 2018 is easier to find here than the Musigny terroir. Nonetheless balanced and well made. It will be interesting to follow as it loses some baby fat.
93
Two votes for wine of the night
The previous era of Musigny Blanc ended with the 1993 vintage. They are very interesting wines, though now approaching 30 years and older. These 'new' Musigny Blancs are still babies, and they will be interesting to follow in the cellar. But they are rare too – only around 4 barrels, or 1,200 bottles are made in a year with good yields.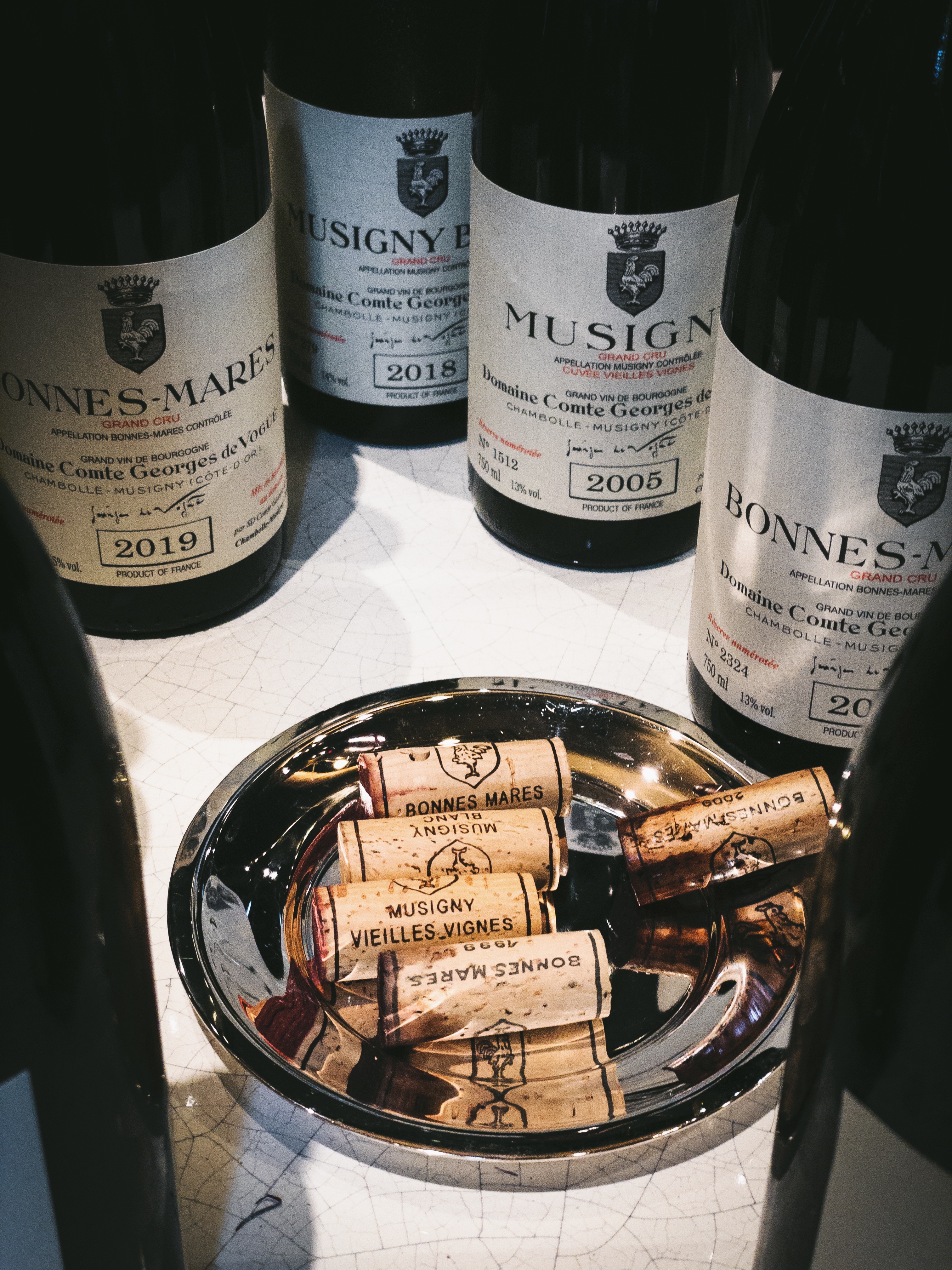 1985 Bonnes-Mares, Domaine Comte Georges de Vogüé
Bricked orange-toned appearance, fairly bright and clear; the aromas at first seemed quite crumpled up and fatigued, a dour nose, leafy and earthy, but it continued to open up and improve for an hour before I couldn't resist finishing it. The nose showed purity, maturity and elegance, sweet and earthy in expression. The palate has a gently-buffered texture of fruit still over the fully resolved tannins, nice acidity and a fine succulent flavour of candied red cherry, Chinese chen pi (aged dried mandarin peel), small Chinese red dates, and pu'er tea. This has always been an elegant Bonnes-Mares, and it is – in this bottle anyway – in gentle decline, but still holding on, a delicious, sophisticated wine.
91
One vote for wine of the night
1991 Musigny Vieilles Vignes, Domaine Comte Georges de Vogüé
Clear, and still distinctly garnet in colour at 31 years old; a sweet nose, positive, earthy, perfumed on first pouring; sweet yet taut on the palate with the touch of leather, this is velvet and succulent. An hour later, a lovely nose, this is perfumed, and there is depth here; elegant, taut, with an earthy touch to it, there is something still holding back the details. Mid-weight, really quite elegant. Two hours in the glass and the sense of balance and equilibrium is there now, this is really satisfying, long on the palate, elegant, pure, regal. Classic Musigny.
94
One vote for wine of the night
2005 Bonnes-Mares, Domaine Comte Georges de Vogüé
A full ruby of some depth; sweet fruit on the nose, a hint of soy, a little hint of brett perhaps in the savouriness to this?; supple on the palate, red and dark fruit and that same savouriness comes through. After 90 minutes in the glass, a fine nose, delicious, the palate is lush in texture, melting fruit with a lovely acid balance, there's balance and one of the most finely-defined expressions, the fruit has overcome the savouriness now. Delicious.
95
Two votes for wine of the night
2005 Musigny Vieilles Vignes, Domaine Comte Georges de Vogüé
Clear ruby; pure, sweet and scented on first pouring, floral, fresh, detailed subtle mix of aromas; very finely textured on the palate, statuesque in its mineral succulence, fine fruit, perfume, it is still fairly closed but everything feels in place. After twenty minutes the amazing purity here is in evidence. What a beauty. And at an 90 minutes, this seems just so pure, expressive, subtle, complex, still youthful. There is a fineness, definition, real mineral presence. It feels like just the most perfect reflection of the terroir, a snapshot in time, nothing missing, nothing extraneous. Long beguiling perfumed finish. There is so much pleasure here now, but its best days are still well ahead of it.
98+
Three votes for wine of the night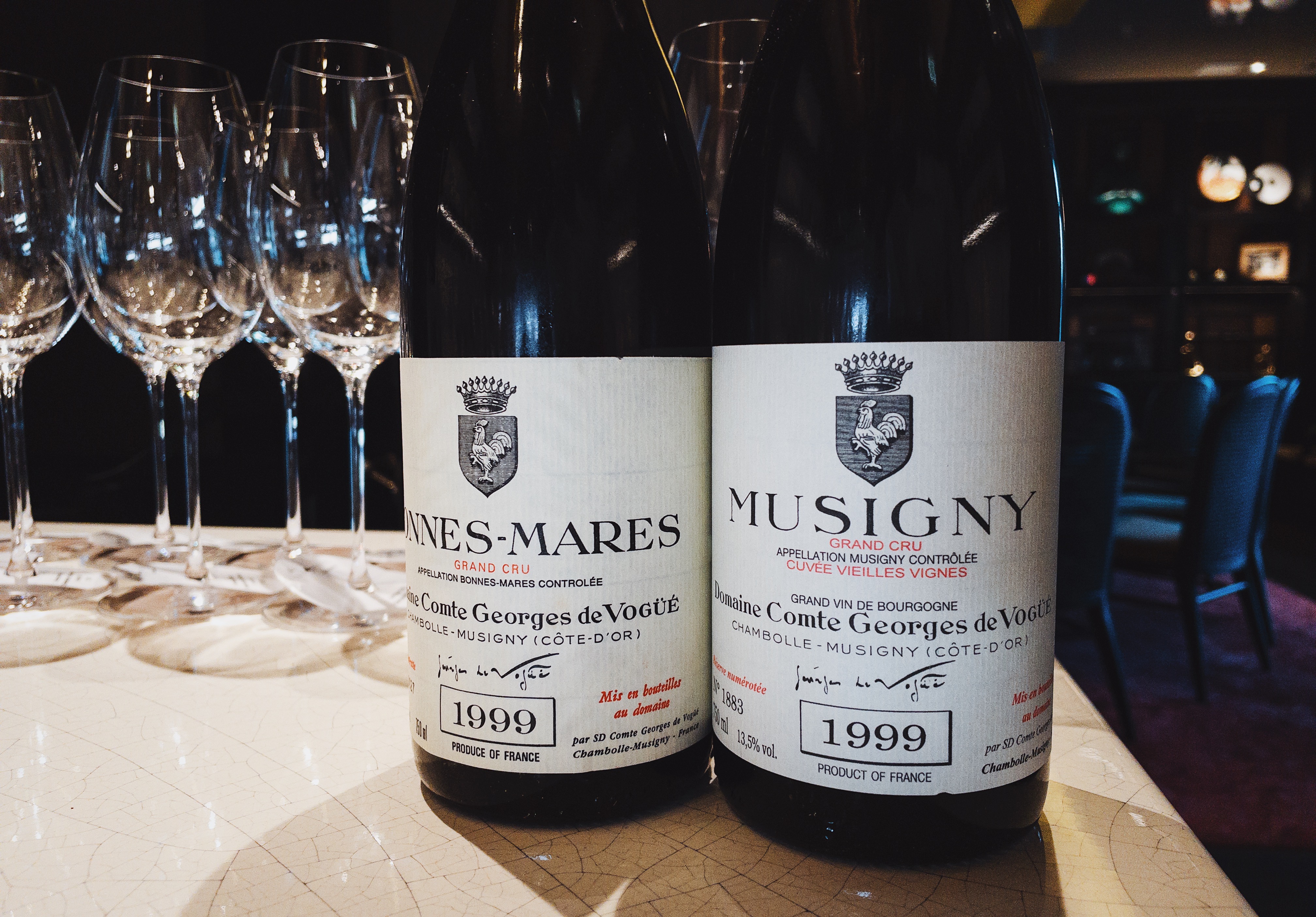 1999 Bonnes-Mares, Domaine Comte Georges de Vogüé
Still a full garnet at 23 years of age, some colour development right at the rim; sweet strawberry compote, a touch of leaf and leather on opening; lush on the palate, sweet, defined, yet really rounded, it is still a bit closed. With twenty minutes some sweet roast meats emerge too in the mix, there's still a presence of tannin, but this is quite plush, fleshy, compoty in style. At 90 minutes, the nose is sweet though a touch leathery, with a succulent jellied intensity of fruit on the palate. Tasty Bonnes-Mares.
94
No votes for wine of the night
1999 Musigny Vieilles Vignes, Domaine Comte Georges de Vogüé
Fine clear ruby, a youthful appearance; sweet, candied even, in its fruit expression on the nose, florals too, but a definite candied fruit note; the palate is still so primary, slightly candied in tone, though there is also some delicacy to it. After half an hour there is a lactic sort of tone emerging in the fruit, fruit in cream, real depth, an old school grip to the ripe tannins at the end. At 23 this still feels like it is in an awkward spot in its evolution. There is clearly no rush. This wine perplexed me a little when I first tasted it when it was 4 years old, and it still does today. I'm fascinated to see where it goes. I think it still needs time.
93
One vote for wine of the night
2019 Bonnes-Mares, Domaine Comte Georges de Vogüé
Full, semi-opaque; sweet, exuberant nose, roasted fruits sorbet sweet freshness erupts from the glass. Wow! This nose is just so fruitful, exuberant, fresh; the palate is lush, melting, mouth-wateringly succulent, fruit-laden, sherbety in expression, the balance here is also exquisite. After an hour, this is so complex aromatically, it is alluring, a great nose; the palate feels silky, fleshy and pure. You could actually really enjoy this right now, just on this exuberance of fruit and exquisite texture and balance, but it clearly also has a very long life ahead of it. A stunningly good Bonnes-Mares.
97
One vote for wine of the night
2019 Musigny Vieilles Vignes, Domaine Comte Georges de Vogüé
Fine deep ruby; super fine, pure, sherbety, the same intensity of fruit as the Bonnes-Mares, but more reserved, crystalline, and a touch floral; the palate shows depth and concentration, a melting quality, preserved flowers, delicacy, elegance and super fine flavour. What an astonishing Musigny. This is superb!
99
Nine votes for wine of the night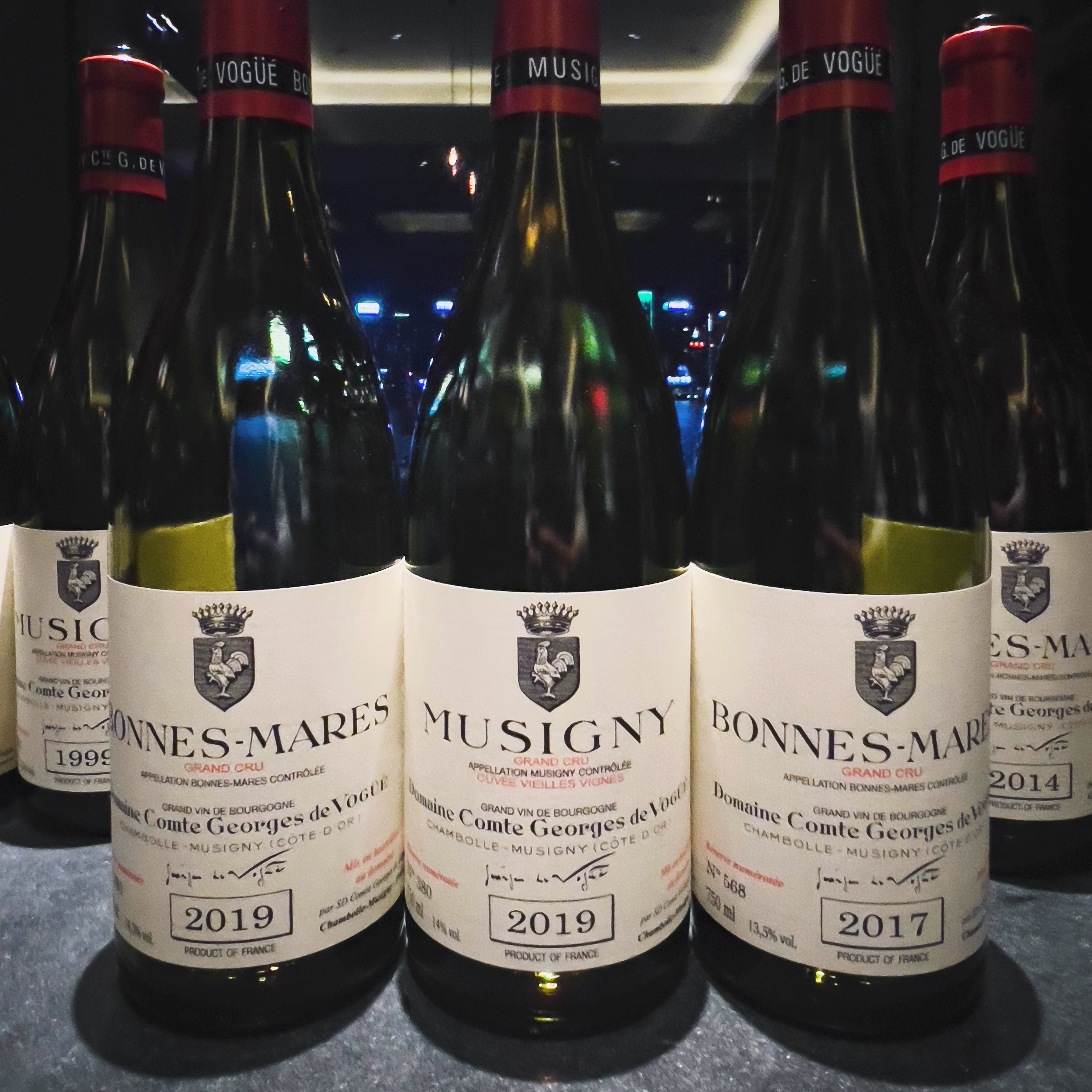 2017 Bonnes-Mares, Domaine Comte Georges de Vogüé
Added blind to the line up to bring discussion to the differences between the two vineyards.
Fine garnet-ruby; fine, sweet, perfumed aroma, still youthful but open; concentrated, lush and pure on the palate, this is supple and round, fine, good fruit, it is no doubt a very good Bonnes-Mares, after the 2019 it comes across more terrestrial than celestial. Very good.
93
No votes for wine of the night
2014 Bonnes-Mares, Domaine Comte Georges de Vogüé
Full mid colour; sweet, open and ripe on the nose, showing some evolution now, it is inviting; lush on the palate, mid-weight, succulent and quite delicate in texture, it is a silky, lovely wine. With another hour in the glass, there is a coolness to this, it perhaps lacks some of the concentration of the bigger years, but it is an elegant, nice Bonnes-Mares, coming into its drinking window.
92
No votes for wine of the night
2014 Musigny Vieilles Vignes, Domaine Comte Georges de Vogüé
Fine mid colour; a fine nose, pure and reserved; fine on the palate, the shape here is more defined, crystalline, bounded by fine crisp tannin – there is a frame, very fine, with pools of fine fruit flowing through it. This, in contrast to the 2014 Bonnes-Mares, is still very primary, yet it is yielding enough to appreciate. An elegant Musigny of good depth and refinement, and with a long time still in hand.
95
No votes for wine of the night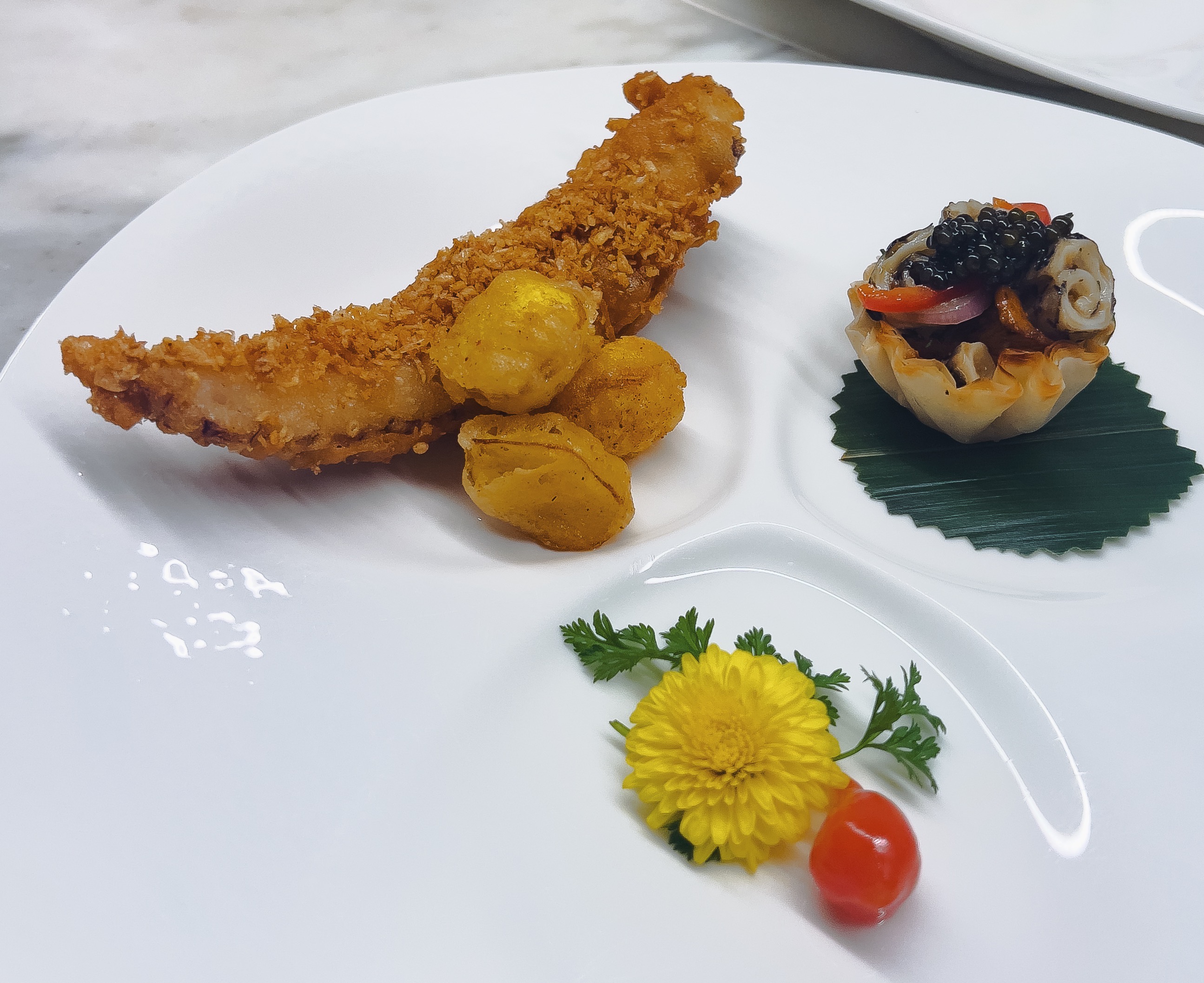 It was a really interesting evening. Credit too to Legacy House at the Rosewood Hotel in Hong Kong who hosted us. The Chinese food here was exceptional, and just as importantly, brilliantly matched by Director of Wine Julien Peros, and Chef Li. For example, the play between the sweetness of wok-fried lobster, and fresh young bamboo shoot countered by the subtle earthy savouriness of olive and black bean was a perfect foil in weight and flavour to the '85 Bonnes Mares and '91 Musigny, and again, the intense, iron-rich taste of the wok-fried pigeon, the juiciness of the termite mushroom, and the salty intensity of the Jinhua ham in the dish with the 1999s and 2005s was just perfectly judged. We are so lucky in Hong Kong to have a Burgundy-friendly restaurant of this calibre.
The Fine Wine Experience is proud to represent Domaine Comte Georges de Vogüé as exclusive agents for Hong Kong and mainland China. Each year we ship and offer the new releases. We also carry a deep inventory of vintages, supported from time to time by 'library' releases from the domaine. Do get in touch if you would like an allocation of these wines.