© Linden Wilkie, 20th March 2020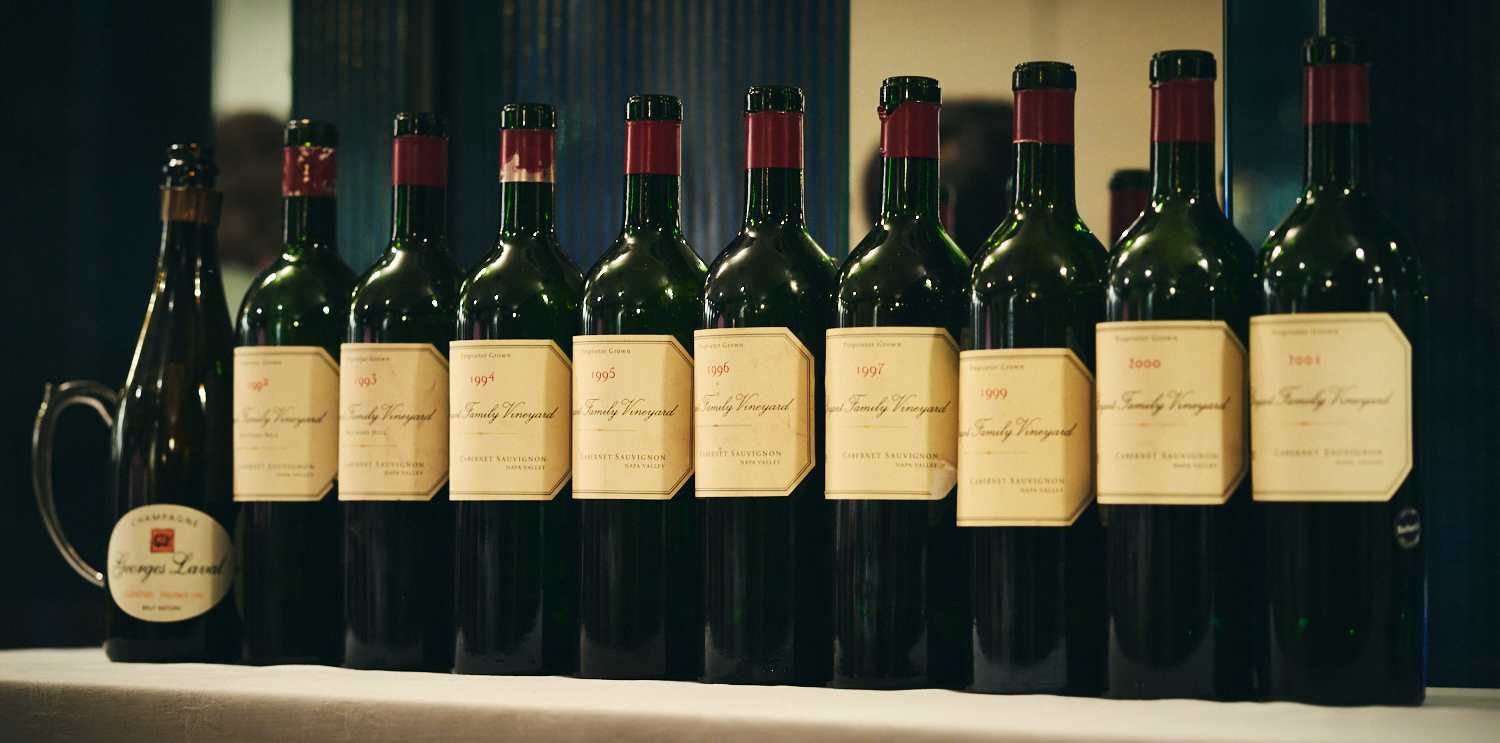 Don Bryant purchased this Pritchard Hill, Napa Valley estate in the 1980s, and had lead viticultural expert David Abreu replant it. The resulting wine – Bryant Family Vineyard Cabernet Sauvignon (BFVCS) – debuted with the 1992 vintage, and joined a collection of super high quality estate wines that together marked a sea-change in Napa's high end scene. Harlan (1990), Colgin (1992), and Screaming Eagle (1992), for example, quickly occupied top spot status – 'Cult Cali Cabs' – above the blue chip stalwarts of previous generations, such as Heitz (1966), Stag's Leap Vineyard (1972), Diamond Creek (1972), and Opus One (1979), in both accolades and price.
The low-yielding, 100% Cabernet Sauvignon, from a 5.26ha decomposed volcanic loamy site above Lake Hennessey (230-300m above sea level) east of Rutherford, delivered just 3,600 to 12,000 bottles per year of BFVCS, and despite the addition of small Cabernet Franc and Petit Verdot varietal plantings on the property for other estate labels, BFVCS has remained monovarietal.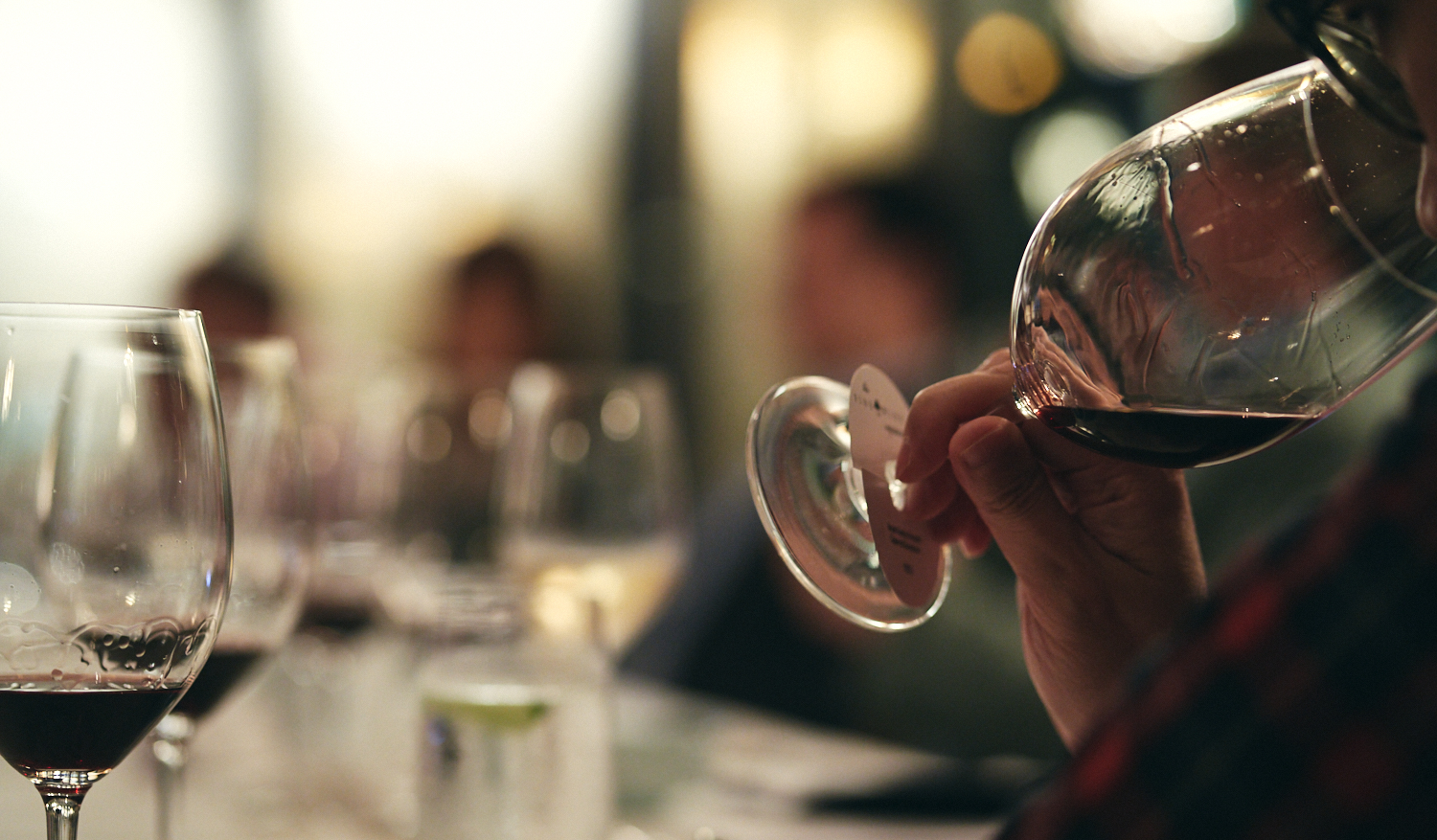 During The Fine Wine Experience 1994 California Cabernet horizontal dinners in Hong Kong and Singapore recently, the 1994 BFVCS stood out for quality, holding its own alongside Harlan 1994 and Screaming Eagle 1994, so when an opportunity came up to obtain a pristine single-bottle vertical of the original first 13 vintages 1992-2004 of BFVCS it was too good an opportunity to miss.
In Stephen Tanzer's excellent 2017 vertical tasting report in Vinous, he notes a 'long roster of talented winemakers' at Bryant, with most changes taking place between 2002 and 2014. Our selection of vintages largely mirrored winemaker Helen Turley's era (1992-2002). 'Enologist/consulting winemaker Philippe Melka finished the 2001 and vinified the 2003 through 2006 vintages', and Michel Rolland joined as consultant from 2003, notes Tanzer.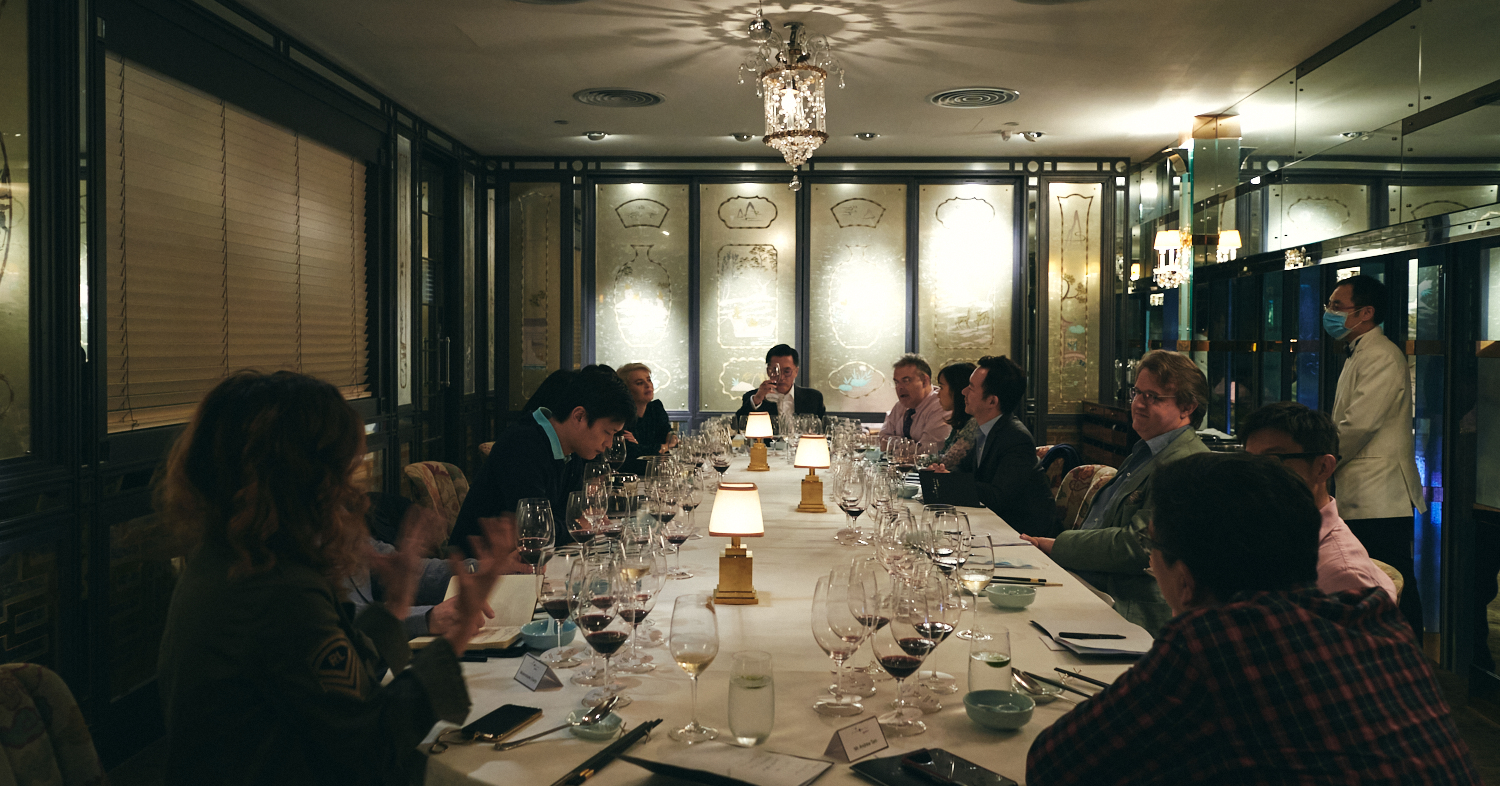 Turley was a prominent figure during this era, delivering high-scoring wines not only to Bryant, but for Colgin, Pahlmeyer, Peter Michael, her husband's Marcassin, amongst others. She also mentored a whole new generation of winemakers that would go on to success with her approach to combine the natural, unashamed boldness of fully ripe California fruit with a svelte texture and finesse. Tanzer reports that 'in the early vintages the estate aged its free-run juice in 100% new oak (Turley used virtually all Taransaud barrels), but that the final blend also usually included a bit of press wine that had been aged in a used barrel.' He found in his vertical tasting 'a deep wine with intense, glossy mountain dark-fruit character and a firm yet filigreed structure', and he was impressed by the 'varietal purity and complexity of the Cabernet Sauvignon, which makes a complete wine here without the addition of other varieties.'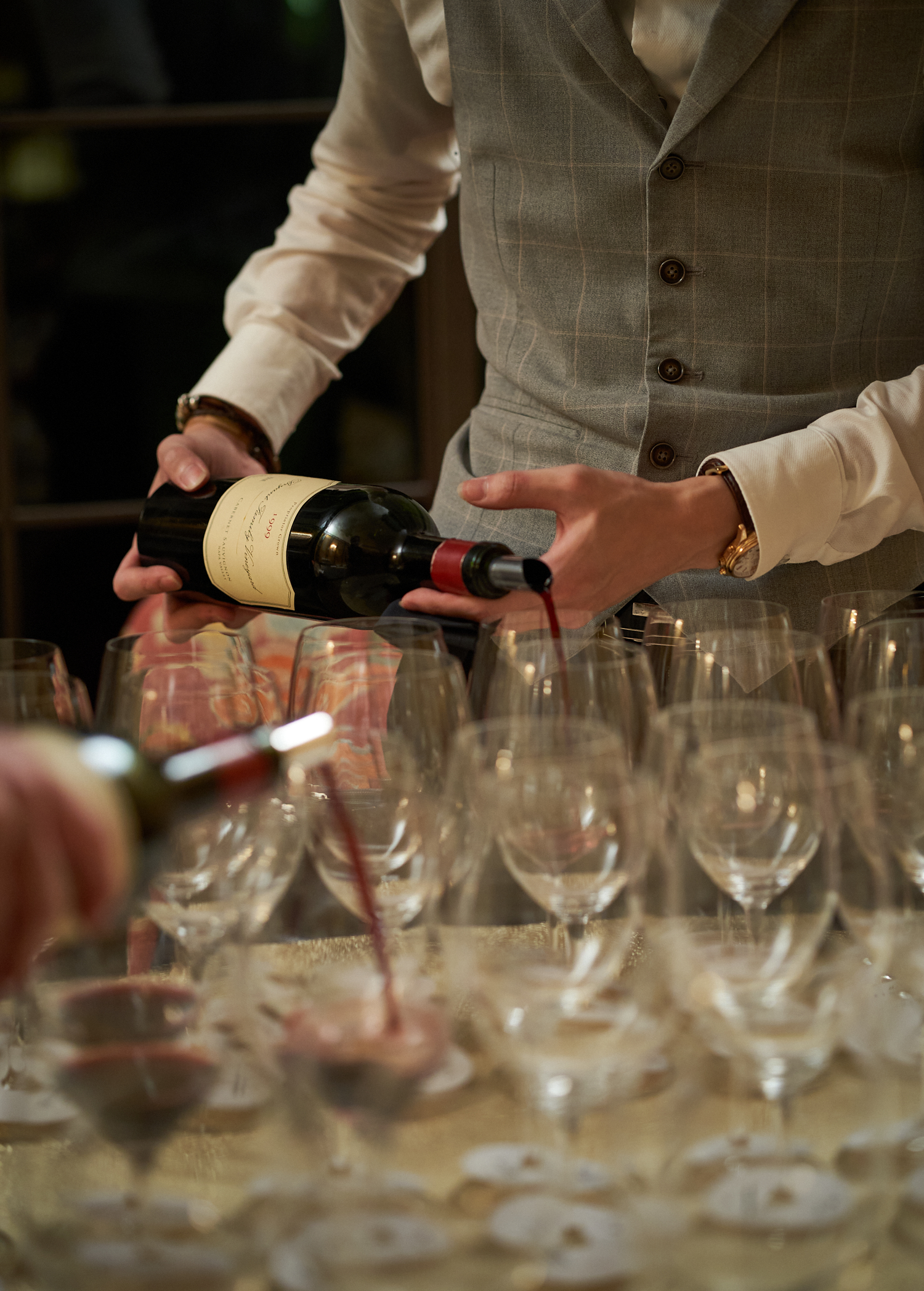 I'll cut to the chase by stating now that after our dinner this assessment largely rings true for me too. I was especially impressed by the sheer level of complexity in the wines, their breadth, length, balance. These things are, in my view, a minimum for fine wine, but there also needs to be something special in the expression – some personality. It was here in spades in the BFVCS, and not in a hit or miss sort of way, but consistently right through the vertical. Our single table of guests was fairly quickly excited by what we were finding in our glasses.
If I could sum up the style I would say it is bold, exuberant, large-scaled, and packed with exotic-edged fruit (relative to Cabernets more staid side), that somehow seems to pull off a seeming paradox of refinement, containment and finesse. None seemed really over-the-top, too-hot with alcohol, or too oaky – indeed only in the 1995 did the oak – for me – really stand out as a distinct component, but not problematically. In all cases I found the 100% new French oak barrel influence either balanced, or completely integrated into the wine and largely unnoticeable.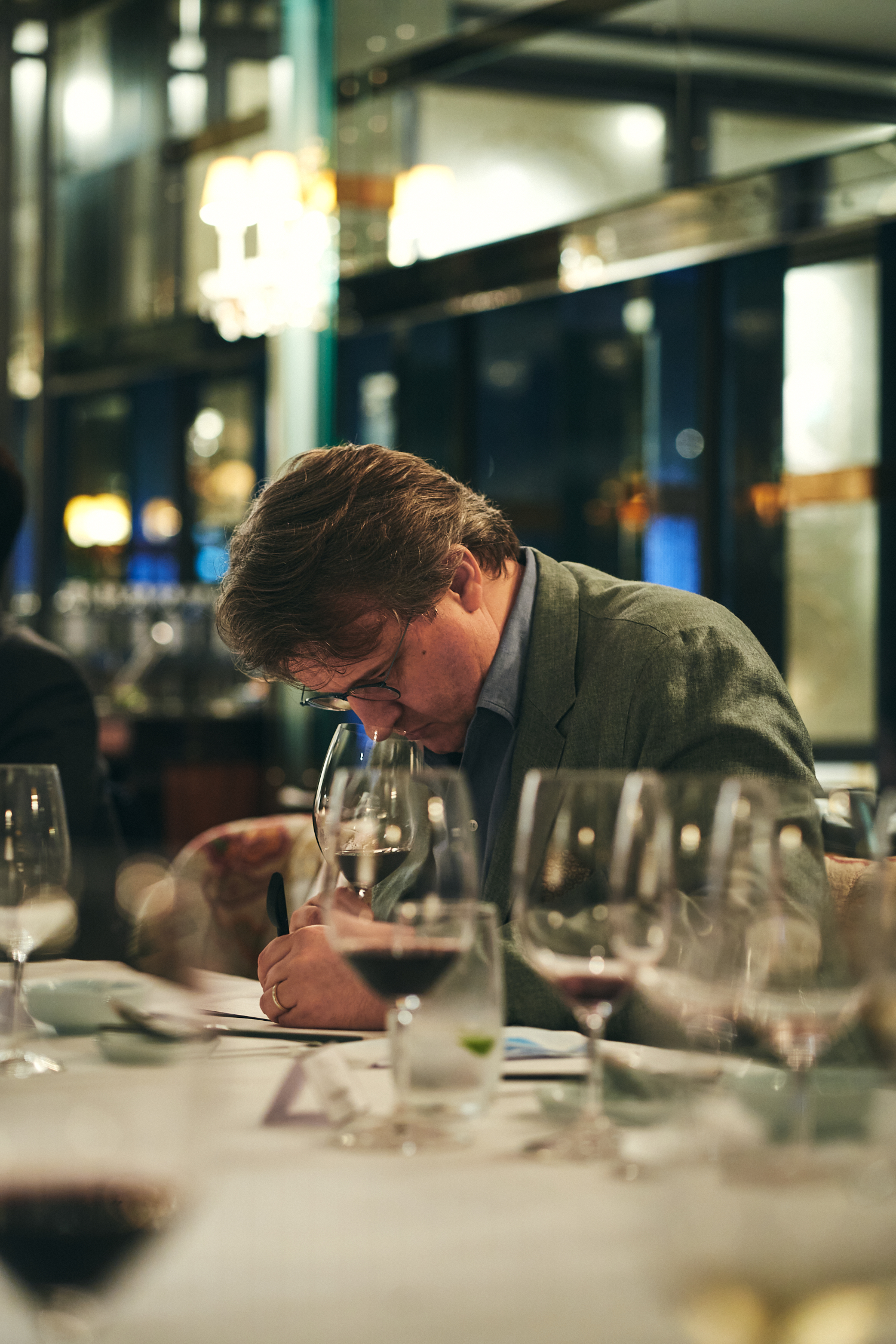 These are not shy retiring wines, nor thin, cool-climate expressions, but neither are they simple fruit-bomb maximalist pieces made to impress young and then fall apart. There is an exotic quality to the fruit, and while in some vintages, there are aromas and tastes reminiscent of Graves (1992), or Margaux (1999, 2001), I also noted Barossa Shiraz (1995) and Quintarelli's Amarone-styled Cabernet called 'Alzero'! (1996) – elements you would never find in the ripeness scale in Bordeaux.
The youngest wine in our line up (the 2006 was added to the dinner because our bottle of 1998 was corked) was 14 years old and the oldest was 28. In every wine the colours were still strong, the aromas vibrant and lively, and the taste expressive. None were tiring. This was one of the most solidly not-skip-a-beat fine wine tastings I have experienced. Notable in this consecutive vintage vertical, (rather than selective vintage highlights tour), is the quality in more challenging vintages like 1993, 2000, 2003.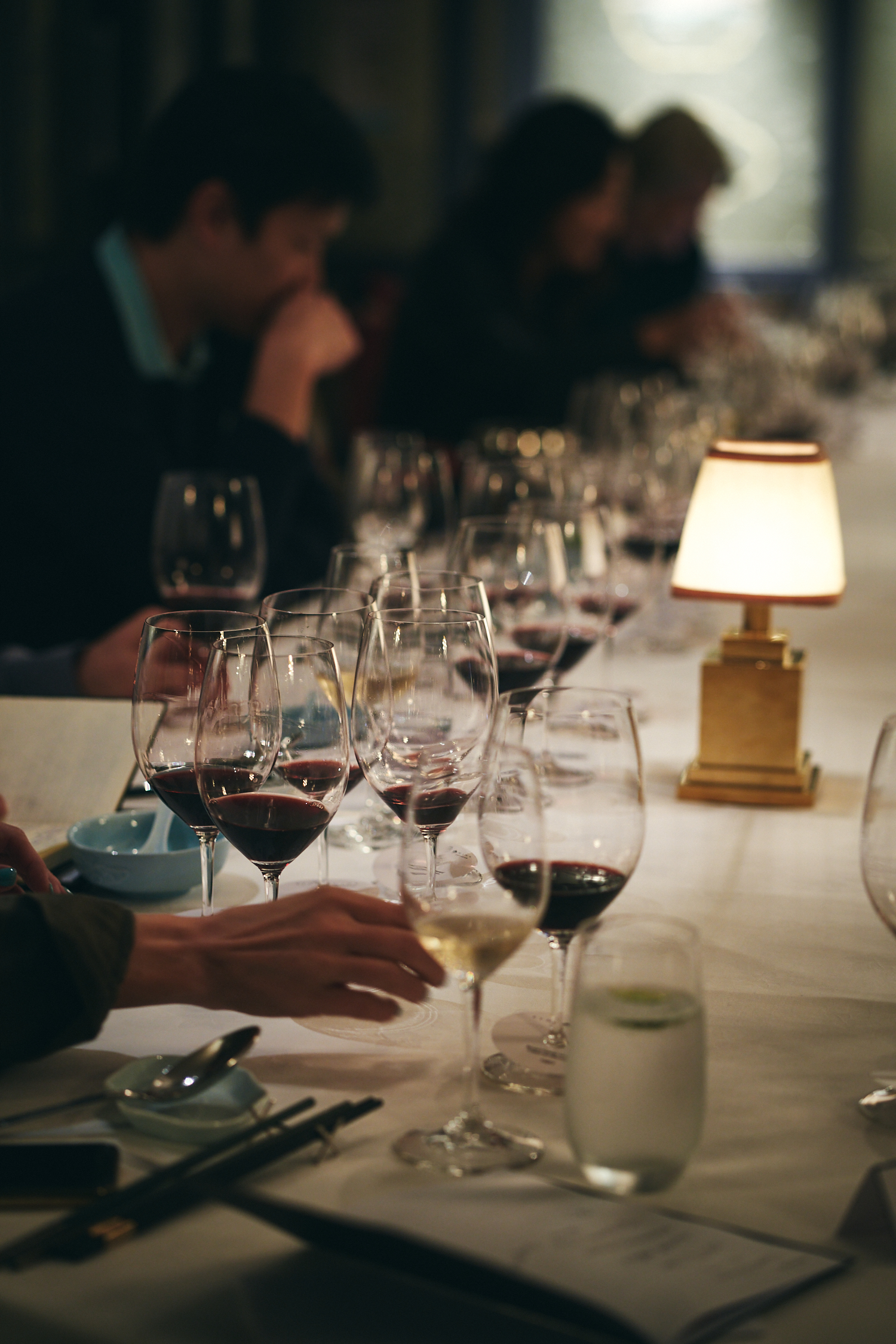 If I sound very enthusiastic here it is because I am. Although it was evident that the style shifted a little as we tasted from oldest to youngest (to harmonize with the superb menu at China Tang), it seemed to me this was more in parallel with climate change than a shift in policy at the estate. The brilliant 1992 set the bar for quality and style, and there it remained. (Whether it is still there in the vintages 2007-2019 I cannot say because I have not tasted them).
Below are my tasting notes for this event, held on 18th March 2020 in Hong Kong. Notes and scores are mine. I also, as usual, asked everyone to pick their two favourite wines, and the results of that poll are noted below too.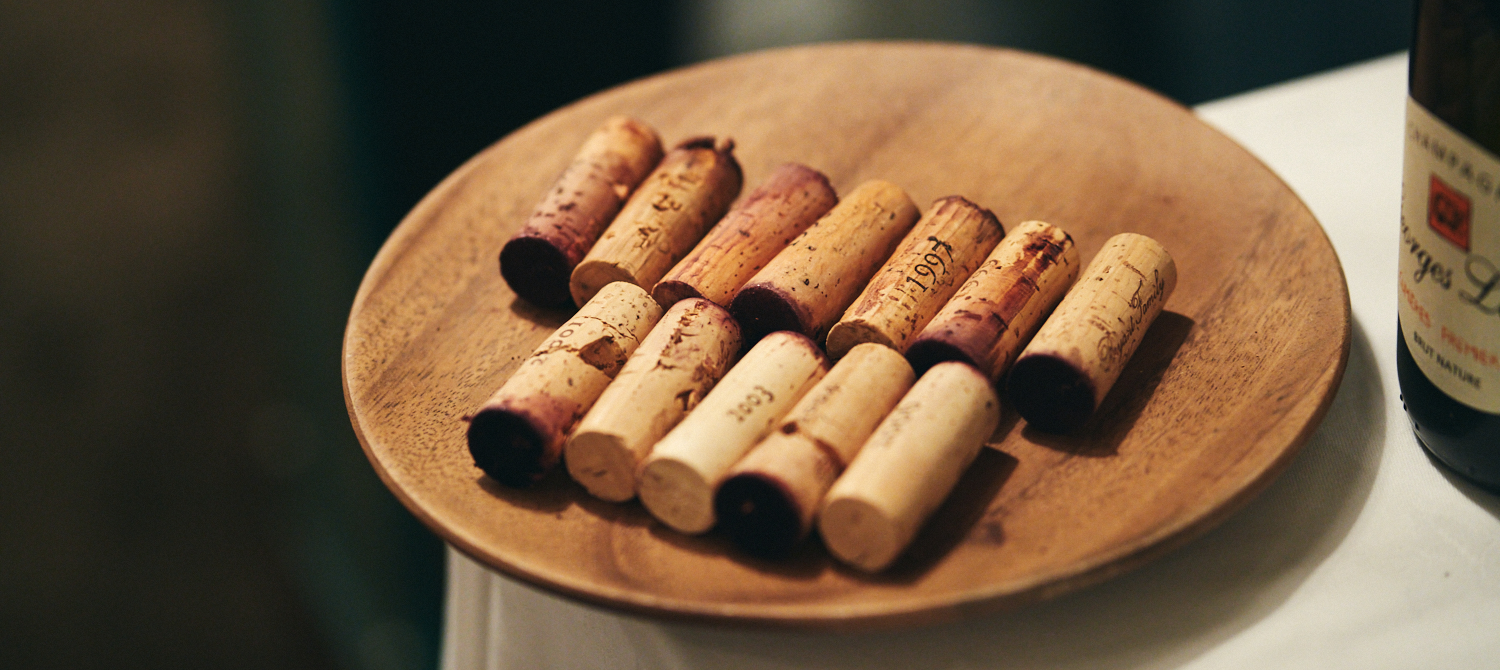 1992 Bryant Family Vineyard Cabernet Sauvignon 96
Still a very healthy, full ruby, a fine and fresh colour; fine, mature, complex nose, ripe fruit, a touch of hay, tar, dried leaves and cedar on the nose – complex and appealing; sweet attack, potent, yet with some elegance, really quite complex, the sweetness is matched by natural, bright acidity, this has some zip and energy, a cigar-box Graves-like note at the end. Superb.
Four votes for wine of the night. 2nd= place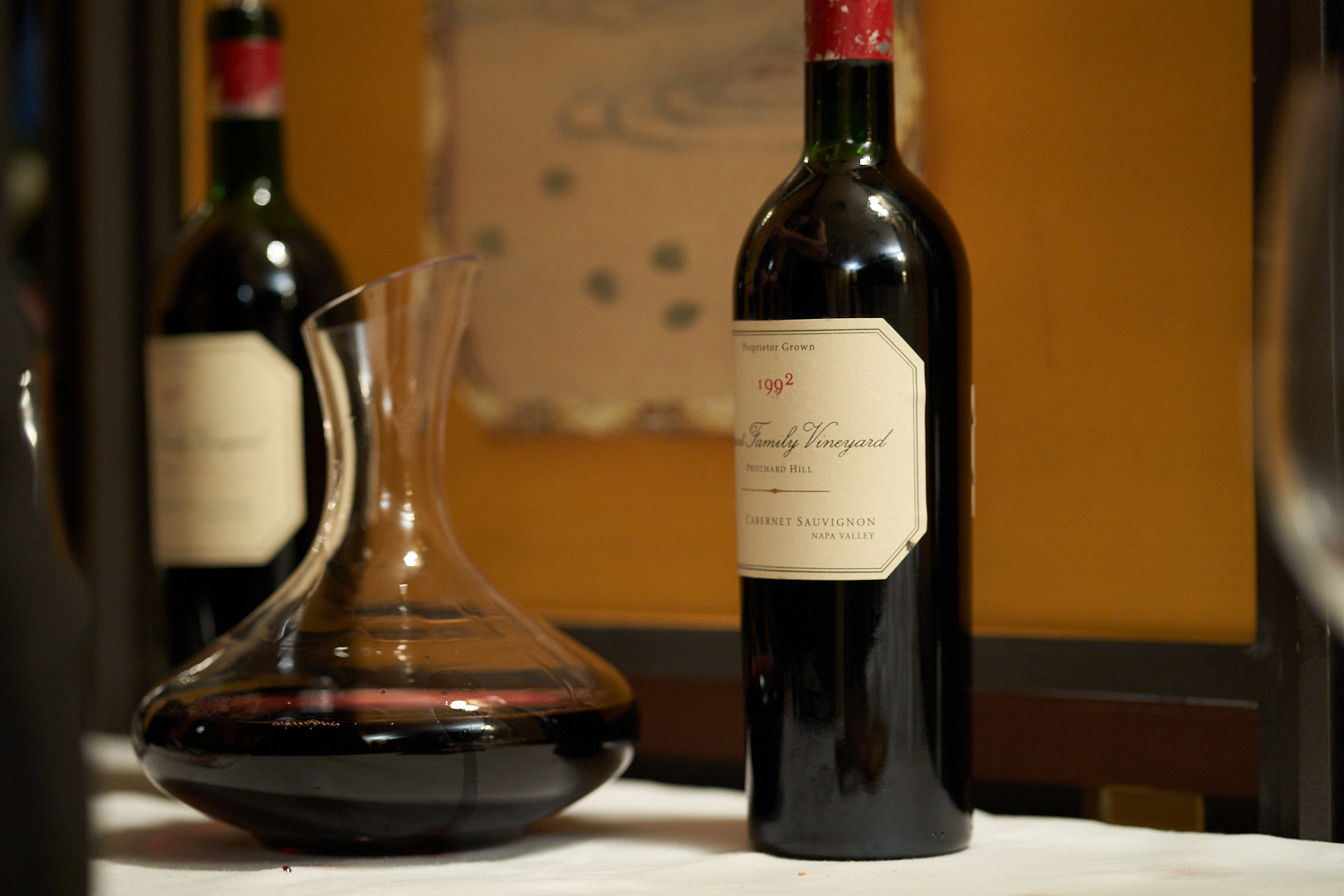 1993 Bryant Family Vineyard Cabernet Sauvignon 93
Deep ruby-garnet, a fresh colour for age; sweet, a more low key nose, sweet fruit, chicory and spice; fruity, this has some grip – a classically 'mountain' firmness, a touch of mint and chamomile tea, this is vibrant, fresh and delicious, just not the length of the '1992.
Two votes for wine of the night
1994 Bryant Family Vineyard Cabernet Sauvignon 97
Fine garnet with a mature edge; very fine nose, dark plum, sweet fruit – a touch candied, there's also a medicinal sort of element, this is really quite complex; sumptuous feel on the palate, fleshy, a real mouthful here with both breadth and length, complex taste with fine herbs, brush, this is fleshy and fine, with a really confident, precise kind of shape and equilibrium. Rare quality.
Six votes for wine of the night – 1st place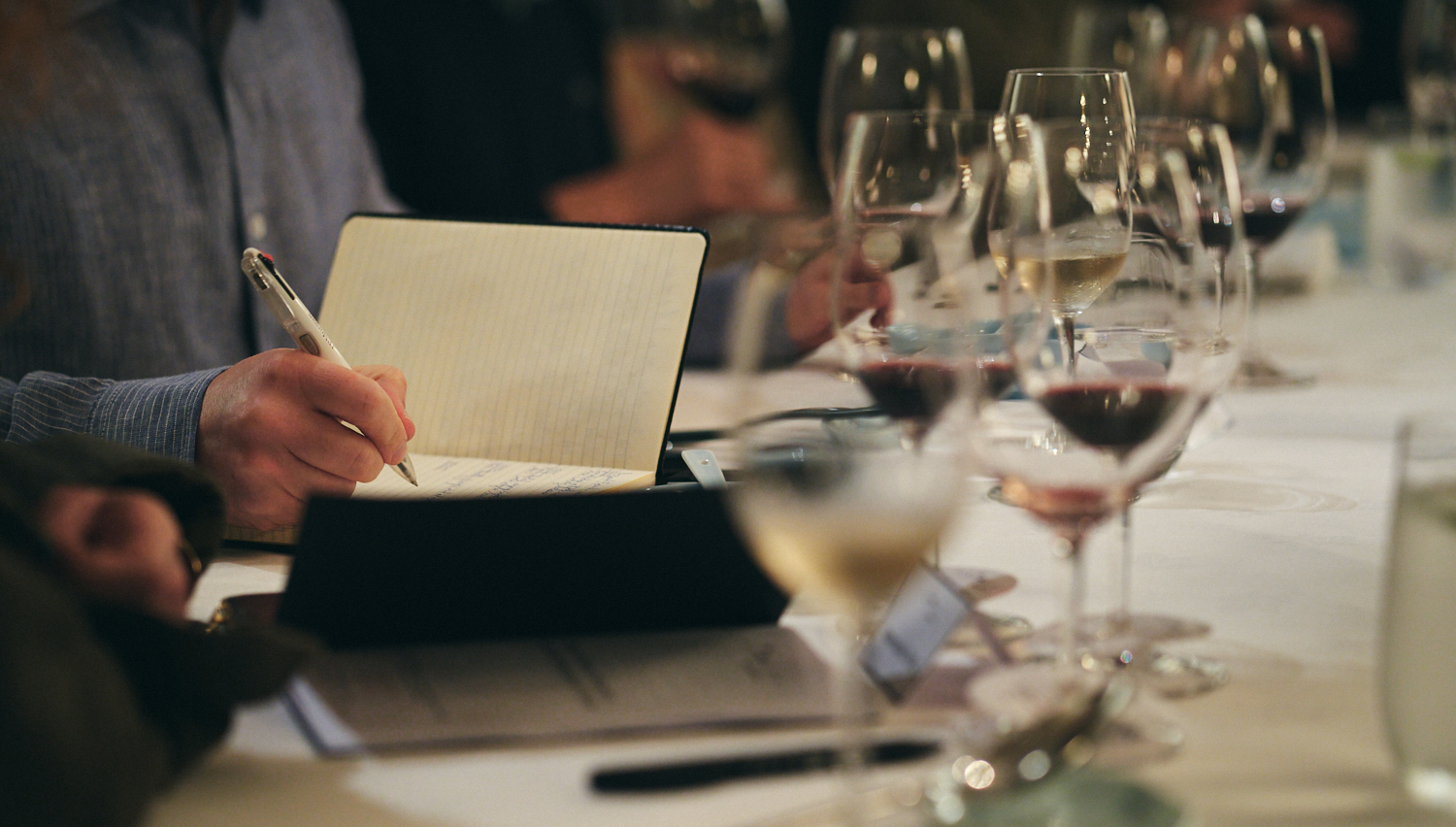 1995 Bryant Family Vineyard Cabernet Sauvignon 95
Fine, deep ruby garnet; sweet on the nose with a fine coffee-cream note, medicinal (to the point that my mind wandered to the best classic Barossa Shiraz of this era) notes, some boysenberry as well as intense blackcurrant – such an intense and vibrant nose; fine on the palate with ample grip – very 'mountain fruit', this is potent and brooding, and the oak is evident here. Good length. After the svelte feel of the 1994 this comes across a little more burly. Still, there is such depth, complexity and fragrance, this is its own thing, really satisfying.
One vote for wine of the night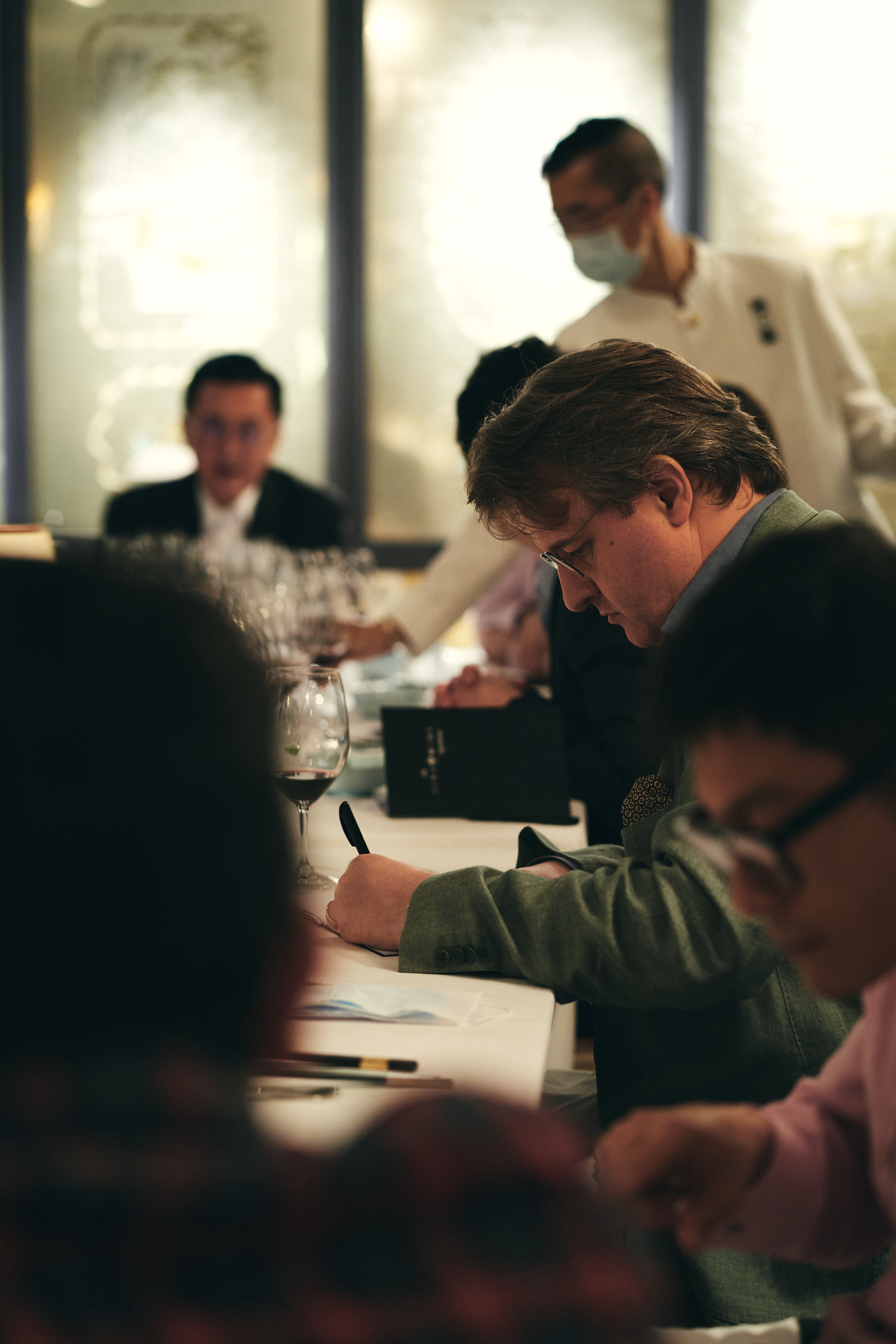 1996 Bryant Family Vineyard Cabernet Sauvignon 94
Fine garnet with a mature edge to the rim; this has such a lovely nose, lovely fruit, malted milk, very fine dark chocolate and spice – the spice and dark chocolate notes make it almost Quintarelli 'Alzero'-like, a touch of cedar too; lovely fruit and dark chocolate and a touch of dark cherry, sweet fine tannins that are yielding but present.
Four votes for wine of the night – 2nd= place
1997 Bryant Family Vineyard Cabernet Sauvignon 90
Fine, fresh ruby; sweet nose, ripe, spicy, a touch of malt/chocolate/bran; fleshy on the palate, hedonistic really, soft tannins, a step up in alcohol feel in this one, this is all about opulence, though it doesn't seem as full of extract and concentration as, say, 1995. Very pleasing wine.
Four votes for wine of the night – 2nd= place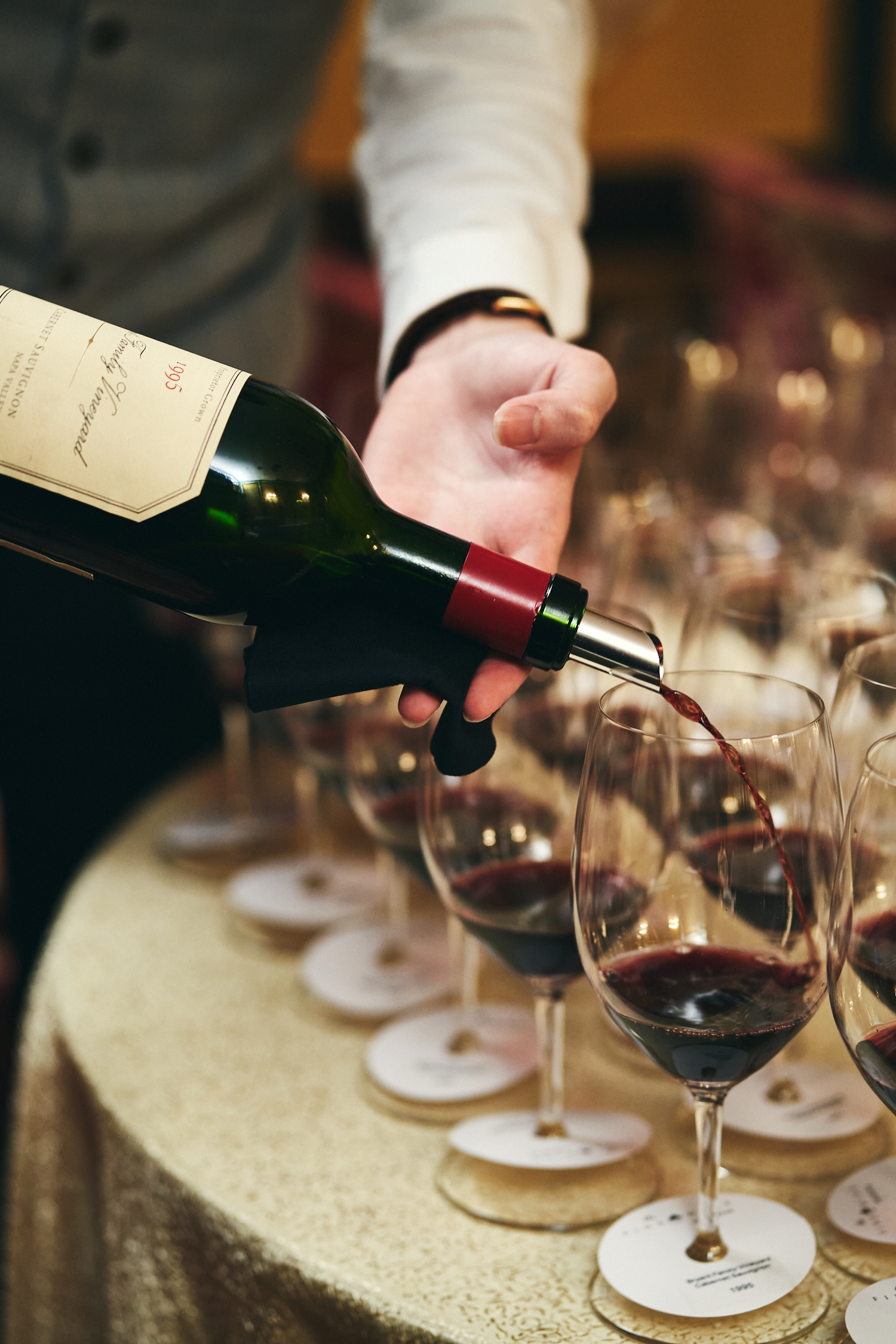 1998 Bryant Family Vineyard Cabernet Sauvignon
corked
1999 Bryant Family Vineyard Cabernet Sauvignon 95
Fine ruby, youthful; sweet and very fine nose, pure Cabernet Sauvignon with cedar – very Médocain in tone; sweet but also nicely contained on the palate, fine and pure in taste and super-fine in texture, long, slender, fine-boned, quite Margaux-like.
No votes for wine of the night
2000 Bryant Family Vineyard Cabernet Sauvignon 92
Fine ruby; and open and sweet-spectrum nose, lovely fruit; sumptuous and delicious, great fruit, this really pushes above the vintage. Fresh, yet ready, lovely wine.
No votes for wine of the night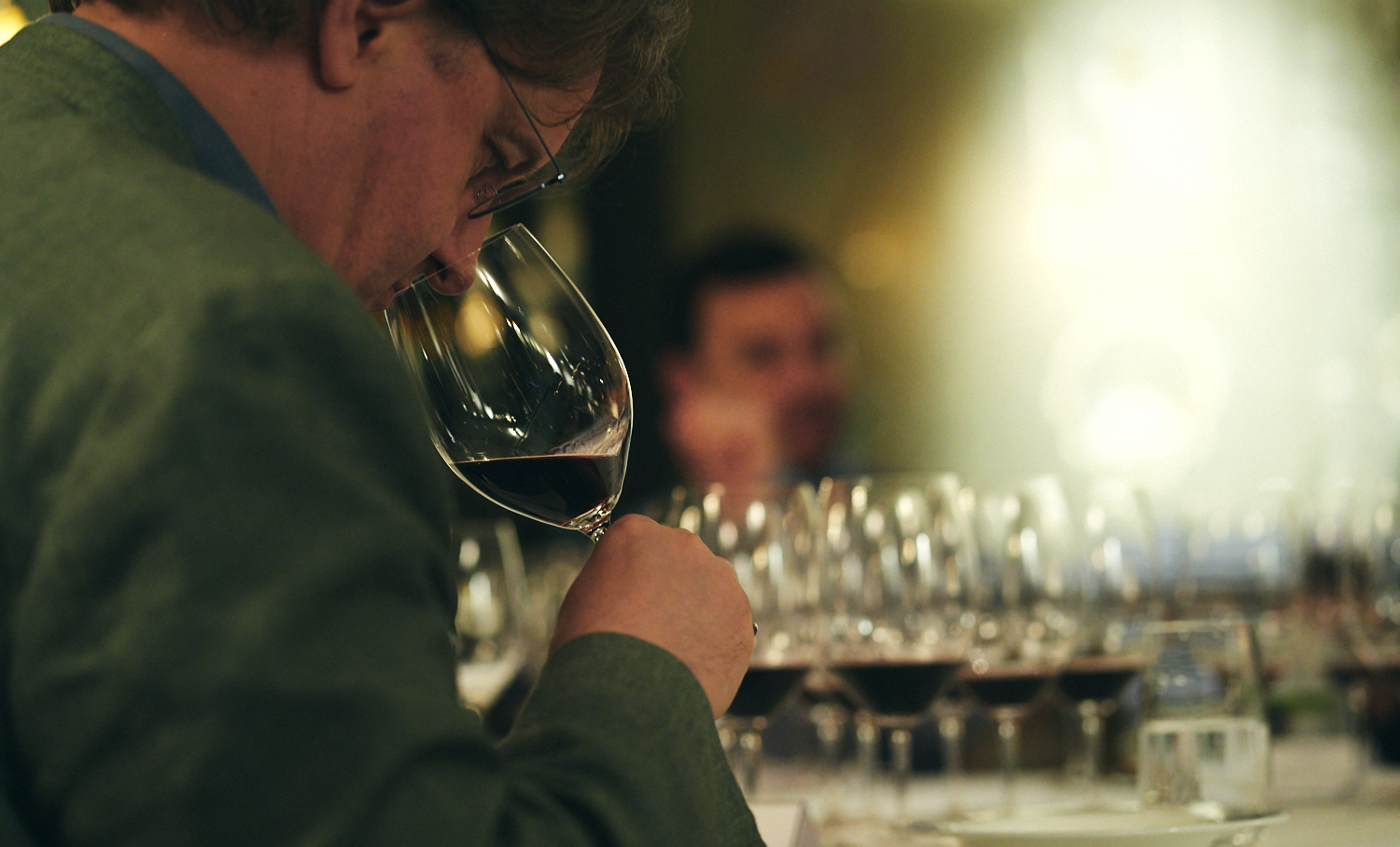 2001 Bryant Family Vineyard Cabernet Sauvignon 95
Deep colour with a fine rim; fine nose, violetty, ripe, dusted with fine cocoa; layered on the palate, and really fine, pure Cabernet Sauvignon with a touch of cocoa. Perfect equilibrium, really detailed filigree feel.
No votes for wine of the night
2002 Bryant Family Vineyard Cabernet Sauvignon 93
Deep, fine glossy ruby; a lovely fresh and fine nose, ripe, opulent, scented, with violets and dark chocolate; sweet, concentrated, vibrating with energy, such fruit vibrancy, there is also a sense of thickness here, and a little alcohol. Hedonistic, yet fine.
Three votes for wine of the night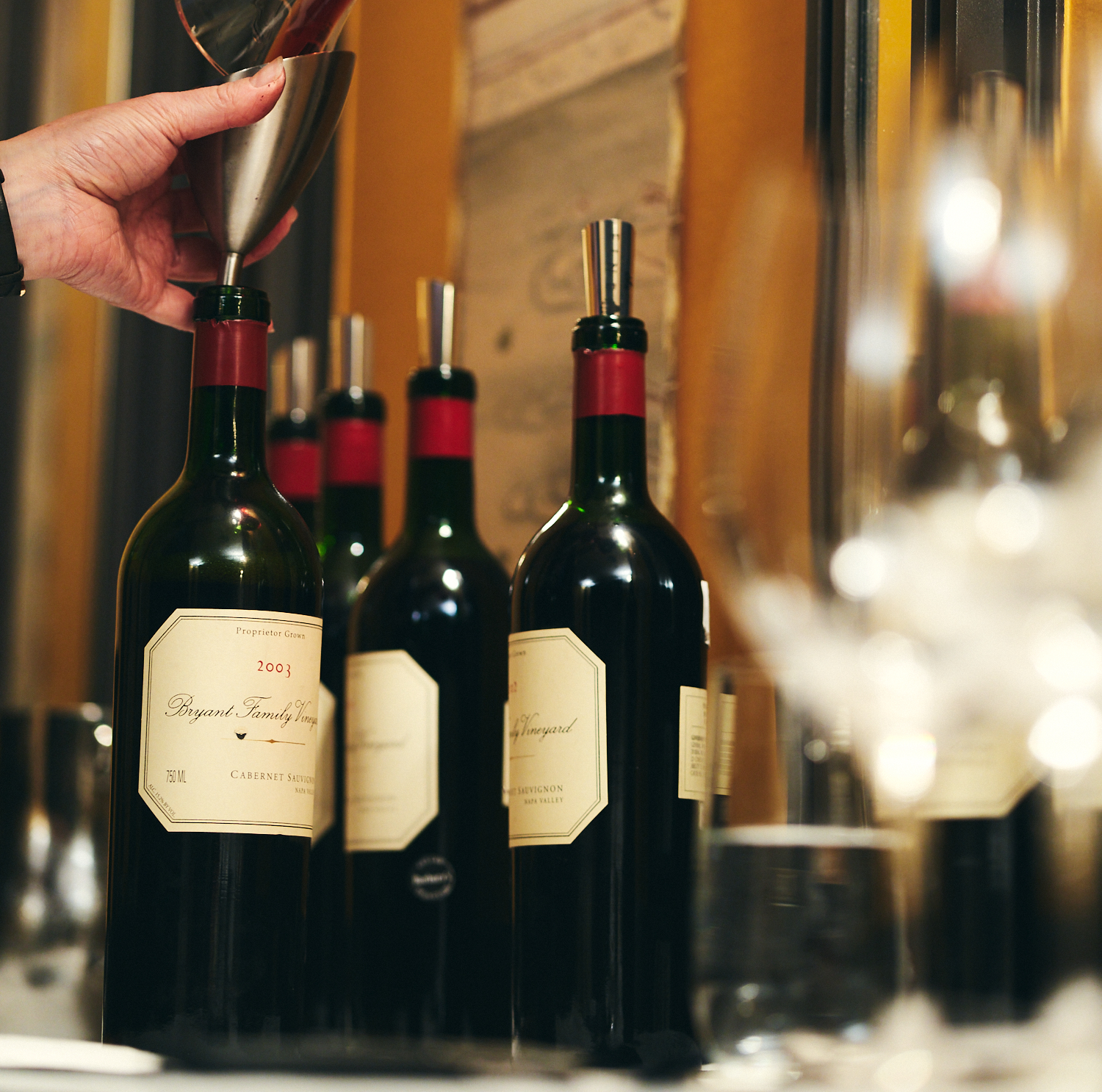 2003 Bryant Family Vineyard Cabernet Sauvignon 90
Deep colour with some development at the rim; fine nose, a touch savoury and a little more muted; fleshy and ripe on the palate, candied fruit, up front sweetness and delivered with some heft. This is ripe in style, and though it lacks the grace of some of the others, it is delicious.
No votes for wine of the night
2004 Bryant Family Vineyard Cabernet Sauvignon 93
Fine deep ruby; a fine nose, fragrant and very pure, Cabernet Sauvignon laced with violets and a touch of dark chocolate – very fine; on the palate this is lovely, fleshy, layered in feel, it gushes along, opulent, there is a touch of alcohol heat but it is all held together well, the extract is there, and the tannins are very fine. Very high quality.
No votes for wine of the night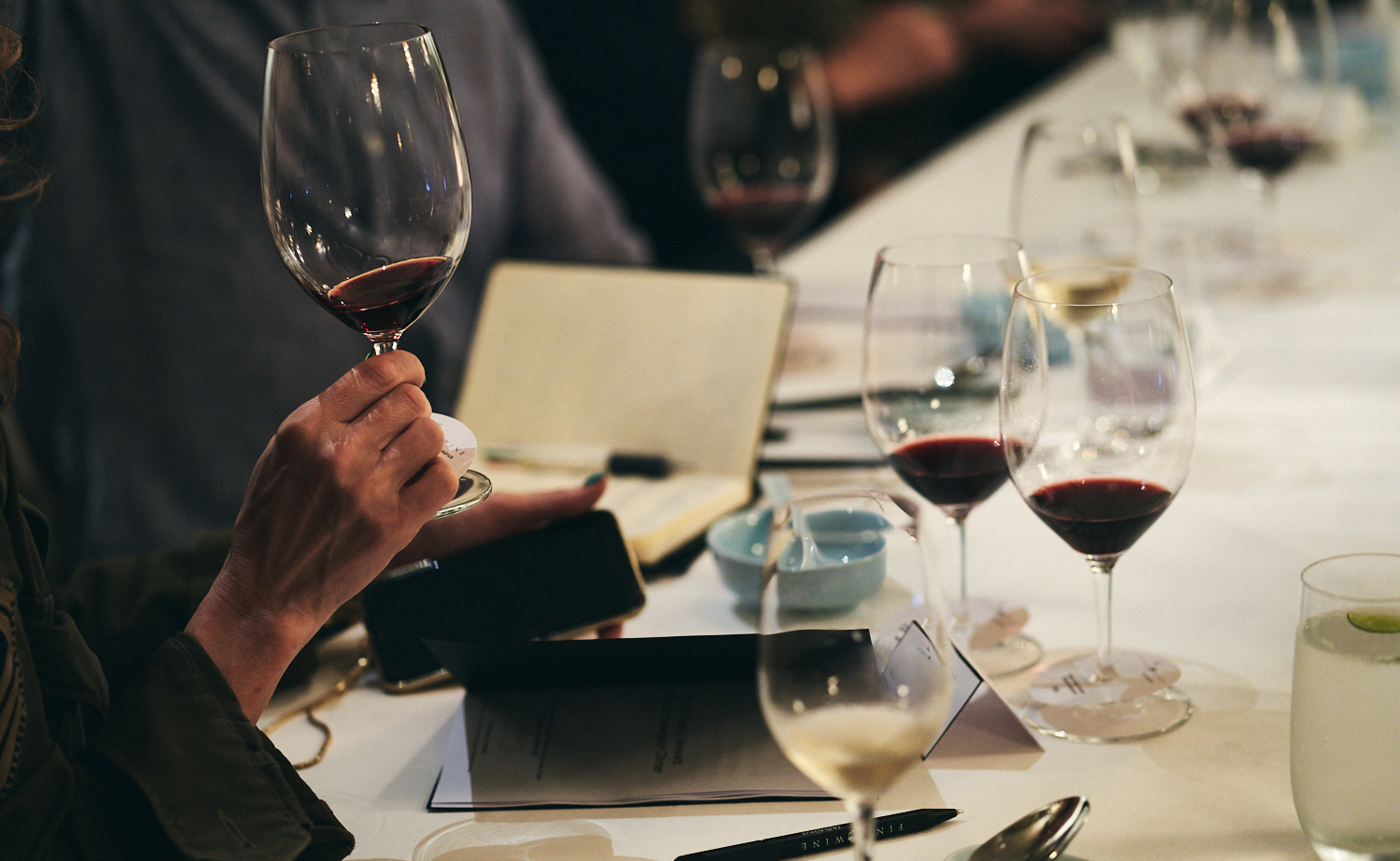 2006 Bryant Family Vineyard Cabernet Sauvignon 94
Added to the line up in lieu of the corked bottle of 1998.
Fine, fresh deep ruby; sweet with a touch of toffee – a sort of brûléed edge to the nose, a touch of mocha; a big entry here, bold fleshy wine, opulent yet immaculate. Large-scaled BFV, and a success.
No votes for wine of the night