By Linden Wilkie, 11 November 2022
As part of Domaine Ponsot's 150th Jubilee Celebration I was kindly invited by Christie's to attend a dinner with the domaine in Geneva this week. It was a very interesting experience for a few reasons I'll share with you.
It's many years since I first tasted the white of the domaine – Morey-St.-Denis 1er Cru 'Le Clos des Monts Luisants'. But at the dinner I had a little epiphany with a glass of the 2003. You see, this is not only one of those rare white wines of the Côte de Nuits, it is also made from Aligoté, that nervy snappy white variety that keeps good acidity in warm years. And 2003 was a very warm year. Yet this glass conveyed the split personality of the vintage (opulent, honeyed, rich), and the poor-soil stony minerality of the Clos, and of Aligoté, (snap and immense energy). It was one my favourite wines of the dinner, and it has left me determined to explore more vintages of this unique cuvée. I would encourage you to do the same if you don't already know it – we have the 2011 on our list. (It has also helped to build my appreciation of the potential for Aligoté if planted to better sites, and as our climate continues to warm – but perhaps that's a topic for another day).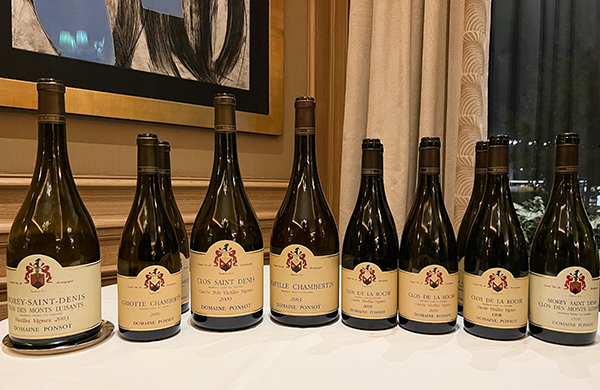 Domaine Ponsot line up
Domaine Ponsot's portfolio of vineyards is truly impressive, spanning several grands crus, but it is perhaps for good reason that we most associate the domaine with two grands crus in their home village of Morey-St.-Denis.
Clos St.-Denis is the quiet one, silkier, more mineral, more elegant, more delicately fragrant and perhaps 'cerebral'. It can be overshadowed, though I suspect also there was good reason the village chose this vineyard to style themselves – Morey-St.-Denis. Most of the Ponost plot was planted in 1905, so we can be confident in the "Vieilles Vignes" on the label here. An even in a warm year like 2009 – which I was served this week, the vineyard characteristic come through. What a beautiful wine.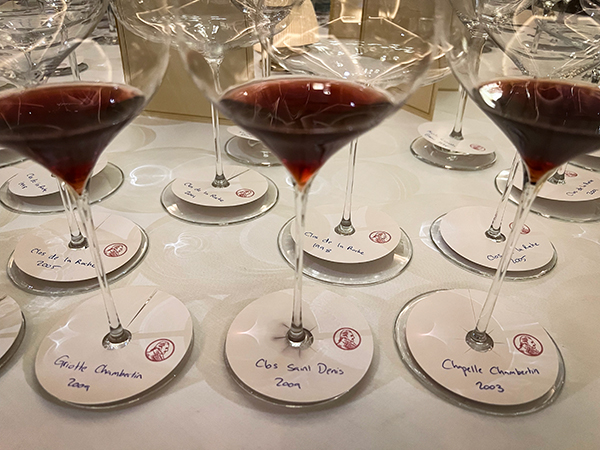 Domaine Ponsot wines
Clos de la Roche is the domaine's champion though, and perhaps Ponsot is the vineyard's champion too – they have been so closely associated for much of the domaine's history. Not only are they the largest owner, with 3.31ha of the 16.9ha total, but their largest parcel is in the original climat Clos de la Roche at the heart of the grand cru appellation. Clos de la Roche is the more powerful grand cru, compared to Clos St.-Denis, with richness, depth, intensity of fruit, and the capacity for very long cellaring (which it tends to need).
The role of Monts Luisants returns here, for it is another of those somewhat confusing vineyards that has three classification levels – the top part of the vineyard, planted to Pinot Noir, is Morey-St.-Denis village level. The middle part is 1er cru, and includes the Clos mentioned above. The lowest part of the vineyard has formed – since 1936 – part of Clos de la Roche and it is here that Domaine Ponsot owns its other grand cru parcel. I asked winemaker (vintage 2017<) Alexandre Abel the roles of these two parcels. "The original Clos de la Roche parcel gives us the richness, while Monts Luisants gives us more freshness. It is the blend that gives us what we know about Clos de la Roche Ponsot."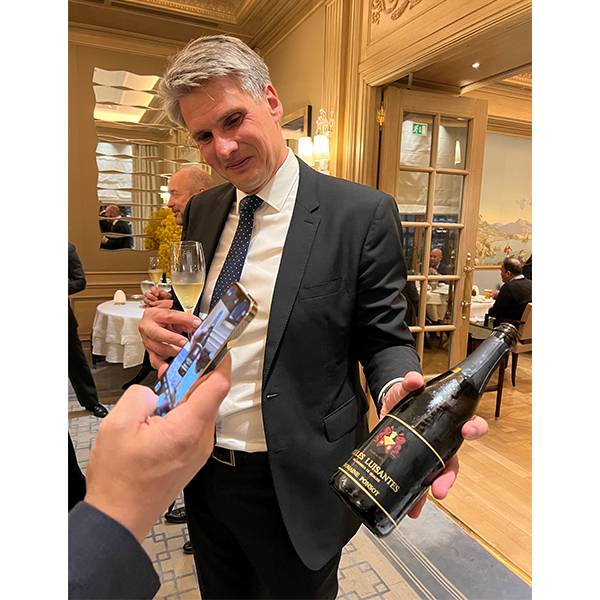 Alexandre Abel holds a family-use-only bottle of cremant - Bulles Luisantes made from aligote in the Monts Luisants vineyard
The Domaine Ponsot wines of the 1980s to early 1990s are hard to equal. I don't say this lightly. In challenging years like 1986, the best wines I have tasted have from time to time been from Ponsot, surpassing all. And a few years ago in Hong Kong, at a dinner exclusively from the great 1985 vintage, Ponsot's Clos de la Roche came top for me, ahead of Jayer, DRC, and others. The intensity of fruit and aroma were breathtaking. Yes, so too is the price these days, but it is relative – I would put the 1985 Ponsot Clos de la Roche on the same plane as 1985 Jayer Richebourg, so if you are buying in this league, I suggest you try this, and the 1985 Ponsot Clos St.-Denis on our list. 1990 is another monumental year here, and we have the Clos de la Roche.
To my palate Laurent Ponsot's style in the later 1990s, through 2000s is more elegant, a little less intense. I have had some beautiful bottles (though also some disappointments largely due to poor cork performance around the turn of the '90s/'00s). The fruit profile is always ripe, but Laurent eschewed the use of new oak, and for such grands crus as these, that put him in a minority – perhaps we can even say the style was unique. What power there is comes from ripe fruit, not oak. In that regard he was ahead of his time as that is the fashion amongst many young winemakers today.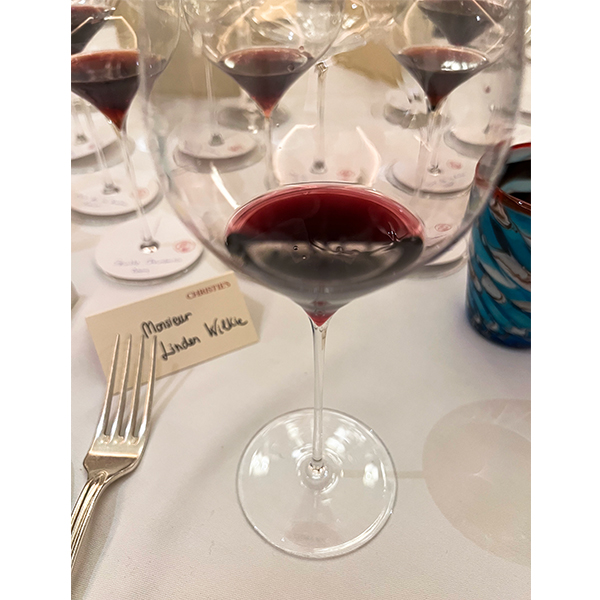 2022 Domaine Ponsot Clos de la Roche sample
At this week's dinner, the quality of work in the vineyard, in selection, could be seen in a charming, and pure bottle of 1998 Clos de la Roche. I really liked the straight-laced elegance of the 2001 Clos de Roche, currently drinking at its peak, while 2005 Clos de la Roche while now beginning to open, is grander, deeper, more structured and potent yet balanced, and seems to have decades ahead of it. It's a super wine.
We finished our dinner with something very special – a sample of 2022 Clos de la Roche, drawn from a barrel from the oldest parcel. Even in its embryonic state it was possible to see the potential, and it was delicious enough that we drank our samples. The ripeness, freshness, and depth were there. I suggested to Madame Rose-Marie Ponsot, who has run the domaine since her brother Laurent's departure in 2016, that it seems a fitting tribute to 150 years of the domaine. She replied that when you look at the long history of Burgundy – Monts Luisants was already a documented vineyard in the 12th century – "we are just custodians for a short time, and must do our best while here."
And to that, I think, we must raise our glasses, and drink!