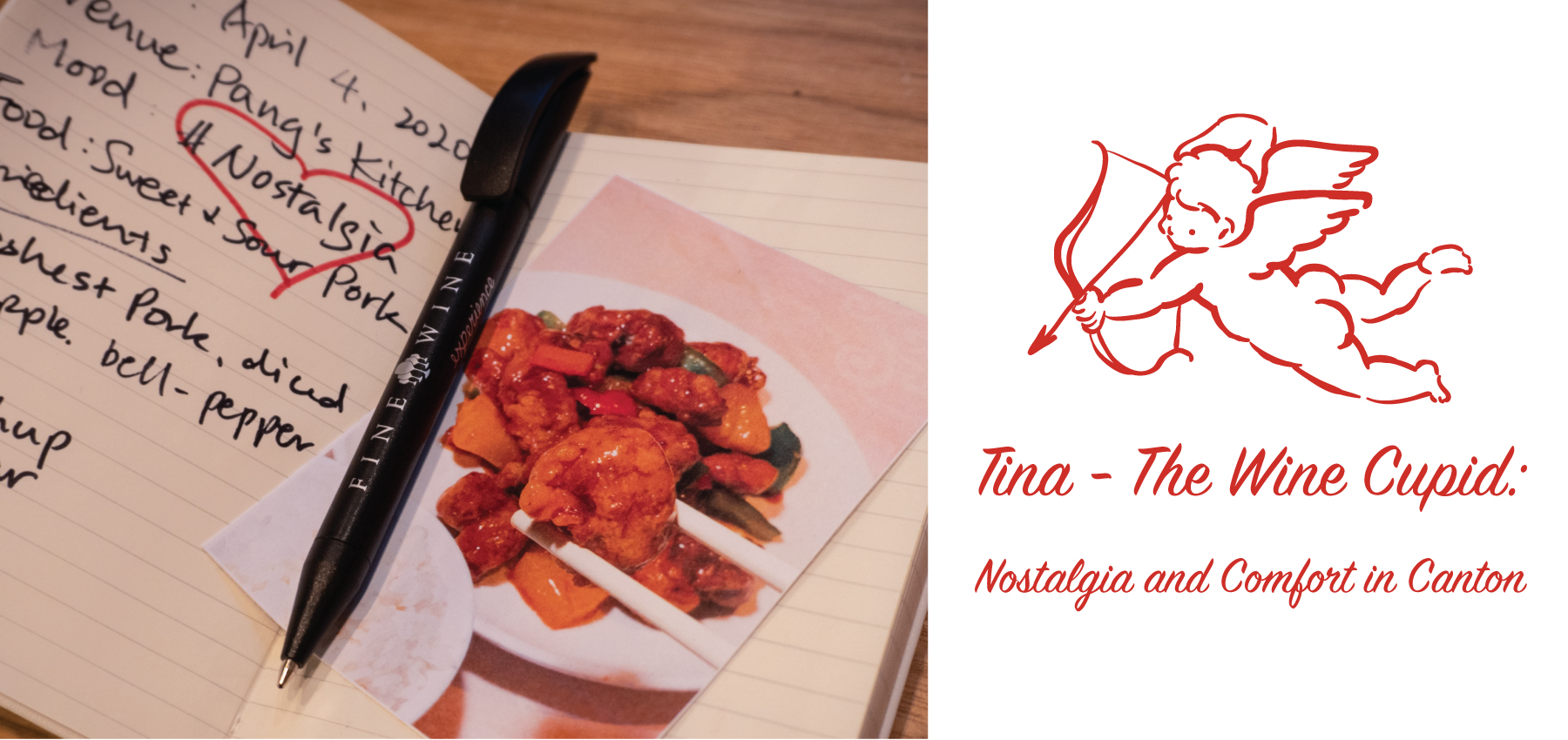 A restless Gemini – I never sit still in the office. For more than half of time in a year, I roll around the world to visit wine regions for my MW study. While in Hong Kong, I love hanging out with my chef and sommelier friends to capture the latest restaurant and bar scene. Indeed, I love aromas, flavours and texture from food and wine and I would love to share my experience with you.
Following my 'Wine Cupid ' email at the beginning of each month, I will introduce you these amazing food and wine experiences in greater detail in our video posts on The Fine Wine Experience social media channels (Facebook@FineWineExperience & Instagram@finewineexperience).
In April, I am searching for 'Nostalgia and Comfort in Canton', and Pang's Kitchen (彭慶記) in Happy Valley is my hunting ground for this month
A sense of comfort is perhaps most needed to keep us calm and positive during this stressful time. Food and wine are often my go-to for comfort, as they often remind me the laughter and joy in moments I share with my friends and family. Here is some of my favourite Cantonese dishes and I play Cupid to find the best wine matches for each dish!
---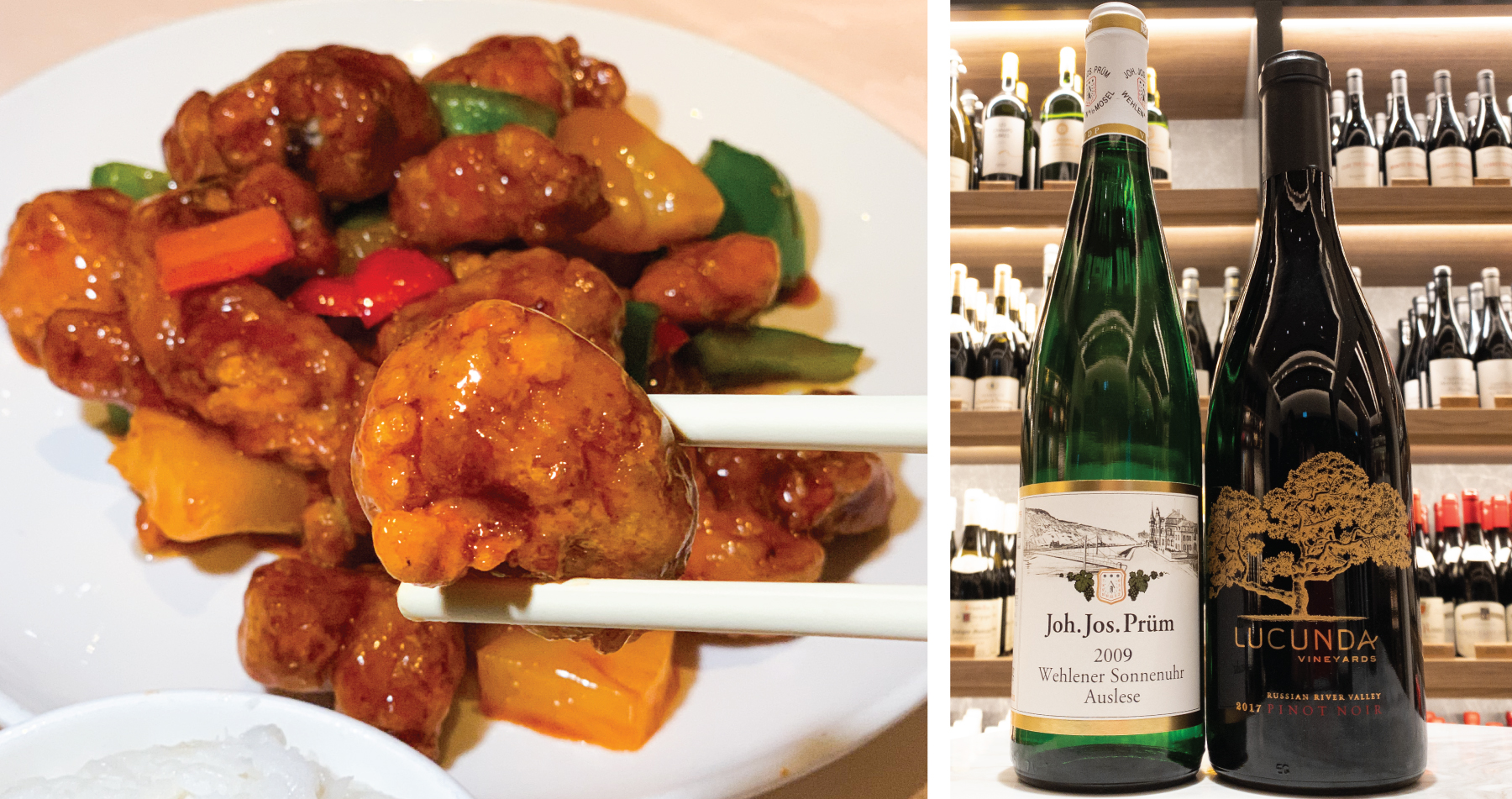 Sweet and Sour Pork
It is perhaps THE most famous Chinese dish outside China and it always brings back all those silly memories of my student life in England. I love that perfect balance between the sweetness from pineapple and ketchup and tanginess from vinegar and plum.
• Weingut Joh. Jos. Prum - Wehlener Sonnenuhr Auslese 2009. The AusleseTT level is a sweet spot for 2009 Mosel Riesling. When pairing this dish, one should also pay attention to the sticky texture of the sauce and it will be levelled up with the creamy touch from the Auslese bottle.
• Lucunda's Russian River Pinot Noir 2017 is my suggestion for a red-wine choice. I enjoy the aromatics and fruitiness from its beautiful ripeness as well as its fresh acidity from its natural cool-climate environment.
TT TINA'S TERM: Auslese for Prum - selected late-picked berries with full ripeness, balancing fruitiness, acidity and residual sugar.
---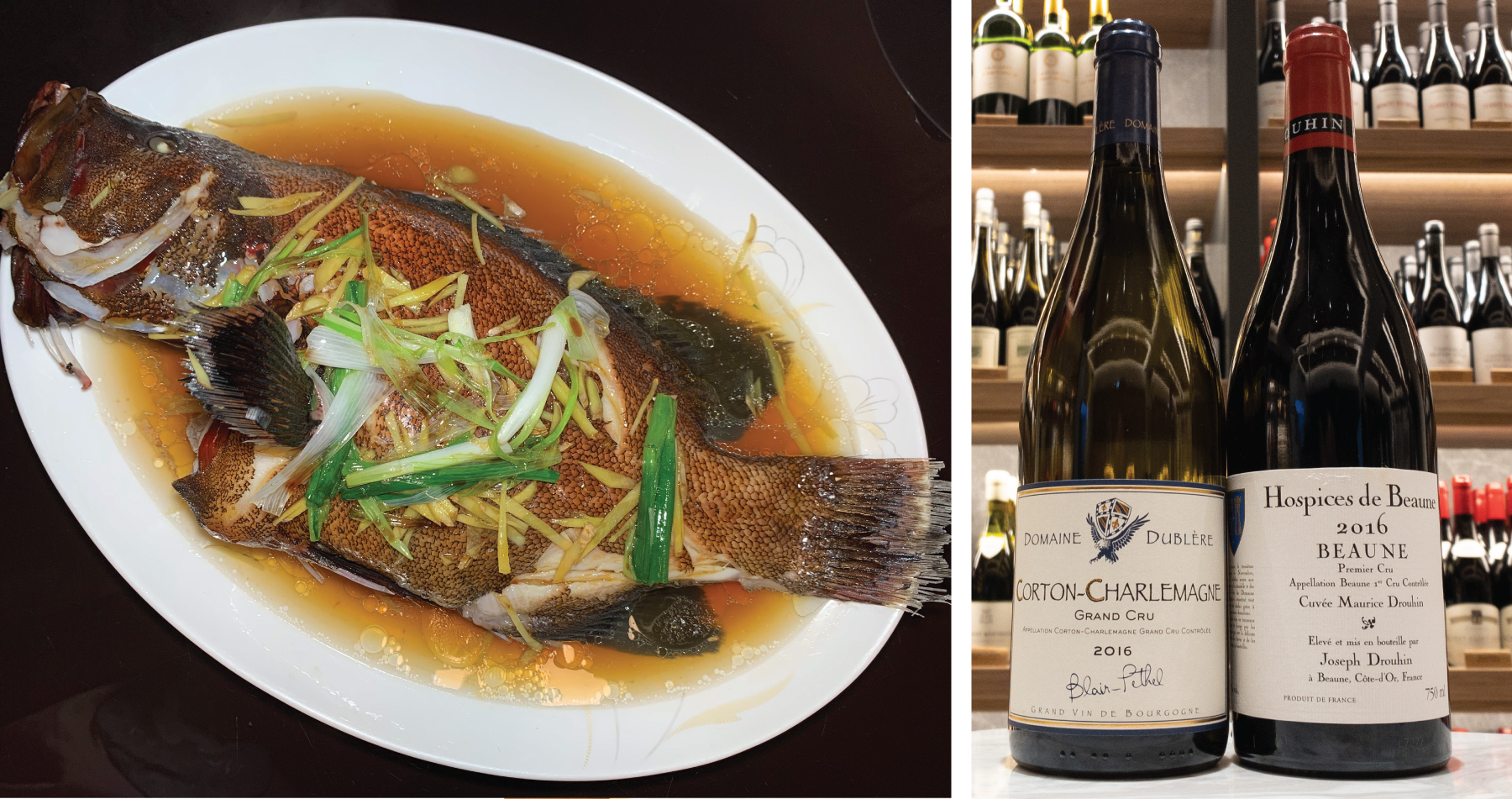 Steamed Fish
Steamed fish is my all-time favourite dish for Cantonese cuisine. Freshness is key for this dish - it is unforgiving of a sub-standard fish. A touch of soy sauce with freshly-sliced spring onions and ginger uplift its flavours even more - magically! Only Hong Kong does the best quality and it is the dish that most of my friends overseas miss the most.
Delicacy in flavours is a critical consideration for pairing here and Burgundy is the place with an emphasis on finesse and elegance.
• Domaine Dublere - Corton Charlemagne Grand Cru 2016. Don't we all love that mineral-like saltiness from a white Burgundy? You would already imagine how it would match so well with a fresh steamed fish dish, wouldn't you? Also, let's not forget that the winemaker Blair Pethal is a real foodie and he moved to Burgundy to make wines for food pairing. Everything is in a beautiful balance - oak is judiciously used to give a hint of spice and lees ageing is practised to add texture to the wine.
• Hospices de Beaune / Joseph Drouhin - Beaune 1er Cru Cuvee Maurice Drouhin (TFWE) 2016. One of the most traditional éléveurs for the Hospices de Beaune, Joseph Drouhin understands its vineyards deeply well, and brings out their full character and potential. For many serious wine connoisseurs, it is a top wine from the entire range of the Hospice de Beaune selection. (of course, we try to keep this secret to ourselves. Shhh!). As I often emphasise, wines are a reflection of the winemaker. You could sense the elegance in this wine - Veronique Drouhin is such a graceful lady, and I aspire to be like her one day.
---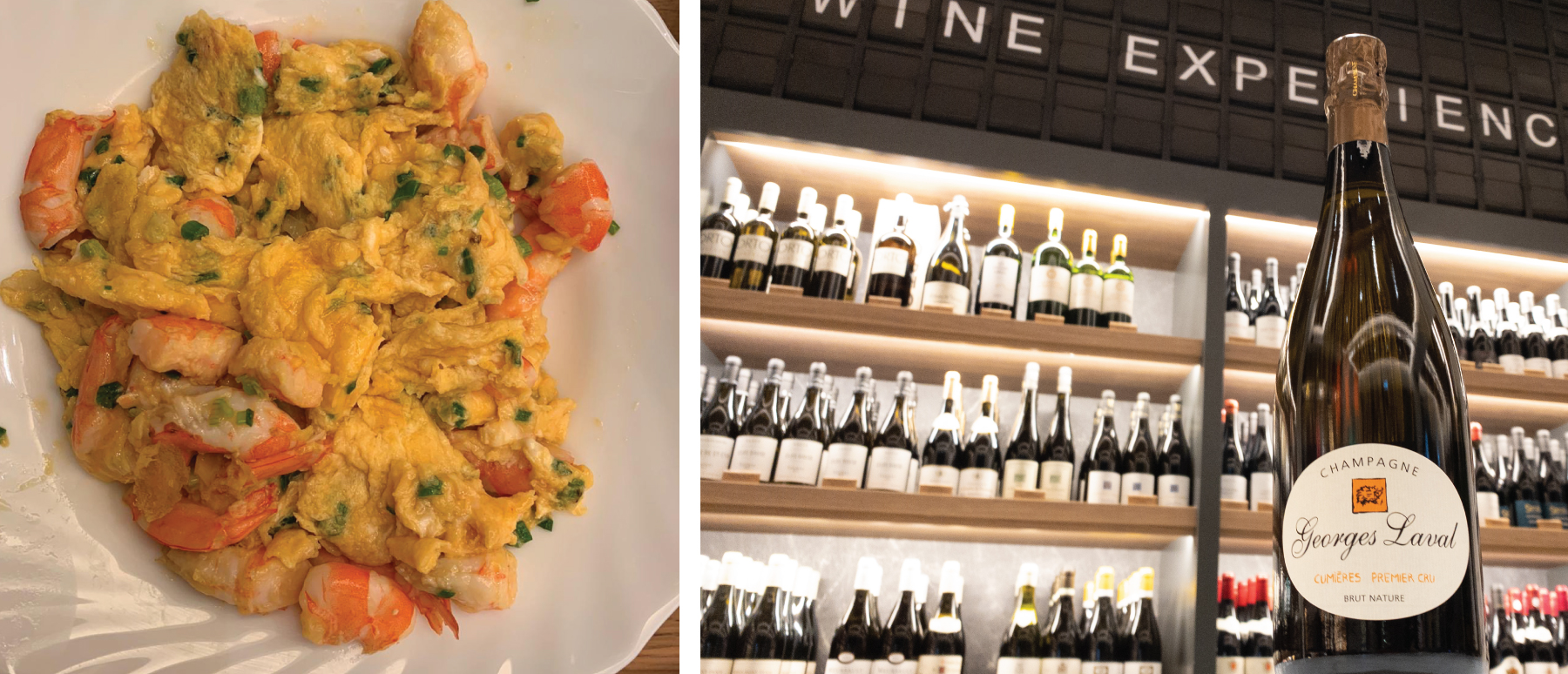 Scrambled Egg with Prawn
Somehow egg is my comfort food and I never get tired of it. In fact, I even miss it if I don't get to have it for my breakfast! If I do not have it for breakfast, I would make it for dinner. (Oh yes, so determined to have my daily protein!) My favourite cooking of it is to scramble it with fresh prawns, with that sprinkle of finely-chopped spring onions and freshly-grounded sea salt from Brittany.
• Champagne Georges Laval - Cumieres 1er Cru Brut Nature. Without dosage, you enjoy a true and natural flavour and balance from the grapes (Chardonnay 57%, Pinot Noir 33%, Pinot Meunier 10%). What is more is the sense of salinity at the backbone, this matches with the prawn's umami flavour perfectly.
---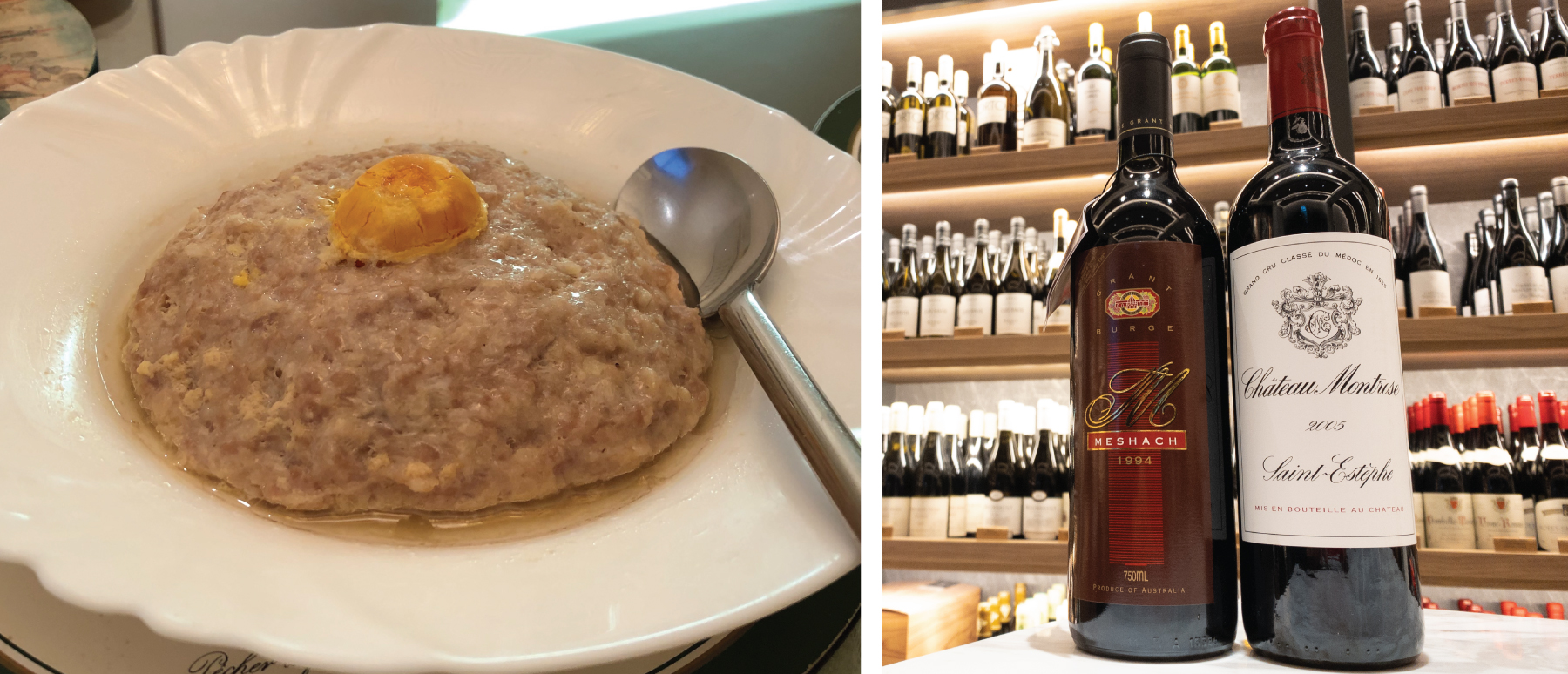 Steamed Meat Loaf
Steamed meat loaf is a common homemade dish that I would gulp a big bowl of rice with! I would always get scolded by my dad for eating too much of it. But it is just THAT irresistibly satisfying! I love the combination of this fresh minced pork with dried Chinese mushroom and salty egg yolk – super flavourful and rich. Let's go a bit bold here!
• Grant Burge - Meshach Shiraz 1994 – a beautifully matured Barossa Shiraz from an exceptional vintage such as 1994 offers elegance and freshness besides its primary fruits such as ripe plums and black cherries. Here we also have a touch of herbal and pepper element from Shiraz, which lifts the pork flavour even more.
• Chateau Montrose 2005 – what a classic Bordeaux Rouge from a top vintage, you would love it to drinking it alone. You would also love to pair it for this amazing dish – the ripe tannin helps bring out the sweetness from the pork. The tertiary flavour such as earthiness and liquorice from this matured bottle would also pair well with the umami taste from the dried Chinese mushroom and salty egg yolk.
---
I love seeking a sense of comfort from food and wine, and even more so from the conversation with my family at the dining table. Let's not get too stressed during the lockdown, but treasure and enjoy this rare moment with our loved ones over these delicious wines and dishes.