We managed to get our hands on 120 bottles each of the newly released 2004 Dom Perignon Jeff Koons Limited Edition and 2003 Dom Perignon Rose Jeff Koons Limited Edition, both at cheapest price in town! These will surely go much higher in value (given Jeff Koons' already cult-like status in the art world and underlying excellent quality of the Dom Perignon Champagne).

Buy now while supplies last!

"Dom Perignon by Jeff Koons" is a very special collaboration between Dom Perignon and American artist Jeff Koons, one of the most influential contemporary artists who is well known for his reproductions of banal objects – such as balloon animals produced in stainless steel with mirror-finish surfaces. His works have sold for huge sums of money, including the "Balloon Dog" which sold at Christies NY for USD 58.4 million! on Nov 12, 2013 (becoming the most expensive work sold at auction by a living artist).

These LIMITED EDITION Dom Perignon bottles, each in its specially designed individual gift box, is an extension of the Balloon Venus project – a curvilinear sculpture created by Jeff Koons for Dom Perignon that opens to reveal a bottle of Perignon Perignon Rose 2003. Only 650 pieces were made, and were allocated only to VIPs at USD 20,000 each – a bargain by Koons' standards.

"The gift box was designed by Jeff Koons himself, for both Dom Perignon Vintage 2004 and Dom Perignon Rose Vintage 2003, with a careful all-embracing conception of the outside and the inside facets. The outside reproduces on a dark background the Balloon Venus for Dom Perignon matching their colour with the cuvee: pink for the Rose and yellow for the Blanc. A view of the artist's studio is visible on the reflective surface of the Balloon Venus and refers to the creative energy of the artist. The image is underlined by Jeff Koons' signature.

Similar to the boxes, the bottle foils give a pop-twist to the colour of its cuvee, Dom Perignon Blanc or Rose, interpreting the tension between the colours and the dark bottle. It bears a metallic shield with the same colour layout as the foil and the box. The label plays with coloured surface on the depth of shield, emphasizing its allure, playful and still mysterious"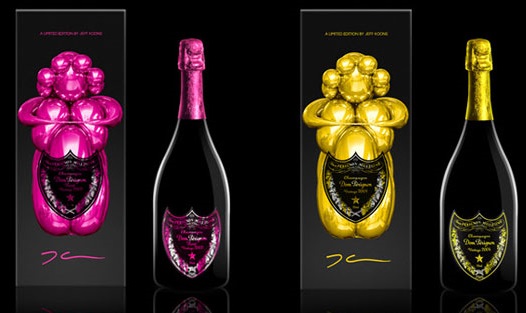 2004 Dom Perignon Jeff Koons Limited Edition
"Intense, Elegant and Radiant"
Price = HKD 1,300 per bottle (sold in CASE of 6, each bottle in individual gift box)
Limited to 12 btls per customer
2003 Dom Perignon Rose Jeff Koons Limited Edition
"Vibrant, Seductive and Infringing"
Price = HKD 2,600 per bottle (sold in CASE of 6, each bottle in individual gift box)
Limited to 12 btls per customer
We got our hands on a very nice parcel of Chapoutier Ermitage – all purchased on release and stored under ideal conditions. With minimum 10 years aging, these are drinking perfectly right now. Well-stored, well-priced, ultra high Parker scores, and ready for immediate delivery. What more can you ask for?
Chapoutier produces wine from a range of appellations in Northern and Southern Rhone. They are most famous for their Ermitage, which is consistently one of the most highly praised wines by Robert Parker. Take a guess on how many 100 pointers they got… a mind-boggling 24 wines!!! (Only Guigal has more, sitting at the top with 25). The next contender only has 12…Petrus w/ 9, Haut Brion w/ 6, Latour w/ 5, DRC w/ 4, and Lafite w/ 3…
These are rich, fruit forward, intense wines with tremendous character. Loads of blackberries, tobacco, liquorice notes. With age they develop unbelievable complexity, richness and depth.
Chapoutier Ermitage "Le Meal"
Made with 100% Syrah grapes from a single vineyard site "Meal hillside". The slope is composed of high terraces of shingles and clay which helps contribute to soil warming. Vine age at around 50 years old. Deep garnet red colour with purple rims. Ripe fruits, hints of blackberry jam, smoky with powerful tannins.
Chapoutier Ermitage "l'Ermite"
Made with 100% Syrah grapes from a single vineyard site situated at the top of the Hermitage hill in a place named "the Ermite". The vines are 80 years old and are on very poor, granitic soils. Colour is very deep garnet red, almost black. Juicy black fruits, smoky, pepper with a powerful yet velvety structure.
Chapoutier Ermitage "Le Pavillon"
Chapoutier's top wine. Made with 100% Syrah grapes from a single vineyard site that has 90-100 year old vines. The soil has sediments on top of a granitic subsoil. Very low yields due to the vine age. Tarry and smoky, raspberry, blackberry, walnut, liquorice, tobacco. Intense, concentrated with a finish that lasts for minutes.
Chapoutier Ermitage Blanc "Le Meal"
Consistently one of the top white wine made in the Rhone Valley. Made with 100% Marsanne grapes, from the single vineyard site "Le Meal". The vines are more than 50 years old which gives very low yield. Golden yellow color. Tropical fruit, toasty almond, honey notes, all wrapped in a round, oily texture.
Join us in your very own share of a barrel of fine Burgundy! You will even have your name on the label, alongside the top producers tending our barrels. Sound interesting? Read on….
2013 Hospices de Beaune Meursault-Genevrières 1er Cru, Cuvée Baudot
*ONLY 2 SHARES REMAINING*
Available by the 1/4 barrel share (6 cases) for HK$68,400 per share (only $950 per bottle), delivered in Hong Kong
Elevage: Alix and Etienne de Montille (masters of the Cote de Beaune)
Tasting Notes: Combining both delicious fresh fruit (stone fruit and a touch of pineapple), with a refined mineral-led level of detail and complexity. There is sufficient fruit intensity to satisfy early drinking, but also sufficient structure for longer aging.
Your name on the label! Perfect for celebrations, entertaining, and gifts!
As an acknowledgement of your contribution, you get to put your name officially on the wine label. It's nice to be able to open a wine like that and have a story to tell. The wines also make very special, personalized gifts – something unique to you.
Very limited offer
With only 2 shares remaining for 2013 Hospices de Beaune Meursault-Genevrières 1er Cru, Cuvée Baudot obviously this is a very limited offer, and is offered on a first-come first-served basis, subject to remaining unsold. I have found over the years that these wines have provided a lot of fun – both opening at family gatherings, parties, and so on, and seeing the wine's evolution in bottle. They've made perfect gifts too.

Please let us know if you'd like to join in our 2013 barrels!
10% off all Bordeaux wines 2005 and younger, including En Primeur
5% off all Bordeaux wines 1995-2004
And…a very special parcel of 1982 Lafite large formats.
All "Perfect Provenance" – purchased from a Swiss collector who got these directly from the Chateau in 1991. These cases are traceable back to its original point of sale. It has become increasingly difficult to find wines of such great provenance, especially Lafite 1982.

30 Magnums, all in OWC6 @ HKD 68,000 per mag (regular price HKD 72,000)
9 Double-Mags, all in OWC3 @ HKD 145,000 per d-mag (regular price HKD 150,000)
Plus…1982 Lafite regular format, 53 btls available @ HKD 27,000 per btl (regular price HKD 28,000)